*As part of the Green Bay Packers' celebration of the 10th anniversary season of the Super Bowl XXXI Championship, Packers.com is running a series of stories about the people responsible for bringing the Vince Lombardi trophy back home to Titletown.
Brian Williams hadn't been around long, but he knew one thing: If the 1996 season ended with anything less than a Super Bowl victory, the year would be considered a colossal disappointment.
In 1995, when Williams was drafted in the third round out of the University of Southern California, he didn't have the season he hoped for and the Packers lost to the Dallas Cowboys in the postseason for the third consecutive year.
Because the Packers came so close the previous two seasons, they didn't just want to reach Super Bowl XXXI in New Orleans. They expected it.
"We knew we could get that far because we just got to the NFC Championship game the year before," Williams, 33, said. "It was kind of like nothing else was going to cut it that season. I think everyone had it in their minds that that was the goal.
"So many of the people who were on the team, especially the ones there from the year before, could really taste it."
Just as it was time for the Packers to get over the hump as a team, it was also time for the 6-foot-1, 235-pound linebacker to show what he could do on the field. After all, the Packers invested the 73rd overall pick on Williams, but he played primarily on special teams in his rookie campaign.
"I guess to me, more than not, it was kind of like a make-or-break season," Williams explained. "They drafted me the year before, and I had a groin injury most of that year and I couldn't show them what I could do."
George Koonce moved from 'Plugger' (right outside linebacker) to the middle in order to create a spot for Williams on the field, and the move paid dividends the whole season. Williams finished with 95 total tackles, second on the team only to Koonce, who tallied 117 stops.
Though Williams said several people played a key role in the defense's success, it was the late Fritz Shurmur, the defensive coordinator, who helped him the most.
"As the season went on, I guess it was really Fritz teaching me and allowing me to do more things on defense," Williams said. "I guess that was me being more consistent and making plays."
It wasn't a secret that Shurmur was an outstanding coordinator who had the ability to teach his players and get the most out of them. What people may not have realized, however, was that Shurmur found a way to utilize Williams, who was the type of linebacker the Packers didn't have in previous seasons.
"The way I played linebacker, I was probably more athletic and able to do more things than probably what they were used to," Williams noted. "Fritz was used to the linebacker coming down and destroying the lineman. But (the athleticism) allowed us to be more creative with the defense and let us change things up a lot."
According to Williams, Shurmur also had an uncanny ability to confuse opposing offenses quite regularly.
"Teams didn't know what we were going to do from game to game," Williams explained. "We were probably the first team in the league around that time that ran a 3-3 defense with three down linemen and three linebackers and five defensive backs. It's like a nickel defense but we would line that up against team's base offenses."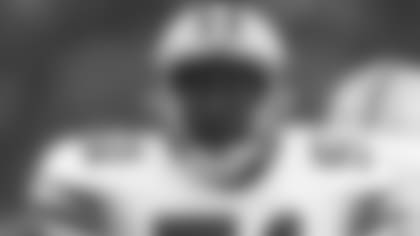 Williams said he will never forget the fiery passion or confidence that Shurmur displayed and how the team eventually began to mirror Shurmur's personality.
"Whatever Fritz put up there, we ran it," Williams said with a laugh. "Fritz brought the attitude that, 'We don't care what offense you put on the field, we're going to put the defense we want to on the field.' Fritz was also a tough guy. That's what he brought to the table and everybody took that personality from him."
Shurmur clearly had a profound effect on Williams' play, but he continued to have unfortunate luck with injuries. In fact, his Packers' career ended on injured reserve in 2000. He played for the Detroit Lions in 2001 and 2002, but then he suffered a shoulder injury in the preseason finale of the 2003 season. Williams spent the year on injured reserve and decided he'd had enough.
Williams acknowledged that over the years the injuries began to take a toll on him.
"I had so much bad luck with injuries in football," Williams said. "Once I got over one, it seemed like another one came. It was a situation where I kept coming back, but then it was like, 'Man, I got one more time that I am going to make this comeback.'
"Then you get healthy again and you get hurt again and you say this is really the last time. I think I said that to myself three times."
And though he may be done with football, Williams still remains very busy these days. He resides in Dallas and is currently working on land development. Recently, Williams put the finishing touches on his first project, a 49-lot subdivision, and admits he's already looking forward to getting started on the next one.
Despite spending much of his time operating his business, Williams stays in shape by playing tennis, something he has done for over a year now. He also follows the Packers very closely, and he still makes time for a few of his old teammates as well.
Williams said he often speaks with Keith McKenzie, and occasionally to Antonio Freeman, Dorsey Levens, and Santana Dotson, and that he will always have a special bond with the guys he played with.
In fact, because everyone expected greatness from that '96 team, Williams admitted he felt added pressure to come through for his teammates.
"I had Reggie White in front of me, I had LeRoy Butler and Eugene Robinson behind me and I just wanted to hold up my end of the bargain," Williams explained. "And really, I think one aspect that was brought up during the time, and Eugene talked about this a lot, was us being accountable to each other on the field.
"It was a total team effort and we knew what was at stake."
Clearly, Williams and the Packers realized those expectations and then some.