Dustin from Jacksonville, FL
Who is the best corner at jamming at the line of scrimmage you've seen (post 1978, of course), and who is the best receiver at getting off the jam?
Ty Law was very good at getting on receivers and standing them up at the line of scrimmage. Michael Irvin was very good at getting off jams.
Adam from Port Washington, WI
Vic, since you have covered two of what I think are top-notch coaches in today's NFL in Tom Coughlin and Mike McCarthy, what do you see as similarities between the two that make them produce consistent winners year in and year out?
They're similar in the ways they conduct their practices. Their practices are tightly structured and move from one period to the next with speed and crispness. They each include a lot of periods in their practices, which means they cover a lot of subject matter. Both coaches are passing-game gurus and their practices reflect it, but McCarthy does more middle-run stuff than Coughlin did when I covered him. The staple of Coughlin's practices was the execution of the drive-sustaining possession pass. McCarthy's pass offense looks downfield more aggressively. In covering both coaches' practices, I felt as though I was covering something that had been rehearsed, that's how efficiently they're executed. Chuck Noll was a big nine-on-seven coach. It was going to dominate practice. I remember Bill Cowher for his live goal-line drills. They were brief but they sent a charge through everybody.
Vic, I know practices are off limits for fans to view after training camp is over. Is that a choice by the team or something brought down by the NFL?
It's the team's choice and I have never known a team that allowed fans to view practices during the regular season. Some teams still allow the media to watch practice, but that's as far as it goes. The NFL does require teams to open a portion of regular-season practices to the media.
How do you picture the NFL in 50 years? Quarterbacks throwing for 10,000 yards in a season? The extinction of the running back position?
I wish I had the vision to know where this game is headed. Once upon a time, the forward pass was created as a game-softening measure to save the game from the brutality of running formations. Now, it's the passing game that's the problem and the running game is largely seen as a respite from the dangerous open-field collisions that are resulting from the passing game. Is the game about to go full circle? It's become obvious that protecting the head is the key to football's future, so any vision we have for the future of the game must start with the helmet and the manner in which it is used. Does the helmet get bigger or smaller? If we knew the answer to that question, I think we could get an idea of where the game is headed.
Ultimately, the kicking position is something that needs to be sorted out in camp. What exactly would you look for when trying to decide between Crosby and Tavecchio?
You want your kicker to have the leg strength to send his kickoffs out of the end zone, the height and exit time on his kicks to avoid having them blocked, and you want him to never miss. There are other factors. Is he clutch? Does the coach trust him? Is he the kind of guy you want in your locker room? What's his cap number? In my opinion, you have to resist letting the stats make the decision for you. I've seen that happen and it produced a disastrous result. Just because a guy won a competition in August doesn't mean he's your guy in January. You have to have a feel for what's inside these guys.
Jerry from Des Moines, IA
Vic, do you have a sense for how the offensive line is doing? Is the right to left switch going smoothly? Is there any real competition for Evan Dietrich-Smith? Do you have a front-runner for right tackle?
Bryan Bulaga is playing the best left tackle I've seen in the three Packers training camps I've covered. He's been dominant so far in this camp. I see nothing about the flip-flop that isn't positive. The center job belongs to Dietrich-Smith. The issue at center is the backup job. Don Barclay has struggled with the snaps. I like what I see in Greg Van Roten. The right tackle job is Marshall Newhouse's to hold, but Barclay and David Bakhtiari are strong competitors for that spot.
Vic, I have been a fan of yours for a long time and have read the majority of your articles, but I am getting a little upset. I have submitted numerous questions and not one has been posted or answered. I ask decent questions but you post the most (stupid) questions. So what do I have to do, submit dumb questions to get an answer? Do you see the Packers keeping a larger number of running backs this year?
A lot of readers have asked that question and I've resisted answering it because I'm not sure my answer will satisfy them. I think most readers want me to cast backs in specific roles, and it's just too early in training camp to do that. In my opinion, the Packers will go heavy at running back if the performance at that position warrants it. You keep people that are worthy of an NFL roster; you don't let self-imposed and arbitrary numbers force you into decisions you'll regret. I really believe it's that simple. The Packers went heavy at wide receiver last season. They liked Jarrett Boykin and they had a pretty good idea they'd be losing some veterans at the position in the offseason. Running back is a position that's often decimated by injury, and it's a position of rapid turnover. I have no doubt the Packers will do whatever it takes to retain talent.
Terri from Newport News, VA
I have never had the chance to come and watch a training camp practice. I read about a half-line running drill. What is that and what does it look like?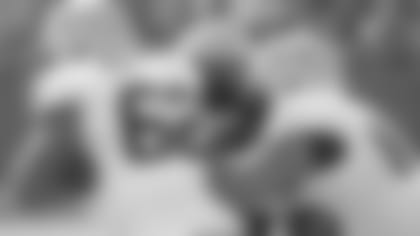 It's half a nine on seven. Nine on seven, Terri, has always been the definitive running game drill. It's affectionately known as the middle-run drill. I've also heard it called a thump or thud drill. It includes five offensive linemen, a tight end, quarterback, fullback and running back against the front seven of the defense. The drill has been modernized into separate left side and right side versions. The Packers run the two half-line versions next to each other. The half-line version increases the quality of the repetitions since there is no back side or off side. With that in mind, I like to think of it in terms of a point-of-attack drill. One of the advantages of the half-line version is that there are fewer bodies involved, which lessens the chance of injury. One of the disadvantages of the half-line drill is that the defenders know where the ball is going. Maybe that's not such a bad thing. I've never known a good running team that didn't include the middle-run drill as a staple of its practice regimen.
Justin from Davenport, IA
I know Tavian Banks' career was short with the Jags, but if he would have stayed healthy during his time, how good of a back could he have been?
Banks is the sad example of what can happen when you don't take the air out of the ball when you've got a big lead late in the game. He sustained a career-ending knee injury in the final minutes of a blowout win in Atlanta, when the Jaguars were still in an aggressive play-calling posture. He was in the process of becoming a sensational third-down/complementary back.
With the Hall of Fame ceremonies this weekend, it brings to mind the glaring omission that is Jerry Kramer. I can't understand how one of the best linemen of all time isn't in the Hall of Fame. He is the only member of the 75th anniversary team that isn't enshrined. How is this possible and how can we correct this injustice?
Kramer made what is arguably the most celebrated block in pro football history. I would support his election to the Hall of Fame. Having said that, I would also like to correct an error in your reasoning. Kramer is not a member of the NFL's 75th anniversary team. I've often read that mistake. John Hannah, Jim Parker and Gene Upshaw are the guards on the 75th anniversary team. Kramer is a member of the NFL's 50th anniversary team. In my opinion, that distinction, coupled with the fame Kramer achieved in the Ice Bowl, is worthy of election to the Hall of Fame.
What can you tell us about the K-Gun offense?
It had the three main ingredients of a great offense: great quarterback (Jim Kelly), great running back (Thurman Thomas), great wide receiver (Andre Reed). I would struggle to consider an offense great if it didn't possess those three ingredients.