Dan from Sioux Center, IA
Vic, I couldn't care less about 40 times, drills and interviews that are happening at the combine this week. I've made up my mind. C.J. Mosley is the man for the Packers. He's tough, he's instinctive, he can get off blocks and he can move. This guy is going to be great.
He's also a three-down player that can play inside or outside. I'll take him right now. If he has a top workout at the combine, however, he'll be gone by pick 21.
Daryl from Junction City, KS
So, do you think if Johnny Football has a good combine he could be the top pick for the Texans? What do you think about his red-flag personality?
I'm fine with his personality. It's salty but so is football. I want a guy with verve and Johnny Manziel has verve. What Manziel doesn't have is the kind of size I think a guy that plays as he does needs to possess to survive in this game. For him to be successful in the NFL, I think he has to play as he did in college, which is to say with reckless abandon, and I don't think that'll work for him in the pros. He's going to see speed and athletic ability as he has never seen before, and it's going to hit him as he's never been hit before. The way he plays, especially with his lack of size, is not a formula for longevity, and I don't see him as a conventional pocket passer. Those who defend him compare him to Doug Flutie, but I never thought Flutie was a first-pick-of-the-draft player. I don't understand the "Manziel Mania," other than being charmed by the hype.
Vic, what are the chances we are even toying with the idea of getting Brian Orakpo? Could you imagine him and Clay coming around the edges?
Just before the sturgeon drew his last breath, he whispered to me, "Tell them to sign Orakpo." Then the great fish's eyes closed. Those were his last words.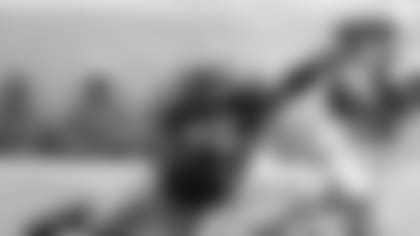 Greg Hardy
Vic, I'm a fan of draft and develop, so I'm asking this to try to understand the patch-through-free-agency philosophy, not to attack draft and develop. Suppose the Packers decide to transition to a 4-3. Is it worth it to steal a young, talented guy like Greg Hardy in free agency, even if it results in a larger cap hit, or should you still stay away from him because of the potential competition for his services from other teams in free agency?
Hardy isn't a patch, he's an investment. When I say patch in free agency, I'm talking about bargain-basement free agents, guys you can sign to a favorable contract. Maybe it's a one-year deal that serves as a bridge for the player to another contract, allowing him to use the year he plays for you as a prove-it season that would send him back into free agency but with higher value the next time around. Maybe it's a deal with incentives in it that protect the team against bust potential but allow the player to hit the jackpot if he outperforms the base salary. What I don't like is turning over the keys to the kingdom to a guy one of my competitors has seen practice daily and has decided they don't want him at the price he's asking to be paid. That scares me. Why would I think I know more about that player than they do?
Dean from Lehigh Valley, PA
Vic, sometimes I read the headline for the new "Ask Vic" and I get really excited that you chose my question. Then I start reading and see that it was just a similar question. What does a guy have to do around here to get his question chosen?
Here's a tip: If Michael Sam calls a press conference, don't send me a question the next day about Michael Sam. Figure that somebody else probably already has that question covered.
Justin from Rochester, MN
Vic, are you aware that skiing with guns is the only sport the U.S. has never won a medal in? Short distance, long distance, men's, women's, relay, gold, silver, bronze – not a single medal, ever.
This is easily remedied: Teach convicts to ski.
Catherine from Jacksonville, FL
This weekend is "Monster Truck Jam" at The Bank. Are you coming down? I'm sure this is still your favorite.
Ah, monster truck week. I can smell the mud as the scent of it wafts into my old office. I love the smell of mud in the morning.
Vic, in your opinion, when does value overtake need? Say you're picking at 21 and when it comes to your pick there are two guys left, one that you have rated top 10 that isn't at a position of need, and another that just fits your pick and fills a need. Who do you take?
Value is always the priority. Don't pass on the higher-rated guy without getting commensurate value. Trade back and recoup the value of your original pick by acquiring an extra pick or picks, or take the highest-rated guy. That's my opinion. If you take the lower-rated guy, you'll be leaving the better player for your competition to pick.
Do you believe this would be a good year for the Packers to trade up in the draft to get their safety?
Tony Pauline doesn't think the Packers should have to trade up to get a safety.
My favorite Jim Valvano story was when he said during his days just before he took the N.C. State job that he used to introduce himself to prospects by saying, "Jim Valvano, Iona College."
If he's recruiting me, I'm not letting him leave my house without offering me a scholarship.
I'm not surprised to read that a fight broke out during the Seattle victory parade. Do Packers fans just have more class? Could you envision such a scene in Green Bay?
Packers fans know how to behave and it's important to them to conduct themselves properly, so I wouldn't expect a fight to break out at a Packers victory celebration. What interests me about your question is the use of the word class. Packers fans use it over and over, and that's something new for me because I had never seen the word class associated much with football. I've seen the words nasty and mean and dirty and tough used often to describe football, but seldom have I seen the word class used to describe elements of the game, yet, Packers fans are obsessed with the image of all things Packers being classy. Frankly, I think it's every bit as important to Packers fans that the franchise and everything associated with it be considered classy, as it is that the team wins. It's what I'll remember most about Packers fans.
Vic, can we use the Olympics to bring up my favorite offseason topic? Along with the two gold medals, Thorpe also received two challenge prizes, which were donated by King Gustav V of Sweden for the decathlon and Czar Nicholas II of Russia for the pentathlon. Several sources recount that, when awarding Thorpe his prize, King Gustav said, "You, sir, are the greatest athlete in the world," to which Thorpe replied, "Thanks, King."
And then Thorpe ran down under his own punt and caught it. It's a true story.
Vic, tell me someone out there has noticed that the sturgeon is clearly an altered photograph. I mean, I don't know what kind of headgear that is but it certainly is not Ketchman worthy. I'm having fun knowing many people think you and Mike actually went sturgeon spearing.
New Yorkers are so cynical.
Pryor is not a sure tackler. He's a hitter to whom the term form tackle is as foreign as Sochi. He doesn't even take the right angle half the time.
That's the rap on him. Some think he might be the next Earl Thomas. Others think he might be the next Brandon Meriweather.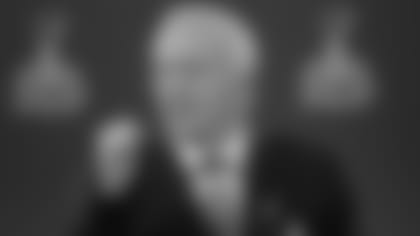 Jerry Jones
Jani from Helsinki, Finland
I was very impressed with the sturgeon, but even more so with how you managed to look exactly like your office self outdoors. Me, I always get rosy cheeks and rough skin. You, on the other hand, manage to look exactly like the photo at the top of the page. Can you share your secret?
I use Jerry Jones' plastic surgeon.
Vic, I was wondering what you think the value of a nose tackle is to a 3-4 defense?
You can't stop the run without a good one. If you don't have a nose that can absorb double-team blocks and hold the point of attack, your inside linebackers are going to bear a greater burden in the run game, and that'll make your defense vulnerable to the play-action pass, especially as it pertains to the tight end down the seam. In the 3-4, it all starts with the nose.
Vic, the Packers have many players going into free agency in a couple of weeks. Do you think the team is working out deals with some of them right now, or does the fact that we have yet to sign any of them mean they are most likely going to be wearing different colors next season?
It would be very difficult to get those many contracts done at this late date. It is my expectation that we are headed for an offseason of significant change.
Jered from Baton Rouge, LA
Vic, it would probably be fitting if you were to announce your retirement on February 1 of whatever year you choose.
The other day, I saw that you mentioned something about golf and then it was fishing. I love fishing and love to hear every story, but can you please not start answering golf questions or any other unrelated topics like you did last year? Keep it football related, please. Thanks.
You're right. We need to devote more time to the 3-4 vs. 4-3 debate.