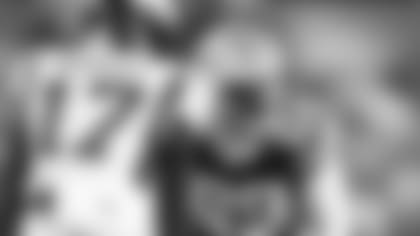 CB Casey Hayward
The regular writer of "Ask Vic," packers.com Editor Vic Ketchman, is taking some time off. Staff Writer Mike Spofford is temporarily filling in to answer your "Ask Vic" questions.
A heated debate over punctuation? That sounds both lively and entertaining.
Don't get Vic started on hyphens, and yes, Kyle and James from Madison, WI, Seth from Pittsburg, KS, Jocelyn from Crawfordsville, IN, Will from Mt. Laurel, NJ, and Chris from Sioux Falls, SD, and countless others, I love the Oxford comma.
Steve from Eau Claire, WI
Mike, one player that I'm really looking forward to seeing this year is Casey Hayward. I loved the way he played last year and his interception count was similar to a Nick Collins or Charles Woodson. I know Hayward was a cornerback while Collins and Woodson (for part of his time in Green Bay) were safeties, but which of those two does Hayward remind you more of?
Reet from Waldorf, MD, also asked about Hayward. He doesn't have Collins' speed. People forget just how fast Collins was. I'm not going to confer Woodson's Hall of Fame status on Hayward, either, because Woodson is the most instinctive defensive playmaker I've covered in my time here. But Hayward does appear to have a genetic strain of those instincts, which should only mature the more he plays the pro game. Hayward also has admitted he dropped a few picks last year or his half dozen would have been nine or 10. Woodson rarely bobbled away an interception opportunity. His hands were phenomenal. If Hayward develops the hands to go with his instincts, he's on his way.
Hi Mike. Tramon Williams has (presumably) been defending Greg Jennings for the past seven years of practices. How did they match up in practices, and how do you see that playing out in games?
They had some good battles in training camp, but reporters don't get to see the 11-on-11 work during the regular season, which often pit first units against scout teams for game-planning. My point is it's not that many "years" of practices, really, and my observations are limited to summers. But that will certainly be one of the storylines heading into the first Vikings game this year. It will be interesting to see if the Packers "match" a certain corner, like Williams, on Jennings the entire game, or if Jennings will see a variety of defenders. Considering the season will be six games old by the time Green Bay and Minnesota meet for the first time, Cordarelle Patterson's development for the Vikings will have a say in that, too.
Brennan from Wisconsin Rapids, WI
I seem to be the only person I know that loves, absolutely loves, a tough-fought defensive game. Games that only get barely into the double digits are games that really get my blood pumping. This is why I'm going to pay attention to the NFC West this year. It's also why I hope the Packers defense turns it around so we can dominate. Your thoughts?
I wouldn't sell the NFC West short offensively. I know the first time the Seahawks and 49ers played last year, it was 13-6, but the second time, it was 42-13. The Rams and 49ers went to overtime twice, once at 13-all, but the other time it was 24-all. Those teams can score.
Mike, to me one of the most noticeable defensive strengths of the 49ers last year was their inside linebackers. Am I off on that perception? Do you have any stats comparing them (tackles, passes defended) against A.J. and Brad Jones?
A statistical comparison like that wouldn't be worthwhile. Patrick Willis and NaVorro Bowman are tremendous inside linebackers, no doubt, but Aldon Smith and Ahmad Brooks at outside linebacker are no slouches, either. Then you have Justin Smith in front of or between them all to make it go. That defense wasn't the same when Justin Smith was hurt late last year. I already referenced the 42 points by Seattle. The week before, New England put up 34 on them. It's how all the parts work together. That's why the Packers need Nick Perry to emerge opposite Clay Matthews, and why they drafted Datone Jones. Better players can make other players better.
Wow, Mike, you really want the last two minutes of play to be kneel down? You've got to be almost alone on that one.
I didn't say that's what I wanted. I just said I like the way the math works out with regards to the 40-second clock, if the trailing team is on defense and out of timeouts on first down at the two-minute warning. If the game's not over, that's great. But, William from Colbert, WA, I don't want the drama contrived by changing the play-clock rules.
Woodson always scowled, Driver always smiled. Do you see character personalities and player positions tied to one another?
Walter Payton always laughed and smiled, too, and could throw one heck of a stiff arm or shoulder into a guy. He would have played the same way whether at running back or safety. I don't care if a guy puts his thumb on his nose and wiggles his fingers in the huddle, I just want to know if he can play.
Hey Mike, I know for Vic, human confrontation and "the edge" are what draw him to football. Personally, I completely agree. However, you seem more of a decent, polite, Midwesterner compared to guys like us. What do you love about the sport you cover?
Mainly, I just love to see the game played by the best players and strategized by the best coaches. Baseball is my first love, and you can give me Justin Verlander vs. Miguel Cabrera (I know they're on the same team) anytime. So I guess that qualifies as the human confrontation, too, but what I love about this level is it's the best vs. the best trying to outperform one another in an environment of bright spotlights, split-second decisions and dramatic will-he-or-won't-he (tackle him? catch it? make the kick?) moments.
Bob from Cedar Rapids, IA
Mike, what was your "a-ha" moment when it really hit you the NFL is a business and business decisions are made?
I don't remember exactly when, but as a kid I would visit my relatives in Minneapolis/St. Paul, and they always griped about the blackout rule that occasionally prevented them from seeing the Vikings games on TV. That was a foreign concept to a Wisconsinite. Then I grabbed a pencil and paper and did the math on the number of seats in a stadium times the average ticket price times the number of games in one season, and I'm sure something in my noggin went "a-ha."
Stephen from Long Beach, CA
I've yet to have a question of mine selected by Vic, so let's roll the dice and see if a change of scenery helps. B.J. Raji, Morgan Burnett, Sam Shields, Jermichael Finley, Evan Dietrich-Smith, James Jones, M.D. Jennings, Mike Neal, Marshall Newhouse, Ryan Pickett, and C.J. Wilson form a list of players who are not under contract past this upcoming season. Despite the substantial cap space, you have to expect that some of the bigger name players listed will not be Packers next year. Do you think this increases the sense of urgency in Green Bay, perhaps more so than it did in '11 and '12?
In general, there's no greater sense of urgency for the team now versus before. But maybe the greater sense of urgency for those individual players needing new contracts will work in the Packers' favor.
Sometime I think it would be fun if you and Vic both answered the same questions to really see where you guys disagree. What do you think?
A website showdown conducted by the readers. I like that idea.
Mike, what do you think about teams having an analytics department to evaluate players and build a team in a "moneyball" sort of way? The Bears and Jaguars both hired analytics guys this year. It's certainly worked in baseball. Nearly every team uses some sort of sabermetrics. Is there a place for it in football? I have a feeling Vic would be a strong "no" here.
I'm not sure what Vic would think. Analytics can have its place, but I wouldn't go overboard or give it undue weight in the overall analysis. One of the biggest things I learned when I first got here and started attending the scouting combine was how, as one scout put it, there are many "pieces of the pie" in the evaluation of prospects. There are campus visits in the fall to watch practices and games in person, plus film study and background checks. There's the Senior Bowl and other all-star games. At the combine, there are on-field drills, workout tests (the 40, bench press, etc.), interviews and medical checks. Then after that, there are pro days. All the pieces create the overall picture, even if the combine gets all the media attention. Another piece could be added, but it should be just a piece of the pie.
Hey Mike, I would just like to say thanks to you and Vic for always posting these questions just before my lunch break. In regards to your point about the deep ball being somewhat absent last year, it seemed like to me Rodgers just overthrew his receivers a lot more last year than in 2011. Is there a statistic to back that up or am I incorrect in my thought?
The goal is to always post the column by 11 a.m. CT (noon ET), and in his stead I try to stick to Vic's timeline. As for the deep ball, I don't know if overthrows specifically were the issue, but statistically there's this: according to STATS LLC, on passes that covered 21-plus yards in the air last year, Rodgers completed 19 of 53 (35.8 percent) for 664 yards. In his 2011 MVP season, in the same category, Rodgers was 28 of 52 (53.8 percent) for 1,152 yards. That's a huge difference in success and production on basically the same number of attempts.
Before his new contract, Rodgers was surely the most valuable player in the NFL, dollar for dollar. Now that Rodgers and Matthews have their new contracts, who's the most valuable player on the Packers, dollar for dollar?
I'd still say it's Rodgers, because he's the most irreplaceable player on this team.
Mike, you say Rodgers on offense and Matthews on defense are our most important players. Who is the man behind the man? Which offensive player will have the greatest impact on Rodgers' success this season? Bulaga? Who can most enable success for Mathews? Perry?
Both good choices. The others I would consider are Eddie Lacy on offense and Datone Jones on defense, but my first instinct is to go with your picks, because they're not rookies and they play premier positions.
Steven from The Colony, TX
Hey Mike, if defenses continue to commit to playing cover two against us, do you believe the Packers are willing to commit to the run? Or do you believe Mike McCarthy will try to force the passing game despite a respectable running game? I think that if I am an opposing defensive coach that I try to take the ball out of Rodgers' hands and make them win with a run game.
I've thought about this very issue of commitment to the run, and I don't believe McCarthy will shy away from running the ball if it's successful. The real question is, if the ground game is struggling, how much will the Packers stick with it? Or, perhaps more to the point, how much should they stick with it? You've got the best quarterback in the game under center, and there's a fine line. The Packers have won a Super Bowl and two division titles the last three years without much of a running game. As Vic would say, let's watch.
Liam from Birchip, Australia
Hey Mike, when coaches grade players after a game, do they include plays that were negated by a flag? For example, the O-line does a great job springing the RB, who makes the right read and gashes the defense for an 80-yard TD, only for it to be called back by a lazy WR getting called for holding on the other side of the field. Do the O-line and the RB receive positive grades for this play and does the WR receive a negative one? Or is it ignored because it didn't count?
All plays are graded. Everything is evaluated to get the most complete evaluation possible. Can you imagine a player sitting in the film room and getting no credit for a great play when he had nothing to do with what negated the play? Players get all the credit, and blame, they deserve, because coaches have to make sure they're playing the best players.
Jim Otto wore No. 00 for the Raiders decades ago. Has anyone worn No. 0 or 00 for the Packers?
Jim Otto, another with a Wausau connection, though his roots run much deeper than mine. No one has ever worn No. 0 or 00 for the Packers in a game. Neither number is allowed to be issued any longer, not since the standardization of number ranges to positions, in 1973. I think Otto and Houston receiver Ken Burrough were grandfathered in with "00" and were allowed to wear it even after '73.
Hey Mike/Vic, with the recent questions about the Packers' retired numbers, I'd like to ask: which Packers player who does not have his number retired do you think is most worthy of the honor? (Not counting pseudo-retired numbers like Lambeau's.) My vote goes to Willie Davis. What say you?
I think at this stage, to retire any more other than Favre's No. 4 opens up a door that would be almost impossible to shut. When Dave Robinson is inducted into the Pro Football Hall of Fame this summer, the Packers will have 21 players (22 individuals including Vince Lombardi) in the Hall. That leaves 16 Hall of Famer players without their numbers retired. I don't know how you rationalize any one of those players over another at this point. Trace from Edisto Island, SC, asked about the rationale behind Ray Nitschke. I was only 11 years old when Nitschke's No. 66 was retired in 1983, but my (pure) speculation is that there was a desire to represent the defense from the Lombardi era, and not only was Nitschke an icon in that respect, he was the first of the Lombardi defenders to go into the Hall. Also, at that time, he had played in the second-most games in Packers history, behind only Bart Starr, whose number was retired 10 years earlier.
Sheila from Mombasa, Kenya
Mike, I cannot find the articles you said were posted in May and June 2011 about different players numbers and who was the greatest to wear each. Is there any way you can post a link to it on here?
Hey Lama! How about a little something, you know, for the effort?
I'm not expecting a raise for doing Vic's column, if that's what you're implying. So I've got that going for me, which is nice.