Cliff Christl started gathering oral histories with former Packers and others associated with the team in 2000 and will continue to gather them as Packers historian. Excerpts from those interviews will be periodically posted at www.packers.com
Clyde Goodnight was Don Hutson's successor, which was certainly an unenviable role. Nevertheless, Goodnight played four-plus seasons for the Packers and caught 89 passes, averaging a healthy 18.3 yards per catch. Drafted in the third round in 1945, Goodnight started all 10 games that season at left end, although Hutson was far more productive in his reserve role. Hutson led the Packers with 47 catches whereas Goodnight finished third with seven receptions. When Hutson retired following the 1945 season, Goodnight stepped in and led the Packers in receiving in 1946 and 1948. His best season was 1947 when he finished second to teammate Nolan Luhn in receptions with 38. That was the year the Packers switched to a variation of the T-formation. In 1949, Goodnight started the season opener and was released. He was picked up by Washington and finished his career there, playing in 20 games in 1949 and '50. Goodnight played with Luhn at the University of Tulsa and throughout his time in Green Bay, where they were nicknamed the "Tulsa Twins."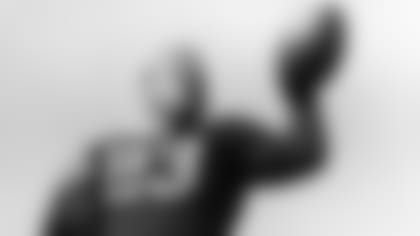 On playing as a rookie with future Hall of Famer Don Hutson: "He's still the greatest of all time. You know, he was 32 my first year and he could still outrun everybody on the whole team. He was just a real fine man, a gentleman. You don't find too many like that. Don Hutson was a great pattern runner and nobody could cover him."
On Hutson splitting out wide in his final season rather than playing tight to the tackle as the ends mostly did in Lambeau's Notre Dame Box offense: "The reason he split, he couldn't get out. They were knocking his brains out when he was close in."
On how much pressure he felt as Hutson's heir apparent: "I was so young – I played my first year with the Packers when I was 21 years old – and I was in medical school in the offseason, so I had my mind on a lot of other things. I suppose there was some pressure, but I didn't quite realize it at the time. Looking back on it now, it's hard to replace a legend."
On having Hutson as his end coach from 1946 to 1948: "Don Hutson was a great coach. He helped Curly a lot and he helped me a lot."
On City Stadium, home to the Packers from 1925 to 1956: "I have very fond memories. We filled the stadium and the people were wonderful. They were wonderful fans. Even back in those days, the Green Bay fans had the reputation for being the best. I never thought of it as being rundown when I was there. I was just a young man. But I thought it was a nice stadium. The locker room was as good as anything I was used to. It was nothing special, but we had showers and clean towels every day."
On the Packers' Lumberjack Band: "They played in the northwest corner of the field. There was a stage there. They all dressed up and they had a good time. I didn't pay too much attention to it at the time, but they played pretty darn good music. Everybody had lots of fun."
On Curly Lambeau: "Oh my goodness! There ought to be a book written about Curly. Maybe there is, but some of the funniest stories you'd ever hear in your life, he'd do. I remember one they told. I didn't see this one. But they were playing a game somewhere and they had these sideline markers. They were V-shaped and set at the goal line, the 5-yard line, the 10-yard line, you understand. Curly thought they were made out of pasteboard. So something happened on the field and he kicked one of them. It was made of wood and he went limping off holding his foot. They tell me all the guys on the bench nearly fell off, they were laughing so hard."
On Lambeau's game-day coaching: "Sometimes, Curly would call on guys to go into the game who hadn't been with us three, four, five years. He'd get so excited. He'd call out to somebody to go into the game and somebody would yell, 'Coach, he hasn't been with us for three years.' Curly yelled and hollered a lot, but he just wanted to win real bad. Everybody understood him. I think. Curly was well liked."
On Lambeau's halftime speeches: "Oh my goodness! Curly was a coach from the old school. He could really give you a fiery speech."
On what were Lambeau's weaknesses as a coach: "I'm going to give you an honest answer. Curly worked us a little too hard. We were too tired on Sunday to play. That's always a problem with a coach. He wants to work you too long and too hard. Curly had trouble with that. We scrimmaged a lot, believe it or not. And Curly made us run so much. On Sunday, I was a split end and my legs were already tired. When I went to the Redskins, I thought, 'This is great.' We practiced two hours and we were off that field."
On whether Lambeau stayed up with the times and what it was like when he switched from his Notre Dame Box to a version of the T in 1947: "I don't want to be too hard on him, but having played for the Washington Redskins later, I'd say Curly wasn't well versed in the T formation."
On being cut by Lambeau following the 1949 opener: "We played the Chicago Bears in the first regular-season game and they beat us, 17-0. I didn't have a good game because our quarterback was on his back all day. Looking back, I'm still resentful of getting fired. Nobody likes getting fired. So Tuesday morning after that game, Curly Lambeau called me in. He said: 'Clyde, you've been one of our good players and I hate to do it, but I've got to let you go.' I said, 'Curly, it's your team, you've got to do what you've got to do.' Five minutes later, he resigned himself (to become an advisory coach). The reason I think he fired me: No. 1, he saved some money, which wasn't all that much. No. 2, the end coach didn't like me. He wanted to bring in one of his own players."
On his troubles with the new end coach: "His name was Bob Snyder. Be that as it may, he tried to change everything Don Hutson taught me to do. (Heck), I couldn't do that. I was 25, 26 years old then. So he told me, 'You're either going to run these routes like I want them or else.' I knew what that meant, you know. Anyway, the Bears beat us and I didn't catch any passes that day. The Bears just outplayed us. They had a better ballclub. Anyhow, they fired Bob Flowers, our first-string center, and they fired me. I went to the Redskins and played two years after that."
On whether he held a grudge against Lambeau for cutting him: "He fired me, but I liked Curly and I think he liked me. Curly was a good man. I don't hold it against him because he fired me. He did it because he had to."
On whether Lambeau told him he was forced by the executive committee to cut payroll: "It was the money thing. I'm not trying to excuse myself, but I'm pretty sure I was the highest paid we had. And they were hurting so bad."
On playing the Packers later in the 1949 season and beating them, 30-0: "The Redskins gave me the football – everybody signed it – and I've still got it."
On the state of the Packers in 1949: "That '49 season was probably the worst year in the history of the Green Bay Packers, financially and everything else."
On Jack Jacobs, who played quarterback and defensive back for the Packers from 1947 to 1949: "Jack Jacobs was really a great football player. He was an erratic quarterback. He was what you'd call a hot and cold quarterback. When he was cold he couldn't do anything, but really a great athlete. And he was tough. He loved to play defense. He was hot-tempered and hard to get along with. He liked to fight. He'd fight the guys in practice and everything else."
On quarterback Stan Heath, who lasted one season with the Packers after being drafted No. 5 overall in 1949: "In 1948, we played the Bears down in Chicago and after a play was over, they put the knee to me and broke two transverse processes in my back. So I was done for the season and Curly Lambeau called me in. He said I want you to go down to Wichita, Kan., and when Stan Heath brings his Nevada team in, I want you to scout him. So I went and took meticulous notes on him. Man, I watched him from the time he went on the field to the time he went off. I sent the report back and wrote, 'Curly, he can't make it.' Old Curly went ahead and drafted him first the next year and he didn't make it. He just couldn't throw the ball well enough. He just didn't have it."
On Jug Girard, who played halfback and quarterback for the Packers from 1948 to 1951: "Jug Girard was a real fine football player, but he just wasn't a No. 1 quarterback."
On Tony Canadeo, Packers Pro Football Hall of Fame halfback: "Tony was just a real tough competitor. He really had a lot of acceleration. He'd take just two or three steps and he'd really be going. You know, he ran hard. He was hard to tackle."
On Bruce Smith, Heisman Trophy winner from Minnesota who played with the Packers from 1945 to 1948 and never played up to expectations: "Bruce Smith had bad knees. He was really a fine man and a fine player. But, you know, when you had a knee operation back in those days, you were just about out of it. I never really saw anybody come back from a knee operation back in my day. He also played behind Canadeo."
On Larry Craig, an outstanding defensive end and blocking back for the Packers from 1939 to 1949: "They called him Tarzan. He was one of the most perfectly built human beings I've ever seen. He looked like Hercules. He was just tough. He was a Southern boy, from South Carolina. Everybody liked him a lot. I liked him."
On Bob Forte, who doubled as an offensive back and linebacker for the Packers from 1946-50 and '52-53, and one of their last two-way players: "One of the best. He was just a fine, outstanding athlete. He was a defensive back, but he could play quarterback, he could play anything."
On tackle Dick Wildung, who played from 1946-51 and again in 1953: "He wasn't a real big guy. He weighed 225, 230, maybe not even that much. But he was real fast and real competitive."
On Ed Neal, a blacksmith in the offseason who played center and middle guard from 1945-51 and weighed 285 pounds or more: "There never will be another person like Ed Neal. What a character! Everything about him was funny. He and Ted Fritsch kept everybody laughing. (Neal) weighed over 300 pounds, but Curly would look at the scale and (Neal) could weigh anything he wanted to. That's the true story. He could weigh 300, 290. It depended on what Curly wanted. I still don't know how he did it. (Neal) was so funny; it was hard for him to get serious."
On Ted Fritsch, Packers fullback from 1942-50: "Ted Fritsch, one of the greatest fellas who ever lived. All the fellas loved Ted Fritsch."
On living at the Astor Hotel his first year in Green Bay: "It was very austere, but it wasn't anything to be ashamed of."
On Rockwood Lodge, where the Packers lived and trained from 1946-49: "I loved Rockwood Lodge. I was single at the time and I thought it was a great innovation. Curly, as far as I know, was the first football coach to have a place where guys could stay. It didn't cost us anything. Good food, a good place to live. It was great. It wasn't anything plush, but nice. I could save several hundred dollars because I didn't have any expenses. The guys enjoyed it."
On the practice field at Rockwood: "We all got shin splints and everything else out there. Curly had dirt brought in, but doggone, that field was hard."
On the train rides to road games in the 1940s: "They'd give people the hot foot. There were (these) matches that looked square and they'd give them to you for samples. You'd take those matches when a guy was sleeping and put them on the sole of his shoe. Everybody would be looking as that thing would burn down to the shoe and (the player) would come out of there hollering like a baby."
On whether he remembered any specific incidents: "They did that to Roy McKay one day. He was a Texas cowboy and he had the most beautiful pair of boots you ever saw. Somebody gave him the hot foot and he got up and wanted to fight the guy who did it. Everybody was laughing at him, but he had those $100 boots – and $100 was a lot to pay for boots back in those days – and there was a hole in the bottom about two inches around. We had lots of fun."
On whether the players did much drinking on the train rides: "Somebody would always sneak on a fifth of whiskey. Nobody would get real drunk or anything, but everybody would have a few drinks and sing and talk and laugh. We were just young kids."
On the Packers-Bears rivalry: "I played with the Packers four years and it didn't get any better. It got worse. It was sort of a chicken-and-egg situation. One side would accuse the other side of playing dirty, which they were, then they'd start playing just alike. Everybody would lose their cool and start fighting. Nobody liked each other. It wasn't a good deal. The Bears really were a dirty team. And I hate to say it, but it comes out of my heart. I thought (George) Halas was the cause of it. Every team is a reflection of their head coach. The Bears just played dirty football. At least that's what we on the Packers thought. They'd hit you on the way back to the huddle if you didn't watch it. I never played against the Bears that they didn't bloody my nose, my lips or something with illegal punches. A man could really get hurt out there if he wasn't careful."
On Lee Artoe, one of the Bears' dirtiest players according to many Packers: "He got Larry Craig in the first game in 1945. I saw it with my own eyes. I did. I'll tell you what happened. They kicked off to us and Larry Craig blocked Lee Artoe. I saw Artoe pick him up with one hand – I think Craig thought he was going to help him up – and he smacked him with that other hand. Boy, he knocked his nose all over his face. He just broke it real bad. And, boy, Larry Craig was the meanest, ugliest guy you ever saw. He played the rest of that game with that nose like that. Tough guy. Great athlete. Artoe had just smacked him perfectly."
On whether Craig got even: "The second game in '45, it was always rougher at Wrigley Field. That second game, everybody said they were going to get Artoe if they got a chance. What happened was – I saw it in the pictures – (Ken) Keuper was our fullback and Artoe came through that line and slipped off the guy who was blocking him. Old Keuper was waiting, crouched down and he came up with that elbow. After that season Artoe joined the Los Angeles Dons of the AAFC and also did some recruiting for them. I went back to Tulsa to continue my schooling and Artoe stopped there and tried to convince me to jump to the Dons. We got to talking about that game down in Chicago. It's four, five months later, you understand. Artoe said, 'I've got just one regret. I wanted to get even with that Ken Keuper if it was the last thing I ever did in my life.' Artoe told me (Keuper) knocked out 11 of his teeth."
On defensive end Ed Sprinkle, another of the Bears' villains: "Sprinkle played dirty football. He'd hit you with a fist. He'd hit you after the play, all that kind of stuff."
On Bears center and linebacker Clyde "Bulldog" Turner, a future Pro Football Hall of Famer: "Bulldog Turner I wouldn't accuse of playing dirty; I'd accuse him of playing hard football. A very aggressive, physical player. He backed up the line over on the weak side and the guy was just so talented. He could run like a halfback. He could do anything physically. And, you bet, he'd hit you."
Goodnight, who went to medical school and became a family physician in his hometown of Holland, Texas, for more than 30 years, died in 2002 at age 78. The excerpts above were taken from interviews conducted in 1997 and 2000.