*As part of the Green Bay Packers' celebration of the 10th anniversary season of the Super Bowl XXXI Championship, Packers.com is running a series of stories about the people responsible for bringing the Vince Lombardi trophy back home to Titletown.
When Ron Cox returned to Green Bay for the Packers' Monday night contest versus the Minnesota Vikings, on Nov. 21 last year, he was like a fish out of water. Cox was experiencing two firsts on the night and he wasn't sure he could handle one of them.
It was the first time Cox -- who now lives in Lake Forest, Ill. with his wife Michelle, Kelsey, 14, Cailin, 12, and Ron Jr., 9 -- had returned to Lambeau Field since it was renovated in time for the 2003 season.
The former outside linebacker, who had played on the Packers' Super Bowl XXXI team, attended the game with his brother-in-law and nephew, who came all the way from New Hampshire to see the Green and Gold. And Cox was treating his son Ron Jr. to the Packers' game on his ninth birthday.
What Cox, 38, didn't realize at the time was that getting a chance to see Lambeau Field once again was going to be a treat for him as well.
"We came down, went to the game and the stadium is so much more beautiful now than it was when I played," Cox said. "I didn't recognize it when I pulled up. I was like, 'Man, this is different.' Everything was completely different. It's unbelievable."
Yet, there was one downfall. And it happened to be another "first" for Cox.
"For me personally, it was the first time probably in my whole professional life and college life that I ever sat in the stands at a football game," Cox said. "And let me tell you, I can't do that again. It was so difficult for me to sit there and watch some of the same guys that I played against play the game.
"There were some wonderful people in the stands, but I'm just so used to being on the sidelines or somewhere in that capacity. The kids had a wonderful time, but I was sitting there on pins and needles and couldn't wait to get up. Still, it was fun."
Cox, a 6-foot-2, 246-pound linebacker, enjoyed playing football so much that he decided to stay involved in the game by coaching. He spent three seasons at Fresno State, his alma mater, and helped out on the defensive side of the ball. When he was in the NFL, he and his family would relocate to California after the season. But there came a time when he decided enough was enough.
"It was hard to take my family from Chicago to California, back and forth," Cox said. "The kids never had a chance to have friends over to the house because we were always moving and that was tough. That was my biggest decision by retiring from football. They sacrificed for me all those years and I had to stop and do the same for them."
Since Cox and his family enjoyed the Midwest so much, he decided to make Chicago their permanent home. Last season, Cox served as a linebacker coach and assistant defensive coordinator at Division III Lake Forest College. He guided two linebackers to all-conference awards and another to honorable mention recognition. Cox said he's had success at the college level because he relates well to the players.
"It's a lot easier for me to talk to some of these college guys because I did it all," Cox explained. "I played hooky from school like they tried to do and, you know, they can't pull it over me because I've done it.
"I think that the trust that the college kids have for me came because I have some kids right now playing in the National Football League that know me very well and I coached with them. They still call me and still respect a lot of things I did for them."
Still, despite the job he's done in the college arena, Cox knows the place where he wants to be, and it's one he's very familiar with from his time as a player.
"I'm still trying to take that next step back to the NFL, where I started," Cox said. "Coaching college football has been a lot of fun. I love to teach. But I want to get back (to the NFL)."
For now though, Cox is happy to be back where he can concentrate on his interests outside of football and his family can do the same.
"I'm a big hunter so between Illinois and Wisconsin, those are some of my favorite hunting grounds," Cox said. "I'm a big bear hunter, bow hunter, I've done it all. Lions and leopards and everything else a person can think about.
"That's one of the reasons we wanted to come back from California to the Midwest. It's nice to have a change in season and my kids like to wake up on Christmas like they did and see the snow in the yard. Sometimes you have to make those decisions and they have worked out very well for us."
Talking to Cox, you understand that the man loves football. That much is obvious. But you also find out quickly that his family is more important to him than anything else on earth.
"I have three beautiful kids and to have the opportunity to watch them grow and be a part of their lives, coaching soccer for them, and just having the family life for me was very important," Cox explained. "I think a lot of people need to spend a little bit more time with their kids because my dad died at an early age of 56.
"And before he died, he told me, 'I wish I had more time with my son.' I'll never forget that. He died about two minutes later. It's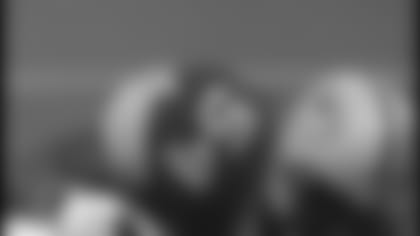 times like that...That's why I have spent a lot of time with my kids. They get mad, and they say, 'Dad, give me a little space, give me a little space.'"
Cox jokes around about his children, but make no mistake about it, he's very proud of them.
"My 14-year old Kelsey is a first-degree black belt and my 12-year-old Cailin is a brown belt," Cox said. "And my son, he's almost a brown belt. They have been pretty dedicated in sports and everything else, too."
"They're getting so grown up now that I need to get away from them for a little bit," Cox added with a laugh. "They're starting to talk too much and they always want to correct me all the time. But I can't complain."
When Cox talks about football, and about the '96 season in particular, he sounds like a fun-loving kid who just had the time of his life. While some players don't remember much besides the season itself, Cox fondly recalls the NFC Championship game against the Carolina Panthers and the Super Bowl the most.
"All week they had been talking about how good the Carolina Panthers' running game was and how this was going to be our toughest challenge," Cox recalled. "George Koonce got hurt and I ended up starting in the middle. I played outside linebacker my whole life and now all of a sudden, I'm playing middle linebacker.
"I worked pretty hard that week and all the guys supported each other real well and we went out and played one of the best football games we ever played. They had 45 yards rushing and I had a pretty good game. It was the first time the Packers had been to the Super Bowl in 29 years. And I was very happy to be a part of that dream."
Cox joked that he didn't know if he would actually be able to take part in the next step of that dream because he had been up most of the Saturday night before the Super Bowl. And the nerves carried over into the game as well.
"I am still a little numb from it because I will never forget when I called a play out, and when we broke the huddle, Drew Bledsoe came up to the line, and Reggie turned around and he said, 'Hey Cox, what's the play,' because he forgot the call," Cox recalled. "There were so many nerves, and I was nervous myself. Bledsoe started making an audible, and Reggie turned around and asked again, 'Hey Cox, what's the play?'
"And Curtis Martin ran the ball and hit me right in my mouth. I said, 'That's the play right there.' That was one of the most fun times I had when I played."
Cox enjoyed his time in Green Bay so much that he wouldn't mind reliving those happy moments. Only this time from a little different perspective.
"My dream would be to have an opportunity to come back there (Green Bay) as a coach and do it all over again," Cox said. "I did it as a player, but to have an opportunity to come in there as a coach in the frozen tundra and do it all over again, that's one of the reasons why I have been trying extremely hard to get back in some capacity. It's just one of those dreams where I could see it happening all over again."
By then, Cox would definitely get used to the new-look Lambeau and he wouldn't have to worry about watching the game from the stands, either.