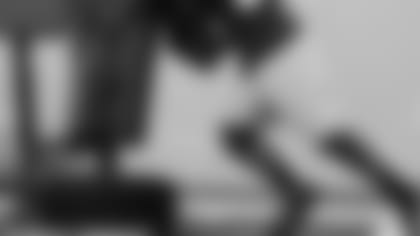 DE Datone Jones
You ask if Capers ever got full credit for calling that zone blitz in the 2010 NFC Championship game. No, because it's players, not plays, right?
You're right, it's players, not plays, so I'm OK with Coach Capers not getting the credit for that touchdown, but what about the people who believe it's plays, not players? Hey, you can't have it both ways. Those are the people who ripped Coach Capers for scheme flaws against the 49ers. Did they credit him for Raji's touchdown?
Cameron from Las Vegas, NV
Vic, was wondering what is your favorite part about training camp?
It used to be the Oklahoma drill and the two-a-days and finding out who the tough guys were that could make it through nine weeks of full-pads practices and the hitting and the heat. Those days are gone, but one thing remains: the human confrontation. Every year, guys come out of nowhere to win roster spots, and that's my favorite part of training camp.
Jaime from San Cristobal, Mexico
You're Greg Roman, offensive coordinator of the 49ers. It's the start of the 2013 regular season. You know the league's defensive coordinators have worked all offseason on how to stop the read-option. So what new wrinkles have you come up with for them since the Super Bowl?
Lots and lots of play-action to expose the vulnerability of teams that became obsessed with the quarterback as a runner.
Vic, I once read a sportswriter argue that if the fate of the human race depended on the result of one baseball game, Sandy Koufax would be his pitcher. Who would be your quarterback in one football game for all the marbles?
I need a little more information than that. If my team has a punishing running game, then I'd want Bart Starr or Terry Bradshaw or Troy Aikman to be my quarterback. I'd want a guy who knew how to manage the game and make the big plays when they were needed, as Starr did. I'd want a guy who could take advantage of all that running and hit the big play over the top, as Bradshaw did. I'd want an accurate passer who could convert third down, as Aikman did; he was one of the most accurate passers I've ever seen. If I didn't have a punishing running game, and if I had to rely more on the pass, then I'd want a Johnny Unitas, Joe Montana or Tom Brady, which is to say a guy who would take the ball willingly and shoulder the responsibility for winning or losing. Most of all, I'd want a guy who got it done at crunch time. I'll give you one more name: Aaron Rodgers. There isn't anything in his game I don't like. The only difference between Rodgers and all of those other quarterbacks I named is that Rodgers is still in the process of doing what all of them have already done. I'll give you one more name: Ken Anderson. I hesitate to put Kenny in that class because he's a friend and I'm biased, but I covered a lot of his games and he beat a lot of teams that were a lot more talented than the team he quarterbacked. If Pete Johnson had gained one more yard and scored in Super Bowl XVI against the 49ers, I think Kenny would be in the Hall of Fame. Frankly, I still hold out hope he'll make it in.
Mark from Stewartville, MN
Vic, you mentioned that Pat Summerall was one of the NFL's best play-by-play announcers. What did you like about his work?
What I liked about it is that never, not one time in all of the times Summerall broadcast a game I watched, did I dislike his work. He was measured and calm in his delivery. I grew up listening to legendary Pirates play-by-play man Bob Prince and his trademark "You can kiss it goodbye" home run call. Prince was a huge personality, a guy who would say outlandish things, and he was one of the few who could pull that off without angering people. Summerall angered no one, and that's why I liked his work, at a time when audiences had become hyper-sensitive to broadcasters. I'll give you one more name, and this is another name I hesitate mentioning because, again, it belongs to a friend and I'm biased: Kevin Harlan. I met Kevin years ago when he did preseason games for the Jaguars. I knew the last name but didn't know the first name, but I quickly discovered that he was very, very good, and I remember telling my boss in Jacksonville that Kevin was going to be a star. Well, I just met his daughter, Olivia, who is going to be joining packers.com to do training camp videos this summer. I know what you're thinking, that you're going to miss seeing me on the videos, but trust me when I tell you that you are gonna love Olivia.
I will be three years removed from high school this coming year. Does this mean I will be able to try out for the Packers?
No, you would have to apply with the league for draft eligibility for that to happen, if you're fewer than four years removed from high school. If you were four years removed from high school graduation, you'd automatically be draft eligible.
Vic, I was reading about the five players the Packers signed and two that were released and something caught my attention. What is the difference between a first-year player and a rookie?
You can only be a rookie once, but unless you meet the standards for being credited with an accrued season, you can be a first-year player forever.
Derek from Los Angeles, CA
Vic, I know OTAs are technically voluntary, but given the competitive nature of today's NFL, are they actually voluntary?
Yes, they are voluntary. Nobody is required to attend OTAs. They are not mandatory, but I think they're obligatory. I think a good teammate feels a sense of obligation to participate in OTAs and help prepare himself for training camp.
Hey, Vic, every week during the season my dad says he has a bad feeling about the game. If we play a good team, he expects us to lose, and if we play an underdog, it's a trap game. I've tried to get him to just enjoy each week's game, but nothing seems to work. What would be your advice for him?
Tell him to say nothing. Words are meaningless and nothing any of us can do or say is going to impact the outcome. All we have to do is watch. Prepare yourself to watch. Absolve yourself of responsibility for the outcome. You'll feel better. What I think you'll find is that the calm you'll feel heading into the game will allow you to more fully enjoy the game, and I think you'll find that you'll be able to participate with others in their enjoyment of the game. Nobody wants to watch a game with a Debbie Downer.
Dan from Grosse Pointe, MI
Vic, if you could sit down and have a beer with one Green Bay Packer throughout history (player or coach), who would it be, why and what would you ask them?
Instead of giving the standard Lombardi or Starr answer, I'm going to say I would like to have a beer with Bucky Pope. Why? Because when I was a kid, I saw him in a "Street and Smith's" preseason college football preview magazine and I fell in love with his nickname, "The Catawba Claw." I would ask him about catching 25 passes for 786 yards, 10 touchdowns and a 31.4 yards-per-reception average as a rookie with the Rams in 1964, and about the knee injury the following season that ruined his career. He finished with the Packers in 1968. Hardly anybody knows anything about Pope, but it was fewer than 50 years ago so Brett might even be interested in a player of rare skill. If you like bigger and faster, this is your guy. Pope was 6-5 and ran like Hayes, and I don't mean Willie Mays Hayes. Pope's was a potentially great career lost to the dreaded knee injury that ended so many careers in those days. What might his career have become had it not been for the knee? What if he had played today?
Vic, in helping to sell play-action, how does a pulling guard pull without holding in some fashion? What's really allowed, tolerated and what makes a great pulling guard?
I'm not quite grasping what you're asking, but let me say this: When Tom Moore was the Colts' offensive coordinator and Peyton Manning was their quarterback, the Colts were the most predictable tight-red zone offense in the league. They ran trap and they ran trap pass, but they were one of the best offenses down near the goal line that I've ever seen. It's the action of the guard pulling out that freezes the middle linebacker and allows the tight end to sneak in behind him. I mention this because it's an example of how run and pass can play off each other.
Vic, if you sat down a few times in an informal setting and chatted with some players, got to know them a bit better and they came to understand the type of reporter you are the way we do, do you think you would end up able to conduct a few interviews the way you used to? All of your talk about how great the player-reporter interactions used to be makes me kind of sad at what we don't have anymore, even if I'm far too young to have been alive during those times.
Maybe, maybe not. It's very difficult for these players to feel comfortable with the media when they see how dangerous the media can be. A lot of the fan sites are uncredentialed, so they really have nothing to lose by being less than credible. They get the views for being wrong, and then they get the views for reporting the truth, which was hunted down by a credible news agency that isn't as popular with fans because they don't report enough shocking things. These are tough times in the media business. The Internet is the best thing that's ever happened to reporting news and information, but it's the worst thing that's ever happened to the credibility and reputation of my profession. I have never in my life seen more shoddy reporting than I did during the conference realignment rumor mongering that literally forced conference commissioners to deny reports made by message board contributors. It got to the point that some of the high-profile college football reporters on some of the top sites in the business were contradicting themselves by the hour in their tweets. It was embarrassing for our profession, but it lit up the sites with visits and that's what the Internet is all about. There's something in my industry called "Search Engine Optimization" and it's a grave threat to journalistic integrity.
David from New Auburn, WI
I know only time will tell, but judging from what you have seen, and the information you have gone over, what side of the team is going to be more positively impacted by the draft, offense or defense?
Offense is the easy call. The two running backs offer the potential to change the face of the Packers offense, and the two tackles and the two seventh-round receivers are really intriguing, but I can't help but think Datone Jones could singlehandedly have that same impact on the defense. If all of the other pieces fit into place, Jones could be a difference maker. I think he's going to give the defensive line an athleticism it hasn't had since I've covered the Packers.
Vic, I love the column; I read it every day. Who in your career has had the biggest locker room presence on their team?
It was Joe Greene. I remember doing an interview with Joe in the locker room. We were having difficulty communicating because a young player was playing music very loudly. All of a sudden, Joe stopped talking and stared in the rookie's direction. Other players in the locker room saw Joe staring at the kid as he continued to dance to the music, and they began to laugh. The kid didn't get it, but then he turned his head to the right and his eyes met Joe's. Not a word was spoken. The music stopped.
Andrew from Johnson Creek, WI
Vic, I know I don't have an NFL body. What type of gal should I be looking to marry so my kids may fare better?
Find yourself a big girl. The 6-0, 190 guys that can run are everywhere. The big guys are tough to find.
Top five fan myths. What are they? For example, a lot of fans are under the belief that veteran players mentor the younger players. I remember Torry Holt commenting on how he was going to mentor the young wide receivers right to the bench.
2.) Football players are football fans. 3.) Pep talks work. 4.) One team's plays are better than another team's plays. 5.) You can tell whether a team has won or lost on the plane ride home.