Vic, I hope you're enjoying your newfound free time in the Palmetto State. How do you watch the preseason games if they are only broadcast statewide in cheeseland? Special satellite feed, live stream, some other?
I have DIRECTV service and they show the games on tape delay for insomniacs and wayward sportswriters.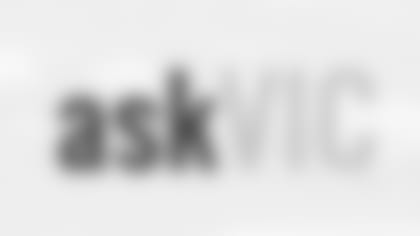 What did this game show us about the top of the depth chart?
I guess it showed us the top players won't get injured if they don't play. Last night's game, and nearly all of the preseason games around the league, was about the bottom of the depth chart and the potential for members of it to one day become top-of-the-depth-chart players. Did you see young, ascending talent last night? If you can answer yes to that question, it was a successful preseason opener.
Do you think teams adjust their game plans in preseason to prioritize evaluation of one group over another?
Teams adjust their scheme and usage of personnel to expose aspects of their team to which they're seeking information. I can remember Jack Del Rio putting a rookie cornerback who was a training camp star in all-alone coverage in a preseason game to see if the rookie was as good as his practices. He struggled, which leveled evaluation of him and helped the team plan for the position. The preseason is about the evaluation of talent and its degree of readiness. What's your evaluation of last night's game? Answering that question is the most entertaining aspect of the preseason.
Vic, what did you think of the Packers' first of four joint practices?
I can understand why you would think of last night's game that way. They're not games as we know them. Every team's intent in the preseason is to evaluate talent and achieve improvement. Those are the same goals for practices.
Do you think we can replicate the TOP in Jacksonville?
Nearly 40 minutes time of possession might be unrealistic, but it's how you win in the heat and humidity of a one o'clock kick in Florida. To do that, you need a stable of running backs. I want to see more from the Packers' young backs in the next preseason game.
Dustin from Independence, MO
Vic, first impression of the defense?
Except for a couple of breakout runs, it stopped the run. It also stopped the pass and rushed the passer, and it did all of that with young talent. It was an encouraging start. Christian Ringo had a sack, a tackle for loss and a quarterback hurry. His performance is especially encouraging because it's at a position where the Packers will be challenged early in the season, especially on opening day when they'll be depleted on the defensive line and needing a rotation of bodies to hold up in the heat. Datone Jones chipped in with a sack, a TFL and two hurries. We keep looking for an undrafted player to jump out at us. Wouldn't it be wonderful if a past first-round pick was that player? Kyler Fackrell also produced a sack, a TFL and a hurry.

Jerry from Wilmington, NC
Vic, will the third QB be on the roster or the practice team?
At this point in time, I think they're competing for a spot on the practice squad, but I might've said the same about Brett Hundley early in last year's training camp. Joe Callahan should feel good about his performance last night.
Vic, how does coverage from home affect what information you get out of the game compared to when you were on the scene? Do you have access to any special journalist resources from your command center, or are you only watching the game on TV like the rest of us?
I know where to go for information, but that information was not readily available to me as it would've been in the press box. The situation will improve when the regular season begins. The preseason is a labor for all of us. When it's all over, you ask yourself: Was it worth it? In my mind, the preseason is a rite of passage.
Will the Packers game from last Sunday be rescheduled?
Many people have told me they don't watch preseason football because it's boring. I don't get it. I love looking at the new talent. Who will be the surprise rookie this year that will play above his draft status?
You could certainly make a case today for Joe Callahan.
Thank God that relic is gone. This column is now something I look forward to every day. Just don't go all Game of Thrones/soccer fan on us, alright?
Mike from North Hudson, WI
Vic, you mentioned growth will define the Packers 2016 season. What will define their 2016 preseason?
The preseason will be defined by the number of young players that emerge as being worthy of development. They are the lifeblood of a draft-and-develop football team. Without them, your arrow is pointing down.
See anything you don't like?
The goal of the preseason has become don't play. It's a leaguewide attitude. I understand why it's that way, but I don't like its message. Coaches face a daunting challenge in the preseason: Have their teams ready to begin the season, but without exposing their frontline players to injury. It's a heckuva balancing act, the success of which can't be judged until the first few weeks of the season have played out.
Vic, what's it like not being there, now that the games have started?
I don't know whose day it is today. What advantage do you think this year's defense has?
The Packers have spent a lot of draft picks accumulating talent for its defense. You are what you draft.
There is no thing. Vic's last prank.
Where did I hide the last "thing"? I've sealed the answer to that question in an envelope.
Dan from Silver Spring, MD
Do the reporters covering the NFL view the job as the most prestigious position, as it relates to covering football news? Or can covering college football be equally prestigious?
It depends on the location. In Alabama, covering the Crimson Tide is the top of the mountain. In Wisconsin, if you're covering the Packers, you're looking down on everybody else.
Why doesn't Mike McCarthy just simplify what he's asking Jeff Janis to do? Run a slant or go deep; just get the ball in his hands. We've all seen what happens when they tell Janis, "OK, Jeff, go deep."
It's time to let go of this obsession. It's not good for us and I don't think it's helping Janis, either.