Heisenburg from Albuquerque, NM
Win or lose, I can't wait for the game against San Francisco to be over. So many fans focus on it like it's the be-all, end-all game. We have so many other opponents who will be tough challenges.
Pressure got to you, huh? Isn't that silly, Heisenburg? You're allowing self-imposed anxiety to rob you of one of the most fun-filled weeks of the season. We waited a whole offseason for this week. It's the first week of the season and you want it to be over? You're not alone in that feeling, either, so this message is for all of those fans that feel as you do: It's time to check yourself. Don't let football become painful. Make it fun, again.
Noticing the Packers have eight defensive linemen makes me think they will rotate them in and out a lot and keep them fresh. I believe that with the big guys this is especially helpful and especially when defending things like the read option. What are your thoughts on that?
It's also especially important to keep your big guys on defense fresh in the hot-weather games. When I covered the Jaguars, they always went heavy with up-front guys because of the hot and humid conditions. They caught teams by surprise early in the Jaguars' existence, and then I began noticing that teams that had to come to Jacksonville early in the season began going heavy with defensive linemen on their roster for that game in Jacksonville. The weather forecast for Sunday in San Francisco predicts sunny skies and temperatures in the mid-70s. That's a beautiful day to sit in the stands and watch a football game, but a 300-pound guy can get real sweaty chasing Frank Gore and Colin Kaepernick around Candlestick Park in that weather. Coaches and personnel people know what they're doing. They think ahead.
Ryan from Platteville, WI
Vic, am I crazy to think this is the most talented overall roster Rodgers has had to work with since he became the starter?
That was my opinion heading into training camp. I was really impressed with the collection of athletes I saw on the field during OTAs. That belief was a little shaken during the preseason. I especially didn't like what I saw from the bottom half of the roster in Kansas City. Be that as it may, a lot of the players the Packers released were claimed by other teams, so those teams obviously saw an overflow of talent on the Packers roster. I'd hate to think those players didn't fully appreciate the opportunity they were afforded in the preseason.
James from Oro Valley, AZ
Vic, if Ted Thompson knows all about Wallace, was Vince Young just a practical joke to keep us all entertained while he hired someone for real? I'm confused.
Wallace was on the 49ers' roster when the Packers signed Young. Personnel departments plan for every occurrence. The Packers' pro personnel department knew where Wallace was. They no doubt had him high in a mythical if-they-come-free rankings. Here's a story that might give you a feel for the Wallace signing: I was covering the Steelers in 1982 when they had a significant problem at kicker during the preseason. I asked the personnel director if he thought he could stick with the situation the way it was, and he told me they had their eye on a guy on another roster. The Steelers were waiting for Buffalo to cut Gary Anderson, who the Steelers liked coming out of Syracuse but Buffalo drafted him in the seventh round. The Steelers expected Anderson to be waived in final cuts and he was. They signed him and he became one of the greatest kickers of all time. If you knew the depth of scouting and planning that's executed by personnel departments, you wouldn't question what they do.
Thomas from Fruit Cove, FL
The number of years you have taken money for doing a job you haven't worked a day in your life due to your love of the game is the same number I wore in college. This will be your finest year, yet.
It sure beats the sintering plant. A life of crime would've been better than the sintering plant.
Vic, I can't wait until Sunday. I want to see the Packers get in the Niners' face and beat them at their own game. I want to pound the ball up the middle, draw that eighth defender in the box and then hit them with the play action. I want to see the defense make them pass and play with a chip on their shoulder. Am I expecting too much?
That's not an expectation, that's a game plan. It's how you score a meaningful win against the 49ers. You can beat them the soft way, by throwing the ball 50 times on a day when your quarterback is on fire, but that's not what the 49ers respect. You beat the 49ers in a meaningful way, in a manner that might impact their planning for a return match in the postseason, by proving you can play big-boy football.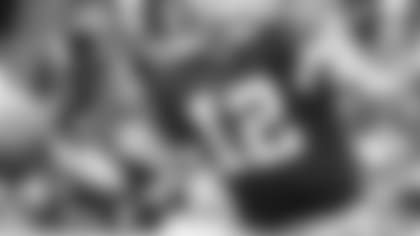 QB Zeke Bratkowski
Louis from Coral Springs, FL
Vic, realistically, how many teams who have "The Man" at quarterback also have a backup good enough to easily fill in with no problem? Also, what are some of the best QB combos of all time? I would think Griese/Morrall would top the list.
That was a good one. Earl Morrall wins comeback player of the year and then gets benched in the playoffs. Four years earlier, he was the league's MVP but was benched in the Super Bowl, replaced by Johnny Unitas. I guess that would have to rank as a pretty good 1-2 punch at quarterback. How about Starr and Bratkowski? Unitas and Cuozzo? A rookie named Mike Kruczek was 7-0 in 1976 when Terry Bradshaw was injured, but Kruczek was helped by a defense that only allowed 28 points in those seven games. Of course, Simms/Hostetler is an all-timer. If you research this subject deeply, I think what you'll find is that the gap in talent between the starter and the backup widened greatly as we moved deeper into the salary cap era. If you lose "The Man" for the season, you're probably cooked. What you want at the backup position is a guy who can hold forth for a game or two. Seneca Wallace can do that.
Ivan from Sofia, Bulgaria
OK, what happened to our draft-and-develop program? That is something the team and the fans are so proud of and now, with cutting Harrell and Coleman, it seems this program kind of failed. Is that a valid point of view?
No, it's not a valid point of view. Nothing succeeds at 100 percent. Ted Williams is the greatest hitter of all time and he failed in 65 percent of his at-bats.
Vic, you wrote, "players don't think as fans do." I was struck by this when I read "Instant Replay" by Jerry Kramer. I was shocked by how myopic it was. Needless to say, I loved it, or the glimpse inside the game it permitted. So when the defenders hear from the media how many yards they gave up to San Francisco in the playoffs last year, is that all they are really thinking?
They're thinking what role did I play in that game? It's as it should be. Coaches don't want players worrying about the performance of other players. Just do your job. That's the myopic view players should have. The coach will worry about the other guys. If everybody does his job, this will work.
Robert from Coupeville, WA
The Jets need 1.5 days to realize Harrell does not possess the qualities to be an NFL player. We needed three years and almost half of this preseason, thus depriving someone who will play with the team the opportunity to get some game time in before they are needed to fill in?
Yeah, the Jets have done a masterful job of managing the quarterback position. By all means, we should use their judgment as the standard of measure at the position.
QB Aaron Rodgers
Vic, are you happy about the overall performance of the team during the preseason? Do you think the players are ready for the games that count now?
I was not satisfied by the performance of the reserves during the preseason. I expected better, so I guess it was my fault because that's what expectations will do to you; they'll cause disappointment. As for the starters, I firmly believe they're ready to play. They moved the ball. Aaron Rodgers was on target. The defense played very well against Seattle. Let's go.
Javier from Los Angeles, CA
Vic, when do you think the Packers will master the running game?
I've set November as a deadline. That's when the run-the-ball time of the season begins. Transitioning from a wide-open offense to a button-down, move-the-chains, win-time-of-possession type of attack can be painful. Some teams just don't have it in their DNA. You don't flip a switch on this kind of transition. I'm a patient man.
Andrew from Jacksonville, FL
Two of the high priorities for the SF game are stopping Colin Kaepernick and Frank Gore. Which is more important to the Packers' success?
Chuck Noll was fond of answering that type of question by saying, "How do you wish to die?" His point was that you have to do both. Atlanta focused on Kaepernick, and Gore beat them. I think it starts with stopping Gore but, if you do, you'll have to stop Kaepernick, too, because the whole idea of the read option is to provide the running game with an option, and the 49ers will exercise it.
I'm expecting the Packers to lose to the 49ers. I think one offseason isn't enough to improve enough to beat the 49ers. Please convince me I am wrong.
Come on, Joel, I said I didn't want this kind of wimpy stuff this week. Convince me I'm wrong? No, I'm not going to convince you you're wrong. I'm not going to waste my time on this silliness. I'm going to enjoy what should be a fun week of football to kick off the 2013 season, and I'm going to share my fun with anybody who wishes to share theirs with me.
Vic, why two separate columns? Couldn't you just extend the first by five questions?
The intent is to create a forum for stories that break later in the day, such as the concussion lawsuit settlement and the Seneca Wallace signing. I want to make sure all of the fans in Norge have a chance to comment on hot topics before they go to bed.