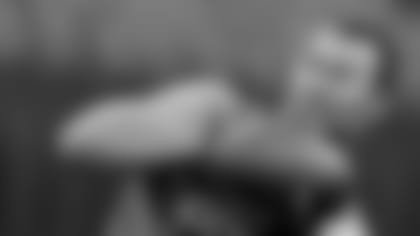 TE Richard Rodgers
James from Bordeaux, France
Vic, is it just me or was your article about how Ted Thompson drafted his guys a preemptive attempt to pacify worried Packers fans' concerns about the disparity between the talking heads' draft boards and Thompson's? The way I see it, we can listen to these draft experts' opinions, but why worry yourself about the picks when you've got an incredible talent evaluator like Ted Thompson at the helm?
It wasn't an attempt to pacify, it was identifying what the issue would be with the two third-round picks and addressing it. After 43 years of doing this, I have a nose for news and I knew the draftnik boards would poison the public perception of those picks before anyone saw them play. Here's the point of the editorial I wrote: How do we know those players wouldn't have been picked by other teams a few picks later? There is no uni-board, nor do teams reveal their boards to each other. The selections of Khyri Thornton and Richard Rodgers cause me to reflect on two first-round picks in drafts I covered: Aaron Jones and Tyson Alualu. Both were viewed as reaches, but what we didn't know was that in scouting those players the teams that selected them came to discover that a couple of other teams had also gotten hot on the trail of those players. The belief was that it was take them or see someone else take them a pick or two later. That's information fans and media don't possess, and draftniks are media. The draft is all about opinion and rushing to judgment, but the performances of the players provide the final grade. If Thornton and Rodgers play well, they will have been good picks. We know the flip side.
I admit my heart wept a little to see Borland go a few spots ahead of us to the hated 49ers. I was actually hoping the Packers would grab him in the second round, and he almost fell to us in the third. So close.
How do we know the Packers would've taken him in the third round? I fell in love with Chris Borland at the Senior Bowl. I think he's a fantastic football player and I advocated the Packers picking him, but after the 49ers picked him last night, I listened to Bill Polian absolutely crucify the kid. He said he was too small and too unathletic to be an effective NFL player. Hey, I'm a sportswriter. When I hear one of the best talent evaluators in draft history dog a prospect, I consider the possibility my evaluation might be in error. Again, the draft is all about opinions. Polian has his opinion of Borland and the 49ers' have their opinion of Borland, and the 49ers have been pretty good evaluators, too.
I am not going to comment on the picks, however, why take players other teams do not value as much as you do in the early rounds, rather than later?
How do you know you could've taken them in the later rounds? Do you have the boards of the other 31 teams? Kiper's a good evaluator, but he doesn't know every team's board. Bill Tobin took Trev Alberts and Kiper said Tobin should've taken Trent Dilfer. They were both wrong, but it would've been tough for either of them to be right because the 1994 draft is one of the weakest in draft history. How did we know all of that back then? We didn't. We had to wait. Now we know.
Tony from Harrisonburg, VA
Vic, I was wondering what the mood was like in your inbox this morning?
I have a feeling you know the answer to that question.
Elliott from Eau Claire, WI
How do you deal with all of the negative fans?
I have no agenda. It's OK to be whatever you want to be. If I believe the pendulum of opinion has swung a little too far to one side, I usually try to bring it back a little toward the center. It's healthy to do that. I think we need some of that today. We're allowing a couple of names we didn't recognize and the draftnik opinions of where those players fit to poison our opinion of those players. I don't think that's healthy.
Jared from Albuquerque, NM
Vic, I loved our first-round pick but our second and third-round picks left me discouraged. I figured we would take Chris Borland with our second-round pick and now he is with the 49ers. I do think Davante Adams will be a solid WR for us to replace James Jones. In your opinion, what are the crucial positions we need to draft in the upcoming rounds?
Adams offers star potential. He could turn out to be the best player in the Packers' draft class. It'll alarm me if the Packers aren't able to address linebacker today. When you play the 3-4, you must draft a steady stream of linebackers. I think that's the Packers' position of greatest need.
The Steelers used to feast in the draft on taking guys that fit their 3-4 defense, but slid in the draft because they did not fit many other teams' defenses. That's what came to mind when watching the 49ers draft a running back and two linemen made for their power run system. Seems like they were getting high levels of talent relative to the pick positions.
I'm a big believer in drafting players that fit your system. We've had this debate before. I believe you have to have a specific criterion for evaluating players, and I believe your system creates that criterion for evaluating players. I listened to the 49ers general manager at the combine talk about his love for length. He spoke eloquently on the merits of drafting players who provide length. Aldon Smith is the example he used. As I listened, I was intrigued. So when the 49ers selected Chris Borland, I thought to myself, "Where's the length?" Borland is 5-11 and has short arms. The draft isn't a science. When long isn't available, you might have to take short. The Steelers have always been about speed, and they've gone hard for speed so far in this draft. At some point, however, the speed will be gone and then they'll have to take slow. What's most important is that you have a role in mind for the player you select. You have to know how you might use him.
Based on our draft, I assume linebacker is unimportant in a 3-4?
It's the most important position in a 3-4 scheme and, as I wrote above, I hope the Packers will be able to address it today. Telvin Smith and Jordan Zumwalt are a couple of names that come to mind.
What happened to best available? Second round we could have had Borland or Nix. Not a happy camper.
Louis Nix had fallen hard on a lot of boards. I asked Tony Pauline about that last night and Tony said it was the result of Nix's reputation for allowing his weight to balloon. Chris Borland is a victim of size prejudice. Kiper and McShay gushed about Borland, and then Polian killed him. Who's right? At this point, it's all opinion and men who are considered experts in the field have opposite opinions on the same player.
I, like many Packers fans, was very puzzled with the selection of Khyri Thornton with our 85th overall selection. He's pretty unknown and rated a rounds 5-6 guy by most draftniks. I think Capers intends to use him to eat up blockers and disrupt the offensive line to create opportunities for the edge rushers to make big plays. What do you think of the pick?
Thornton will be a two-gapper in the Packers' system. Two-gappers are always underrated because they eat blocks instead of getting sacks. Draftniks rank defensive linemen according to their ability to sack the quarterback. Draftniks tend to rank two-gappers lower than gap-control, penetrate-and-disrupt defensive linemen. Teams that two-gap tend to rank two-gappers higher than gap-control, penetrate-and-disrupt defensive linemen. As a result of this clash, it's unfair to apply a draftnik board to the Packers' board. If you really want to know where Thornton fits, you need to look at the boards of other 3-4 teams that two-gap. I wonder where the Steelers and Patriots have Thornton on their boards. If we could get a look at their boards, we'd have a better feel for whether or not the Packers reached on this pick.
Even though we didn't get Borland, didn't Tony have Louis Nix at something in the 20's on his board? Why didn't the Packers take him with their first third-round pick? It seemed like quite a value pick.
He was gone by then; they would've had to take him in the second round. Obviously, the Packers don't agree with Tony.
I suspect there's less chortling in your inbox today. What do you think of the Packers' day-two picks?
Adams has the best numbers of any receiver in the draft, except for one number, 4.56, which is his combine 40 time. If he had run a 4.4, he wouldn't have been available to the Packers in round two. The Packers are very good at identifying wide receiver talent. Adams is high value, and Tony agrees. Thornton is all effort. He never takes a down off. He's the classic tough-guy two-gapper. He's Mike Daniels. Thornton will step into the defensive line rotation immediately. Richard Rodgers is developmental, but I get the feeling he greatly impressed the Packers with his ability to make the move from tight end to wide receiver. Isn't that the definition of the modern tight end/H-back? The difference is Rodgers offers true tight end inline ability. He can block and he can catch. That's what the Packers' crystal ball says about Rodgers, and it's not about what he was in college, it's about what he'll become in the NFL. I sat in on Rodgers' media interview at the combine and I remember thinking to myself, "The Packers are going to draft this guy," but I decided I had that feeling because his name is Rodgers and he played at Cal.
Did you get a lot of anger from Packers fans in the third round?
Is it anger or is it frustration that they don't know these guys? They know the name Chris Borland. He's a Wisconsin player and they wanted the Packers to pick him. This isn't new stuff. I was covering the Steelers when they passed on Dan Marino and a lot of really good hometown prospects. What we must remember is that this is the NATIONAL Football League.
Bryce from New Berlin, WI
Where does Keith McGill of Utah go and can we use a Richard Sherman-sized cornerback?
Tony loves him. He talked him up at the Senior Bowl. He trained my eyes on McGill. At the end of the week, I said to Tony, "He didn't do anything." Tony said he believes McGill will fit better in the NFL at safety. He's still on the board.
Michael from Fort Lewis, WA
What does Tony think about the third-round picks?
He likes them – he gushed about Thornton – but he thinks they were a little reachy.
We needed Borland. Fire Ted and his fan boy, Vic.
Always rush to judgment. It's fun and you don't have to be accountable for it.