It probably doesn't matter but, as a team, what does it say when you're 3-0 in the preseason while resting any player that has a scratch?
It says the head coach has conducted a motivated and competitive training camp, and his coaching staff has taught young players how to play the game of professional football.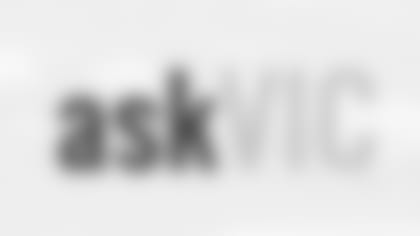 Vic, what are your thoughts on last night's game?
In my mind, Eddie Lacy is the MVP of this preseason. He was challenged to achieve a deeper level of commitment, and in my opinion his performance in the preseason has clearly demonstrated that commitment.
What are you most looking forward to this season? And even though we have the easiest schedule, what games are you the most excited or focused on?
I'm most excited for the start of the season and the opener in Jacksonville. I really mean that. Why should I look farther ahead than that game? I watched the Jaguars' games against the Jets and the Bucs. Blake Bortles is ready to roll. That's an easy game? No way. That's a Jaguars team on the rise, and playing at one o'clock in Florida is a daunting challenge. Ask the Patriots about their opener in Miami two years ago. With a trip to Minnesota to follow, how does it get any bigger than the opener in Jacksonville?
You refer to Mike Pennel as a "five-technique defensive end." I know a three guy has two feet and one hand on the ground, and a four guy has two feet and two hands, but what's that fifth thing?
His tongue? His nose? A knee? Something else? Make head up on the center zero and count one number up for each gap you move right or left. When you get to the gap outside the tackle's shoulder, stop.
Chris from Bellingham, WA
Vic, I'm enjoying watching this Callahan kid play and think he has a lot of potential. What are your thoughts on his future and is he forcing his way onto the roster, or would he be safe on the practice squad?
I think he's forcing his way onto the practice squad and I think he would be safe there, but Brett Hundley's injury may determine whether Joe Callahan begins the season on the active roster.
Dakota from Jensen Beach, FL
Vic, give me 12 words that describe Aaron Rodgers' debut and a little bit of edge to quiet the wolves.
I'll give you two: He's ready.
Vic, do you miss those Ted Thompson press conferences?
I'll miss Mike McCarthy's and Aaron Rodgers' postgame press conferences. I always found them to be forthright and revealing. Pregame press conferences are an exercise in stealth. I won't miss them, and I especially won't miss the mind-numbing litany of injury questions, to which every coach is dutifully committed to avoid answering. I'll miss Coach Capers' day-after-the-game press conference. His analysis was detailed and accurate. He always began with the positives, but he never avoided the negatives. Coach Whitt always talked straight to me when I requested to speak to him in the assistant coaches' interview sessions, and Coach Clements always gave me an accurate scouting report on the opponents.
The defense and offense both struggled on their first series, but they cleaned up just fine. The Packers offense looks ready for their date with a hot afternoon in Jacksonville, don't they?
If the Packers run the ball the way they did last night, they'll be just fine on a hot day in Jacksonville. You get what you emphasize, and Mike McCarthy has clearly emphasized the running game in this preseason.
Ricky from St. Charles, MO
Vic, this was the first time I was able to watch the Packers this preseason, and I was pleasantly surprised how McCarthy kept going for it on fourth down on the last drive of the first half. Do you think that will carry over to the regular season or is it just a preseason thing?
Nothing from the preseason carries over to the regular season. Remember 2014 and all of those targets that were hit? Within hours of the end of the preseason, it will be forgotten.
Why are the end zones and sometimes midfield logos partially painted in the preseason?
I guess it's for the same reason I don't use my best adjectives and adverbs in the preseason.
Sean-Luc from Oceanside, CA
If the Packers are so deep at WR, why haven't we seen more highlight plays from the position during the preseason? I read about all these great plays by the WRs in practice, only to see them disappear once again when it's the real deal. What gives?
If you see Dick, tell him I said hello.
Do you know of a player who went on to have a great career that began on the practice squad?
I've covered several. Keenan McCardell immediately comes to mind.
Who's the best QB only to win one Super Bowl?
Johnny Unitas would be my answer.
David from Brookfield, WI
In the past several years, before each game, I have noticed Aaron Rodgers emerging from the players' tunnel alongside John Kuhn. Was this prearranged or did Aaron choose a tunnel buddy? Who will be his tunnel buddy this season with Kuhn no longer here?
Their friendship extends beyond the tunnel. On several occasions, Rodgers and Kuhn sat in the row directly behind me on the plane, and they always entertained me with their banter. It warmed my heart to hear two players act out a friendship that was about more than being just teammates. I suspect Rodgers and Kuhn are friends for life.
What is your go-to tailgate meal?
For 44 years, it was free hot dogs. Free is me and I'll take three. This year, I'll have to buy them myself. I don't think they'll taste as good.
Will the starting players play any during preseason?
Anthony from Milwaukee, WI
Vic has always made it a point to let us know people are only eligible for the draft once, and they are entered automatically. So what's the reasoning for allowing a player like Bosa, who did get drafted, to not sign with the team and be eligible for the next draft?
I was trying to make the point everybody in the world is automatically eligible for the NFL draft at least once in their life. Joey Bosa will have to go back into the pool if he doesn't sign a contract with the Chargers or another team, should his rights be traded, prior to next spring's draft. What else can you do with a player in that situation? You can't allow him to become an unrestricted free agent; that would invite other players to do the same.
Has there ever been a team with co-starting quarterbacks, that either shared equal time or had specific uses that made one come in over another at a useful time? It seems like there wouldn't be, given how important the position is, but everything has been done in football, right?
Roger Staubach and Craig Morton in 1971 alternated starts – in one game they alternated plays – until midseason, when Staubach took over as the starting quarterback and the Cowboys won the final seven games on the way to the Super Bowl VI title. It might be of interest to note Super Bowl VI is the last Super Bowl game to be blacked out to local TV, and it was the last game to be played with the wide hash marks.
Jennifer from Milwaukee, WI
What do you do if all the players released are picked up on the waiver wire? How do you make a practice squad?
That won't happen. Every team has players they like and whose development they want to continue. The Packers have not cornered the market on football talent, and you might come to realize as much should the Packers sign to their practice squad a player another team has released. It's about talent, not pedigree.
Taking everything into consideration at this time, can we Packers fans look forward to being in the upcoming Super Bowl?
Sure, but why do it? You're setting yourself up for bitter disappointment should the team fail to make it to the Super Bowl, and for something less than full excitement should the team merely equal your expectation. Do the Packers have what it takes to go all the way? Yes. Will the ball bounce their way? I don't know. Look forward to the opener. That's far enough ahead.

Do you foresee Lambeau Field ever having a retractable roof?
I applaud your persistence, but I can no longer protect you from my wrath for what I consider to be a sacrilegious question. Dome Lambeau Field? Would you tie the Lombardi statue to the bumper of your car and pull it around the parking lot? There's a better chance of me running onto the field in December wearing nothing but my flip-flops than there is of Lambeau Field being domed. The first time I ever went to Lambeau Field, I asked a guard in the press box, "Which end zone was it?" Without hesitation, he pointed to the south end zone. When you understand the meaning of the question I asked, you'll understand why Lambeau Field must never and will never hide behind a dome.
Sandy from Round Rock, TX
I am sad to hear you have downsized your career with the Packers, however, I will look forward to you weekly. I wanted to tell you a young man was so sad for your retirement, because he first started reading your blogs in Iraq 10 years ago and wanted you to know how much you taught him and meant to him. Quite a compliment.
Among the memorabilia in my study is a framed American flag, sent to me by a soldier/reader in Afghanistan. The inscription inside the frame explains the flag had flown over the soldier's base. I've never felt more honored or humbled than I did when I first held that frame in my hands. This column is about much more than football.
Vic was right about Tom Clements being a great college QB for Notre Dame. I recently came across the Sept. 30, 1974, copy of Sports Illustrated, which has Clements on the cover and an article featuring him. One of his quotes seems pertinent to how he handled the play-calling situation last season. In the article he says, "I don't want it (the Heisman). I wouldn't feel comfortable about winning it. There are other players who are better than I am that no one ever hears about. I just happen to be playing on a great team and anything but a national championship is irrelevant. I don't like all the publicity. I don't care to be singled out. I'd rather go unnoticed."
With the Irish backed up against their goal line and the national title on the line, Clements made the play that beat Alabama in possibly the greatest Sugar Bowl ever played. He got it done at crunch time. Isn't it funny how the team guys turn out to be the real stars?
Most overrated position? I think Vic would submit WR, at least during the early rounds of the NFL draft. How many first-round receivers have made a championship-caliber impact?
There are too many to name. Vic didn't say wide receiver is an overrated position. Vic said it's an over-drafted position. Talent at the position is plentiful. I don't think you have to spend high first-round picks on wide receivers to find ones of championship caliber.
Vic, please describe what you view as a successful preseason game.
Young talent is revealed, starters display readiness to begin the regular season, and injuries are avoided.