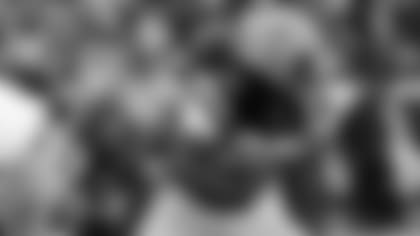 RB Eddie Lacy
Trailson from Olympia, WA
Vic, it is still early but the obvious need is on defense for the draft. I am thinking safety or inside LB would be at the top of the list. Thoughts?
In terms of need, I would agree, but I reject the idea of marrying yourself to a position; I think you need to marry yourself to value. If you can move to where the player that addresses your need fits, then go for it, but don't move the player to where you are because that's a reach and that's a value killer. Ted Thompson is very good at moving to where the player fits. He did that with Eddie Lacy last spring. When you consider the value Thompson acquired by moving to get Lacy, and then by drafting Lacy, it might be the best pick in the whole draft.
Martin from Tisovec, Slovakia
B.J. Raji's contract is about to void. Is that an option the team will exercise? Could you explain the situation?
It's an option that was likely created to make cap room in 2009 by pushing bonus money into 2014. It's an option that can't be exercised; the contract just voids five days after the final game. You probably remember the Packers had two first-round picks in 2009. I wasn't here then but my guess is this is an old rookie pool voidable. Teams had to do stuff like this when they had a large draft class or extra high picks because they ran out of rookie pool money. My guess is the Packers probably figured they would have done a new contract with Raji by now. For whatever reason, that hasn't happened and the contract is voiding.
I agree with you on everything about managing the salary cap, effects of mortgaging the future to win now and eventually the train rolling down the track. With that being said, Rodgers probably has another six years in his prime. Once his career is over, the Packers will be one of the only teams to ever have back-to-back, Hall-of-Fame quarterbacks. The chance of them landing three in a row is slim to none, therefore, the Packers will probably spend a few years in mediocrity before getting another franchise quarterback. Should the Packers start mortgaging the future to win another Super Bowl now?
I'll give you the short answer: No. Where's Berlin, Berlin?
Ralph from Bridgeport, CT
So, from what I'm sensing, the Packers are considering switching to a 4-3.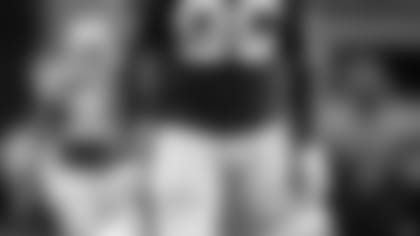 OLB Mike Neal
I, too, am intrigued by Dom Capers' answer to the question I asked him about what needs to be done in the offseason. "We have to figure out what our group's going to be and we'll design what we'll do off what our group is going to be," Capers said. Wow! That answer gives rise to a lot of speculation. Obviously, Coach Capers is referring to the potential for significant losses on defense in free agency. He's going to lose his nose tackle tomorrow, and nose tackles are at the heart of a 3-4 defense. Coach Capers is telling us he'll design a scheme for whatever talent is available to him. He's not picking the scheme and then fitting the players into it, he's going to let the talent available to him "pick" the scheme. Why do it that way? Because it's players, not plays. Coach Capers isn't married to the 3-4. I've written that repeatedly. He coached a 4-3 in Jacksonville in 1999 and it was No. 1 in points allowed and sacks, and No. 4 in yards. Moving Mike Neal to linebacker is an example of Coach Capers' ability to utilize personnel. I remember seeing Neal at linebacker in OTAs last spring and imagining Neal being used 5-10 plays a game as a rusher. As it turned out, he played more downs at outside linebacker than any other outside linebacker on the team. How's that for utilization of personnel?
Chris from Apple Valley, MN
What's the chance the Packers will be given compensatory picks for this upcoming draft?
The Packers lost Erik Walden and Greg Jennings and didn't sign anybody. My guess is the Packers will get two compensatory picks. Jennings will get the Packers a third- or fourth-round pick, and Walden will bring a five or a six. That's just a guess.
Vic, I think you're taking our questions about free agency a bit to the extreme. Nobody is saying we should mortgage our future for a win-now scenario. It's not all or nothing with free agency. We should stop treating it like it's the plague.
You find football players where you find football players. If you can find them in free agency, affordably, go for it.
Luke from Maple Grove, MN
I love Mike McCarthy interviews and press conferences. I watched his most recent press conference and he was asked if his offense was built to win late in the year. He promptly answered, "Hell yeah." That's the man I want leading my team, which leads me to believe the fun is only just beginning.
I will remember two answers most prominently from Coach McCarthy's press conferences in 2013. I'll remember his answer following an OTAs practice to the question I asked him about committing to the running game, and I'll remember his answer to the question Tom Silverstein asked Coach McCarthy on Wednesday. Coach McCarthy's first answer guaranteed that the running game would be improved in 2013, which it decidedly was, and his answer to yesterday's question punctuated the level of achievement this offense attained this past season. The answer to those two questions help tell the story of the 2013 season. It is the story of a masterful coaching job on the offensive side of the ball.
Daniel from Fond du Lac, WI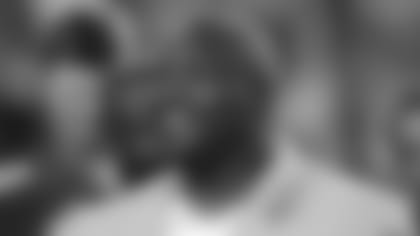 Warren Sapp
How many defensive coordinators in the league have the confidence to say no matter the personnel we have, we will find a game plan they can execute well enough to win football games? I wish every coordinator felt this way.
Believe it or not, most coaches that have reached the rank of coordinator have the confidence and the ability to tailor their scheme to the talent available to them. In Jacksonville, Coach Capers incorporated 3-4 concepts into a 4-3 alignment. We get all caught up in terminology. The "Tampa Two" thing always made me laugh. It was little more than Bud Carson's "Cover Two" with a deep drop by the middle linebacker, which is something you can do when you have Warren Sapp up front; Tony Dungy said as much over and over. Everybody's trying to find the next great scheme. Find the next great players; they'll design your scheme for you.
Deniz from Munich, Germany
Capers said Datone Jones was used mainly on third downs. Why is a player used specifically for a certain down?
He was used as a pass rusher because that was something at which he was comfortable doing as a rookie. Playing the Okie end on run downs was not something at which Jones was comfortable. Again, we talked about that last spring. I distinctly remember Tony Pauline saying Jones would require time to learn to be a two-gapper.
Anthony from Saint Francis, WI
Vic, I've read all year that Capers doesn't let his linemen rush, get after the passer … but then I see Mike Daniels and his 6.5 sacks for the year. So is this an example of Daniels not playing in the scheme and doing his own thing, or an example of players, not plays?
It's an example of Daniels sacking the quarterback within the scheme he's responsible for playing. Coach Capers' scheme doesn't forbid defensive linemen from rushing the passer, it just often requires that they rush the passer through the blocker, not around the blocker. Two-gapping is a technique that requires defensive linemen to play head up on the blocker across from them. In a traditional 3-4, defensive linemen occupy blockers; that's their assignment. It keeps the blockers off the linebackers and allows them to run to the ball; they are the stars of a traditional 3-4. Defensive linemen don't always play two-gap technique, but it's often what they are assigned to do. Daniels is a powerful man. He's not a gap-control, penetrate-and-disrupt type of player. He's a bull rusher and that's what you want in a two-gapper.
Anthony from Vero Beach, FL
You said our defense wasn't in any position to step up at crunch time. Well, we weren't in any better position in the games against Atlanta and Dallas, but we still rallied for a couple of epic wins. What made the playoff game an exception?
You're comparing the Cowboys and Falcons to the 49ers? Are you serious? All last week my inbox was full of doom and gloom. I even wrote that Packers fans had a bad case of "49ers on the brain." Now, after a three-point loss, the 49ers have fallen to the level of a nonplayoff-caliber team? In 1983, I was covering the Steelers when they got clobbered by the Raiders in a playoff game. There was outrage. The Raiders then went on to win the AFC title and the Super Bowl by scores of 30-14 and 38-9. All of a sudden, there was less outrage; the Raiders blew out everybody, including the defending Super Bowl champions. Sometimes, the other guys are just real good, and that's the answer to all of the questions.
I know everyone has an opinion, but I was wondering if you had any insight as to what management thinks they will do to improve the defense. Is it a coaching issue, a player issue, what? What would you do?
I would draft more players and add them to the mix of players being taught and developed. Again, that's what I would do. I don't know what the team is going to do.
Vic, do you believe it is time for the Packers to spend in free agency, not a lot, but they need an impact player at inside linebacker or strong safety. I believe they will not be able to fill both those needs in the draft.
If the Packers can acquire an impact player at linebacker or safety in free agency for not a lot, they should definitely do that. I doubt it can be done.
Why in the world would McCarthy not ram the ball down the throats of San Francisco with first-and-goal at the 9-yard line? We had that game won, instead we settle for a field goal?
Nobody rams the ball down the throat of the San Francisco 49ers. I've grown weary of this insanity. The Packers were able to run the ball against the 49ers because they committed to balance between run and pass. The Packers had 61 plays in the game and 31 of them were runs, which included two scrambles by Aaron Rodgers that were supposed to be passes, so we're really talking about 28 pass plays and 29 run plays. All of a sudden, you wanna line up in jumbo from the 9-yard line, proudly proclaim, "We're going to run the ball," and then ram the ball down the 49ers' throats three times? I don't think so.
Brandon from Fort Wayne, IN
This offseason is going to be the biggest offseason we have seen here in some time. Would you agree?
Vic, do you believe that (as the cap currently stands), that GMs have to decide between paying "The Man" and paying for an elite defense?
There is no decision. If you have "The Man," you have to do what it takes to keep "The Man" because "The Man" is more important than defense. This is a quarterback-driven game and league. Denver has "The Man" and the Broncos are No. 1 in the AFC; they have the No. 19 defense. New England has "The Man" and they are No. 2 in the AFC; they have the No. 26 defense. It is what it is. You have to find ways to get it done. You can't be No. 1 in everything. Every team in the league has a ranking it would like to change, but it can't. It has to find a way to play around that ranking.
"Statistics are for losers." I do believe Mr. McCarthy is a man after your heart.
Statistics can be indicators of truth and evidence of truth, but they can also be used to tell lies and too often they are used to make feeling bad feel good. What Coach McCarthy is saying is that losing to the 49ers hurts, and no stat is going to make that hurt go away.