Aaron Jones glances down at the tickets and commits the section number to memory before every road game. It serves as his compass, guiding the Packers third-year running back to those who matter most amidst the game-day chaos.
This critical part of Jones' pregame process tells him which direction to look to find his two biggest fans should he break off a big run or score a touchdown
Somewhere, typically high above, Alvin and Vurgess Jones watch their son intently, cheering with the same energy and enthusiasm they did when he and his twin brother, Alvin Jr., were playing sports at Burges High School in El Paso, Texas.
Back then, the twins would scan the gymnasium and stands to find their parents in the crowd. Once they made eye contact, nothing more needed to be said. It was game on.
"It's like a sense of security for me," Jones said. "They've been at my games ever since I was a little boy. To me, it's the same thing when I'm out there, I'm just a kid playing the game I love with my parents there watching me."
Since Aaron was drafted in 2017, Alvin Sr. and Vurgess haven't missed a moment of their son's NFL career. Home or away, they find a way to be in attendance. Because for so long, those cherished moments with their children weren't always tenable.
The Joneses served in the military for 56 combined years – Alvin Sr. for 29 years before retiring in 2013 and Vurgess for 27 before joining her husband in retirement in 2016.
The family moved around a lot when Aaron was young, which required an endless number of sacrifices to be made. Aaron and Alvin Jr. lived with relatives for a time when both parents were deployed to Iraq in 2003.
Later on, Aaron can recall when his mother would do three-week tours in Iraq. She'd fly back to the United States, spend the workweek in South Carolina, where she was stationed, and then fly to El Paso to attend Aaron's and Alvin Jr.'s games on the weekend.
No matter how far life took the Joneses from each other, Alvin Sr. and Vurgess preached to their children the importance of family, and since retiring, the two have crisscrossed the country to be there for one adventure after the next.
"I cherish all of them because the next day or hour is not promised to any of us," Alvin Sr. said. "We cherish any minute I get to spend time with our kids and our favorite time to spend with them is watching them play."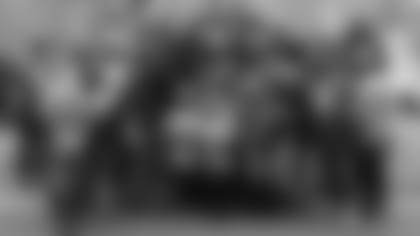 ---
---
From the start of retirement, the Joneses aimed to be at every game Aaron and Alvin Jr. played. That was simple enough when both were still in town at UTEP but became more problematic once Aaron declared for the NFL Draft in 2017.
As the family always does, it found a way. With Alvin Jr. playing out his redshirt senior year with the Miners, Vurgess put together an itinerary to get her and her husband from El Paso on Saturdays to Green Bay on Sundays and every stop in-between.
"I knew they were both torn because they wanted to be at both places at once," Aaron said. "That's the tough thing about having twins. When they split up, your family has to split."
They made it work but even more challenges flared up the following year when Alvin Jr. signed with Baltimore as an undrafted free agent. The Joneses split the preseason slate to make sure a parent was represented at every game.
Alvin Jr. didn't make the Ravens' 53-man roster coming out of training camp but signed to the team's practice squad. The Joneses had planned to keep the same routine with one parent in Baltimore and one in Green Bay until Alvin Jr. told his parents to stick with Aaron.
"I'm not playing right now," Alvin Jr. told them. "I'm on the practice squad, working to get better. When it's my time, you'll come watch me but right now focus on Aaron."
Born 30 minutes apart, Alvin Jr. and Aaron were each other's support system as the family moved from Georgia to Germany, Kentucky, Virginia and finally El Paso in 2007. At each stop, every time one brother gained a new friend so did the other.
While Alvin Sr. and Vurgess attended every Packers game, they'd also fly out and spend weekdays with Alvin as he got settled in Baltimore. It culminated in an unforgettable day this past summer when the Packers and Ravens met in a preseason game.
"We cherish any minute I get to spend time with our kids and our favorite time to spend with them is watching them play." Alvin Jones Sr.
The Joneses, originally native to Virginia, had 30 of their closest friends and family attend. While Aaron didn't play in the game, Alvin Jr. racked up three tackles and a sack. Afterward, the two brothers embraced and exchanged jerseys on the field.
It was a seminal moment for the twins who have been through so much together.
"That's something you dream of," Aaron said. "To share the same field with him – my last time was Nov. 26, 2016 (at UTEP). To even step foot on the same field in an NFL setting is a blessing. It's something we talked about as little kids, 'Hey, this is our goal. This is what we want to do.' We never stopped working until we got here."
Alvin Jr. made a run at a roster spot before tearing his hamstring in the Ravens' preseason finale and reaching an injury settlement with Baltimore in September. Alvin Jr. has attended a few games this year during his rehab, including Aaron's four-touchdown performance in a 34-24 win over Dallas in Week 5.
After his third touchdown of the day that put Green Bay ahead 24-0, Jones tossed the ball to Alvin who was sitting with family friends from El Paso in one of the first rows in the end zone.
"When I saw Aaron score and throw the ball, I knew who he was throwing it to," said Alvin Sr., who was watching with Vurgess from a higher level. "They couldn't be any tighter. They talk every day, four or five times a day. Since he's not playing right now, whenever Alvin has a chance to come up here or come to games, he was always here."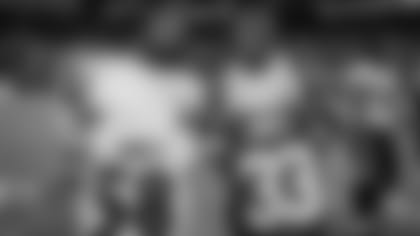 ---
---
'I want to see that look'
Alvin Sr. learned a long time ago to leave the travel arrangements to his wife. Vurgess, known for her meticulous attention to detail, charts out the plan for every road trip from flights to hotels to rental cars. No thread left unwoven.
Aaron playfully refers to Vurgess as "MM" or "Mom Manager," in appreciation for how she books his return flights home on weekends during the offseason program and also hooked him up with TSA pre-check to expedite his travel.
In-season, Alvin Sr. and Vurgess stick to a plan. For every road trip, they get in before the team plane arrives to be ready whenever Aaron texts his arrival. They'll spend some time with Aaron, grabbing dinner or whatever, until he has to check in.
After games, they'll wait in the family area to congratulate their son on a job well done. If it's an early game, they aim to book a flight back home that night. If it's late, they'll stay the night and leave the next morning.
"I always look in his eyes and say, 'I want to see that look, that hungry look.'" Alvin Jones Sr.
Coming from humble beginnings, this is the type of retirement the Jones dreamed of while simultaneously raising a family and serving their country.
"It's funny. A lot of people think I pay for their travel"I always look in his eyes and say, 'I want to see that look, that hungry look,'". They do their own deal," Jones said. "The cool thing is my mom is actually a travel agent now. They're always working and continuing to get better. So when they have that mindset, I have that mindset."
Game days are sacred to Alvin Sr. Last year, he started going down to whichever end zone the Packers were warming up in, aiming for the first row. Afterward, Aaron would jog over to his father, hug him over the railing and receive a few encouraging words before heading to the locker room.
Alvin Sr. reminds Aaron how proud they are of him. He tells his son to play his game and do what God put him on the earth to do. He closes with a challenge – no different than when Alvin Sr. coached Aaron and Alvin Jr. in almost every sport they played as kids.
"I always look in his eyes and say, 'I want to see that look, that hungry look,'" Alvin Sr. said.
When Aaron re-watches games, it brings a smile to his face whenever the camera zooms in on his parents celebrating after a touchdown. There was one moment in Kansas City this past October when the broadcast showed Alvin Sr. tugging on the front of his white No. 33 jersey after Aaron's seven catches for 159 yards and two touchdowns in a 31-24 win over the Chiefs.
People might have thought Alvin Sr. was being braggadocios after his son's big game but that's really not his style. The truth is he was responding to a few hecklers in the stands.
"There were some fans talking trash and then I took it to the house," Aaron said. "Everybody texted me the picture of my dad. They thought he was flexing like, 'This is my son,' but it was for that reason. I thought that was pretty cool."
This past month has been a small reprieve for the Jones family. Alvin Sr. and Vurgess stayed in Green Bay for most of December thanks to back-to-back home games that were then followed by nearby road trips to Minnesota and Detroit.
Alvin Jr. was supposed to join them for the Vikings game but was called to work out in New Orleans on that same Monday. He rejoined them for last week's 28-23 playoff win over Seattle.
"With the team's success this year, it's been really great to watch this team come together," Alvin Sr. said. "You're there from the beginning and you see the start of it, and you watch them come together. For me, it's been a beautiful thing to watch."
---
---
Looking through his cell phone, Aaron discovers he started last year's offseason training on Jan. 2, 2019. A little more than a year later, here he is preparing for the biggest game of his life.
Alvin Sr. was back in El Paso last week to take care of some business before flying back on Saturday night for the Seahawks game. Vurgess is currently helping Alvin Jr. move out of his Baltimore apartment. The family will reunite Friday night in San Francisco, anxiously awaiting Sunday's NFC Championship Game between the Packers and 49ers.
For all of his individual success, winning didn't happen overnight for Aaron. He went to one bowl game at UTEP and then was part of the Packers' first back-to-back losing seasons in nearly 30 years in 2017-18.
"He's the only guy I've had as a teammate where I'm like, 'Hey man, great run. Nice pickup on the blitz.' He says, 'Yes, sir.'" G Lucas Patrick
Instead of looking at all the external factors that played into Green Bay's 6-9-1 season a year ago, Jones looked internally to see what he could do better. What he came up with was a complete overhaul of his diet and nutrition, returning for the offseason program in the best shape of his life.
"His mindset was I gotta get better so I can help my team get better," Alvin Sr. said.
Jones has excelled in new Packers Head Coach Matt LaFleur's offense, compiling more than 1,500 total yards in the regular season and tying with Carolina's Christian McCaffrey for the most touchdowns scored with 19. He's the first player in franchise history to have a 150-yard rushing game (154 vs. Minnesota in Week 16) and a 150-yard receiving game (159 in Week 8) in the same season.
With two touchdowns last Sunday against Seattle, Jones is only one score behind Ahman Green's team record of 22 TDs in a single season (including playoffs).
Overlooked from the beginning, Jones didn't listen when he was told he was too small to excel at the game's highest level. His parents told him he had everything he needed – talent in his body, air in his lungs and God in his heart. Those ideals stay with him in both victory and defeat.
"All I've ever wanted to do is make my parents proud," Jones said. "Just seeing the smile on his face when I'm walking over there to my dad at a game, it lights me up inside."
Given all the success and accolades their son has received this year, Alvin Sr. and Vurgess have reminded Aaron to stay grounded, to be humble and to continue to count his blessings – because all of that success can be taken away at any second.
It also brings a tear to the parents' eyes when they see Aaron saying hi to his grandma into a TV camera after a touchdown or flashing the "915" El Paso area code.
"Everywhere I go feels like home because I have them there." Aaron Jones
As much as things have changed, Jones remains the same respectful guy he's always been. In the locker room, his replies still often end with a "yes, sir," whether he's talking with the media or interacting with his teammates.
"He might be one of the best teammates any guy could ask for," guard Lucas Patrick said. "He's the only guy I've had as a teammate where I'm like, 'Hey man, great run. Nice pickup on the blitz.' He says, 'Yes, sir.' He comes every day with the right attitude and just pounds at it every day, just inch by inch by inch.
"He knows who he is. I think he's confident in who he is as a person."
Come April, Alvin Sr. and Vurgess will welcome their sixth grandchild, as Aaron and his girlfriend are expecting the birth of a son. As he prepares for fatherhood, Aaron has reflected often on everything his parents taught him.
"I know what a father is supposed to be. I know how a parent is supposed to raise a son," Jones said. "The part I'm excited about the most is to have him there when I'm going through those things. He can teach me. He can do everything. For the most part, I think I kind of got it. Just sitting back and learning, watching, listening from him. He taught me how to be a man."
This Sunday, Aaron will walk onto the field at Levi's Stadium in Santa Clara for a shot at the Super Bowl. Once he emerges from the tunnel, Jones will do his same pregame routine.
Jones knows somewhere he has two very proud parents and a twin brother cheering him on every time he touches the ball. Football is family, after all, and one is not nearly as special without the other.
"Going through from little league all the way up, some people never have parents come to any games. Their parents might be working and too busy," Jones said. "Honestly, I just thank God to allow my parents to be in a position to make it to all the games. Everywhere I go feels like home because I have them there."