Matthew from Westminster, CO
Vic, last week I noticed your answers kept going back to the Packers staying within a game of the Lions. In one answer, you finished with, "Go Steelers." I think you saw the Giants loss coming. So, what are your thoughts on the Vikings game?
You saw through me. As I said in the pregame radio segment I did on Sunday, it was a guy making his first pro start on the road against a team quarterbacked by a two-time Super Bowl MVP. I didn't discount the possibility the Packers would win, but it would be an upset if they did. I was pinning my hopes on the Steelers, and they came through for the Packers. A 97-yard drive with the game and maybe the Packers' season on the line! That was the drama of the day. Ben Roethlisberger was quarterbacking the Packers on that drive as much as he was quarterbacking the Steelers. That's what I love about this time of the year. Dominoes are falling all over the board and every one that falls has an impact on your domino. My thoughts on the Vikings game is that the Packers are at home, it's crunch time, the fans are going to respond and so are the Packers. I love this time of year.
Do you think it's time to dump the coaching staff and start over?
No, I don't think it's time to do that, Justin. At the risk of being accused of toeing the company line – you accept that criticism when you take this job – I think this is a very good coaching staff that has amazed me with its ability to teach the game of football. Allow me, please, to paint a picture for you: Aaron Rodgers is out. Randall Cobb is out. Jermichael Finley is out. Casey Hayward has been out nearly all year. Bryan Bulaga has never been in. Rodgers' backup is out. Sam Shields is out. Nick Perry is out. Don Barclay is out. Clay Matthews is just back. Did I miss anyone? We're talking about star players missing long stretches of the season. I know of no coaching staff that could endure this kind of attrition. That next-man-up stuff sounds nice, but that's coachspeak and I'm a reporter/marketing copywriter, and I deal in plain talk. Add up the cap hits those players represent, and then subtract that from the team's cap and ask yourself if it would be your expectation that the team should win playing with that kind of cap disadvantage. Packers fans have wonderful energy and enthusiasm, but I would prescribe a dose of reality right now.
Vic, I'm confused on what our defense is doing wrong in coverage? Is it a matter of scheme and a matter of playing zone? I feel we have the talent, I just don't know what's going on. Ideas?
The No. 1 question/complaint in my inbox following Sunday's game was that the Packers didn't play enough press coverage. In doing the quarterly stories and "Ask Vic Halftime" as the game is being played, I can't focus sharply on the schemes being employed. I'll look presnap and think to myself, "They're loading up against the run," which the Giants did. Then I'll see two deep safeties, which I did a couple of times, and I'll think to myself, "There's cover two; why didn't they run the ball?" That's about as deep as I can get into the schematic part of the game on game day. I'd have to sit down and pore over the tape and, frankly, I still can't be sure of what I'm seeing. The one thing I've learned from having spent so much time with coaches is that you can never really know about the scheme without them telling you, and they're not gonna tell you. Here's what I believe to be true: The coaches are putting the players in the best positions to win. They know what the players can and can't do, and the coaches marry the scheme so that what's going on in the back complements what's going on up front. I know this team is giving up big plays on defense right now. It's the No. 1 failing of the defense, and playing press coverage would usually worsen that situation. Is it scheme? I would say no. It has been my experience that when poor play is repetitive, the problem is the playing, not the plays. The answer you seek will be revealed in the offseason. We'll know then what the problem was.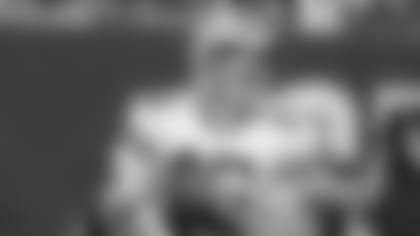 QB Scott Tolzien
Here's my prediction: Scott Tolzien and the Packers win this Sunday. It gives Rodgers two more weeks to get healthy. It also allows time for the other injured players to heal. Packers stay in the mix for the division title. The team gets healthy, gains confidence and makes a serious late-season run. I say look out, it's coming.
You're a good man, Mike. Eyota, Minn., must be a wonderful place.
Neil from South Milwaukee, WI
I just watched Coach McCarthy's interview from Monday and noticed a Viking-like horn buzzing throughout the building. I thought it was probably a motivational tool for the upcoming game. I know it kind of put me on edge, but we are playing at home this week and will never hear that sound, even if the Vikings score. What was all that noise about?
It was not a Viking horn. It was either a construction worker using a loud drill of some sort, or the sound of my inbox filling up with angry emails.
Vic, I honestly had never heard such insight into the game of football, more importantly Packers football, until I came across your articles and forums for the first time this year. I must say that it truly has changed the way I view the game and I would be losing my hair faster than I currently am if not for your ability to teach the importance of patience and temporary situations. We still have a great shot for the playoffs and it seems to me if fans would take your advice and have faith in this coaching staff and get behind the current starting players, Packers nation could help drive this team to confidence.
This is my advice: Take care of yourself. Make sure football never becomes painful for you. Don't allow your passion to cause you anguish. Half full? Half empty? Whatever it takes to enjoy the game. Everybody is doing the best they can.
The NFC North is up for grabs. If we beat the Vikings Sunday, do you think it's worth it to start Rodgers on Thanksgiving Day? What if his collarbone isn't fully healed? There's always next season.
He'll play when the doctors say he's healed, and not before. There's really no decision to make.
Until two years ago, my mood depended on the results of the games. My wife could tell if the Packers won or lost, and a little voice always told me it was silly to be dictated to by a game over which I have no control. Not anymore. I wake up Monday mornings after losses with disappointment, but life goes on. I have perspective that this is what football is, up and down. What's the difference in my attitude and approach? You and your column. Reading your comments over the last two years has made me appreciate the game in a more objective way, and I'm better for it.
Hey, that's great, but I have a confession to make. I violated the first commandment of the press box on Sunday: I cheered. It was in the lounge area before the game began. I was watching the Lions game on TV with Spofford and when the Steelers defensive back intercepted Stafford and clinched the win, I cheered and Spofford had to calm me down. I was embarrassed by my display, but this is an important time of year for me. Without crunch time my life is empty, and I was afraid that if the Lions won that game I would lose my best friend. So, I guess we all get a little goofy from time to time.
Ted Thompson admitted he was responsible for the backup QB position and its shortcomings. I think we all knew that position was a problem all season, but ignored it. Do you think we'll make sure that doesn't happen again?
Is there any chance the Packers are doing that right now?
Bruce from Palos Verdes Estates, CA
Vic, people who expect the Packers to go to the Super Bowl every year are just setting themselves up for years of disappointment. There have been 11 different NFC representatives in the last 12 Super Bowls, with only the Giants appearing twice. Smells like parity to me. What say you?
Parity? How's this for parity? In the AFC, there are eight teams competing for the second wild-card spot; six of them are 4-6. The 5-5 Jets have a net points differential of minus-85. The Giants – remember all those questions about their window having closed? – are in the thick of the NFC East title race. With all due respect to Coach Lombardi and his pursuit of excellence, that was a long time ago. Today's league isn't about the pursuit of excellence, it's about the pursuit of parity and getting hot in December.
Reggie from Bloomington, IN
Vic, what did you think of Cam Newton? He looked great to me and the Panthers look like serious contenders. What say you?
Last year, they were saying he was a bust. It made me laugh. One year great, one year bust, back to great. Why are we so bored that we have to lie to ourselves to create excitement?
Dan from Chippewa Falls, WI
I looked it up for you. The Packers hold no tiebreakers with anyone in front of them currently. If they lose to the Vikings, the Packers' only chance is to win out and keep their fingers crossed. The Packers need to go into must-win mode starting on Sunday.
That's why I wrote the editorial I did on Sunday. It's must-win time this Sunday. Win the three division games and finish no worse than in a tie. As far as I'm concerned, that 97-yard drive that beat the Lions is the equivalent of the DeSean Jackson punt return. The rest is up to the Packers. Just win, baby.
Vic, the NFL is an amazing business that is clearly concerned with its image. That said, why does the NFL continue to allow a reticent and grumpy Belichick to act that way during postgame loss interviews?
I'm OK with it. I like what's real. I can write real. I hate writing fake. Don't look for a script. Don't have expectations. Observe and absorb. Let them entertain you. That's their job. If Belichick wants to make a fool of himself, let him. He's great copy when he does that. He's so bad he's good.
Vic, this year for Thanksgiving, I'm going to make a spider y-2 banana cream pie.
I'll bet Mayock would love a slice.