CANTON, Ohio – LeRoy Butler can still close his eyes and hear the spare change banging around inside the plastic jug.
The sound triggers an image of his late mother, Eunice, sitting in the bleachers at LeRoy's football games – hollering as passionately as she could.
Even at the most inopportune times.
"She was over the top and always the one shouting like, 'That's my baby out there,'" Butler said. "She'd be rattling that jug even during a timeout. I'd be like, 'Mom, you have to do it when the game is going on or when I do something.' But she was just so proud."
Growing up in a poor and crime-ridden section of Jacksonville, Fla., Butler doesn't have many photos of his childhood – but Eunice blessed all her children with a lifetime of memories and love.
"He says my speech is going to be really quick, really short, … but when he starts speaking about his mom, I think that will probably catch him up a little bit." -Genesis Butler, wife of LeRoy Butler.
And boy, did she love football. Come Fridays in high school, Saturdays in college or Sundays in the NFL, the world stopped on its axis and Eunice transitioned into full-on sports mom.
If work or life ever caused her to run late for a game, Eunice would stop at a payphone to call LeRoy's coaches to tell him she was on her way.
"If I looked in the stands and didn't see her, my anxiety kicked in," Butler said. "But whenever I saw her, the other team was in trouble."
Once her son became a four-time All-Pro safety for the Packers, Eunice had accrued four No. 36 jerseys that she regularly wore to work. She had LeRoy sign each one, not that any more proof was necessary to show she was her son's biggest fan.
"Goodness yes, we're close," Eunice told the Green Bay Press-Gazette in 1995. "I'm proud of each of my children. They've all done so well."
LeRoy wasn't just her son. He was her superhero. Born with a bone condition that made it difficult for him to walk as a child, Butler eventually ditched the wheelchair, broke free from leg braces and overcame a litany of learning disabilities to become one of the greatest safeties in National Football League history.
And now, Butler has the place in Canton to prove it.
The lead-up to Saturday's Pro Football Hall of Fame induction ceremony has stirred a lot of memories in Butler, including when he and his mom began penning his Pro Football Hall of Fame speech in 2010.
At the time, LeRoy hadn't even made the cut to semifinalist yet, but Eunice had faith and suggested they start working on it…together.
He's glad they did, as Eunice passed way in November 2016 at the age of 68. It's one of several reasons this journey to Canton has been so emotional for Butler, whose mother's passing came a little more than a year before he made semifinalist for the first time.
While she won't physically be in Canton with LeRoy this weekend, Eunice's wisdom will be woven into the words that will welcome her son to pro football's pantheon.
"He's been prepared for a long time," said Genesis Butler, LeRoy's wife and co-presenter. "I think it's going to be very emotional for him to finally say (the speech) in front of everyone. He says my speech is going to be really quick, really short, … but when he starts speaking about his mom, I think that will probably catch him up a little bit."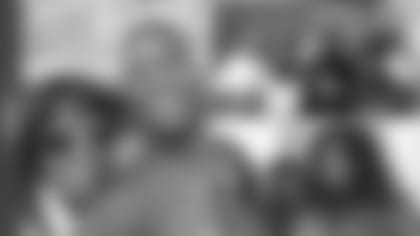 'Enjoy the process'
Butler redefined the safety position, as the first defensive back in NFL history to record 20 sacks and 20 interceptions.
He helped bring a Lombardi Trophy back to Green Bay and is credited with inventing the now world-famous Lambeau Leap.
But it wasn't until longtime Packers public relations director and team historian Lee Remmel walked in one day and informed Butler that he'd made the NFL 1990s All-Decade Team that he ever considered the possibility of the Pro Football Hall of Fame.
"What? What's that?" Butler asked Remmel after being told of his selection for the honor.
"It means for 10 years, you were the best," Remmel told him. "Ronnie Lott was second team. You're on the first team. One day you're going to be in the Hall of Fame."
Butler's rise to stardom was something out of a storybook. If childhood bullying and poverty weren't enough of a challenge, the NCAA passed Proposition 48 in 1986 that established a mandatory minimum GPA and standardized test scores for athletes to be eligible to play as college freshmen.
Despite his natural ability, Butler's recruitment stalled. To this day, he remains grateful to his late high school coach, Corky Rogers, for keeping his football dreams alive.
"Watching him play, it was like you're watching something great unfold in front of your eyes." Former Packers defensive tackle Gilbert Brown on LeRoy Butler.
Florida State's Bobby Bowden stuck with Butler, recruited him to Tallahassee and opened doors he never thought possible, culminating in 1991 with a second-round selection to the Packers.
If Bowden and Eunice were still alive, Butler has repeatedly stated they would've introduced him in Canton this weekend.
Butler's career began at cornerback in Green Bay, but after two seasons, defensive coordinator Ray Rhodes moved him to safety. The shift put Butler at the forefront of NFL teams utilizing rangier, hybrid safeties who could cover tight ends and slot receivers in space.
"Watching him play, it was like you're watching something great unfold in front of your eyes," said former Packers defensive tackle Gilbert Brown.
Butler had six interceptions and made his first All-Pro team in 1993, but perhaps even more importantly, that year is when Butler made the inaugural Lambeau Leap against the Los Angeles Raiders in one of the coldest games in Lambeau Field history on Dec. 26, 1993.
After Butler forced a fumble of Raiders running back Randy Jordan, Reggie White corralled the loose ball and lateraled it to Butler while getting tackled out of bounds.
In doing so, White broke one of head coach Mike Holmgren's biggest maxims for defensive players – do not lateral the ball. Fortunately, Butler returned it 25 yards for a touchdown, leapt into the stands and put a stamp on the Packers' 28-0 victory.
"When we watched the play, the first thing that comes to mind is 'Oh, Reggie is gonna get in trouble,'" said Brown, laughing. "But then it's like, 'LeRoy, where he going? He's about to do what?' Then, he jumped in the stands. It's Green Bay. We're the team that the fans get close to. LeRoy took it to another notch."
Butler kept the momentum going after Rhodes left for San Francisco in 1994 and Packers head coach Mike Holmgren tabbed Fritz Shurmur to replace him.
Shurmur tailored his defense to Butler's strengths, giving his budding playmaker more autonomy and allowing him to blitz the quarterback more often. Of Butler's 20½ career sacks, 15½ came during his five seasons playing for Shurmur.
Butler loved Shurmur, both as a man and as a coach. He credits him for being the first coach to ask Butler what he thinks when devising a game plan or preparing for an upcoming opponent.
"When he came in, it changed my life," Butler said. "He created roles for people to put together this beautiful movie. Although Reggie was the leading man, he made George Koonce think, 'You are just as important.' That's what made him a great coach."
Butler was at the peak of his powers when the Packers won Super Bowl XXXI, recording 87 tackles, 6½ sacks, five interceptions and two forced fumbles that season. His second-quarter sack of Drew Bledsoe produced one of the most memorable images from the Packers' 35-21 triumph over New England.
"If you stay with that fanbase and prove to them it ain't about the money, that one day those fans will support you. She was right." -LeRoy Butler on the advice his late mother, Eunice, gave him about staying with the Packers.
Eunice was there for all of it, getting to as many games as possible. She always sat inside the stadium bowl. She wanted to be among the people – not hidden in some suite.
She got to know all the key Packers dignitaries – President/CEO Bob Harlan, general manager Ron Wolf, Holmgren, Shurmur and Remmel.
It was through Eunice's eyes that Butler realized just how special it was for him to play all 12 of his NFL seasons with a single team, which dawned on Butler upon his retirement before the 2002 season due to a shoulder injury.
"I remember my mom talking about legacy – and I'd never even heard of that word before," Butler said. "If you go to another fanbase, you gotta redevelop fans all over again. But if you stay with that fanbase and prove to them it ain't about the money, that one day those fans will support you. She was right."
As much as Eunice championed LeRoy's Hall of Fame candidacy, she also kept it real with her son. Placement on the '90s All-Decade Team was fantastic but she warned her son not to get discouraged if the Hall of Fame didn't happen overnight.
That advice stayed with Butler over the past 20 years.
"Just enjoy the process," Eunice told him. "You were in poverty your whole entire childhood. You were Prop 48. You've always waited, so no big deal. It's almost like having a scratch-off ticket but you can't scratch it off until I tell you, and you don't know when that is."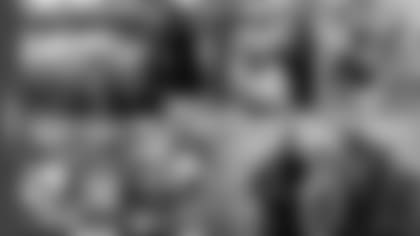 'You really were something'
Genesis Butler knew none of these stories. She hadn't even heard of "LeRoy Butler" until the day he walked into her bank in downtown Milwaukee in 2005 to deposit a check.
"I said, 'Could I have two forms of ID?'" Genesis recalled. "He looked around and was like, 'Are you serious?'"
Following bank protocols, a perplexed Genesis went back by her manager who explained the man was a well-known former safety for the Packers.
This is how Genesis met her future husband.
"She really wasn't a football fan. She had to learn who I was, which was pretty refreshing." -LeRoy Butler on his wife, Genesis
The chance meeting set off a series of events that eventually led to Butler landing Genesis' phone number. During the vetting process, Genesis asked her father and brother if they had ever heard of him.
"My dad was like, 'LeRoy Butler? Yeah. He used to play for the Packers,'" Genesis recalled. "'He invented the Lambeau Leap. Did you meet him?'"
Oh, she met him all right. Butler was her new boyfriend.
The fact Genesis wasn't a football fan was welcomed for Butler after living 12 years in the NFL spotlight – and slightly ironic for an individual who had been so visible in Wisconsin.
"I was married one time, pretty much my whole career and so was she married previously," Butler said. "She really wasn't a football fan. She had to learn who I was, which was pretty refreshing. When I met her, we connected on and off the field, talked about things, family, faith."
Butler found Genesis to be loving, smart and patient. Her quiet temperament was the perfect contrast to the sociable Butler. Although she didn't know much about football through the early part of their relationship, Genesis embraced Butler's connections to the Packers.
When she could, Genesis would travel with Butler for speaking engagements and tours. The couple even got married at Lambeau Field in May 2019, marking a new chapter for LeRoy.
"Genesis is a very special person," Brown said. "You can see a change in someone when they meet the right person, or they meet their soulmate. I think that's Genesis."
A father of six adult daughters, Butler welcomed his first son and namesake into the world with Genesis. After getting to know Eunice, one of Genesis' proudest moments was having her meet their son.
"His mom, she was amazing. I thank God for the opportunity that was getting to know her," Genesis said. "I was also blessed for her to see our son, too, for her to interact with him and get to know him as well. He's autistic so you'd think he probably wouldn't remember her but when he sees the pictures, he does recognize who she is and we're grateful for that."
As much as Genesis has learned about LeRoy over the past 17 years, the full scale of his playing accomplishments hit after Butler was named a finalist for the Hall of Fame in 2019.
Upon arrival in Miami for a selection announcement that wouldn't yet go his way, Butler ran into fellow finalist and former NFL safety Steve Atwater, with whom Butler has grown close over the years.
"When he saw LeRoy, he said, 'Oh my gosh, you're here? Now I know I don't have a chance to get in,'" recalled Genesis. "That was when I was like, 'Wow. You were really something.'"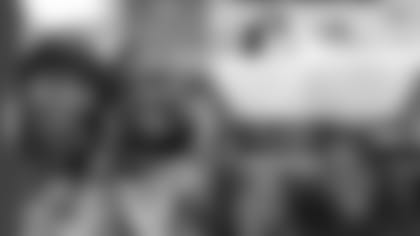 'I feel like I'm going in with him'
When choosing his presenters for enshrinement, Butler could not have gone wrong with any of his family, friends, former teammates or coaches.
But ultimately it came back to two people: Genesis and Gilbert.
Brown and Butler were lockermates during their eight seasons together in Green Bay. The man affectionately known as "The Gravedigger" still laughs when recalling his inauspicious introduction to the gregarious Butler.
"He ran his mouth too much," Brown said. "I couldn't get to my locker because everybody and their mom was over there trying to get an interview."
Over the years, Butler and Brown went from teammates to best friends to brothers. Butler jokes he didn't even know who was in the other locker next to him because of how often his shoulder was turned to talk Brown's ear off.
"I always told people that wild horses wouldn't keep me away. That's how special this is to me." -Gilbert Brown on LeRoy Butler's Hall of Fame induction.
Brown perfectly complemented Butler. He was quiet, at first, but was always up to date on clothing trends, restaurants, and even knowing the best kind of cologne to wear. Butler loved that.
Through their friendship, Butler also grew close to Brown's mom, Ann. That was never more evident than after Eunice's death in 2016. Afterward, Ann told him, "I know your mom is gone but you still got one on this earth."
Knowing how arduous Butler's road to the Hall of Fame was, Brown admittedly grew emotional after his former teammate called to tell him the news that he'd gotten in – and he wanted "The Gravedigger" to help present him.
"I always told people that wild horses wouldn't keep me away. That's how special this is to me," Brown said.
"LeRoy means the world to me. He could've picked Brett Favre, Lawyer Milloy, anybody. But he picked me. Crying is not in my DNA, but that made me choke up. I feel like I'm going in with him."
The idea to have Genesis help present him for enshrinement came at the suggestion of one of Butler's friends. At first, he wasn't sure if she'd want to do it, but Genesis was thrilled.
Genesis will be the sixth spouse to present their husband for Hall of Fame enshrinement, joining Kim Singletary (1998, Mike), Deanna Favre (2016, Brett), Eugenia Jones (2017, Jerry), Brenda Warner (2017, Kurt), and Tracy Mawae (2018, Kevin).
"I said, 'Of course. I don't mind doing it,'" Genesis said. "Coming behind those strong women who had presented for their husbands in the past is truly an honor."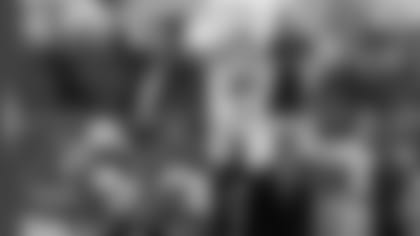 'I told you'
Standing inside the Packers Hall of Fame last week for the unveiling of his new exhibit, Butler looks around the space in amazement.
The area is festooned with jerseys, cleats and photographs from one of the most decorated careers in team history. Glancing up at the 38 interceptions written in bold lettering on the wall, Butler cracks a joke that it's good they didn't acknowledge all the balls he dropped.
It's been 20 years since Butler retired and nearly 30 since he first jumped into the end-zone stands, but his fingerprints can still be found from the stadium bowl to the statue that sits on the north side of Lambeau Field commemorating his Lambeau Leap.
General Manager Brian Gutekunst was in the infancy of his scouting career with the Packers during Butler's final four seasons in Green Bay, but the aura the safety emitted touched every part of the organization.
"When I walked into this building for the first time, he was one of those legends," Gutekunst said. "The thing that I remember most about LeRoy is the affection that Ron and the other scouts and coaches had for him and what they thought of him as a player. They held him in such high regard, and he was so important to Fritz Shurmur and the way they did things on defense."
So many people have been along with Butler on the ride such as former Packers receiver Antonio Freeman, who joined Butler in Miami during his first year as a finalist, and running back Gary Ellerson, Butler's longtime friend with whom he co-hosts a Milwaukee radio show.
"He fit the criteria. ... It's probably long overdue but I'm really excited that he's finally going in the Hall of Fame." -Packers quarterback Aaron Rodgers on LeRoy Butler.
Butler is thankful for former Packers cornerback Charles Woodson, a first-ballot inductee last year, who made the trip to Milwaukee earlier this year to inform Butler he'd been voted in (thanks to an assist from Genesis coordinating the surprise).
Even today, Butler has developed ties to the current team, with Packers quarterback Aaron Rodgers sending him a text message of good luck and telling him he belongs in Canton after he first made finalist.
Accepting his fourth MVP award at the NFL Honors ceremony this past February, Rodgers enjoyed watching Butler take the long-awaited walk across the stage to be introduced as a Hall of Famer.
"I was so excited … just to see that look in his eye was really, really special," Rodgers said. "He fit the criteria. He was a top-three player at his position for an extended period of time, and it's probably long overdue but I'm really excited that he's finally going in the Hall of Fame."
From his humble beginnings in Jacksonville to the litany of obstacles he's overcome, Butler has purposefully used the past six months to express his gratitude to Genesis, his children, his siblings, family, friends, coaches and teammates who contributed to his journey.
"I wish she was here with me to hear the news. But I know she was with God, saying, 'I told you.'" -LeRoy Butler on his late mother Eunice.
As he takes the podium and begins reading the speech he's been perfecting for a decade, Butler plans to stay true to what his mother told him back in 2010.
The headline shouldn't be LeRoy Butler is going into the Hall of Fame. The headline should be your teachers, your family, your first book was from a police officer, the Salvation Army who gave you your first shirt, the first responders, and military servicemen and women. All the people who helped you.
Butler swears not to go too long with his speech. It likely will be hot and there's rain in the forecast, but somewhere on that page, he will take a moment to acknowledge the woman who made it all possible – and somewhere, Eunice Butler will be smiling.
"I was very emotional when I found out that I got in because I wish she was here with me to hear the news," Butler said. "But I know she was with God, saying, 'I told you.'"