Brayden from La Crosse, WI
Do you think we are Super Bowl favorites if the defense is one step ahead of last year and we have our 2014 offense back?
What about the 2014 defense? Just give me the 2014 team and the Packers will be my favorites to win the Super Bowl.
If John Kuhn doesn't re-sign here or elsewhere, what are the odds he could become a coach with the Packers?
I think Kuhn has all of the tools to become an outstanding coach, but coaching staffs aren't a dumping ground for memories. Former players usually have to come up through the coaching ranks. Just because you played the game doesn't mean you're ready to coach the game. There's a process for learning how to coach. If Kuhn elects to pursue that process, I suspect he would move up the ranks quickly.
No Vic! God finally answered my long-time prayer.
Any update on Ty? Really looking for him to take some big steps forward in year two.
The updates begin on Tuesday.
Vic, I'm working on managing my expectations. Are your expectations for the upcoming season the same as for previous seasons?
Yes, they are, because in all of the time I've done this column for packers.com the Packers have been title contenders, and I expect that to be true again this season. You'll know rebuilding when you see it. I've covered a lot of rebuilding years. They have a distinctly different feel and expectation to them, yet, the energy for the start of a new season was the same. Hope is every team's star player at this time of the year.
The Midwest is currently in a historic heat wave right in time for training camp. Perhaps it would be best for those temperatures to linger up there for a couple of weeks. The longer they stay up there the more likely the team won't have as many heat-related concerns in Week 1.
If there were ever a good year for a hot training camp, this is it.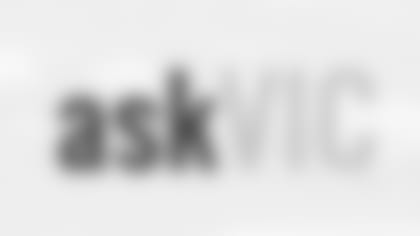 Richard from Santa Ana, CA
Do you think the competition of Barrington/Martinez/Ryan is the position of most interest? Or is Clark's ability to offset the loss of Raji the biggest question on defense?
You've hit on two hotspots. I think the Packers have accumulated enough talent at inside linebacker to ensure the competition will resolve any issues that might exist there. The defensive line will be depleted early in the season, and that makes Kenny Clark's development potentially the top story of training camp. The Packers desperately need for Clark to become an immediate contributor, just as the Packers needed their rookie cornerbacks to become immediate contributors last season, which they did.
What do the Packers need to do to win this year?
I can put a lot of raisins in this cookie – stay healthy, Jordy Nelson, development of young receivers, Eddie Lacy, etc. – but I'm going to focus on one issue: They need for the defense to become one of the league's best. In my opinion, that would be a game-changer.
During the Favre and Rodgers era, the Packers have had no shortage of quality backup quarterbacks. When you have a starting-caliber quarterback as a backup, when do you trade him and reap the rewards of grooming him?
For starters, the Packers are not in that situation now with Brett Hundley. When do you trade your backup? I think the answer is you trade your backup when the draft pick you'll receive is too good to pass up. The Jaguars were in that situation with Rob Johnson in 1998. They traded him to the Bills for the ninth pick of that year's draft, which turned out to be Fred Taylor. Johnson was not the answer in Buffalo, and Fred is a potential Hall of Famer. When you make that trade, however, you are tempting fate. What if your starter gets hurt? You better make sure your team is good enough to overcome the loss of your starting quarterback before you trade his backup.
What made you fall in love with football?
Most of all, it was the fury. It was the sound of pads smacking and bodies hitting the ground and coaches yelling and players grunting. I remember wandering onto a high school practice and experiencing all of that when I was very young. I can picture it right now. I was enthralled by the clash of bodies and the feeling that something very important was happening. I went back the next day and, in a manner of speaking, I've been going back every day since.

I will not miss Vic Ketchman at all. He dwelled in the past (particularly in the Steelers), was greatly disrespectful of people and had overstayed his welcome in Green Bay. I have read your columns. You will be a breath of fresh air.
Vic, the one weakness I see on defense is the lack of depth on the defensive line. Could teams potentially attack that weakness by using a run-heavy attack against the Packers?
Early in the season, I see that as a challenge the Packers are likely to face.
I took a few weeks off for the first time in years and everything has changed. I'm struggling to find all the archives to catch up for myself by putting bits and pieces together. Can someone connect the dots and update me on Vic, please?
Last week began a new format. "Ask Vic" will appear on Mondays (or the day after a game), and Mike Spofford and Wes Hodkiewicz will pen the mailbag column Tue.-Sat. as part of the week-long "Insider Inbox" series. Jake, I've moved into semi-retirement. Here are some upcoming dates "Ask Vic" will appear: Aug. 1, 8, 13, 19 and 27, and Sept. 2.
Volkmar from Gainesville, FL
So, Vic, what did you do last Tuesday morning?
My body clock awakened me at 5:30, but I just stayed in bed for an hour and thought. It was wonderful being able to greet the day with perspective. In my next life, I'm going to retire first and work last.
Vic, I think Datone's position change is flying under the radar, as far as importance for the upcoming season. What do you feel is a fair expectation of him this year?
I expect him to settle into a role and execute it with effectiveness. Year four is do-it time.
Bill from Richland Center, WI
Over the years, when a DE goes inside and we get beat on that corner, the DE always seems to get criticized. In that situation, shouldn't a CB have the contain responsibility?
It depends on the scheme and the defensive end's role in that scheme, but in a two-gapping scheme, which is the primary technique Packers defensive ends play, defensive linemen are expected to play through the blocker. If a defensive end is two-gapping and he goes inside, he's been blocked.
Sean-Luc from Oceanside, CA
Vic, could you recount your first interaction with Aaron Rodgers?
It was at the ring ceremony in June of 2011. We were still in a lockout, you might recall. I spoke with Rodgers to add his comments to my story from the event. I was new and he didn't know me, so I wasn't offended when he cut the interview short after a couple of questions. Since then, I have covered every one of his postgame press conferences and if there's one thing I'm going to miss from not covering Packers games, it's my give and take with Rodgers following games. He always answered my questions thoughtfully. I think he's a great postgame interview.
Guys, you mentioned the Packers must get rolling during the early stretch of home games. Do you think the way the 2016 schedule is laid out will favor them or will it be actually tougher down the home stretch?
I didn't mention that. I understand why everyone wants to start fast – they want to win – but I think it's much more important to finish fast. I covered a team that lost its first two games of the season by a combined score of 92-10 and it came within a dropped pass of the AFC title game. I think the first two games of the season provide a daunting challenge for the Packers. The final four will determine whether or not the Packers continue their streak of consecutive playoff seasons.