Teacher from Schoolville, USA
Just wanted to say thanks for helping me pass the time when I am on my plan period. I don't give a lot of homework so there are hardly any copies to make or things to grade. It can get boring.
When do the Packers have to announce which two players they are bringing back from IR? Can they bring one back now and wait on the other one for Rodgers?
They don't have to announce anything until the player is returning to practice. Then the transaction is submitted to the league as a designation to return, and a two-week roster exemption begins. The player must then be added to the 53 before the two weeks expire to be eligible to play. This process can start at any time with any player who has been on IR at least six weeks, and he must miss at least eight weeks of games total before playing.**
Is the equivalent of Dodgers-Astros World Series in the NFL an Eagles-Chiefs Super Bowl this year?
If the season ended today, probably. But the season doesn't end today.
It feels like this year is more wide open in terms of the playoffs. Besides maybe the Eagles, I don't see any teams that have truly pulled away from the pack yet. Would you agree?
Pretty much. In the NFC, the Seahawks and Saints are hot after slow starts and could start to separate themselves along with the Eagles, but guess who gets to play all three of those teams in the second half? The Rams.
Johan from Pembroke, Ontario
Considering the Zach Miller injury among many other season-ending injuries in the NFL this year, do you believe NFL players have gotten too big for their own good? The human body was only built to do so much.
I think that's at the root of the league's injury epidemic more than anything else, but I know nothing about science, medicine nor kinesiology, so I can't offer anything in support of the theory.
Don't you think officials have to be more aware of unnecessary tackles on QBs after they have released a pass? Not only AR, but I saw the same thing on Roethlisberger last week when he could have been hurt.
But then do you have to outlaw the pump fake when a QB is under pressure? I'm just trying to be fair to the defense. I think the league has done a lot to protect QBs. Rodgers' injury is truly unfortunate and devastating to the Packers, but if we aren't going to accept QB injuries with all the protections they are afforded now, then we aren't far from donning red jerseys and strapping on flags.
Fair warning, several questions that follow all pertain to rules and rule interpretations. So many of these questions came in over the past couple of days that I decided to answer them en masse. If you're not interested, feel free to skip the next 10 questions or so. Otherwise, here you go:
Martin from Mainz, Germany
Proposal for the kickoff rule: Let the kicking team choose between onside kick and a "touchback" from the opposite 25-yard line (or 20). With this scenario, only fake onside kicks are eliminated. What am I missing? Because that would avoid the dangerous kickoff returns but still allow for onside kicks.
I could see something like that developing, where the kicking team is simply given the choice to kick or give the opponent the ball on the 25, with provisions and options in the rules for enforcement of "leftover" penalties following a score.
So, if a touchback on a kick comes out to the 25, and a touchback on a punt is placed at the 20, where is the ball if there's a touchback on a free kick after a safety?
The 25 is the rule for touchbacks on all free kicks.
I'm curious about when a team has to use an injury timeout. Does a player have a certain amount of time to get off the field before the team has to use one?
A team is only charged an injury timeout in the final two minutes of either half, otherwise the clock is stopped for injuries without repercussions. If a team is out of timeouts and should be assessed an injury timeout, a "fourth timeout" can be granted by the officials. If a "fifth timeout" or more is needed, a 5-yard penalty goes along with it.
Wyatt from Grandville, MI
Hey Insiders, if a QB moves past the line of scrimmage he obviously can't throw the ball. What if he reverses and is now behind the line again. Can he throw it?
I just saw in hockey that if you don't win a coach's challenge it is a minor penalty. Would that work in the NFL? Unlimited challenges but 5 or 10 yards if you don't win.
In overtime, the first team to receive the ball has a 9-plus-minute drive and kicks a field goal as time runs out. Now what? How about a field goal with 5 seconds left?
A regular-season overtime period is 10 minutes, regardless of the number of possessions. If the receiving team takes 9:58 off the clock, sends the kicker out with 2 seconds left, and makes the field goal, it wins. A miss would mean a tie.
During the Steelers-Lions game the Steelers had the ball with about 5 minutes left. The game clock was running and just before the play clock expired there was a false start. The penalty was enforced, ball re-spotted, play clock reset to 25, and game clock began to run again. Couldn't the Steelers continue to get intentional false start penalties to essentially run out the remainder of the game without snapping the ball? If the answer is no, then why was their offense able to run off so much more time without running a play? Seems like a bad rule or perhaps the refs should not have restarted the game clock.
The penalty you reference occurred with 6:44 left in the fourth quarter. The time rules change once it's under five minutes remaining (or two minutes in the half). Whether or not the clock restarts when the ball is spotted after a player goes out of bounds changes at those times, too.
Did you see the interception in the end zone in the Penn State vs. Ohio State game that was overturned to a touchdown? Sure, I understand that the receiver appeared to gain possession first. But as a thought experiment, the receiver has to maintain possession through contact with the ground in order to complete the catch. But if the ball comes out of his control and into the defender's possession during the process of the catch, without the ball hitting the ground, 1) how can you consider the receiver to have completed the catch process, and 2) how is that different from the receiver losing control of the ball and it falling into the hands of the defender without hitting the ground? In short, how does that get called a touchdown instead of, at minimum, an incomplete pass, and at most, an interception?
I think the application of the simultaneous catch rule threw out all the going to the ground, losing control, etc., stuff. At least that's how I saw it. The receiver had it first, and as they tumbled to the ground, the defender never fully wrestled it away to establish sole possession, so, by rule, the tie went to the offense. It certainly was not incomplete, though the argument for interception – that the video evidence wasn't enough to overturn the call on the field – has merit.
Is the penalty for face-guarding a thing of the past or did I miss a rule change? Seems to happen a lot.
Face-guarding is not illegal, unless it is accompanied by contact the officials deem significant enough to prevent a reception. Though the actual rule didn't help Ellis Hobbs 14 years ago, as Vic so often reminded us.
Josh from Canmore, Canada
Really interesting question from Jim in Chippewa Falls yesterday that I hadn't even thought of before. Has there ever been a case of a team attempting an onside kick to start overtime? That's a lot of faith in your special teams, or maybe a serious lack of faith in your defense. That would be one of those decisions where you're a hero if it works and you're ostracized if it doesn't.
I haven't seen it attempted, but the flip side of your argument is it shows tremendous faith in your defense because you're counting on them to surrender no worse than a field goal and give you one last chance.
"See it, flag it." Yep, you are 100 percent correct and that is the problem. As a 30-plus-year official in Texas, we tell the coaches, and they already know it, that we officiate at the point of attack. If it does not factor into the play, ignore it unless it is a safety issue. The problem with the NFL is that they go out looking for penalties and when you do that, you WILL see them. But I digress, just my humble opinion.
I'm not advocating for throwing out the rule book and letting everything go, as some readers seem to think. I'd just like to see a little more discretion used as to whether an infraction actually has an impact on the play.
Insiders, I have a couple of questions I'm dying to have answered. When Mike is sitting here and you are over there, does that mean Wes is across the table, at a right angle or sitting next to Mike? Also when Mike is in this chair and Wes is in that one, is it always the same chairs? Is Mike's chair higher than Wes's like the talk show hosts? Is it always in the same place or are you always trying to find a quiet space? Have you ever thought of recording one in Vic's office? Can we get a photo?
As I've tried to clarify many times, the "Unscripted" podcast is actually a local cable TV show for which we only have the rights, contractually, to post the audio on packers.com. But here's the look.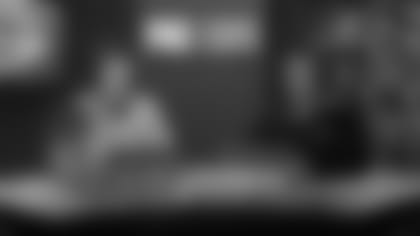 Robert from Los Angeles, CA
Where on the web does the league announce which games are flexed to a later time? I'm traveling from California to see Packers at Bears but can't finalize plans until I'm sure the game isn't flexed. Seems unlikely, but I want to be sure.
Flex decisions must be announced at least 12 days in advance, except for Week 17. Packers-Bears is staying at noon.
Dante from Fredericksburg, VA
7.5 sacks for Julius Peppers. Go figure.
A great swan-song season that may not actually be the swan song for the future Hall of Famer. For as productive as Peppers was in Green Bay (25 sacks in three years), and with his ability to have an impact in any scheme, I think 4-3 defensive end was always his most natural position.
With there being video evidence that Anthony Barr did indeed direct at least one obscene gesture towards Aaron Rodgers as he was being led off the field, do you think the league will fine Barr or take any action whatsoever against him?
He'll maybe get fined, but I doubt he cares. I can't say I do, either.
Is it just me, or have there been way more midseason trades compared to past years? Why do you think all these trades happened this year?
Lots of interesting activity at the trade deadline this year. Kyle Shanahan gets a head start on building San Francisco's offense around his QB of the future, Seattle and Buffalo get pieces to help their arguably weakest units, and Philly – after losing Darren Sproles – now has a more effective 1-2 punch at running back with LeGarrette Blount. Ajayi came relatively cheap. Kelvin Benjamin gives the Bills a big-bodied receiver for the cold weather, while the Panthers apparently want to go with more speed on the perimeter. Garoppolo could be a steal, but the risk is the 49ers will have to pay him before he's really proven himself. The most valuable piece the Seahawks gave up was a second-round pick in 2019, which maybe is when John Schneider expects to get a high compensatory pick or two to help compensate, based on free agents he could be losing after this season.
What is Hundley going to get out of having Rodgers in the meeting room and on the sideline that he wouldn't be otherwise getting from Van Pelt or McCarthy?
The immediate and extensive recall of his specific thought process and decision-making when he saw this or that. He's the guy who's done it against these specific defenses, and in the case of division opponents, just last year or even earlier this year.
Mike, I saw some photos of Brett Hundley showing his hunting success during his break. Nothing relieves stress like sitting in a Wisconsin deer stand on a cool fall evening. I predict Brett Hundley's time in the woods will prove to be the difference maker in getting the Packers their first "W."
I believe the true Packers team shows up for good on Monday and we send the Lions home two games behind, and Packer Nation has renewed faith. Now, how many wins does it take to win the division over the Vikings?
Aim for 10 and see how it falls, but a fifth win is the only priority right now.
Brad from Mounds View, MN
Bad sign for the Packers after watching Detroit Sunday night. Pittsburgh's defense has been one of the stingiest and Stafford lit them up, just didn't score touchdowns. I fear our defense will again spend all night on the field. What is the key to getting this defense off the field?
Be able to get pressure in third-down passing situations with a four-man rush. That's where it starts. When blitzes aren't a surprise, because offenses know they're coming due to an ineffective four-man rush, it makes them less effective, too. On the latest "Unscripted," Wes and I chose the players we feel need to be the Packers' MVPs to make a second-half run. On defense, he picked Mike Daniels and I took Nick Perry. Those selections speak to the value of a productive four-man rush.
Lawrence from Onalaska, WI
I waited for the Great Pumpkin.