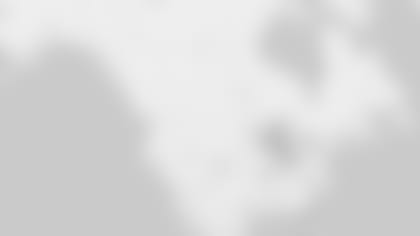 Vic, if the 7-8-1 Panthers beat the 11-5 Cardinals, will that not counter all this talk about playoff injustice? For the record, I would like to see more teams.
It's about what you are now, not what you were in September and October. If the Panthers get hot and win it all, I would have no problem referring to them as Super Bowl champions.
Charlie from Waukesha, WI
Regarding Elliot Wolf's promotion: What is the difference between Eliot's 2014 duties as director of pro personnel vs. his 2015 duties as director of player personnel?
Pro personnel involves evaluation of talent that has made its way through the draft and is playing or has played for a professional league, or is eligible to play for a professional league. College scouting deals strictly with players that have yet to pass through the draft. As director of player personnel, Elliot Wolf will oversee all personnel.
How well do you think the Lions match up against the Cowboys? What edge do the Cowboys hold that you think will be key to this game?
The Lions have the run defense to match up against the Cowboys, and they have a big-play receiver that can take over a game. The Cowboys can match each, but the Cowboys have home field advantage and I think it gives them a big edge in this game.
Playing physical man defense and staying in coverage seems to be the recipe for success against stopping the Packers offense and Rodgers in the past few years. Why don't we see this defense from every team we play? If I was a defensive coordinator, I wouldn't play it any other way against them.
Carolina lined up that way on the first series of the game and Jordy Nelson burned them. I continue to be amazed by the number of football fans that believe scheme wins. It only wins if you have players that can execute it. All teams don't have the corners that can play that man scheme.
Vic, I'm a huge Packers fan and love watching football. I've never been on a football team, though. I do feel like reading your column has helped me better understand what football is really about. What would you say I least understand or most miss out on by never playing the game?
Fear, whether it be the physical fear of being matched up against a superior opponent, the fear of failure or the fear of the moment. Fear is an exhilarating emotion that challenges you and offers you an opportunity to defeat it. Much of life offers the same, but football does so much more dramatically.
After seeing Rodgers tilt the field on one leg, what does that tell you about his potential to alter his game as he ages to continue playing at a high level?
Mobility is a wonderful addition to a quarterback's skill set, but a lot of great quarterbacks didn't possess mobility. As a quarterback ages, he relies more on his ability to distribute the ball. Aaron Rodgers finds the open receivers as well as anybody. He can play from within the pocket and I think we'll see more of that as he ages.
I think picking league MVP is pretty simple. Ask yourself one question: If there was a draft with all of the current players in the NFL, who would be the No. 1 pick? That's your MVP.
I don't agree. The draft would favor youth. Andrew Luck might be the first pick, and I don't think he's having an MVP year.
Do you have any recollection of what your assessment was of Aaron Rodgers back in the spring of 2005 when he was still a prospect?
I didn't know much about him, other than he was a Jeff Tedford quarterback and that carried with it a stigma from quarterbacks such as Akili Smith and Kyle Boller. That kind of stereotyping underscores the need to evaluate talent based on what you believe it can become. You don't draft the school or the system in which the player is playing; you draft the player and the talent he has to become the player you want him to be. Scouting is a crystal ball business.
Vic, I've always enjoyed reading your column because I always felt like you were trying to tell something to those who read between the lines. Maybe I am reading too much into it, but I think you are very telling to people who will try to put together a couple of missing pieces.
Here's how meaningless comparing stats between eras has become: Ryan Tannehill has as many 4,000-yard passing seasons as Joe Montana and John Elway combined.
Kyle Brady caught more passes than Lynn Swann.
Vic, I didn't give this Packers team much hope at the mid-point of the year when they had not built an identity yet on defense. I had them picked as the Super Bowl winner in August, but did not see anything from the defense to indicate a winner in September and October. What changed in November and December for this Packers team to have the identity of a top-five defense in the second half?
First of all, you got way out ahead of the story. September and October are for finding out who and what you are. November and December are for forging an identity and sharpening that identity as the postseason nears. That's what changed. The Packers found out who and what they are. They worked at it. They began stopping the run. That was a game changer.
I'm quite worried about the playoffs and having to go see Seattle in their home field. What would you say the No. 1 thing is the Packers need to help them win the NFC championship?
I've written this many times: The Packers need to be the best they can be. What that means is they now know who and what they are, and they must play to the highest level of that identity. Forget about changes. The time for change is over. Every team in the postseason is what it is and it must be the best it can be at what it is. The Seahawks run the ball, play defense and rely on their quarterback to be creative at key times. The Seahawks are the same team they were a year ago. You don't have to surprise your opponents; just beat them with what you do best.
Richard from Gaithersburg, MD
Vic, I'm wondering if you ever read the comments people leave below your "Ask Vic" segments? The discussion that followed your recent column about what attracts so many fans to the Packers is one for the ages. The stories are fascinating and the question really brought out the flavor of the Packers universe. Thanks.
When I first began writing for packers.com, I was adamant in the need for some type of forum for reader expression. The concern was that such a forum would invite irresponsible commentary. I promised to make sure that wouldn't happen. Four years later, I believe packers.com has the most responsible readership of any site on the Internet. I am intensely proud of our readers' comments.