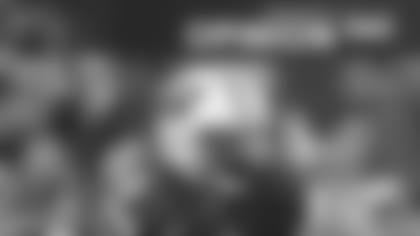 Wisconsin WR Jared Abbrederis
James from Pocahontas, AR
Here's the perfect example to make your point about not drafting for need. If, in 2000, the Colts had taken Tom Brady with their fifth-round pick instead of Matt Johnson, they never would have had to face Tom Brady and the New England Patriots. So, all of those Colts-Patriots matchups over the years that the Colts lost, they probably would have won rather easily.
Who doesn't need Tom Brady, right?
Not to be pessimistic about the Packers signing more tight ends, but shouldn't this offseason focus 90 percent on defense? Drafting a tight end in the first round doesn't seem very important.
One of the most amazing things about this column over all of the years of its existence is how I have steadfastly, fervently, passionately embraced and espoused the virtues of drafting the best available player, yet, the questions about need-picking persist. I am not above changing my views. When I believe need-picking is the best way to go, I'll change my ways, but that time hasn't arrived. I remain a staunch believer in picking the best available player, or trading out of the spot, recouping the value of the pick and moving to where the player that addresses need fits. To answer your question directly, if Eric Ebron is the highest-rated player on the Packers' board when it's their turn to pick, I say pick him, or move out of the spot, etc.
Vic, tell me about yourself before you wrote for the Jags and how you came to be a sportswriter.
I was born, I achieved unimportance at a young age, and I have been fortunate enough to have earned a living doing something of minor significance that I greatly enjoy. I became a sportswriter because I didn't want to work at the sintering plant. It was part of an epiphany I experienced following high school, when I found out that not everyone lived in a town where whistles blew three times a day. I wanted to live in one of those towns where the whistles didn't blow, and medical school was not an option. I did what I knew. I'm lucky.
Simon from Mountain View, CA
It turns out Stephon Tuitt didn't run at the combine because he had a foot injury. Might that cause him to slip to 21 in the second round? Would he be a good value there? What does Tony think?
I specifically asked Tony Pauline about Tuitt last week. The one thing I love about Tony is he never holds back.
Vic, what are the differences between the combine and pro day?
When scouts go to the pro days, they should take a tape measure with them. Times are usually faster at pro days.
Taylor from Toronto, Ontario
Vic, we know Ted Thompson is all about value. Since this crop of prospects is regarded as one of the deepest in years, could we expect Ted to trade up in the draft at a discount, or will he be looking to move down, like most teams?
If I'm a general manager who has 16 players headed for unrestricted free agency, and I'm heading into a draft that at least one other general manager has referred to as the deepest he's ever seen, I would consider this a good year to have a lot of picks. Hmmm, do you think there's a chance this has all been thought out in advance?
Uriah from Marysville, OH
Vic, I disagree with you just a little. You say you should take the best player available; I agree, but don't you think that if the best player available is a position you don't need, you should try to trade back?
That's a sensational idea.
Do you think Pryor's poor 40 time might have put him more in the Packers' range at pick 21?
The poor guy shrunk three inches and then ran a 4.6. And I thought I had a bad combine when I got stuck with the bar tab on Friday night. Yes, I think Calvin Pryor will be available when the Packers pick.
Vic, is any coach worth two ones, two twos and $8 million?
Well, the Bucs won the Super Bowl, so I guess the question is whether or not a Super Bowl title is worth two ones, two twos and $8 million. Here's why I say it isn't: The Bucs are right back to where they started, which is to say losing a lot of games in front of a lot of empty seats. Remember the dirty little secret? The Super Bowl isn't the goal. The goal is to be a playoff contender ever year, which gives you multiple opportunities to win a Super Bowl and keeps your stadium full. I would neither trade two ones, two twos and $8 million for a coach, nor trade a winning coach for two ones, two twos and $8 million. I think it's lose-lose.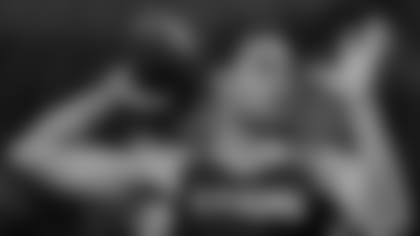 Virginia Tech QB Logan Thomas
Kevin from Greenville, SC
With Mike McCarthy saying he'd like to develop a young quarterback, I was wondering about your impression of Logan Thomas: 6-6, 248, ran a 4.6. Sounds physically impressive.
You bet he's physically impressive. If you're picking on the eye test, Thomas is the first quarterback selected. The problem is that Thomas hasn't developed his passing skills. In fact, they seem to have deteriorated since his big sophomore season. He was wild at the Senior Bowl. What would happen if you put a big, strong quarterback like that in the Mike McCarthy school of quarterbacking? That's where it gets interesting. You don't pick players on what they've done; you pick them on what you believe they can do.
If James Jones leaves, I would like to see the Packers draft Jared Abbrederis. What are your thoughts?
I'd like to see the Packers draft Abbrederis regardless of what happens with Jones. I think Abbrederis is great value in a class of receivers that's going to push him down farther than his worth.
Vic, I'm hearing there's a bit of a riff going on in San Francisco between Head Coach Jim Harbaugh and GM Trent Baalke. I feel like this could be very detrimental to a team. How important is it for a team's GM and head coach to get along?
Apparently, it's not very important. The 49ers seem to have overcome it.
I witnessed one of my favorite speeches while watching the defensive backs at the combine. The coach running the drills had them together and was telling them how it doesn't matter where you get picked, it's what you do after you get picked. He was basically telling them all of the natural talent in the world means nothing if you don't work hard and/or can't stay out of trouble.
I'm glad you heard those words and I'm glad they had an impact on you. Live by them; they're good words. I can't help but wonder, however, how many of the players' ears were closed to those words. I often think they hear too many words during their football careers and tune out pep talks and words of warning. I'll never forget coming back from Seattle in 1983. At midweek, the Steelers' first-round pick, Gabe Rivera, was involved in an accident that left him paralyzed. Needless to say, it was an emotional week that ended with a win the team dedicated to Rivera. Just before the plane landed, Coach Noll spoke on the plane PA. He told the team Gabe was resting comfortably, and then he reminded players to drive carefully, responsibly on the way home. There was silence on the plane; Noll's words seemed to have a dramatic impact on the players. Then I got in my car and was nearly run over by players screeching out of the airport.
Chris from White Bear Township, MN
Vic, you said Aaron Donald is not a good fit in a 3-4, but also had the most impressive Senior Bowl-combine one-two punch. If he is there when the Packers pick, do they draft him and work their defense around him? Is that what you are saying on players, not plays, and not focusing on the 4-3, 3-4 hype? Can you explain letting the opposition have this guy?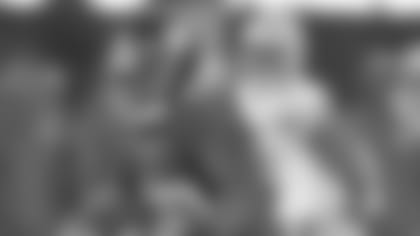 Giants DE Jason Pierre-Paul
I don't know what the Packers' evaluation and opinion of Donald is. I think they would tell you he's a great football player, but they might have size concerns that wouldn't make him a fit for the Packers at pick 21. Frankly, I think there's a strong chance Donald will be gone by then, but to answer your question, you pick the player and find ways to utilize his talents. I asked Mike McCarthy a year ago the very question you're asking, except I used Jason Pierre-Paul as the example. I asked Coach McCarthy if he would pick a 4-3 defensive end, even though the Packers use a 3-4 defense, and he quickly answered that you pick the best players and find ways to use their talents. That's what coaches do. They're paid to create schemes that fit their talent. If you're a 3-4 team and you pick Donald, you'll have to tweak your scheme to allow him to do what he does best, penetrate and disrupt. He can hold the point of attack, but asking him to do only that would be grossly under-utilizing his talent. Bruce Smith played in a 3-4 and he certainly wasn't a hold-the-point defensive end. Don't paralyze yourself with scheme.
Wick from Amsterdam, The Netherlands
Vic, it's become apparent you would like for the Packers to get the opportunity to select Louis Nix III in the first round. What about the later rounds? What are some of the prospects you would like to see the Packers draft and in what round is it realistic they are drafted?
I like Kyle Van Noy; Tony says he would fit in the second round where the Packers are picking.
Andrew from Fort Collins, CO
What has been the most successful draft you've seen by a team?
I covered the 1974 draft, when the Steelers selected Lynn Swann, Jack Lambert, John Stallworth and Mike Webster with four of their first five picks. That's the best draft I've covered.
I once read a GM's comment about need vs. best player available. To paraphrase, he said that if you pick the second-best player for need, over time your team will be filled with the second-best players.
You won't win championships with second-best talent. Anybody can pick for need. The best drafters work the draft. They find ways to address need without sacrificing value. When they can't do that, they go for value and find other ways to patch for need. The draft is the lifeblood of a franchise. Never, ever compromise the integrity of your draft, or you will surely die. Yes, Daunte Culpepper had a great season in 2004 and the Vikings certainly didn't need a quarterback on draft day in 2005, but Culpepper sustained a catastrophic knee injury in the '05 season and he was never the same again. He wasn't even with the Vikings in '06, and that was the whole point of the example I provided in this column yesterday. You can't predict the future, and that's why you draft the best available player. The Vikings didn't need Aaron Rodgers on draft day in 2005, but they sure did on draft day in 2006, but he was gone. I'll tell you what else the Vikings needed: Not to have to play against Rodgers twice a year.
Does personality come into play when drafting a player?
You're talking about the interviews at the combine. Yeah, I think it's important that you know what kind of personality you're drafting. You need to know what you're bringing into your locker room. Most of all, you need to know what makes the guy tick, so you can help him tick.
Majkowski has turned 50. Any fond memories from his days of leading the Packers?
I didn't follow the team that closely back then, but I have a fond memory from having interviewed Don Majkowski this past fall. It's part of the alumni videos series we're providing on packers.com. Look for the interview I did with Majkowski. It'll be coming up soon. I think you'll enjoy it. I did.
Bob from Cedar Rapids, IA
All of the talk about Aaron Donald not being big enough reminds me of how Bob Sanders wound up playing college ball at Iowa. Kirk Ferentz heard of this player in Pennsylvania that nobody was recruiting because he wasn't very tall. Ferentz replied that he was looking for football players, not rebounders. The point is that if the guy is a stud, grab him. He will play beyond his size.
It worked for Iowa and it worked for the Colts, too. Sanders is the reason the Colts won Super Bowl XLI. There are lots of examples of short players being great players. Trent Baalke talked at the combine about his love of length, and I understand that length is reach and reach means range, but power is usually the result of concentrated force and that's what Donald possesses, concentrated force. He doesn't need length at the position he plays. Defensive tackle is all about power, leverage and short-area quickness. We'll see.
Vic, I am starting to come around to Ted Thompson's philosophy to target the big guys in the first round. This year, that would translate to favoring a Louis Nix III or a David Yankey. I would love either. Did you hear anything more on Yankey from Tony Pauline this weekend?