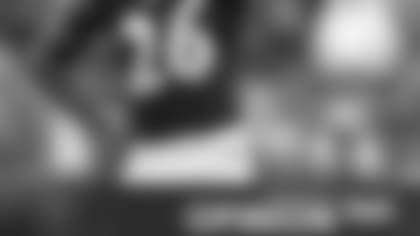 Ravens S Matt Elam
I've heard a lot of talk about the hit on Cobb being dirty. I don't really think it was; the guy didn't have to go that low, but dirty? No. All of that aside, the tackler's claim that it was Goodell's fault for making high hits illegal is a bit bush league. There are a lot of places to tackle a guy below the head and above the shin, even in the open field.
It's nobody's fault that tacklers are going low to avoid hitting the head. It's an unintended but predictable consequence of forcing tacklers to go lower that knee and lower leg injuries will increase in number. I don't have a problem with tacklers going low, I have a problem with tacklers launching the helmet into the knee, for example, which is what Matt Elam did. Helmet-to-knee hits are as dangerous to the head as helmet-to-helmet hits are, so what have we accomplished? Be that as it may, tacklers will continue to use their helmets as a weapon as long as it remains the most protected part of their body, which it is. All we've done is move the danger to other parts of the body. Elam isn't the problem; the helmet is.
Vic, I agree with you that it was the right decision to decline the penalty on the goal line against the Ravens, but we can't have it both ways. In the 49ers game, we accepted the penalty and then the Matthews personal foul followed. I wanted Mike McCarthy to believe in his defense, but I guess it just took him longer to believe in his defense. What say you?
Are we still perseverating on that play in the San Francisco game? Every circumstance and every game are unique. The Packers defense did little that day to engender confidence or trust. Mike McCarthy did the right thing. We know that because it worked. It's not McCarthy's fault the referee botched the call. In Baltimore, the defense deserved the confidence McCarthy expressed in it. Would I have declined the penalty? No, I don't have the courage to do what McCarthy did.
Mike from Simi Valley, CA
Vic, be honest, how many emails have you received about signing T.O.?
Yours is the only one. I have been flooded, however, with sign-Donald-Driver emails.
Here is an oversimplified question, Vic. Do you believe the Packers would have lost last week's game against the Ravens had there not been such an early-season investment and consequential success of the running game?
I think it would've been very difficult to win without James Jones and Randall Cobb, had the Packers not run the ball with the success they did.
The engineer in me is having trouble comprehending why you choose fourth-and-one over third-and-11. If you have confidence in your defense, don't you think stopping two plays for 11 yards is easier than stopping one play for one yard? It could be argued that McCarthy showed he trusts his run defense more than his pass defense.
The Ravens would've likely kicked on fourth down had they not advanced the ball back to at least the 1-yard line on the third-down play. What I get from this is that McCarthy wasn't willing to give the Ravens three points. He was willing to spin the wheel on seven or no points.
QB Bart Starr
No facemasks on helmets? Are you out of your mind? When they put facemasks on helmets and then logos, that was the beginning of the great modern era of NFL football. Unitas, Starr's single bar, Nitschke, Kramer, Gregg, Butkus and Joe Greene's muddied, bloodied full cages. If you take away facemasks, I would not watch another NFL game.
Isn't that when all the problems started? I think it's accurate to say the facemask changed the game. It drove the game's popularity, and now it's driving worry. By the way, I don't think I'm out of my mind and I didn't say get rid of the facemask. I said change it, and change the helmet, too. Both are in desperate need of a revolutionary design change that promotes protection and forbids using the helmet to punish. I have no doubt it can be accomplished.
All this talk about player safety, yet, there are rumors that, for pure money and TV ratings, the NFL is considering expanding to more Thursday night games. I say go back to how it was, two Thursday night games a year, a Lions and a Cowboys game on Thanksgiving Day. What do you say?
I think we need to slow down until we get a handle on current efforts to reshape the game. When I was a kid, Friday night was for high school football, Saturday afternoon was for college football and Sunday was for the pros. At the height of my kidness, I saw college games at one and four on Saturday, and four pro games on Sunday (two NFL and two AFL). I can remember my dad saying over and over that they were overexposing the sport. Last week, I watched South Carolina State and North Carolina A&T play a nationally-televised game. Soon, I'll be seeing Toledo play somebody on Tuesday night, Wednesday morning or whenever Toledo will agree to play a game ESPN may televise. I think I saw Marshall and Florida Atlantic play last night. I'm not sure. Overexposed? You bet it is, but the beat goes on. I'd like to see some pullback until we get more information on the effects of new game-shaping efforts. Are we doing it the right way? I'm all for evolution, but not at the expense of young men's bodies.
What do you think Ray Nitschke would have looked like playing in pink cleats?
I think players from Nitschke's era would've been reluctant to wear pink. There's an essay in there somewhere.
Why is this week's game at 3:30? Not exactly a marquee matchup.
It didn't look like one when the schedule was announced, but this one has a little more bounce to it now, especially considering that this week's schedule is kind of weak overall. The Pats-Jets and Ravens-Steelers games were supposed to be the headliners, but they've lost a lot of their luster. The original intent of a late kick for the Browns-Packers game was to even up the TV schedule, but I think it's more than that now.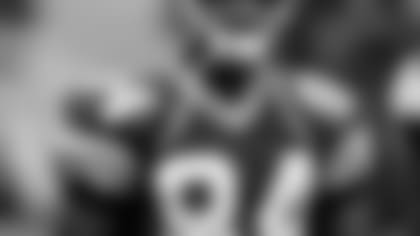 WR Andre Rison
OK, Vic, enough with the Packers are always right approach. You can't tell me signing a vet isn't a good decision. Let's hear your honest opinion. I'm sure you won't get fired.
The Steelers traded a late-round conditional pick for Levi Brown. In the process, the Steelers had to assume Brown's huge salary. He was injured in pregame warmups last Sunday and was placed on injured reserve without having played a down. Find an affordable veteran player with some tread left on his tires and I'm all for signing him, or even trading for him. What I'm telling you is – you insult me when you infer I don't give you my honest opinion – you'll likely regret the move. Andre Rison was a good addition to the 1996 Packers, after being cut by the Jaguars. It happens, but there are more Browns than Risons. Find a young guy and develop him. You won't regret it.
How does losing both Cobb and potentially Jones change how a defense reacts to this high-powered offense?
The Browns will likely be more aggressive in their defensive approach to the game. The Packers lost a lot of firepower when Randall Cobb was injured. I'm interested to see how the Packers scheme and execute to pick up that slack.
Dakota from Jensen Beach, FL
Kansas City has very quietly gotten to 6-0. They look like a contender but do they have "The Man" to win it all and are you surprised what Reid has accomplished there?
Regarding bone injuries, it seems to me that men who drank milk frequently during childhood might have stronger bones. I've often wondered: With as much thorough preparation as we've seen in other respects, do teams consider a player's childhood diet at draft time?
Really? You've often wondered about players' childhood diets? Well, let me put your mind to rest: I have never known a team to consider a prospect's childhood diet when evaluating him for the draft. One of the toughest and most durable players I've ever covered grew up in a box on the street. I doubt that he drank a lot of milk.
Why don't you answer my questions? Afraid I may be your Doppelganger because we share the same name and I am from a city that sounds like your last name? Will the injury to Cobb be a blessing in disguise, i.e. defenses will loosen up their pass coverage in order to focus on Lacy and a shorter passing game, thereby giving Rodgers more one-high looks and an ability to blow some games open?
You're right. It just looks too weird so this is your one and only shot. I don't regard Cobb's injury as a blessing in disguise. I see it as an obstacle that must be overcome.
Vic, how realistic is it to pick up a new receiver from another team or off the streets at this stage of the season and expect him to develop the necessary timing to be helpful?
If it can be done, wide receiver is the place to do it. I went out back to the wide receiver tree, and I saw some good ones just lying on the ground. You can eat around the worm holes.