The Steelers placed the transition tag on Jason Worilds. Please explain the pros and cons of the transition tag.
For the team using it, the positive is the team can allow the player to test the free-agent market but still retain him. The negative is that a team signing Worilds to an offer sheet can structure the deal in a way that would make it difficult for the Steelers to match – front loading it would be an example – or even hurt their salary cap structure if they do match. "Poison pills" are now forbidden and that's why teams are beginning to use the transition tag again. For a team that signs Worilds to an offer sheet, the positive is they know what the Steelers' cap limitations are and can structure a deal that would be difficult for the Steelers to match, and the negative is you can end up wasting a lot of time pursuing a guy you'll lose if the Steelers do match the offer. In 1996, the Jaguars signed Alonzo Spellman and Quentin Coryatt to offer sheets. They arrived at the stadium in Jacksonville in big limousines and they got a lot of media attention for their weekend visits. Spellman and Coryatt created a lot of buzz among Jaguars fans, and then they left and never returned because the Bears and Colts matched. You end up feeling used, because you were used. As it turned out, Spellman experienced off-the-field issues and was cut by the Bears two years later, and injuries ended Coryatt's career a few years later. The Jaguars were lucky the Bears and Colts matched.
Roland from Glen Cove, NY
Vic, how do you feel the growth, use and reliance on the Internet has impacted your industry? While cybernews is readily available on any and all NFL topics, I find that it is very rarely correct or fact-checked information.
The positives far outweigh the negatives. The Internet has given us immediacy. We can update stories so the public is always on the cutting edge of the news. That immediacy, however, has also produced the big negative in Internet reporting. We know we can fix mistakes, so we're not as diligent in preventing them. When that newspaper rolled off the press, you better have had it right because there was no changing it now. It was headed for the doorsteps of your town; it was a terrible feeling if you knew you had made a mistake. It was a mistake that would eventually make it onto micro-film in the local library for eternity to bear witness. We read and re-read. We checked and re-checked. We lived in fear of mistakes. That fear isn't as great now.
J.D. from Indianapolis, IN
Vic, there was a question last week regarding comp picks and the re-signing of your own players, and a few of us were never quite clear on the answer. When does a player count as a net loss in free agency? When the team fails to sign him and he hits the free agent market? Or when he actually signs with another team?
Here's an example of a mistake. I went back and read the question and answer and my response was vague and misleading. Here's the proper reply: Signing your own player, whether it's now or after free agency begins, won't count against you in compensatory pick consideration.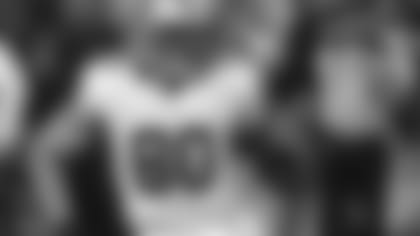 Saints TE Jimmy Graham
Vic, would it be smart for the Packers to still pursue Jimmy Graham, even if it means giving up two ones?
Give up two ones for a guy originally drafted with the 95th overall pick? Think about that. If you made a mistake in evaluating him the first time, do you want to risk doing it again? You're talking about the future of the franchise. Do you want to risk it on a tight end? A tight end?
Do you think the team made a mistake by letting Sam Shields get to the free-agent stage?
I don't know for sure, but I don't suffer from the collective angst of my inbox, and it's because I genuinely trust the Packers' ability to evaluate talent. I think Shields had a strong season. I think he's a guy the Packers want to keep, but it's all about price point. I trust Ted Thompson to get it right. How many similar decisions have come back to bite the Packers? Does Thompson not have a track record of success in the players he's allowed to leave?
Vic, the only thing worse than Tampa Bay's new helmet design is their new jersey.
The new uniform designs remind me of a fond memory from a long time ago. The Steelers were in Carlisle, Pa., the Redskins' training camp, for a scrimmage at the high school stadium. The place was packed; it was a big deal in the town every summer. The Redskins were on the field warming up and they were wearing their game uniforms when the Steelers got off the bus wearing their tattered training camp togs, which did not include numbers on their jerseys; Chuck Noll didn't like providing player identification for potential spies and he also believed it was important for his assistant coaches to know players by their movements, not just their numbers. Well, a wide receiver named Weegie Thompson looked at the Redskins in their game uniforms and said, "The Washington Redskins vs. Joe's Bar and Grill." The Bucs' new uniforms remind me of that story.
Richard from Wauwatosa, WI
Vic, if you were the GM for the Packers, what would be your plan for this offseason?
I'd try to sign a few affordable free agents that would address need and offer more than a one-year patch, and then I would quickly turn my attention back to a draft that, in my opinion, could determine the fruitfulness of the Aaron Rodgers era in Packers football. If this draft class is as deep and as talented as many are saying, then this is a year that could put this team over the top. It doesn't need to acquire much for that to happen. It's not that I'm opposed to free agency, it's just that I'm afraid of it. The misses far outweigh the hits. I'm a draft guy. I like young players whose arrows are pointing up.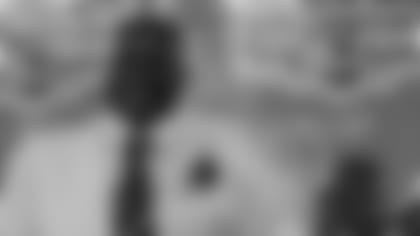 Bruce Smith
Vic, is there any difference between the franchise tag for a 4-3 defensive end and a 3-4 defensive end?
No, they are the same, just as all offensive linemen are the same. If you sign a guard, you're going to pay him left tackle money, which is why you don't franchise a guard unless he's John Hannah. The same applies to defensive ends. If you franchise a 3-4 defensive end, you're going to pay him blindside pass rusher money, which is why you don't franchise a 3-4, hold-the-point defensive end unless he's Bruce Smith, who was a 3-4 blindside pass rusher.
Just wanted to say I hope you stop the Jim Harbaugh is a good coach garbage because they went to the playoffs. It sounds like the team and owner are sick of his baloney. He is not the reason they have succeeded; immense talent is the reason. My mother could have coached them and gone to the playoffs.
One of my best friends was a very successful high school coach, but his ways often rubbed school board members and administrators the wrong way. Be that as it may, he was the builder of programs, and he took over a dog program and gave it sustained winning. Then, one day he called me to tell me he was fired; he wanted me to report the story. I asked him, "What happened?" He uttered these immortal words: "They got tired of winning." Maybe the 49ers are tired of winning.
Who will be the team to challenge Green Bay the most from its own division?
The Lions are built and ready to go. If it's not them, they could run the risk of missing their turn.
How important do you think hand size is to a quarterback?
I've long believed hand size is critical to a quarterback's success, but Dan Marino has small hands and he is one of the greatest quarterbacks of all time, and Jim Druckenmiller has hands like "Big Ben" the clock, not the quarterback, and Druckenmiller was a flop. There are always exceptions to the rule, but they need to be treated as such. In my opinion, the size of a quarterback's hands is critical information in scouting that player.
Only four franchise tags used. What gives, Vic?
The franchise tag is like the atom bomb. You don't have to use it, just have it.
What do you think of Colin Kaepernick wanting an $18 million-a-year contract? Is he elite enough to be paid like Jay Cutler and Tony Romo?
I don't know if he's worth that kind of money, but that's what it's going to cost the 49ers to find out. A quarterback's second contract is the crossroads for a team. The freebie days are over. If you don't get it right now, you're toast. Would I sign Kaepernick? Yes, I would. I think he's a huge talent who's worthy of investment.
When was the last time a team spent big in free agency and it didn't come back to bite them? Other than Manning in Denver and Favre's first year in Minnesota, I can't think of any.
I think the 2000 Ravens did the best job of spending in free agency and getting the desired result without devastating the team's future salary caps.
Nick from White Bear Township, MN
Vic, so when it comes to value meeting need, does that philosophy go beyond the draft? What if there is a free agent you have designated a certain dollar value to and he slips past other teams for whatever reason. Even if the Packers don't need help at the player's position, do you go after him just because the price seems right?
No, free agency is all about addressing needs. In most cases, free agency is too expensive of a venue for acquiring talent to spend on depth. The draft is about developing depth and it needs to be a never-ending process. Free agency is used to patch holes where the draft failed.
Watching all these "Alumni Spotlight" videos are great! So, Vic, you have one interview to sit down with anyone past or present. Who is it and what question do you ask them?
If it can be anyone, dead or alive, I would want it to be Vince Lombardi, and I would ask him, "Coach, what play would you have called?"