*As part of the Green Bay Packers' celebration of the 10th anniversary season of the Super Bowl XXXI Championship, Packers.com is running a series of stories about the people responsible for bringing the Vince Lombardi trophy back home to Titletown.
Offensive tackle John Michels' cleat caught in the ground, and his knee twisted while blocking defensive end Vonnie Holliday during a one-on-one pass protection drill in the last week of the 1998 training camp. Michels tore his anterior cruciate ligament, his medial collateral ligament and cartilage. That devastating injury and the lengthy rehabilitation process that followed, however, gave him a new direction in life.
"It was kind of through the process of all these surgeries that I found a passion for medicine and decided to go pursue that," Michels said. "I enjoy the fact that (doctors) really get to impact people's lives."
Michels, in his second year at USC's medical school, studies toward a different career than he expected. While undergoing six knee surgeries and the accompanying rehabilitation, Michels, a religion major on the undergraduate level at USC, worked as a youth pastor.
Few thought Michels would be pursuing a career in ministry or medicine after just three years in the NFL. The Packers drafted him in the first round in 1996 and planned for him to protect Brett Favre's blind side at left tackle well into the 21st century. And that future started earlier than expected.
Because Michels had only played one year of left tackle in college, the Packers wanted him to spend his rookie year learning behind 12-year veteran Ken Ruettgers. Then Ruettgers injured his knee in mid-August. Michels became the starter, but suffered an ankle and back injury in the third preseason game, and starting duty fell to three-year veteran Gary Brown. Michels replaced Brown in late September and started nine games. As a result of Michels' instant impact protecting the Packers' franchise quarterback, his teammates' spared him the usual rookie treatment.
"I was kind of thrown into the fire right off the bat," Michels said. "There were a lot higher expectations probably placed on me just because of the position the team was in. They couldn't wait for a rookie to make rookie mistakes at left tackle because this team was destined for Super Bowl XXXI. The previous year they had lost in the NFC Championship game to Dallas and they weren't going to let that happen again."
Although the rookie performed ably under those demanding circumstances, Ruettgers regained the starting job before retiring in late November because of re-occurring knee problems. In December the Packers changed tackles again, going with the experience of 10-year veteran Bruce Wilkerson for the playoff run. Shuffling from backup to starter to backup became challenging for the rookie.
"I was constantly in and out. It was hard to kind of develop a rhythm," he said. "That was an element of frustration. I was hoping to get a little more consistency."
Michels figured to receive more consistent playing time later in his career, but his injury derailed that goal. He tried to return to action in 1999, but his knee no longer could bear the weight of his nearly 300-pound frame. An exasperated Michels wondered why his leg did not improve and why he could not run like he used to. That frustration inspired him.
"I want to go into medicine and figure out how to prevent this in the future," Michels said.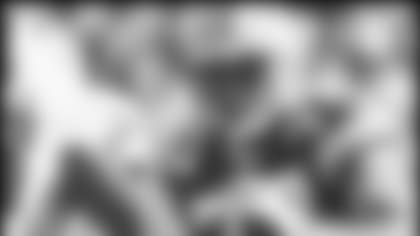 As he looks toward the future, Michels, 33, has considered becoming an orthopedic surgeon or a team physician. But he does not know if his knee will allow him to stand for hours on end to perform surgery and is still determining which specialty to enter.
"I haven't decided that yet," Michels said. "That's part of the journey I'm on right now."
His difficult road in trying to come back from his knee problems is part of the reason he has not attended a Packers game since retiring. He talks to Ruettgers once or twice a week and closely follows the Packers, especially former teammates like Mike Flanagan and Brett Favre. But visiting Lambeau Field would remind him of the long career he had hoped to enjoy.
"It's bittersweet. It's a little bit painful because I really miss the game," Michels said. "I was really hoping to make it back to it. Unfortunately that wasn't my lot in life."
Although his lot in life may turn out to be helping others sustain the decade-long career he missed out on, Michels had his share of special football moments. Topping them all is winning a Super Bowl in his very first year.
"There are players who go their whole career and never have a chance to play in that game, and my first year in -- I get that opportunity," Michels said. "That year was filled with a lot of really great memories."