I don't care about the 17-0 score or the meager rushing numbers, McCarthy and Rodgers are so good with this offense the Packers only need small improvements in the running game and on defense to compete for the Super Bowl. What else is there to worry about?
Worry? After one preseason game? I wouldn't advise doing that. The third preseason game, the one against Seattle, will be worth using as a measuring stick for this season. If you'd like to draw some conclusions following a preseason game, let's do it after that game. Until then, I think we need to focus on individual performances and how they relate to the big picture.
Vic, thanks for the clarification on celebrating vs. taunting. I definitely agree with you. What do you think of Aaron's belt celebration?
He's done it enough now that it's trademark, but it can cross over into the taunting category if directed at a player, the opponents in general or the crowd, if it's a road game. If he does the "belt" in a matter-of-fact manner, he'll be OK.
What do you believe is the team's strongest position behind quarterback?
Quarterback didn't appear to be a deep position on Friday night. Neither did cornerback but, in my opinion, when Casey Hayward and Tramon Williams are back to full strength, and after Davon House gets back in the groove following shoulder surgery and having spent a year playing football in a sling, cornerback will be the Packers' position of greatest depth.
Vic, I don't want to freak out prematurely, but the Packers' performance in their first preseason game was atrocious. They showed little improvement in the run game or on defense, and the battle of the backup QBs was a lesser-of-three-evils contest. What consolation and level-headed insight can you give me?
Learn to deal with disappointment. It has a way of recycling.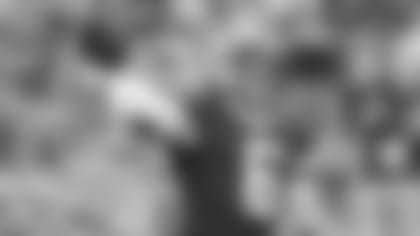 QB Graham Harrell
Vic, obviously the backup quarterbacks disappointed, though I did feel Young had some good snaps. I was curious with how much of that performance you would put on the QBs versus those around them?
I thought the protection was pretty good. I saw receivers open. One of Graham Harrell's best throws was dropped by D.J. Williams. Yeah, you could spread it around, but that would be rationalizing.
What was the atmosphere like after Friday's game? I would think it would be very tense and most would not want to look a reporter in the eyes.
It's not about looking reporters in the eyes. It's about young players having to face their position coaches in the individual meeting rooms. Those coaches are going to announce the individual failings in that game. Remember, these are young men pursuing a dream to make it onto an NFL roster. They're not worried about that 17-0 score, they're worried about their score, which is to say how they graded out in their performance. That's what the preseason is all about. It's about evaluating young talent and I have a feeling the grades weren't very good from Friday's game. If you're David Bakhtiari or Don Barclay, however, you're feeling pretty good about Friday's game because you did your job. Let's remember what this is. It's the preseason, and we use a different scoreboard in the preseason.
I was really impressed with Tyrone Walker's ability to run after the catch on Friday. Were there any particular players that stood out to you?
Walker is another young player that should feel good about Friday's game. He played in the game exactly as he practiced. He moved about the field naturally, fearlessly. What I keep seeing from Tyrone Walker is evidence the game isn't too big for him. He appears to me to be a natural football player.
Alex from Bakersfield, CA
I thought Micah Hyde was a standout, making open-field tackles. What did you see?
Other than getting turned around on the Cardinals' second touchdown, Hyde played well. I saw him close quickly to make a tackle on Stepfan Taylor. Would Hyde have been left in man-to-man coverage on that play from the one-yard line if it were a regular-season game? I don't know, but that's the kind of question I ask when covering a preseason game, because the preseason is a time for evaluating young talent and coaches do things to put a young player on an island in a preseason game that they wouldn't do in a regular-season game. What better time to find out what a kid's got in the tank? Hyde will remember that play. He'll be better the next time he faces it.
Tyrone Walker's strong tackle after Harrell's interception definitely caught my eye. In your many years covering the sport, is there an offensive player who stood out as being a great tackler?
Tony Dorsett immediately comes to mind. Dorsett, a cousin to Ty Law, was a sensational defensive back in high school, which might explain his tackling ability. His son played in the league as a defensive back. Dorsett was also a natural football player, which is my view of Walker.
Vic, do you think winning in the preseason is more important to teams that feel desperate to sell tickets for the regular season? In the past, it seems to me teams with chronic losing records often have great preseasons.
Sure it's more important to them. The coach feels the hot breath of the owner, who has tickets to sell and needs the coach and the team to help sell them. This is another example of why I say the teams that don't have to sell tickets have a huge advantage over teams that have tickets to sell. Teams that don't have tickets to sell can use the preseason the way it should be used, which is to say as a proving ground for young talent. That can often mean putting them in bad plays. Challenge them. Put them in a risky one-on-one. See if they can win the human confrontation.
My recollection was that Mike McCarthy's record in preseason first games isn't good, so I looked it up. He is now 2-6 in first games, 5-2 in second and third games and 2-5 in the fourth game of the preseason. Do you think Mike's approach to who and how to play the first and fourth games of the preseason varies from other coaches and explains the poorer records?
If you want to be good in one of the preseason games, the third one is the game. It's the one when you play your regulars the longest. It's the one for which you game plan. It's the one that'll tell you something about this year's team. The other three are mostly about future teams because the players getting the most playing time are players of the future. The Packers are a draft-and-develop football team. That could mean they dedicate more playing time to their young players early and late in the preseason.
Cory from Kansas City, MO
Vic, I know it's only preseason, but something has to be said. How are we the only team in Week 1 that did not score any points? Your thoughts?
Friday night's game was the first step of a team trying to change. That's the way I see it. That wasn't the hurry-up, pass-pass-pass Packers I covered the previous two seasons. That was the new run-the-ball Packers I watched in the first two weeks of training camp. The seminal moment in Friday's game came early. It was the fourth-and-goal play from the Cardinals 2-yard line. Mike McCarthy challenged his offense to prove it can punch the ball in with the running game. He called a running play, which I can't see him having called in the previous two years I've covered the team. He was sending a message to his offense: Show me your muscle. What I really loved was Coach McCarthy's challenge flag on the play. He made this an even more dramatic moment by subjecting it to review. The Packers didn't score; back to the run in practice. That's how it has to be done, folks, if you want to run the ball. Do you remember what I said in the spring about the patience required to be committed to the run? Teams that run the ball are stubborn about it. They refuse to be discouraged. The Packers are making a transition on offense. I'm a patient man.
Does Graham Harrell realize Vince Young is here to replace him, not B.J. Coleman?
All professional football players realize that all other professional football players are their competition. Harrell, Young and Coleman are all competing for the same thing, the backup quarterback job, and it won't be won by default. Somebody will have to play well enough to win the job.
Ryan from Fredericton, NB
Vic, what was your impression of Davon House Friday night? It seemed he struggled, but maybe you had a better view.
He got beat on double moves. He's a better player than that and he'll prove it.
Vic, while watching the game against the Cardinals, I tried to focus attention on Bakhtiari. He seemed to offer good blindside protection and I caught him helping on some decent run lanes. How much stock can we put into this first showing, and do you still see the same draft steal from camp?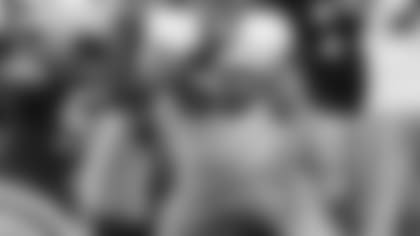 LT David Bakhtiari
We should couch our optimism. After all, it's only one preseason game, much of that game was spent blocking guys that won't see much playing time in the regular season. By the same token, what's not to like? Bakhtiari was challenged and he responded. If you're looking for some real hope from Friday's game, find it in the fact that first-year and second-year tackles (Bakhtiari and Barclay) were two of the Packers' best performers. There might only be one position more important than left tackle. I don't think it's a stretch to say Bakhtiari might determine how far the Packers go this season, because you have to keep your quarterback healthy and doing that requires a team to protect his blind side. If Bakhtiari turns out to be a dependable blindside protector for Aaron Rodgers this season, he will have been the steal of the draft. Now, let's go back to where we are, three days removed from the first preseason game of the year. It's a long road ahead of us and Bakhtiari is going to face on a weekly basis the best pass rushers in the NFL, and he's also going to face defensive coordinators that are going to empty their bag on him. He's facing a huge challenge in just his rookie season.
Vic, it seems to me that one of the weaknesses, dating even back to the 2009 Packers playoff loss to Arizona and again last year in the playoff loss to the 49ers, and again on Friday night, is that other teams find the defense leaving the middle of the field wide open. Is this due to the scheme Coach Capers is employing, or more of our defensive personnel?
Whatever it was you saw on Friday night, it had nothing to do with scheme because there wasn't much of one beyond you take him and you take him. The Packers' scheme, as you would expect, was very basic and repetitive. The whole idea of a preseason game is to use it as a measuring stick of young talent. The best way to do that is to put young players in easy-to-understand assignments that feature physical skill over execution of scheme.