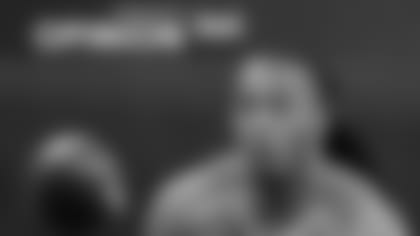 Louisville S Calvin Pryor
Vic, yesterday you talked about the draftniks. I'm assuming you mean people like Todd McShay and Mel Kiper Jr. I hate listening to those guys! They might understand the sport, but there's no way to know who a team is going to draft unless you're in on the process. I know they're there for the fans, but listening to them is a waste of time, don't you think?
I don't agree. I've always liked Kiper. Maybe it's because he's the guy that created the modern-day draft with all of its hype. It's fun. I like the hype. What would the draft be without its hype? It would be a one-day event for which we would have no advance information to stimulate debate. You don't think you're going to get any information from the teams, do you? They're no fun at all. Without guys like Kiper and Tony Pauline, I'd be lost. I love the debate. Here's an example: I was watching Kiper two nights ago and he was going on and on about Jimmie Ward. He loves him. He called him the prototypical, modern-day NFL safety. I watched him at the Senior Bowl and saw nothing. He was invisible. So what's the truth? We'll find out, and that's the suspense that makes the draft what it is. "Who the hell is Mel Kiper?" is one of the great sound bites in draft history. Without him, I'm still sitting in a smoke-filled room waiting for the PR guy to tell us who the team I'm covering just drafted.
Candido from Tehuacan, Puebla
Vic, you are passing by Ted Thompson's office and you get to see his draft board. Would you tell us who's there?
Absolutely not. First of all, I know not to look. It's a matter of respect. I know how guarded these boards are. In my old-school world, revealing information from a team's draft board is the equivalent of theft. It wouldn't matter if I was working for the team or working for an independent media organization. A team's draft board is sacrosanct. It is for the team's eyes only. Some years ago, I came back to my seat in the radio studio after having made a run to the bathroom, and there was a piece of paper with names on it at my seat. I said, "What's this?" "That's their board," I was told. I immediately dropped the piece of paper and averted my eyes. I wanted nothing to do with it. That kind of stuff is nothing but trouble.
John from Saint Augustine, FL
Boxing is probably the most traumatic sport in terms of brain injuries. Most times at the end of a long fight the combatants barely have a scratch on their faces, due to the padded gloves. Brain injuries have nothing to do with how much padding you add to the head because the injury is caused by the brain slamming into the inside walls of the skull.
Prior to the accusations about football, there were only two sports confirmed to create brain damage: Boxing and steeplechase riding.
You think Packers fans shouldn't fixate on the safety position? With the disaster we have at the position now, I think fans should fixate all they want.
That'll help? I think safety is a heavily-baited position in this draft. I think our obsession for finding a safety has created a cast of characters that aren't nearly as good as the renown we've also created for them by repeating their names day after day. I'll tell you this, in the days before I headed to Mobile for the Senior Bowl, I asked Tony about this year's safety class and he told me it's one of the worst in recent history. I found other draftniks to agree with that opinion. Then I went to the Senior Bowl, and I'm looking at my Senior Bowl roster right now and Terence Brooks, Kenny Ladler, Craig Loston, Deone Bucannon, Ahmad Dixon, Dez Southward and Jimmie Ward are the safeties on it. Loston is the only guy out of that bunch I can remember having noticed. When you see a crop of wide receivers as there is in this draft, there's reason to fixate. When you see an Aaron Donald and a Chris Borland perform as they did at the Senior Bowl, it's understandable why you might fixate. But I'm not seeing anything at safety to cause me to obsess. Calvin Pryor went to the combine and shrunk three inches and then ran a 4.6. They say he plays faster than his time, and I'm sure he does, but do you understand what I'm getting at? Maybe Tony had it right in the first place and we're fixating on prospects that can't fix the problem. Maybe Micah Hyde is the guy on whom we should be fixating.**
Reiss from Virginia Beach, VA
Vic, the reason I dislike the 49ers is mainly because of their arrogant fans. 49ers fans were nowhere to be found for the better part of the last decade but the last three seasons they act like they've won the Super Bowl, but they didn't. They haven't won anything but a few playoff games but continuously trash Packers fans when we have won a more recent championship. I have respect for the 49ers organization but their fans are a whole different story.
Oh, please, stop. That's enough.
Keith from Lake Forest, IL
Vic, looking at the Packers roster as it exists now, is there a guy after B.J. Raji that can hold down the double teams at nose tackle?
I love the Letroy Guion signing.
Jamie from Rhinelander, WI
Vic, I say you know what you signed up for when going to play football. I'm tired of all the crying about concussions. If you don't want a concussion, don't play football. What say you?
The problem, Jamie, is that a lot of kids will elect not to play football, and that'll cause a precipitous decline in the game's popularity. This is an issue that must be addressed and this commissioner is doing it. I'm going to tell you that Roger Goodell isn't the first guy I would call to be my golf partner. There's nothing about his personality that brings back memories of Pete Rozelle. But I'll also tell you Goodell identified the danger football was facing with the concussion problem, and he leaped into action. I am greatly impressed by that kind of forward thinking and dynamic action.
I understand that in the early rounds you want a player that blends upside and immediate impact. Which rounds do you start taking shots at players that only offer upside potential?
In other words, leave your board and start gambling? Never! Why do the board if you're going start trying to catch lightning in a bottle? I saw a team do it and I saw them fall hard because of it. Late in the Steelers' Super Bowl run, after years of drafting at the bottom of the order, they started swinging for the fence on guys because they were having trouble finding guys that could make their team. I remember one guy in particular, a running back named Greg Hawthorne. They picked him in the first round when hardly anyone knew his name because the guy hadn't played the previous season due to a broken hip. Genius, we wrote. Wrong! He was a bust and it began a run of busts. Rank 'em, pick 'em.
Vic, I watched some game film of Jimmie Ward, the safety from NIU. What are your thoughts on him? It seemed like he was either making the play or near it every single time. He also looks extremely versatile, something the Packers look for, right?
You and Mel are in agreement.
Vic, please don't leave me again. I missed you.
It was close, Charles. As I lie motionless in bed, wondering if I would ever walk downstairs again, I could see out the window to the funeral home across the street. A guy was washing the hearse and he had it parked pointing directly at my house. I got scared. I had to rally, so I ripped off my silk pajamas and said to myself, "Pull the hearse back into the garage, pal. I'm gonna beat this sinus infection."
They say it is one of the deepest drafts this year. Let's trade down. What say you?
I just texted Tony, asking him about safeties. "Is one worthy of a first-round pick?" "Not until late 20s on my board with Pryor slightly ahead of Clinton-Dix," he texted back. OK, we're inside a month until the draft, so let's get serious about this. "Give me half a dozen guys that fit at 21," I texted to Tony. "BAP?" he wrote back. "BAP," I countered. "Louis Nix, Darqueze Dennard, Odell Beckham Jr., Kelvin Benjamin, Timmy Jernigan, Derek Carr," Tony answered. So, according to Tony's board, would you rather pick one of those six guys, or trade down and pick a safety?
I'm tired of hearing that compensatory picks can't be traded. Stop beating a dead horse, Vic. We get it. What factors led the NFL to devise this ruling? Was it the CBA? I'm glad you and your loved ones aren't seriously ill.
I don't think I mentioned anything about not being able to trade compensatory picks. Maybe Mike did while I was clinging to life. I was seriously ill, David. I still have a little congestion.
Mark from Minneapolis, MN
Vic or Tony, seen any tape of David Fales, QB from San Jose State? Strength of competition is always a question, but I watched him shred the Gopher defense at TCF Stadium last fall. Lightning quick release, but I've heard he's got small hands. Could be a bargain?
Arm strength is an issue. That was evident at the Senior Bowl. That doesn't mean he can't be a player, but I think it means he's going to be limited to systems and weather conditions.
Vic, I took your advice and found a website that lists players' salaries and their cap numbers. I was shocked. The top 10 capped Packers account for 56 percent of the team's overall cap number. I can see why you always say a team is looking to stay young. Young equals faster, healthier and (most importantly) cheaper. Everyone should take a peek at the cap situation from time to time and maybe your inbox would be a happier place.
If you don't know the cap, you don't know football. I don't mean that in an unkind way, I mean to encourage fans to learn about the cap. It will explain so much about why teams do what they do, and it will increase your enjoyment of the game.
You don't know Candlestick Park. It was a terrible mistake to have built that ballpark where they did. It wasn't until after they opened it that they discovered that at precisely four o'clock every day, the wind blew in from left field, making home runs nearly impossible to hit in that direction through the late-afternoon and evening hours. The park was all wrong for a right-handed power hitter. It was great for Willie McCovey from the left side, but who knows how many home runs it stole from Mays. The Giants began playing a lot of day games, but attendance suffered. Then they closed in the outfield, and that helped a little more, but by then Mays was at the end of his career and the damage was irreparable. In my opinion, Mays is the greatest baseball player ever.
Does the fact that there's so much chatter about drafting a tight end in the first round speak to the evolution of the game or to the talent of the player?
It speaks to neither. It speaks to how we continue to ignore the fact that a player that is not tight to the formation is not a tight end. Eric Ebron is not a tight end. He's a wide receiver. He came right out and said it at the combine. He said he's a pass catcher, not an inline blocker.
Steve from Stevens Point, WI
You should check out my hometown of Two Rivers, WI. Nice beach and a great place to live. I might be biased, but if you like to check out geography, give it a shot.
I check it out every time I fly into Green Bay from Detroit. I see Manitowoc out the left window and Two Rivers out the right. I love geography.
A Google search brought up six 18-hole courses near Rice Lake. I think I've discovered your affinity for the area.
I judge a town by its golf courses. Rice Lake is my kind of town.