Vic, I read that the Giants owner would rule out Green Bay specifically for a Super Bowl, not because of the weather but due to there not being enough hotels for the monstrous influx of people. I don't agree. I believe that before too long we should see a Super Bowl at Lambeau Field.
There's a better chance of Vince Lombardi's statue walking over to Curly Lambeau's and giving it a hug. I'm not sure how cold it got on Monday night – the forecast called for -24 – but it was -7 when I went out for lunch at noon on Tuesday, and I began to feel life leaving my body in the 50-yard walk to my car. Not everybody is a rugged outdoorsman, as I am. Those wine-and-cheese fans from places like Seattle would freeze to death in their seat. Even into the 1970s, the Packers were still playing nearly all of their games after Thanksgiving on the road. It's as though the rest of the league refused to come here when the weather turned cold. Yeah, it's about hotel rooms, but it's also about the cold. You can't play the Super Bowl in the weather we've had this winter. You can play the Ice Bowl in those conditions, but not the Super Bowl. We are who we are and we live where we live and there's nothing wrong with either. It's our identity.
Michael from Winnipeg, Canada
You mentioned drafting perfect technique and immediate impact versus players with more upside. Do you think Datone Jones falls under the category of having a large upside? He sure looks the part but this year was fairly disappointing.
I think it was understood that he would have to make a transition, in terms of role and technique, and the fact that the Packers were not discouraged from selecting him indicates to me they liked Jones' potential and accepted responsibility for his development. Upside is the gap between where a player is and the heights to which it's believed he will reach. Jones has upside.
Nick from State College, PA
It seems to me the Packers have a much greater need on defense than on offense, therefore, the Packers will most likely target a defensive player in the early rounds. When Ted Thompson is trying to work deals during the draft to get to where the player fits, is it an advantage or a disadvantage that everyone knows what you need? On one hand, teams might be more willing to trade if they know you want to move. On the other hand, if they have a better idea of what you want, it might drive up the price.
You know what everybody else's needs are and they know yours. As a result, when you're on the clock and the best player available to you is at a position at which you don't have a need, you might call a team that has a need for that player. I help you, you help me. We're seeing more and more of that every year, as evidenced by the increase in draft trading, because everybody is in the same boat: They need to manage their salary cap as efficiently as possible, and that means addressing needs without reaching. If you reach, you're paying more to that player than his talent justifies. Satisfying need is important, but being true to your value line is more important.
Dustin from Dell Rapids, SD
Vic, you said a while back the 49ers got their quarterback a couple of years too late, and I'm starting to see what you meant. Eight starters on offense and five on defense will be hitting free agency this year and next, and many of them will get offered a lot of money to play elsewhere.
The 49ers are about to go into subtraction. Even if they begin restructuring contracts and pushing money out, they're going to start losing players. I'm not going to say they missed their turn, but they missed a big opportunity. Colin Kaepernick has to make up the difference. Can he? Expectations will increase for him now that he's getting a new contract.
John from Saint Augustine, FL
So the Broncos swung for the fence with Manning and it worked. I remember when the Jaguars did it with Mark Brunell and it didn't work. It took us years and quite a bit of luck to recover from that episode and I'm not sure we've ever been the same since. Give me draft-and-develop every time.
It left a mark on me. How would the Jaguars franchise be different today had it not swung for the fence in 1999 and signed three expensive free agents (Carnell Lake, Gary Walker and Kyle Brady), pushed money out and so damaged the team's salary-cap future that it had to leave its heritage player, Tony Boselli, and several other top players unprotected in the 2002 expansion draft and go into a massive rebuilding project? What if they hadn't swung for the fence, which caused a long dry spell? Would Wayne Weaver still own the team? Would Tom Coughlin still be its coach? Would the roots of professional football in Jacksonville be deeper today? Free agency devastated that franchise. By the way, the Broncos have to win on Sunday, or it won't have worked for them, either.
Zack from Tallahassee, FL
Vic, Tony Dungy recently said that as a society we need to spend more time away from football. I'm inclined to agree with him. Do you think America needs to scale back its worship of football?
I think fans need to achieve proper perspective. We need to learn to watch and enjoy, not scream and anguish. American sports fans are out of control and football fans are the worst. This fire-everybody baloney is embarrassing. Here's my advice to fans: Learn to lose, because you're going to do a lot of it and you might as well learn to do it well.
Vic, fan of your work; just a quick thing to run by you. Saints TE Jimmy Graham, he's 6-7, and he's possibly in free agency. Any chance the Packers will pick him up?
Go back up and read my answer to John from Saint Augustine, FL. Think about what I've written. Research the example I've provided. Yeah, you can sign one guy and restructure some contracts to make room for him by pushing money onto future caps, but can you stop at one? Pursuit of the Super Bowl is a powerful opiate. You can get hooked and ruin your life, so to speak. That's one of the reasons I say the Super Bowl shouldn't be the goal. It's dangerous. The playoffs should be the goal. Get there and you'll have no problem identifying the next goal.
Randy from Medicine Hat, Alberta
I tend to agree with your thoughts on the extra point; it can go away.
The only reason to do it is because someone might miss it, right? I don't wanna see a missed extra point. I'm with the commissioner on this one.
Chris from Chippewa Falls, WI
Does a player's division help determine his value? For example, Jimmy Garoppolo of the FCS compared to Derek Carr of the FBS.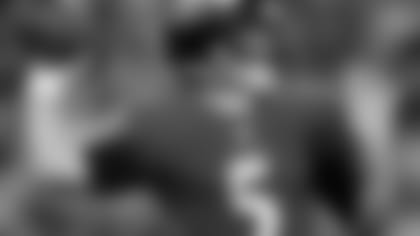 Ravens QB Joe Flacco
I think you can more accurately evaluate quarterbacks from the lower divisions of college football than you can players at other positions. Quarterbacks are fundamentally playing against the demands of the game, whereas a wide receiver is in a foot race with a cornerback, for example. Does the quarterback have the arm strength to make all of the throws? Your eyes will tell you. Is he big enough and strong enough to hold up against the rush? His measurables will tell you. Does he see the field and process information quickly? The tape will tell you. I think Joe Flacco is the perfect example of being able to accurately evaluate a player from a lower level of college football. The one that's hard to judge, at any level, is a quarterback's courage. At what level will he take his eyes off downfield and peek at the rush? If he shows any sign of it at his college level, don't draft him. It'll only get worse at this level. I think it always starts with that. First and foremost, a quarterback must be fearless.
Bruce from Greenville, WI
Vic, you have said in the past that the team that can devalue the quarterback position would have an advantage over the rest of the league. Do you think John Schneider is in a good position to give that theory a try?
I started saying and writing that back in the late 1990s. It was easy to see the explosion in quarterback salaries and the degree to which it would start eating up bigger chunks of a team's cap. If you could find a way to devalue the quarterback position, you could have a stronger roster than your competition. Seattle did it by finding a starting quarterback in the third round. One day, Russell Wilson will cost the Seahawks a lot more money, but he's giving them a huge advantage right now. I've also considered that tapping into the wealth of run-around quarterbacks might be a means of devaluing the position, but I don't think we've reached the point that you can win a championship with that kind of guy.
Which positions are typically worth investing higher draft picks in on defense?
Typically, they are No. 1 cornerback and premier pass rusher, but you find playmakers where you find playmakers and they can always be moved around in the scheme to feature and maximize their talents. A defensive tackle that can push the pocket makes everybody up front better. A safety with a nose for the ball nullifies a lot of weaknesses around him.
So, let's just put this to bed right now. If McDonald is available when the Packers pick at 21, do they take him?
Bryce from Eau Claire, WI
What are your thoughts on Marshawn Lynch not speaking to the media, Vic? I feel like he should be allowed to keep his silence without consequence.
I'm fine with it. He actually makes for a better story when he doesn't talk to the media. People will want to read that story much more than they would a story about him just wanting to contribute. When players do what he's doing, they make it easy for the media. It gives them a topic fans want to read, and it's easy writing. Steve Carlton stopped talking to the media in 1974. He would later explain that it made him a better pitcher to internalize his thoughts. He also said that it made reporters better writers. I agree. We have a tendency to overquote. We're paid to be writers, not transcribers. By the way, an NFL player is in violation of his contract should he refuse to participate in interviews with the media.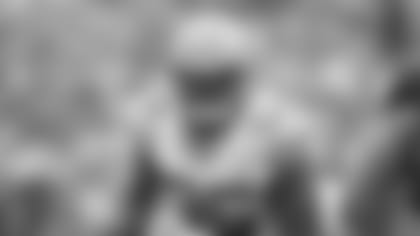 DE Datone Jones
Matthew from Thornton, CO
Vic, I'm an NFL guy in that I rarely watch college football but never miss a Packers game or most NFL games when the Packers aren't playing. Since you know way more about the college game and players, who would you like to see the Packers draft to improve the defense?
I need more time, Matthew. The Senior Bowl is a good starting point. I'm starting to get a feel for what's in this class, but give me until at least after the combine is complete. By then I will have talked to enough people that I should be able to throw a blanket over a group of prospects. Datone Jones was one of those prospects last year, though I must admit that Tony Pauline helped identify Jones for me at the Senior Bowl.
Brian from Little Rock, AR
Isn't it true that you can't pick for need because you really don't know what your needs are going to be? It seems like Packers fans, who have endured major injuries over the last few years, would understand this.
That's absolutely true. You can't predict injuries. There's also another consideration, and I like to use Jonathan Ogden as its example. Ogden was available to the Jaguars with the second overall pick in 1996, but the Jaguars had picked Tony Boselli in 1995 and had signed Leon Searcy in free agency two months before the '96 draft, so the Jaguars didn't need a tackle and they picked Kevin Hardy, a linebacker. So, who doesn't need Jonathan Ogden?
Vic, I'm sure you receive hundreds of questions each day and yesterday you chose to answer three questions about your hideous wardrobe choices? Wow, are you that egotistical? I thought "Ask Vic" was about football, not footwear.
Hideous wardrobe? You want hideous wardrobe? I'll give you hideous wardrobe. I'm going on vacation. Spofford's taking over tomorrow.