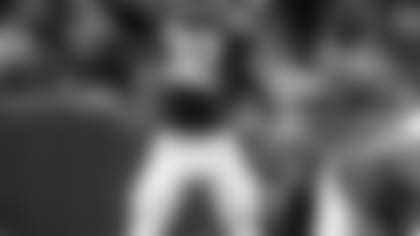 Alabama LB C.J. Mosley
Hugo from Ben Lomond, CA

For a receiver, what type of skill set will the Packers target in this draft, given the playing styles of Cobb and Nelson?

I don't know what the Packers will target. Nobody except the Packers knows what or who the Packers will target. What I can tell you is this draft would seem to offer a couple of diverse prospects late in the first round. Kelvin Benjamin is a 6-5, 240 guy that offers some mismatch potential, a la Jermichael Finley. Odell Beckham is a 5-11 speedster with home run potential. So, do you go for the big guy with whom you could go no-huddle and create a drive-long size mismatch, or do you go with the big-play guy? These are the types of decisions that define a team's draft.

So what does Vic think of all of this pre-draft speculative nonsense?

I think it's like those poker machines that bear the disclaimer "for entertainment only." The pre-draft hype is all about entertainment. I like a little bit of nonsense, but I know when to turn it off.

When a team moves up in the draft to select a targeted player, they seemingly are doing so because they believe the targeted player will no longer be on the board when their pick arrives. This leads me to believe the teams have their ideas of what other teams will be doing with their picks. Can you shed some light on this process?

The word process irritates me a little bit because I think we've made this whole draft "process" too scientific. The "process" is as simple, in my opinion, as the days when we put our hands up the barrel of a bat to decide who got first pick. The guy that got first pick then picked the best player, and everybody knew who he was. The "process" is the same in the NFL draft. Everybody knows who the best players are and where they fit in the order, and everybody knows what each team's needs are, which means we know which teams need to go where to address their needs. Once you're armed with that information, you have a pretty good idea what every team in the league is going to do. That's the process. The Packers' and Steelers' need for a running back last year is the perfect example. They each needed a running back and they each liked the same guys. The Steelers were picking higher in the order, so once they picked their running back, we pretty much knew who the Packers would pick. It was then just a matter of moving to where it was believed he fit.
Mel Kiper has Anthony Barr dropping to the Chargers at 25. If Barr somehow makes it all the way to 21, the Packers would be getting an absolute steal, but there's no way he makes it that far, right?
How do we know Kiper is right about Barr? Just because Kiper has dropped Barr doesn't mean Barr has dropped. He may have never been that high on NFL teams' boards. We don't know where these guys fit until they've been drafted. It's similar to the value of a home. We don't know its true value until it sells. Kiper is for entertainment. I enjoy his commentary, but I consider it to be nothing more than opinion.
Joe from Clifton Park, NY
After seeing the first round of the NBA playoffs thus far, I couldn't be more in favor of expanding the NFL postseason to 16 teams. Fans want drama, right? How's the No. 1 seed in both conferences close to elimination by No. 8 seeds, and the No. 2 Thunder just went down 3-2 in their series. That's entertainment.
I agree. I would've liked to have seen the Cardinals and Steelers in last year's playoffs. The Cardinals won seven of their last nine games and the Steelers fought back from an 0-4 start and won six of their last eight games, and that's the kind of grit I respect and want to see in the postseason. I don't wanna see teams that played for the stats in September and October, built a big lead and then faded at crunch time late in the season. I wanna see the teams with a hard edge. I wanna see the teams that are chasing championships, not stats.
As a possible surprise move, today on NFL Network I heard the Packers moving up to get Ebron would be both possible as well as a surprising move. Do you see any scenario in which this actually would happen?
Yeah, I could see it happening. I could also see it not happening. NFL Network can quote me on that.
J.D. from Indianapolis, IN
Vic, hypothetically, of course, you're picking 21st. Blake Bortles is the only quarterback off the board and you can't find a trade partner willing to pay your price. What do you do?
You have created a ridiculously unrealistic hypothetical situation. Vic, you've just been bombed and you don't have any bombs. Well, I guess I better surrender. OK, if only one quarterback is off the board, I don't think I would have any difficulty finding a trade partner. Be that as it may, given the situation you have created, I would pick the highest-rated player on my board, regardless of position. If that means picking Johnny Manziel, then I'd pick Manziel. I bet I get some trade offers now, and they might even be better than what I would've gotten on the clock.
Vic, you often talk about the rise in the draft's popularity in your time covering the game, but what aspect of today's offseason do you see becoming more prominent in the future?
I think the pro days could be next. They're the equivalent of miniature combines. I could see NFL Network even creating its own pro days for select prospects. It's reality TV, right? I should've been a TV executive. It's not too late. Anybody wanna give me a lot of money for not doing much?
When sport becomes entertainment focused on the casual fan, the end is near. Real fans won't watch when the sport has been extracted from the entertainment. NBA basketball no longer resembles sport. It has been too diluted by rules changes intended to increase scoring. If holding by the offensive line ever becomes commonplace, football could suffer the same fate.
I thought I was the last dinosaur, but I think it's you, Paul. The casual fan drives ratings. Every professional sport is competing for the favor of the casual fan, and you attract the casual fan with drama and controversy, which are often one and the same. Millions of people who know nothing about basketball are consumed by the Donald Sterling saga. Write anything you want, just spell the name right. It worked for the NFL a long time ago.
I watched a video about athletes of yesteryear and athletes of today. The athletes of today are not better; scientific methods suggest they are just better equipped.
The roles and expectations for the athletes of today are also much more clearly defined and presented. I was watching a draft show last night that showed draft prospects in a combine training camp. They were being trained to win the combine. Let's flash back 50 years. The players of that era had already been selected in the draft, which was a December 2, 1963 event from which information leaked out in the newspapers. Today, we know all about a cornerback named Pierre Desir from Lindenwood. Fifty years ago, I doubt many people were familiar with the name Dave Parks of Texas Tech, who was the first overall pick of the '64 draft. Defined roles? Herb Adderley was drafted as a running back. How's that for an athlete? The sophistication and presentation of the game in today's world gives today's athletes the look of superiority. Modern HDTV makes games of 10 years ago look outdated. Presentation is a big part of the allure of today's athletes.
Vic, it seems Mosley and Shazier are frequently mentioned as first-round linebackers that might interest the Packers. I've seen both of them play and I'm convinced Borland is a better football player than either of them. Do you think there's a realistic chance Borland ends up with the Packers?
I love Borland. He and Aaron Donald were the stars of the Senior Bowl, but they're both undersized guys and I expect them to be drafted later than their talents should demand. C.J. Mosley is a size/speed/production dream, but Tony Pauline is telling me medical concerns could drop Mosley lower than his talents should demand. Let's keep an eye on that. Medical concerns might've dropped Eddie Lacy into the Packers' laps last year.
Vic, do you think the NBA handled the Donald Sterling situation well by banning him from the NBA forever?
They had no choice but to do that. If I was Sterling, I would sell the team, build a golf course and drop out of public life. I would also get a new girlfriend, or even better yet, just play golf.
Brian from Fond du Lac, WI
Vic, your friendship with "Mean Joe" Greene caused me to look into who he was and how he played the game. Clearly, he was one of the most dominant defensive players in NFL history. Something I found gave me an aha moment, though. Did he really purposefully kick an offensive lineman in the crotch area while he lie on the ground? Were you there? It definitely sheds light on your opinion of Suh. Is this something you're OK with as a part of the game? I never saw Reggie White do anything like that and he is arguably the most dominant defensive player of all time.
Yeah, but it was Cleveland. It's a tough game for tough guys.
Aaron Rodgers and Brett Favre are on the board, who do you take?
How can I answer that question? I never covered Favre. I've never interviewed him. It's one of my great regrets. I love drama and Favre was dramatic. I can tell you this: I've covered Rodgers and I've covered Bradshaw, and I sure wouldn't want somebody to ask me to pick between those two. I am really looking forward to Favre's inductions.
Vic, you were right on last year with the Chiefs being the surprise team in the NFL. Who in your mind is the team to look out for this year?
Watching Ha Ha Clinton-Dix against Auburn, I never saw him make one play. He was always out of position. He showed zero instincts. He seemed to avoid contact. No way Packers use a first-round pick on him.
And here comes Jimmie Ward up on the outside. Down the backstretch they come. It's Ha Ha. It's Ward. They're neck and neck.
Charles from Farmington, MN
Vic, seeing how the NBA commissioner gave Sterling a lifetime ban for his racial remarks, shouldn't Roger Goodell come down on Riley Cooper for the same thing?
I consider Donovan McNabb to have provided one of the most intelligent and distinguished remarks in my time covering sports when he was asked to respond to Rush Limbaugh's racially insensitive remarks and said: "I thought we were past that." In the NFL, I think we are past that. Good for us.