*As part of the Green Bay Packers' celebration of the 10th anniversary season of the Super Bowl XXXI Championship, Packers.com is running a series of stories about the people responsible for bringing the Vince Lombardi trophy back home to Titletown.
When the late Reggie White signed with the Green Bay Packers in 1993, he did so with a purpose.
No, it wasn't the money. After all, he could have landed a big contract nearly anywhere he desired. He was the most sought-after free agent not only at that time, but perhaps in the history of unrestricted free agency.
It wasn't for the big market of Green Bay. White certainly could have landed several endorsement opportunities in a much bigger city.
And no, White didn't join the Packers because it was perhaps the last place anyone thought he would want to play.
Beyond a shadow of a doubt, one of the greatest players to ever don a Packers' uniform, White signed with Green Bay to win a world championship. And in 1996, that's exactly what he and his teammates did.
White, who as a Philadelphia Eagle had previously competed against Brett Favre in 1992, knew the Packers had an up-and-coming signal caller as well as a team that was on the brink of something special. Despite battering Favre early and often, the Eagles couldn't stop the second-year quarterback from leading the Packers to a 27-24 win, and White was thoroughly impressed with his toughness and desire.
Little did he know at the time, but White would later say that Favre's ability as a quarterback and the fact that he kept getting back up on that November day had a great deal to do with White joining the Packers.
Needless to say, it didn't take the Packers very long to reap the benefits of having No. 92 on their side. And in '96, White's dominance helped the Green and Gold reach heights it hadn't seen in quite some time.
Following the gentle giant's lead, the Packers defense ranked No. 1 in the entire league, a mark it hadn't achieved since 1967. Despite being double-teamed week in and week out, White still managed to lead the club in sacks with 81/2 , and he set a Super Bowl record with three sacks against the New England Patriots.
It was White's ability to take over games and inspire his teammates that gave the Packers the extra push the team needed on more than one occasion. At 6-foot-5 and 304 pounds, White could toss offensive linemen seemingly at the drop of a hat. And he did just that, registering 198 sacks in his 15 seasons in the NFL.
That sack total has since been surpassed by Bruce Smith, but White is Green Bay's all-time leader with the 681/2 he totaled in his six seasons with the organization. He was a 14-time Pro Bowl selection, an 11-time All-Pro, and was named the NFL's Defensive Player of the Year twice.
White was inducted into the Pro Football Hall of Fame in Canton, Ohio, this past August, as well as the Packers Hall of Fame in July.
The list goes on and on, but perhaps what separated White from others had little to do with numbers, since his biggest contribution probably couldn't be measured. It's been said time and again, but it can't be overstated that the Minister of Defense had a way of walking into a room and immediately making his presence felt without ever saying a word.
Simply put, he was larger than life.
"There was only one Reggie," linebacker Bernardo Harris marveled. "Nobody was as strong as Reggie, nobody could play like Reggie, but you saw his motor, you saw the abilities he had and you just marvel at the things he did. You were just thankful that he was on your team. When somebody was down or when something had to be fixed, he never shied away from speaking up. He was the type of guy you could learn a lot from on and off the field."
Despite White's legendary status, as well as his imposing stature, he was a gentle man.
Deeply involved in charity work throughout his life, White was very generous with his talents away from the field as well.
According to his teammates, that is what made White such an endearing man.
"It was like having that big brother," said Santana Dotson, a close friend of White's. "I always put him in the category where you had your mom, dad, and then Reggie. And when I say mom, dad, and Reggie, it was somebody you could talk to, get their vantage point and their point of view. You knew they had no ulterior motives.
"I just really remember how approachable he was. That was from day one. Reg was always somebody you could talk to. And if you talked to him, whether it was every month, or every other day, you felt like you just talked to him every day, that's just how genuine he was."
White's helping hand didn't only reach out to veterans like Dotson or Sean Jones, either. Instead of keeping to himself and playing the role of an ego-driven superstar, White wanted to help out everybody he came in contact with.
He would often call meetings and address the team whenever it was necessary. But it was the counseling he did away from the field that made a lasting impact on so many of the men he shared the locker room with.
"I tell you what, it was a very unique situation because you basically had a person who was a preacher playing football," Tyrone Williams said. "You could pretty much go to him for anything. He would give you inspirational hope and inspirational development.
"I got to Green Bay as a young person and he helped me out a ton. He helped a lot of players, too. It was a special situation that just so happened to fall into my lap. I was just very thankful to be around the guy. He was so spiritual it was unbelievable."
He may have been one of the greatest players in the history of the NFL, but according to those who played with him, he was a better teammate.
It's no surprise that White wasn't afraid to speak his mind. Then again, that's what a great leader -- and White was that in every sense of the word -- normally does.
"He got it done on the field," safety Mike Prior said. "He always gave a great effort and he was a vocal leader, too, in the locker room. If things were going well or even if they weren't, he'd let everyone know about it. It was constructive criticism."
It's hardly a secret that White had the ability to make those around him on defense better, but his practice habits affected the whole team.
And when push came to shove, those teammates didn't want to let White down, even if they only competed against each other in practice.
"I practiced against Reggie at Tennessee and in Green Bay," Bruce Wilkerson explained. "When we were in college, I cut my teeth against Reggie. To come to Green Bay and play against him, he was an older guy, I was an older guy, it would be kind of funny because if we got going against each other, Mike Holmgren would call us pumped up Tennessee boys.
"And you know, I hate to lose. But going against Reggie, you're going to lose quite a bit. But it would just elevate the tempo of practice. It was fun. I just considered it a learning experience. If you can go against one of the best guys in the NFL every day in practice and do a decent job, that would make the games easier."
Earl Dotson was in the same boat as Wilkerson.
"He kicked my butt," said Dotson, a right tackle. "He made me a better player. Sunday was like a day off for me after facing him all week."
The Patriots certainly didn't have any vacation time against Green Bay on Jan. 26, 1997. In fact, they had all they could handle with the dominating defensive end.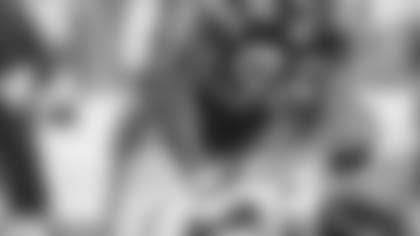 White, as he so often did in the past, came up with big plays when his team needed him the most. With little time remaining in the third quarter, he sacked quarterback Drew Bledsoe on consecutive plays. This dominance, along with Desmond Howard's 99-yard kickoff return, took the wind out of New England's sails.
He finished the day with another sack and it was just another classic case of how White responded in crunch time. His performance was no surprise to defensive coordinator Fritz Shurmur.
"This is the biggest game," the late Shurmur said at the time, "and Reggie has his biggest day. That tells you something about him."
According to Larry Brooks, the defensive line coach, it was this type of effort that the coaching staff knew it could always count on from White.
"He was an All-Pro and one of the guys that had greatness about him," Brooks said. "But you'd never know it as a coach. He'd try to do everything that you ask him, which always sticks out in my mind when you have a great player."
Besides all of his accomplishments on the field, and there certainly was no shortage of those, White was also widely known for his faith in God. An ordained minister, he was very serious about God's work.
In fact, when White decided to sign with the Packers in 1993, he insisted that was what God had told him to do.
According to wide receiver Robert Brooks, who is now a minister himself, White had a lasting impact on his faith as well.
"One thing I know about Reggie was that he was very consistent in his faith. He was very instrumental in me coming to Christ because he was one of the only Christians I knew who lived what he preached about," Brooks explained. "You know, he lived what he was talking about. You always see hypocrites in every area of life where they say one thing and do a different thing. He was one of the people I watched because I was looking for something to believe and someone to trust in.
"I had lost faith in people. And you never want to have your faith in people anyway. But I think what God does in his mercy is he always has one or two people reserved who can always show you the light and say, you know what, there are some true people, there are some people that are authentic and there are some people that are true to what they believe. And Reggie was one of those people. I love to give the testimony that he was very instrumental in me coming to Christ and we had a very, very good friendship."
Brian Williams, who was only in his second season at the time, was convinced from the get-go that White's faith in God was awe-inspiring.
"I don't know if you remember when Reggie hurt his hamstring," Williams said. "But it was supposed to be torn off the bone...I don't know what happened, but it seemed like it was destiny for that team. I don't want to sit here and call it an act of God...but it sure seemed like it."
All General Manager Ron Wolf knew was that White came to Green Bay to win a championship, and he's glad it worked out the way it did.
Wolf said that White, along with Deion Sanders, were the two best players in the history of unrestricted free agency. He was just glad to land White, who helped return the Packers to glory.
Many critics claimed it couldn't be done, but the legendary defensive end kept the faith in taking the Packers to the promised land.
"I can remember Reggie White when he came here. He said if we won the Super Bowl here, it would be like winning a Super Bowl in no other place in the league," Brooks recalled. "And he was totally right."
Then again, prophets usually are.