GREEN BAY — The NFL season couldn't begin without the pep talk. The preseason ritual was a requirement in the Burnett Family, necessary to get the year started off right.
Before Morgan Burnett headed off to Green Bay, the Packers safety had one last briefing with his father, Cap. Ideas were exchanged. Advice was given. Time stood still.
Any topic was fair game when they got together – marriage, fatherhood, and of course, football. Most of the time, however, the discussions centered on life.
This is how 'Big Cap' ran the "B-Camp," the nickname he proudly bestowed upon his family to reflect the love they shared and strength they provided one another on a daily basis.
From an early age, Morgan was taught no individual was greater than the sum of the whole. The family was only as strong as he, his father, his mom Ellary, and brother Cap IV made it.
"One thing about my dad, he was very passionate about his family," Morgan said. "He took pride in his family, me, my brother, my mom and our last name."
Communication was key to the family formula. No phone call was too long or too late. If someone needed to talk, someone was there to listen at all hours, day or night.
In a way, that's how the preseason pep talks and late-night conversations started. After every game – win or lose – Burnett broke things down with dad before anybody else.
The outcome really didn't matter. Regardless of how Burnett played, Big Cap had a way with words that made his son feel invisible, like nothing could hurt him.
"No matter what the situation was, he had a way of making you feel it's not as bad as you're making it seem," Burnett said. "Whatever I needed advice with, he was like a jack-of-all trades. If you had a question, he had an answer for you."
Those are memories Burnett holds close to his heart today, a little more than a year after Cap passed away at the age of 58 following a heart attack he suffered back home in Georgia.
As difficult as that time was, Burnett soon realized how the 26 years he spent with his father ultimately are what prepared him to be a husband, a father and a man above all else.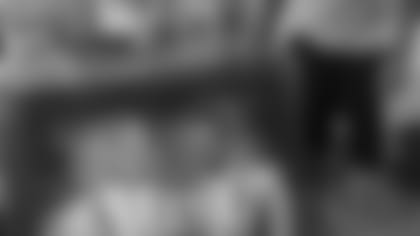 Morgan Burnett's dreams weren't much different than any other kid's growing up in College Park, Ga. He wanted to play in the NFL someday.
That much was clear the first time Burnett went to Georgia Dome to watch the Falcons host the Chicago Bears in 1998, the legendary "Dirty Bird" season that culminated in a trip to Super Bowl XXXIII.
It was that day Burnett made it his quest to someday play inside that stadium, to be the one everyone was cheering for. However unlikely that goal may have been, his parents always made it seem attainable.
"Not once did they say, 'Well, I don't know,'" Burnett said. "They were always like, 'If you believe in it, go do it. You have to put the work in.'"
Big Cap understood what it was like to have dreams. He played receiver at Memphis – then known as Memphis State – and later had a short stint with the Memphis Showboats of the USFL.
He passed on his love for football to Morgan and his older brother, Cap IV, who was eight years his senior. Still, that didn't stop Morgan from trying to keep up with him in the backyard.
There was a game the two used to play called, "the kickoff drill," where Morgan would heave a deep ball to his brother who'd return it. As expected, the younger sibling usually had the worse end of the encounters.
"I'd have to try to find a way to tackle him. I used to fail a lot of times," said Morgan, who began playing football at 6 years old. "When I had him wrapped up, he'd kick his feet up, kick me in the lip, busted lips. I used to love it, though. I tried to do everything he did."
Ellary ran the household. She was the caregiver, the homemaker and disciplinarian when the situation called for it. If you got in trouble, it was best to stay out of mom's way.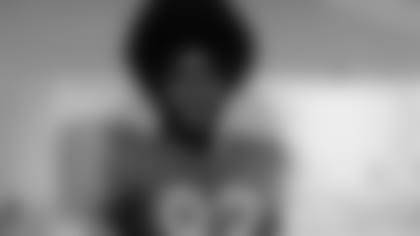 Burnett's dad usually provided a softer touch. He was a strong-willed and serious man, but he also had a funny way of always keeping things mellow and light.
Morgan and Cap IV's childhood years were rooted in athletics. Both played basketball and baseball growing up, but it was obvious from the start that football was the family's sport.
On the family sofa, Big Cap taught his two boys how to play the game. Together, they'd break down NFL and college games on TV and go outside to play whenever there was a free minute.
Cap went on to play at Georgia before concussions ended his playing career prematurely. Still, he earned his degree and returned to North Clayton High School as an assistant coach on Morgan's high school football team.
"My dad knew I was going to copy and do everything that my brother did, so my dad taught my brother the game and challenged my brother," Morgan said. "He told him, 'This is your baby brother. You have to take what I taught you and teach him.'"
Cap did just that and Morgan developed into a four-star recruit. Once Burnett arrived on campus at Georgia Tech, Big Cap and Ellary loaded up the family car and drove around the Atlantic Coast Conference to see their son play.
Fittingly, they were on-hand when Burnett recorded his first college interception as a freshman in Virginia.
After being selected in the third round of the 2010 NFL Draft, Burnett and his parents were soon introduced to his new position coach, Darren Perry, and the rest of the coaching staff.
The Packers have a tradition of flying up their new draft picks to Green Bay, and taking them and their families out for dinner.
Perry, then entering his second season in Green Bay, took notice of Big Cap as soon as he stepped into the building. There was something special about him, a smile that was so genuine and so sincere.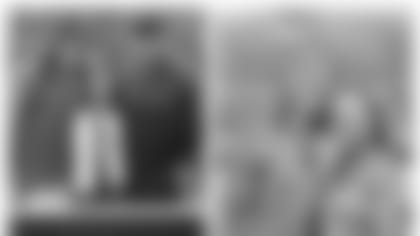 "I could see how proud he was," Perry said. "I'm sitting at the dinner with him, and he's talking about his son and the opportunity, and still wanting him to push himself to be great and not just being satisfied. I remember him telling me, 'I told him, he better listen to you.'"
Big Cap and his wife made several trips to Green Bay in the years that followed. Each time, Morgan's dad always seemed to bump into Perry at some point and say hello.
What Perry always appreciated is Big Cap never told the coach how to do his job. Not once. Perry was the NFL coach, Big Cap was the proud father, and never the twain shall meet.
Still, dad was known to provide an occasional update on his son's progress from time to time.
"Yeah Coach, I think he can do some things a little bit better, but he's working," Big Cap would tell Perry. "Make sure he keeps working. I know you're going to get him right."
The process of getting to know Big Cap is made what made the news of his passing even more difficult for Perry. It couldn't be. He looked healthy and strong when he was in Green Bay a few weeks earlier for the Packers' annual Family Night practice.
Suddenly, the Burnett family was without its bedrock. Morgan, in the final week of camp in Green Bay, took the first flight back to Atlanta after he received the news and was able to see his father before he passed away.
"It just floored me because I wasn't expecting that," Perry said. "I knew how close Morgan and his dad were, so my heart just wrenched. You felt like a piece of you was hurting and you felt that pain."
It brought Perry back to the death of his own mother, Elnora, who passed away during the Packers' bye week in 2012. It was then Perry learned how important the Packers value the idea of family.
After being home for a few days, Perry was about to get on a plane to head back to Green Bay when Head Coach Mike McCarthy called him to tell him to not return until he was ready.
Perry had only been coaching Burnett for a little more than two years at that point, but the two already had formed a strong bond. If one was hurting, they both were.
When Perry finally returned to the team, he found a hand-written note in his locker from Burnett, offering his condolences and an outstanding offer from his family to help any way possible.
"It just meant a lot to me for him to take the time because so much in life is the little things, and just to know that people care is probably the big thing," Perry said.

After learning about Big Cap's passing, McCarthy made a similar call to Burnett, telling him to take as much time as he needed to be with his family. While the regular season was on the horizon, football was a distant second on the list of priorities.
Although Burnett didn't say anything publicly about his father's passing, everyone in the locker room understood the pain he was feeling when he finally returned.
There were times Burnett would wear the remnants of tears from the drive into the office. It was in those moments that Perry, director of player development Rob Davis, and the rest of the Packers' locker room wrapped their arms around him.
During off days, cornerback Sam Shields and fellow safety Ha Ha Clinton-Dix would check in with Burnett to see how he was doing and ask if there was anything he needed.
"He kind of kept his head up the whole entire time," Clinton-Dix said. "Sam and I did a good job just checking on him, being a brother outside of football. Morgan handled it like a grown man. He was on good terms with his dad. They have a lot of memories together, so he took it as a celebration when his dad left."
Perry believes Burnett's humility and openness cause teammates to gravitate towards him, especially as it pertains to Shields and Clinton-Dix.
An undrafted rookie in 2010, Shields credits Burnett with going out of his way to help him learn the playbook and defense. Burnett also was one of the first to reach out to Clinton-Dix when the Packers drafted him in the first round in 2014.
"Once you get to know a person and see this person came from the same circumstances you were in, you kind of build a relationship that's bigger than football," Clinton-Dix said. "My relationship with Morgan is bigger than football. When this is all said and done, he'll still be my friend. He'll be at my wedding."
Months after Big Cap's death, tragedy struck the safety room again when Perry's father, Joseph, unexpectedly passed away earlier this summer at the age of 82.
A proud father of five boys and three girls, Joseph Perry served in the U.S. Army and later became the first African-American officer hired by the City of Chesapeake (Va.).
Perry was the only football player out of the five brothers, which helped forge a lifelong bond with his father, a diehard fan of the Washington Redskins.
Perry's biggest message to Burnett was that it's OK to cry and be emotional when dealing with the loss of a parent. His only advice was to make sure it doesn't dilute all the good memories.
"You get a little bit stronger and you're able to deal with those emotional connections and just remembrances," Perry said. "Where before it was just tough to talk about, now you can let the emotions kind of take over a little bit. I think that was one of the things that he realized. It got better in time."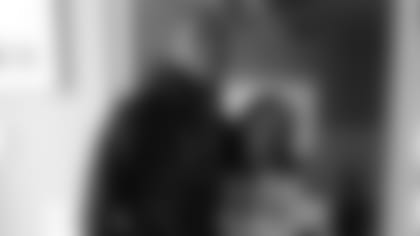 Big Cap Burnett's wisdom can still be heard inside the Lambeau Field locker room. On occasion, Morgan will pass on his metaphors and bits of encouragement to teammates.
With Burnett now in his seventh NFL season, coaches and teammates believe his leadership qualities can be connected directly to the way his parents raised him.
"He commands a lot of respect in the locker room," McCarthy said. "I think people who know him best – he may be quiet as far as his public perception, but he's definitely a man with a lot of substance. He's a strong leader in our locker room."
Burnett's mom, now a grandmother of five, still makes the trip up to Wisconsin to see her son play, including the games against Detroit and Dallas.
Meanwhile, Big Cap's photo is still featured prominently in Morgan's phone. He talks frequently about his dad to make sure his own two sons, M.J. and Logan, always remember grandpa.
On Sunday, Burnett will play for the second time in his NFL career inside the Georgia Dome when he and the Packers take on his hometown Atlanta Falcons.
While his dad may not be seated among the more than 20 family members that Burnett got tickets for to Sunday's game, that doesn't mean he won't be with them.
Burnett still talks to Big Cap every day and consults with him after games. Of course, he misses his dad, but the beautiful thing about being his son is that you always felt loved.
That constant emphasis on family was the core principle of Big Cap's "B-Camp," and for that, Morgan Burnett remains eternally grateful to his father.
"Every day. Every morning I wake up. Right before I step onto the practice field and right before I step on the game field. Every night before I go to sleep I think about him and I know that he believed in me," Burnett said.
"I know that every day I wake up, I have to give 100 percent throughout the whole day. Not sell myself short because if I sell myself short, I'm cheating my family. As my dad said, this is the 'B-Camp.' You give 100 percent whether it's on the practice field, as a father or as a husband.
"His legacy is living through me and my brother, my mom, our wives, our kids – his grandkids, so we have to make sure his legacy carries on."