Who is your pick at middle linebacker?
If I was picking, I'd like to draft an inside linebacker with the aggressiveness and tackling skill to attack the quarterback in the read option. The guy I like is Vince Williams of Florida State. You'd have to take him off the field in passing situations – he wouldn't play much against a spread – but he hits like "Rocky" and he might cause your opponent to be less likely to use its quarterback as a runner. Williams is a late-round prospect because he lacks coverage ability, but I've never known a team that didn't value a guy that would hit somebody.
Kris from Rock Island, IL
What is your opinion on wide receivers Terrell Sinkfield and Tavon Austin?
Austin is a Randall Cobb type. He's a do-everything kind of receiver that can be lined up in the backfield or in the slot. You can throw the ball to him, hand it to him or let him catch it fielding kicks. Austin has home-run potential. The only thing I know about Sinkfield is that he ran a 4.19 40 at the Minnesota pro day. He wasn't even on the draft radar until then. He's from Northern Iowa and one report I read on him is that his speed does show up on tape, which means it's likely some team is going to draft or sign Sinkfield as a developmental player that might be used initially as a field stretcher.
Russell from Shorewood, WI
What are your thoughts on Jesse Williams at 26?
Tony Pauline thinks he fits there, but others think that might be a little bit high for him. He's capable of playing all of the defensive line positions in a 3-4 scheme. I interviewed him at the combine and I liked the way he spoke and I liked the thickness of his upper body. He has the classic look of a 3-4 lineman. All of the negatives you read on him are of no concern when looking for a 3-4 guy. Top heavy and barrel-chested? No problem; that's what you want. Minimal sack production? No problem; the linebackers get the sacks. Williams is a hold-the-point guy, and that's what you want in a 3-4 lineman, but you usually don't have to go for those guys as early as the 26th overall pick.
What are your thoughts on Tyrann Mathieu?
Talented but raw prospect that is preceded by his nickname and infamy. His off-field issues are going to drop him.
Vic, Minnesota picks Troy Williamson and Erasmus James in the first round before the Packers choose Aaron Rodgers. Who are the teams that always seem to get it right when drafting?
Nobody always gets it right. In my opinion, teams that draft from the top of their board get it right more often than teams that will reach for a player because he addresses a need. The Vikings had just lost Randy Moss; they needed a big-play wide receiver and Williamson addressed that need. The Vikings had Daunte Culpepper, so they didn't need a quarterback, until Culpepper got hurt and was lost for the season. Who doesn't need Aaron Rodgers? Remember, when you pass on a player, you leave him for your competition to draft. A mistake is a double hit; it's a player you don't have and your competition does.
Jeff from Spokane Valley, WA
Vic, as the draft approaches, I can't get away from your comments about this being a young man's game. It seems that if you're an older, experienced player you're no longer needed and the young, less expensive guy is going to get the job; this just smacks of age discrimination. I am appalled. I think the players need a union or something to help them out with this terrible issue. Love the column; read you daily.
The players' union has been addressing this issue forever. That's one of the reasons we have a seven-round draft instead of the 17 rounds it was when I started covering it. In those days, rosters were unlimited for the start of training camp. Teams would bring 150 players to camp; competition was intense and young guys were always favored over old guys. Hey, Jeff, that's the law of the jungle. This isn't a law firm in which success can be negotiated. This is a "jungle" and young lions replace old lions. I can still hear Joe Greene saying "we need some young lions." The NFL even has a "minimum salary benefit" program that allows older players to be signed at the higher veteran's minimum and have the cap charged at a lesser amount. A lot has been done to help lengthen careers, but there's nothing that can be done to lessen the effects of old legs. Young legs are always better.
When it comes to the draft, shouldn't we ask ourselves what Jim Finks would do?
He was a great GM who helped build that great Bears team of the 1980's. I think he would've been a great commissioner and I often wonder where the game would be today had he been selected instead of Paul Tagliabue. My all-time favorite Finks story is of him trading a player to a team for what he said were past considerations. When asked what the past considerations were, he said, "I was their quarterback." He was a real football man and would make a great subject for "A Football Life."
Do you believe in the term mileage, in the sense that it is used as a knock on college running backs? If they're 22 years old, soft tissue and bones heal and they're way too young for arthritis to set in for someone in peak physical condition.
Yes, I do believe in mileage as it pertains to young running backs. Soft tissue scars, bones calcify and connective tissue weakens. That's the big one; the weakening of tissue that connects muscles to bones.
Everyone keeps saying we need a 3-4 end, and when people describe an ideal 3-4 end, they describe J.J. Watt, yet, we keep drafting B.J. Raji, Jerel Worthy, Mike Daniels. Is this the year we finally go Margus Hunt or Datone Jones, or are we going Sylvester Williams?
Watt is not the ideal 3-4 end. He is miscast in Houston but the Texans make allowances for it with how they use their linebackers. In other words, the Texans saw a talent on which they refused to pass, and they made adjustments to make that talent fit within their system. Be that as it may, I still think it shows in the inconsistency of that defense. As good as its rankings were last season, it got gashed for some big point productions. The way Watt doesn't fit in that defense reminds me of the way Bruce Smith didn't fit in the Bills' 3-4. Penetrating defensive linemen just aren't the way the 3-4 is meant to be played; it leaves gaps.
I saw that Marcus Lattimore worked out at South Carolina. Right now, he is projected as a late-round pick. Do you think Ted Thompson would take the risk with a fifth-round pick on someone of his talent coming back from a major knee injury?
I watched some of his workout yesterday and I was thrilled for the kid. He's a great player and based on what I saw of his workout, I think he's going to make it all the way back. The final call, however, has to be made by the medical team. They have the scans. If the scans are good, I'd pick Lattimore as a future, and I wouldn't wait until the fifth round to do it.
With all the losses we've suffered in this offseason, how do you think the Packers will plug the holes?
One player here or there makes perceived holes at other positions disappear. One big, powerful, road-grading offensive lineman can change a lot about the offense. One impact player on defense can do the same on that side of the ball. Those kinds of players tilt the field. They allow a team to overcompensate for deficiencies. That's why I say a player here and a player there is what the Packers need. Don't concern yourself with where. Anywhere is fine. Just find a couple. Just get more talent. The coaches will know what to do with it.
Denny from Salt Lake City, UT
Love your column. Don't always agree but when I don't, it makes me think. The question I have is, when you go into the cornfield, will you please take me with you? I miss the old-school ways.
I was thinking the other night about what the game would be like today if, all of a sudden, the commissioner said, "Off with the facemasks." How would the players react? How would the fans react? My first football helmet was a red, Howard "Hopalong" Cassady signature model. It had no facemask and it was so thin it cracked at the ear hole and had to be taped. I remember that when you tackled someone in a backyard game, you made sure you turned your head to the side and back so you didn't catch a knee to the face. Nobody used the helmet as a weapon then. If we're really serious about this head thing, wouldn't it be better to just take off the facemask? Great athletes would adapt. The game would evolve. Maybe going backward would be better than going forward.
Culture change in football is coming. Do you envision the day when the human confrontation element of football is taken away?
No, football will always be about human confrontation. It'll only be lost on the fans that have depersonalized the game. Those fans will never understand the true meaning and challenge of the game.
I feel like the Packers declined last year and are declining again this year. Agree?
I don't agree. They just ran into a true powerhouse football team. Packers fans don't want to acknowledge that, but I believe it to be true. The 49ers are better than anything the Packers faced in their run to the 2010 NFL title.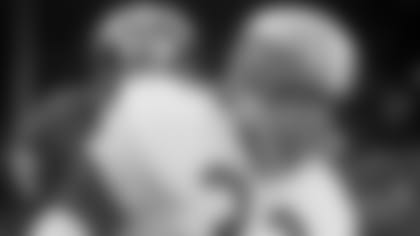 Any idea why Jim Brown never lowered his head?
His legs were moving tree trunks. The man was so physically superior to anything the game had ever known to that point in its history, that no one man in the game could tackle him. He didn't have to use his head as a weapon. Brown was such a dominant physical specimen that he made them change the rules in lacrosse. They couldn't stop him. He's the greatest lacrosse player ever.
Chris from Joint Base Langley Eustis, VA
Vic, with the new rule changes, do you think we'll start seeing smaller running backs with higher speed/elusiveness being drafted over bigger, bruising backs? Sproles vs. The Bus?
Yes, I do. The game is moving away from power and toward finesse. The read option is another step in that direction. The days of lining up tight and pounding the ball at an opponent are over.