*Cliff Christl started gathering oral histories with former Packers and others associated with the team in 2000 and will continue to gather them as Packers historian. Excerpts from those interviews will be periodically posted at **www.packers.com.*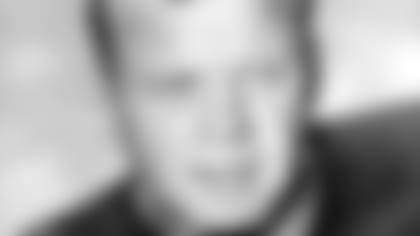 John Roach served as Bart Starr's backup quarterback from 1961 to 1963. The Packers acquired Roach from the Cleveland Browns on Aug. 8, 1961, three weeks into training camp, for what turned out to be a third-round draft pick. The Browns had acquired Roach only a month earlier from the St. Louis Cardinals. Drafted in the third round in 1956, Roach was the Cards' backup punter, a backup safety and third-string quarterback as a rookie. He spent the next two years in the Air Force before doubling as a safety and quarterback again in 1959. In 1960, Roach took over as St. Louis' starting quarterback. With the Packers, he threw only 16 passes his first two seasons, then started four games in 1963 when Starr was out with a broken hand. The Packers won the first three and averaged better than 31 points a game, but then lost a Nov. 17 showdown against the Chicago Bears, 26-7. Roach was 8-of-20 for 92 yards and Starr returned the next week. Roach retired in May 1964, but was traded to Dallas after Cowboys starting quarterback Don Meredith suffered a knee injury in an Aug. 29 exhibition game against the Packers. Roach started four games for the Cowboys in 1964, then retired for good.
On the Packers' offensive line:"The best. That was the crown jewel of our team, the offensive line. Forrest (Gregg) was the best (right) tackle in the game. Jerry Kramer was the best right guard in the game. (Jim) Ringo was the best center. Ron Kramer was one of the best – (Mike) Ditka being the other – tight ends. Fuzzy (Thurston) was a good left guard, but he wasn't as good as these other guys. (Bob) Skoronski also was a good one. (Norm) Masters was good, but I think Skoronski was better. Bigger. Jerry Kramer, Forrest Gregg and Ringo made all-pro almost every year."
On sharing his thoughts about the line to Vince Lombardi: "I told Lombardi this when I got there. When (Cleveland coach) Paul Brown told me I was traded to Green Bay, he said, 'They've got a line that gets off that ball better than anybody I've ever seen.' Every one of them was in sync. We'd practice on that sled where there were five blocking places. Lombardi would get on that sled and the quarterback would call the snap. The linemen would hit that sled and Lombardi wanted them to do it in unison, as one entity, not five. When they did, he'd just holler and (the linemen) loved it because he would be so positive toward them. That was Lombardi. They hit that sled and they hit that sled every day. And if somebody was slow off the ball, they got screamed at. So when they lined up, they knew they better hit that thing when the ball was snapped. And then they did it in the games."
On starting quarterback Bart Starr: "When I got there, I had some good friends on the team. They came out to pick me up at the airport and openly indicated to me that I had an excellent shot at being the starting quarterback. I had had a pretty good year in 1960. We started playing exhibition games and (Starr) played great. I said to one of the people who told me that, 'Hell, I can't beat this guy out. This guy is plenty good.' The guy says, 'Well, he hasn't played that way (in the past). This is the first year he's played like that.' (Starr) just didn't make mistakes. He wasn't a dominating player, but, to me, that was good for the team. The team was so strong they didn't need a dominating quarterback. They just needed him to float that pass game into the running game. We had such a good running game. And Bart ran that to perfection. When they did need him, he could step up and deliver. But most of the time he just let the offensive line dominate the game."
On what stood out about Starr's passing: "His accuracy. He didn't have a strong arm and he didn't have a quick delivery, but he fit that team so perfectly: Hand and glove."
On Starr's work ethic and game preparation:"He told me or somebody told me he used to watch Johnny Unitas films – for mechanical purposes, to copy him. The way Johnny delivered the ball was kind of the classic way. I think it gave Bart a lot of confidence watching films. He took the game seriously. He deserved his notoriety. He earned his success. He wasn't just born with ability. He worked at it."
On fullback Jim Taylor: "He was ahead of his time. He lifted weights and trained and was in superb condition. When he broke into the secondary, he'd run right at the safety. He tried to run over him, not evade him. He was a tough, hard-nosed, true fullback."
On halfback Paul Hornung: "Hornung was a great, gifted athlete. He probably could have played quarterback. A good runner. I played against him in college and I was a good defensive back and he juked me and went for a touchdown. I had only one other guy ever do that to me. Most of the good ones had different ways of juking you that you'd never seen before. Hornung kind of did it with his shoulders. He'd turn his shoulders like he was going to cut, but he didn't cut. His legs and hips were still going straight ahead. So it put tacklers off balance."
On Hornung's leadership value: "There was something special about him. I never played with Roger Staubach, but being in Dallas when he played, it was almost like he had magic. He could bring a team back from defeat. Hornung did the same thing. He was a real leader. Not like a general. He didn't have a lot to say, but everybody liked him and looked up to him. He was a special player."
On whether Hornung was the key to Lombardi's early championship teams:"He and Lombardi had a special spark that they gave that team. The team was good. Solid defense. Solid offense. Best line in the business. But that extra spark came from Lombardi mainly, but Hornung, too."
On end Max McGee: "He didn't say much, but when he did it was instrumental in getting us up. He was a real gifted athlete. He was fast and a great receiver. He had some of that magic, too. He was a character."
On flanker Boyd Dowler: "Boyd was solid as a gold coin. He was big, fast, ran good routes. Great target. He was about 6-5. Nobody could manhandle him."
On tight end Ron Kramer: "He was very unusual. He was a varsity basketball starter at Michigan. All-American football player. He was really a great athlete, but also big and strong and a great blocker."
On the Packers' defense those years: "We had a solid defense. Bill Forester was my roommate and I think he was the best weak-side linebacker I ever played against. He was rangy for a linebacker, long arms. He'd drop back at an angle and it was hard to throw over him."
On other standouts: "Herb Adderley started on offense. He was second-string, I think behind Boyd (Dowler). Somebody got hurt and they put him on defense. He played fantastic. But he could have played either way. He was a great cornerback."
On the veteran influence of safety Emlen Tunnell:"Loved that guy. He was kind of an old father figure to everybody. There was just something about him you were drawn to. I think everybody felt close to Emlen."
On Lombardi and diversity: "We'd go into the South to play an exhibition game and the hotels wouldn't take the black players. So we'd stay in the barracks on an Army base. (Lombardi) wanted the team together. Period. He didn't care what color anybody was. He treated everybody the same. He was a strong anti-racist person."
On his first impressions of Lombardi: "He was a great coach, obviously. He was a great teacher. He wanted to keep it simple and drive it into us not to make any mistakes. He required us to do it over and over and over. One of the things I remember when I first got there, I went in the dressing room and it was quiet. There wasn't anybody talking loud or playing around. Everybody was serious. In other places I had been there was a lot of grab-(butt), laughing, throwing stuff and acting crazy. At Green Bay, it was a calm, serene situation. I realized after practice why that was. If you made a mistake, (Lombardi) would scream at you and nobody wanted Lombardi to scream at you. So you approached practice almost like a game. His theory was you played like you practiced."
On Lombardi's offensive system: "It was simplistic. (Lombardi) was with the (New York) Giants and so was Tom Landry and they had the same plays except backward. In Green Bay, odd numbers were to the left and even numbers to the right. In Dallas, it was just the opposite. The plays were very similar. Landry probably had eight formations. Lombardi had three. Green Bay had red, blue and brown (formations)."
On whether he ever played for another coach like Lombardi: "No, I never did. I was traded to Cleveland for a very short period of time, but I didn't even play a practice game with them. Paul Brown did things like Lombardi in a clinical, teaching way than other coaches I had played for."
On the differences between Lombardi, Brown and Landry: "Their emotional input. Lombardi would sense our team's feeling. If he felt like he needed to yell at us, he yelled at us. One game he thought we were too tight and he came in the area where we were getting taped and kind of did a pirouette, sang a song and started laughing. There was another game he walked in that (trainer's) room and thought there were too many people in there and yelled, 'Get the hell out of here.'"
On Lombardi's mood swings: "If we played good and got beat, he never said a word to us. If we played sloppy, he was screaming and hollering at us. Landry never raised his voice. I played only one year with (Cowboys middle linebacker) Lee Roy Jordan, but he told me stories where he'd be getting on guys because he came from playing for Bear Bryant (at Alabama). It was more like Green Bay. Lee Roy said he was yelling at one of the offensive halfbacks one time because he didn't think he was putting out. He said Landry pulled him aside and said, 'Leave him alone. I don't want emotional players out on the field.' Lombardi wanted us to play with strong emotions. Landry wanted everybody mentally calm. So they approached the emotional side of the game totally different."
On the difference between Lombardi and Landry during a game: "Landry ran the game from the sidelines. He called the plays on offense. Of course, he was a defensive coach so he was very much involved in what the defense was doing. Whereas Lombardi, during the game, he was bananas. He didn't know what we were doing. He was just yelling and hollering."
On whether it was true, the offensive players considered the playing field their only safe haven and wanted to possess the ball for as long as possible so they could steer clear of Lombardi: "That's right. Everybody was scared of (Lombardi). He had a bad temper and I've heard people say he was bipolar. So he had strong emotions that I don't think most of us had ever been around. We just didn't want his wrath. Obviously, we weren't physically scared of him, but he was such a dominating, emotional figure, I think we were all scared of him. I know I was. "
On having to share a sideline with Lombardi as the backup quarterback:"I'd be on the sidelines with the headset on up to the press box with the backfield coach or the line coach and they'd radio down to me things to tell Bart when he came off the field. One game, they weren't saying anything and Lombardi came to me and said, 'What are they saying up there?' I said, 'They haven't really said anything coach.' He stormed off. He came over again and I said to (backfield coach) Red (Cochran), 'You guys better come up with something. He's worked up.' Red said, 'We're trying, but they're not showing anything that's making sense to us.' Lombardi comes back and says, 'What are they saying?' I said, 'They don't have anything yet, coach.' He screams, 'Give me those things,' and grabbed them right off my head. 'What the hell you guys doing up there,' he screamed at them."
On Lombardi's pre-game and halftime speeches: "They were short and strong. We'd end up many times running out the door yelling. He'd say something that would get us really worked up. He was a master at that. He'd talk loud, forceful. He was smart. What he said, we knew was true."
On one of Lombardi's most memorable post-game tantrums: "One game, I think it was in Minnesota, we trailed the whole game and in the fourth quarter somebody did something on defense and we lucked out. We went into the dressing room and he was so mad, he was screaming. He had his offensive chart and he was smashing it at stuff. It got to the point where he almost collapsed. Bill Forester or somebody helped him onto the trainer's table and laid him down. We all thought he was having a heart attack. It scared us to death. It turned out he was OK. But he was a very emotional guy."
On what Lombardi was like in team meetings: "He was like a professor up there. He'd draw the plays on the blackboard. One day we came in I think in '62 and we had a guy named (Ed) Blaine. He was a guard. Anyway, he majored in chemistry. So one day before our meeting, he went up and put chemistry symbols on the blackboard, like Fe for iron and (the symbol for) zinc. Then he said, '(Lombardi's) not going to know this one because this is a new one that was named while I was in school.' We sat there and (Lombardi) walked in and saw all those things on the blackboard. He went up and studied for awhile then turned around and said, 'I don't know what this one is.' We all laughed because that was what Blaine said would happen. But he knew all the rest of them. In other words, he was a very astute guy who studied things."
On what Lombardi was like in quarterback meetings:"He was very personable. He wasn't over-bearing or anything like that. With just a couple guys, he was cordial, pleasant, outgoing. He was an outgoing guy."
On the power sweep: "The left guard and right guard pulled, and the fullback was out there running, too. Then the left halfback got the ball from the quarterback. The power of it was (the left halfback) had four blockers in front of him. We ran that a lot. It was the most popular play we had. It was a great first-down play."
On the halfback option:"Hornung had been a quarterback in college and was a pretty (darn) good passer for a halfback. We had a guy who backed him up, Tom Moore from Vanderbilt, and he did well with it, too. It took a pretty good athlete to run with the ball like that and still be able to pass. That was a great play. Lombardi had it with Frank Gifford and the New York Giants."
On why the Packers weren't affected more when Hornung, Dowler and Ray Nitschke were called into service in 1961 and not only missed practice, but needed a weekend pass to play in games: "It was about (halfway) through the season so we were seasoned. And (Lombardi) kept it simple enough so even though they missed practice, they weren't lost as far as what we were doing. Everybody was in good shape, so there wasn't a conditioning problem. And, of course, we had an awfully good team. We had great players."
On crushing the Giants, 37-0, in the 1961 NFL Championship Game: "We played a perfect game. (The Packers) had lost the championship the year before to Philadelphia and it had really hurt them. I wasn't there, but I was told Lombardi was really preaching to them. He really got us ready for that game. And the Giants weren't near as good as we were. We practiced that week before and I think it was like 17-below zero. We went out on the field, the ball was slick and frozen. We didn't stay out there but 15, 20 minutes. In New York, it was like 40, maybe 50 degrees. When (the Giants) got to Green Bay, it had warmed up. It might have been 20 degrees. It was cold, but nothing like it had been. For the Giants, it was really cold. We're on the field warming up and some of our linemen were rolling their sleeves up and the Giants came out with parkas, heavy sweaters. They trotted onto the field and looked at us, and everybody knew who was going to win the game. We were just going to decide what the score was."
On the 1962 title game at Yankee Stadium won by the Packers 16-7: "The wind was blowing so hard and it was so cold, it was really miserable. Y.A. Tittle was their quarterback and Bart was ours. It was hard to throw the ball. They'd throw it perfect to about halfway before the receiver, then the wind would take it."
On which Packers team was better, the 1961 or '62 champs: "I wouldn't say one was better than the other. Both '61 and '62 were really special teams. We almost went undefeated in '62. And it was almost the same players."
On filling in for Starr in 1963: "Bart got hurt and I went in and played. We won three, four games. Then we played the Bears. They had beaten us in Green Bay like (10-3). We went to Chicago and, of course, I was the quarterback. We couldn't do anything with them. I played poorly. I think the guy who won that game for the Bears was their defensive coach (George Allen). He had us figured out somehow and we just couldn't move the ball. They needed me to step up and do something special and I didn't do it. I felt terrible about it the rest of my life."
On whether Lombardi said anything to him after the game:"No. He came up to me in practice and put his hand on my shoulder and said, 'I don't want you to think you lost that game for us. We had a lot of problems out there. Don't think you were the reason.' But I knew I was the backup quarterback and my job was to step up. When we would not play well, Lombardi would not show the films. If we won and played bad, he would. But if we lost, he didn't show the film so I never did see that game. I would have loved to have seen it to figure out what the (heck) they were doing."
On how much the Packers missed Hornung, who was suspended and missed the 1963 season: "We weren't as good a team as we had been because Hornung wasn't there."
On spending his final season with Dallas:"Dallas was just the opposite (of Green Bay). Don Meredith was the quarterback and he was very casual and the practices were like that. When we played the games, there were mistakes at critical times. Dumb mistakes. A wide receiver offsides down by the goal line that didn't have anything to do with the play. That happened (to us) in Pittsburgh. (The Cowboys) made mistakes because they got away with it in practice. In Green Bay, we couldn't get away with it. You make a mistake, you got yelled out."
On his thoughts today about having played for Lombardi: "It was such a change. I think we all realized he was making better men of us. He preached to us. One day he said, 'You guys have had it easy all your life because you're good football players. Your teachers spoil you. Your friends spoil you. Your parents spoil you because you're good football players. That's not the way it's going to be when you get out of football. You're just going to be a guy and you're not going to be treated like that anymore. You're going to have to make what you earn. You're not going to be able to walk in and get the sale because you're a football player. You're going to have to work hard.' He preached to us and made us so we wouldn't make mistakes. So no matter how you felt personally about the guy he made us better men. He made us give our best. I think everybody who ever played for him thanked him for making us better people. I think I was a better businessman because of Vince Lombardi."
Roach, 84, is retired and living in Dallas, Texas. The excerpts above were taken from two interviews conducted this month.