GREEN BAY – Packers General Manager Brian Gutekunst cast a wide net during the final round of the NFL Draft and came away with loads of potential at four different positions.
During a fast-and-furious seventh round that saw Gutekunst occasionally having to simultaneously operate two phones with incoming draft choices, the Packers selected Kentucky cornerback Carrington Valentine (No. 232 overall), Central Michigan running back Lew Nichols (235), Iowa State safety Anthony Johnson Jr. (242) and Charlotte receiver Grant DuBose (256).
Valentine (5-11, 192) was a two-year starter for the Wildcats who led the defense with 10 pass breakups in 2022, three of which came against QB and No. 3 overall pick Anthony Richardson during Kentucky's 26-16 win over Florida last September.
Feeling he was "ready to make that jump," Valentine chose to declare early for the draft. He clocked a 4.44-second time in the 40 at his March 24 pro day, while notching a 39-inch vertical at the NFL Scouting Combine in Indianapolis.
"I feel like I'm a physical press-man corner. I feel like I can be left on an island on my own and have success," said Carrington, who had 119 tackles, 16 pass breakups and an interception in 35 games at Kentucky. "I took bits and pieces from everybody, even Jaire Alexander, himself. I watched him when I was younger and even in college."
Three picks later, the Packers made Nichols the first running back Green Bay has drafted since selecting AJ Dillon in the second round three years ago. Like Dillon, Nichols packs a lot of power into his 5-foot-10, 220-pound body and was one of the leading rushers in the country when he rushed for 1,848 yards and 16 touchdowns on 341 carries in 2021.
While slowed by a toe injury during his senior year, Nichols still finished his college career as one of six Central Michigan running backs to register 3,000 rushing yards. He earned the nickname "The Humble Beast" due to his level-headedness and smashmouth playstyle.
Coincidentally, Nichols' running backs coach at Central Michigan, Cornell Jackson, also coached Aaron Jones at the University of Texas-El Paso.
"We used to always watch his cut-ups just because we ran similar runs that he did when he was at UTEP," Nichols said. "So I'm very familiar with Aaron's game and AJ's. I remember watching him coming out of Boston College. Definitely can't wait to get around those guys and learn as much as I can from them."
Nobody in the Packers' draft class has more collegiate experience than Johnson, a four-year starter at Iowa State who compiled 243 career tackles, 28 pass breakups, three sacks and two interceptions in 62 games. His 54 career starts are a program record.
Johnson played his first four seasons at cornerback for the Cyclones and nearly went out for the draft last year but chose to return for a fifth year after a conversation with Iowa State coach Matt Campbell, who floated the idea about moving to safety.
"He's like, 'Hey man, I think you're going to play safety in the NFL, I talked to some scouts about it as well, they think the same thing … I want you to come back and I want you to play safety for us and I want you to lead this team,'" Johnson recalled. "So once I had that conversation with him and I followed it up with some agents as well as far as what they were hearing, I just committed to it, I took it chin-on and was ready for the opportunity."
It proved to be the right decision. Johnson earned second-team All-Big 12 recognition after recording 60 tackles, four pass breakups and two interceptions. He also banked hundreds of reps on Iowa State's special-teams unit over his four years in Ames.
Coincidentally, Johnson said he was on the phone with another NFL team that was inquiring about signing him as a college free agent. Instead, he's headed to Green Bay to compete in a wide-open competition at safety.
"I was about ready, knowing where I was going to go," Johnson said. "I was actually getting ready to get on a call with their coaches and then I got a call and it's like, 'Hey, is this Anthony?' 'Yeah.' 'You're going to Green Bay.' I'm like, 'All right, let's do this.' Things changed that quick. So it was great."
The Packers' 13th and final draft pick of the weekend might have been the team's most intriguing of all in DuBose, a 6-foot-2, 201-pound receiver who split his college career between Division II Miles College (Ala.) and Charlotte.
Miles was actually DuBose's only scholarship offer coming out of Park Crossing High School in Montgomery. He played one season before the Southern Intercollegiate Athletic Conference cancelled its 2020 football season due to the COVID-19 pandemic.
DuBose entered the transfer portal and eventually tried out for Charlotte's football team after a conversation with 49ers quarterback James Foster, a native of Montgomery himself. In two seasons, DuBose caught 126 passes for 1,679 yards and 15 touchdowns.
"During our breaks, we would always link up and go to the field and throw routes and that type of deal and just work," said DuBose of his friendship with Foster. "He was aware of my situation. He always advocates for me on my behalf, and they finally invited me down for a workout. Once I got to Charlotte, it was just a matter of doing what I know how to do."
DuBose put in the work to make it happen, both on and off the field. He did online grocery pickup at Wal-Mart, worked in the commissary at a military base in Montgomery and also was employed at Hyundai Glovis, where he was responsible for dispensing cars to whatever location they were heading.
Now, he's one of 13 rookie draft picks with the opportunity of a lifetime in Green Bay.
"Just trying to keep the dream alive," DuBose said. "I don't really like to think negative. It was always, 'What can I do next? How can I get better?' as I worked toward a dream. I didn't know what opportunity was going to present itself, but I knew I wanted to be ready it did. So, just always trying to find a way to get better and work toward my goal."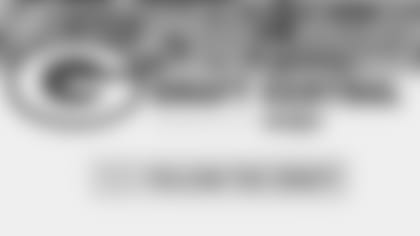 Packers Draft Central | Recap the 2023 NFL Draft
Follow packers.com's coverage of the 2023 NFL Draft