In an auction where a 1996 Brett Favre Player of the Year Trophy went for $40,000-plus and game-worn jerseys by Favre and Aaron Rodgers sold for more than $20,000, a yellowed, heavy-stock, 13½-by-16-inch piece of paper was almost certainly the steal of the Super Bowl LI live auction held in Houston Feb. 4.
In fact, strictly from a historical standpoint, it might be the most valuable piece of Green Bay Packers memorabilia ever sold. At least it's hard to imagine there being any other document or artifact that better symbolizes what this storied franchise is all about.
The auction item was the franchise certificate issued to the Packers by NFL president Joe Carr when they became a community-owned team. The winning bid was $17,000 plus a 15% buyer's premium. That brought the total to $19,550.
It also was apparent that Hunt Auctions and the Carr family weren't sure what they were selling, largely because the certificate wasn't dated.
The original description when the item was first posted at Hunt's website read, "Historically significant 1921 Green Bay Packers National Football League Charter Certificate. A momentous offering of the original hand calligraphed(sic) charter certificate which admitted one of Professional football's most storied teams into the NFL."
Once Hunt was informed the description was incorrect – by more than one party, apparently – it was updated.
The updated description began: "Historically significant Green Bay Packers National Football League charter certificate c. 1920s."
Deeper into the description, it also was noted, "upon further research we have concluded that this particular certificate dates to slightly later than referenced with the Carr family archives likely to the mid-1920s era rather than 1921 specifically."
The original description was clearly incorrect for two reasons.
One, the league was named the American Professional Football Association – not the National Football League – when the Packers were admitted on Aug. 27, 1921. Two, the original Green Bay franchise was granted to the Acme Packing Co., according to league minutes. The Green Bay Football Corporation didn't come into existence until 1923.
While anyone can question the validity of just about any piece of sports memorabilia and I'm no expert on the subject, I've thoroughly researched the timeline of early Packers ownership and believe the certificate likely dates to 1923 or soon thereafter, and almost certainly was signed by Carr during the franchise's first decade as a public-owned entity.
In turn, Chris Nerat, a native of Marinette, Wis., and 2001 University of Wisconsin-Green Bay graduate, is now the owner of the certificate, along with an anonymous partner, and he has no doubts about the authenticity of the item itself.
And he is an expert on the subject.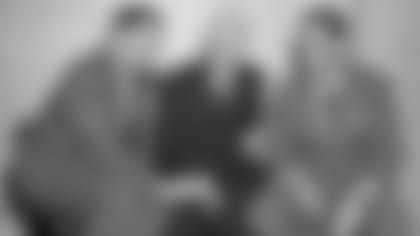 Joe Carr, center, is pictured in Chicago on Feb. 9, 1939, after his re-election as NFL president. Also pictured are George P. Marshall, left, owner of the Washington team, and Dan P. Topping, head of the Brooklyn football Dodgers.
Nerat not only is a serious Packers collector, but he also serves as consignment director/cataloguer for Heritage Auctions in Dallas, which claims to be the "world's largest collectibles auctioneer." Nerat specializes in football and basketball sports memorabilia.
He said he was prepared to bid as much as $60,000 and his partner was willing to go even higher in the bidding for the certificate.
"We didn't want to lose it because if it is what we think it is, we feel if it's not the most significant Packer document in existence, it's one of the most," Nerat recently said in a telephone interview.
Nerat said he relied on his knowledge of the collectibles industry and his own examination of the item to determine its authenticity.
He said the certificate clearly came from Carr's descendants and was one of several items from Carr's time as NFL president from 1921 to 1939 included in the auction. Nerat said he also traveled to Houston the morning of the auction to examine the item in person and determined it was hand-done – not screen-printed – and written in fountain pen calligraphy.
He had already confirmed it was Carr's signature.
What might have concerned other potential buyers was that the item wasn't dated and that it was still in Carr's possession, not the Packers'.
While I understand why that may have raised suspicions with interested parties, I didn't consider either matter to be particularly relevant in this case, based on my research.
Minutes of an NFL meeting held Jan. 20, 1923, at the Sherman House in Chicago are available at the Ralph Wilson, Jr. Pro Football Research and Preservation Center in Canton, Ohio.
Those minutes include the following notation: "Motion made by Mr. Ruetz and seconded by Mr. Ness that the Green Bay franchise be changed to read 'Green Bay Football Corporation.' Carried."
Curiously, that was eight months before the Articles of Incorporation of the Green Bay Football Corporation were filed with the State of Wisconsin and almost nine months before it officially opened for business following the election of a board of directors by the original shareholders.
After being sponsored by the Indian Packing Co., in 1919 and 1920, and given money to buy uniforms by the Acme Packing Co. in 1921, the Packers were owned by the private Green Bay Football Club in 1922. Curly Lambeau and George Whitney Calhoun, co-founders of the Packers in 1919, were officers of the private corporation.
Their ownership group, which also included Nate Abrams and Joe Ordens, was deeply in debt when the 1922 season ended and all but certain to lose the franchise. Fortunately, Andrew Turnbull, John Kittell and other prominent Green Bay citizens were determined to keep an NFL team in Green Bay.
On Dec. 7, 1922, four days after the season ended, they called a meeting attended by roughly 150 local businessmen and football enthusiasts for the purpose of organizing a committee to sell stock. Kittell, a local attorney, chaired the meeting.
Turnbull was business manager of the Green Bay Press-Gazette and had already given Lambeau and Calhoun his word that he would attempt to galvanize the community to help save the team.
Five days later, a second meeting was held, where plans were outlined and a committee was named to sell stock in what would be named the Green Bay Football Corporation.
Less than five weeks later, the NFL transferred ownership of the franchise, although the Green Bay Football Corporation had yet to register with the State of Wisconsin or elect officers.
There would seem to be only two possible and plausible explanations. Other NFL owners did it as a favor to help save the Green Bay franchise; or they wanted to sever ties with the private Green Bay Football Club and its financial burdens as quickly as possible.
When the Green Bay Football Corporation finally elected a slate of officers on Sept, 17, 1923, Turnbull was chosen president; Kittell, vice president; and Lee Joannes, secretary and treasurer.
Thus, if Carr had dated the certificate on Jan. 20, 1923, when the NFL transferred ownership, the Green Bay Football Corporation would have existed in name only with no guarantee it was going to field a team nine months later.
More importantly, the document was a certificate of membership, not a contract or settlement and hardly called for a date.
Nerat has since seen copies of the Baltimore Colts' and Dallas Cowboys' certificates of membership signed by NFL commissioners Bert Bell and Pete Rozelle, respectively, and neither was dated. The Colts' and Cowboys' certificates also closely resemble the one he purchased.
Why was the certificate among Carr's papers all those years and never given to the Packers?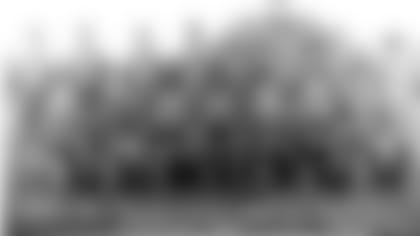 The Green Bay Packers pose for a team photo in 1923. The team posted a 7-2-1 record under player/coach Curly Lambeau, good for third place in the NFL.
The simple answer might have been for safekeeping. Carr had an office in Columbus, Ohio.
The Packers didn't have an office building in Green Bay until 1949 and even then executive committee members didn't have desks there or meet there.
In 1923, the closest thing the Packers had to an office was the front desk in the old Press-Gazette building on Cherry Street, only because the paper's employees willingly accepted the team's stock coupons and sold game tickets over the counter.  The Packers' home field that year was Bellevue Park and it's unclear if they even had a locker room there.
Once officers of the Green Bay Football Corporation were elected, Carr could have given the certificate to Turnbull, Kittell or Joannes, but they probably conducted most of their Packers business in their personal offices: Turnbull at the Press-Gazette, Kittell in his law office in the Bellin Building and Joannes at the family's wholesale grocery headquarters.
Lambeau, in 1923, was working the floor as a salesman for Stiefel's, a downtown men's clothing store.
So whom would Carr have given the certificate to and where would someone in Green Bay have put it?
Because it would be anybody's guess, that might explain why Carr kept it.
For all intents and purposes, the Green Bay Football Corporation ceased to exist in 1933 because it lost a lawsuit to a fan who fell out of the stands at City Stadium two years earlier.
On Feb. 20, 1933, eight days before the verdict was handed down, the corporation's board of directors voted to assign the franchise to Joannes. Within a week, NFL owners also voted to transfer the franchise into Joannes' name. In August, the Green Bay Football Corporation went into receivership.
In 1935, the Green Bay franchise was reorganized as The Green Bay Packers, Inc., with new Articles of Incorporation but under the same publicly owned structure.
Whether he signed the document upon the official transfer by NFL owners in January 1923 or at some other point before the Green Bay Football Corporation went out of business in 1933, the certificate dates to when Packers fans first took ownership of the team.
"How does it get any better than that?" asked Nerat. "That's what the Packers are known for."
That's also why Nerat said he and his partner intend to give the certificate a good home and have no intentions of trying to resell it and turn a quick profit.
"We're going to keep (the certificate) for a long time," he said.
He and his partner also have offered to give the Packers a high-resolution scan to exhibit in the Packers Hall of Fame.