Yeah, but there's more to it. Reserves are reserves for a reason. Their talent isn't the equal of the men they're replacing, so it's only logical to believe a team has suffered a loss of talent when it loses star-quality players. It's a loss of talent reserves shouldn't be expected to fully replace. The expectation should be that the players around those reserves will elevate their games, and that'll help make up for the loss of talent. "Next man up," in my opinion, is a philosophy that needs to be married with "everybody else up, too."
Good thing we got Cobb off special teams. He could have gotten hurt returning kicks.
Yeah, then he wouldn't have been able to play wide receiver.
Michael from Cali, Colombia
Vic, quite coincidentally, a buddy and I were having the same conversation about the Browns earlier this week while trying to explain football to a Brit here in Colombia. I looked it up. Apparently they are named after their first coach, Paul Brown, an Ohio coaching legend, after some trademark or naming rights problems with the name Panthers. Can you elaborate on this?
The Cleveland Panthers were a failed pro team. Sentiment existed to name the new Cleveland franchise the Panthers, but the team's owner, Mickey McBride, rejected that name when a Cleveland businessman that owned the rights to the name Panthers demanded a large sum of money from McBride for that name. McBride then initiated a second name-the-team contest that produced the name Browns. One story holds that the name Browns wasn't meant as a reference to the team's new coach, Paul Brown, but that it was a shortened form of Brown Bombers, which was a reference to boxer Joe Louis. Another story suggests that fans referred to the Browns as "Brown's team," and that's how the team got its name.
Vic, I nominate you for dinosaur status. Suggesting that today's NFL players are too big is the equivalent of suggesting that today's technology is moving too fast. Move over Dino.
Vic, all of this talk about Peyton Manning being dominant until the playoffs was mute with me until somebody mentioned this crazy stat: In his Super Bowl year, he threw three touchdown passes and 11 interceptions in the playoffs. He also won that Super Bowl vs. Rex Grossman. Could Peyton really be that poor come playoff time? Your thoughts?
It was actually three and seven, not three and 11, but I get your point. In the Colts' win in Baltimore, Manning had a passer rating of 39.6. The Ravens dropped several would-be interceptions. His highest passer rating in that postseason was 81.8 in the Super Bowl. I consider Bob Sanders, Dominic Rhodes and the official that called pass interference on Ellis Hobbs to have been the key people in the Colts' Super Bowl run.
Vic, I know the talk this week is how the Packers will compensate for the injuries, however, do you think the Packers are going to have a hangover from the Ravens game? It was hard fought and physical, and I wonder if they come out flat.
No, I don't think the Packers will suffer a hangover from the Ravens game and it's because the injuries this team has to overcome should give it a sharp focus on winning. There's an element of desperation for this game. That's what adversity does to a team. It demands that everybody play their best football.
Vic, do you ever read the comments that people post in your "Ask Vic" columns? Some of them can be quite humorous.
Yes, I read them every day for offensive content, and I'm extremely proud that my readers keep it clean. I did notice, however, that someone from the "outside" came into the comments section this week for the purpose of agitating the readership, and the discourse that followed began to walk a fine line. So, I will caution all of our good people not to engage those from the "outside" that come to "Ask Vic" with bad intentions. Please don't allow one person to ruin it for everybody.
Russ from Platteville, WI
I must be the only one who believes this will be the Packers' finest hour. Yes, Cobb, Perry, Matthews were big losses, but I strongly believe we've got different bullets to load up with that are just as potent, just in a different way.
I would agree that Cobb, Perry and Matthews are big losses. I won't agree on the "just as potent" comment. I think you're speaking more with pride than you are with logic. Overcoming the losses the Packers have sustained will be difficult.
So people are ticked off that the Browns signed Charles Johnson so they could gain a spy. It sure does stink. Who have the Packers signed from opponents' teams? Or are we above that?
I have not detected any such shenanigans in the three years I've covered the Packers.
DE Datone Jones
Alex from Mansfield, Nottinghamshire
Vic, in response to where will Packers will find a rush, do you see Datone Jones taking any snaps at outside linebacker?
It's a good thought. It would be a way to get another big-guy pass rusher on the field. In tough times, you have to find new ways. Coaches have to be more creative. They have to find ways to do more with what they have.
Vic, love the column and your blunt honesty. With the absence of Randall Cobb's dynamic and game-changing ability, there is an obvious void in the slot. What do you think of splitting out Johnathan Franklin and putting him in space against a nickel corner/linebacker?
The same answer from above applies here. Do more with what you have. Yeah, I would expect Franklin's role to be increased.
Vic, I've read your column almost every day since going to college in August of 2011. I have decided to earn a commission into the Marine Corps. In order to achieve what I want most, I must put some of my favorite hobbies to the side. Unfortunately, your column is one of those hobbies. I want to thank you for changing my outlook on football and life; teaching me how to relax and breathe and not worry so much. I look forward to the day when I have achieved my dream and can read your life-enhancing material again. Thanks again from a proud and thankful fan.
Scott from Greensburg, IN
If you are a member of the Cleveland media and giving Browns fans a list of what the Browns need to do to beat Green Bay, where does stop Eddie Lacy rank? To me, this would be an indicator as to the respect our running game is now receiving around the league. Your thoughts?
The Browns defense is No. 7 overall, No. 7 against the run and No. 8 against the pass. It appears they won't have to load up against the run or the pass. Be that as it may, if I was game-planning for the Browns this week, given the extent of the Packers' injuries, I'd probably challenge the Packers passing game.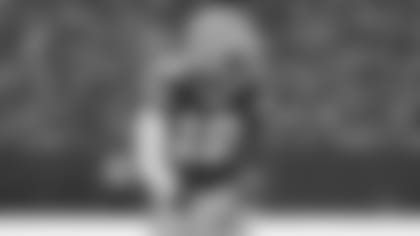 WR Randall Cobb
I don't see why everyone is fretting with the injuries to the receivers. You said it yourself that receivers are a dime a dozen. With a full week in practice with the starting offense, I think Boykin will do just fine on Sunday. With the Browns overplaying the run (which I think is a very good possibility), do you see Rodgers having a huge game?
First of all, that comment is made with the big picture in mind. That's a belief I espouse at draft time. I strongly believe you can find all the receivers you need without spending first-round picks on them. Randall Cobb, Jordy Nelson, James Jones, Greg Jennings, Donald Driver, Jermichael Finley; none of them were first-round picks. The Packers' need at receiver this week isn't about the big picture or the draft, it's about now, so please don't apply words I use at draft time to an in-season problem. The pool from which the Packers can draw right now is much smaller than an entire draft class. A huge game? No, I don't see Rodgers having a huge game and I think that's an unrealistic expectation. I see Rodgers finding a way to win, despite significant injury to his receiving corps. If he can do that, it'll be enough.
Brandt from Grand Rapids, MI
Helmet-to-knee hits are just as dangerous as helmet-to-helmet? The long-term mental problems that can be caused by concussions are far worse than any knee injury.
What about the defender? Doesn't his head count?
What do you enjoy most about covering football on Sundays? Watching? Being at an NFL stadium? Writing about what you saw?
It's all of those things. Most of all, I enjoy the spectacle. A football game is an event. Most baseball games aren't events, and that's what I never liked about baseball. Football games make me feel as though I'm where everybody wants to be.
Vic, you have remarked before that the bottom of the roster is fluid. It's clear that is true. What would be the downside of increasing the active roster, game-day roster and practice squad (beyond the threat of extreme specialization)?
The downside would be that ticket prices would likely increase. More players equal more expense. I struggle to understand why fans don't get that.