Dave from Campbellsville, KY
Vic, what do you think is the biggest issue the Packers face this week, kicker or backup quarterback?
I think it's kicker. They've got to get closure on this and it's got to be the kind of closure that would allow the head coach the confidence to send his man out to kick a long field goal with the game on the line in San Francisco. We're talking about a position that wins or loses games. The season is about to start. The clock is ticking.
Vic, would you rather have a strong-legged kicker that can soar a 60-yard field goal if he has to but is a little shaky in his accuracy all over the field, or a dude that is dead on anywhere inside the 45 but struggles with anything over 50?
Accuracy is No. 1, but 45 yards is an unacceptable range limit. Giorgio Tavecchio has been unfairly typecast. He has far more range than 45 yards. He kicked one from 60 earlier in camp. He doesn't have Mason Crosby's booming leg, but Tavecchio has enough leg to kick in this league. Crosby's misses in practice on Wednesday made my heart sink. He has all the tools, he fits in the locker room and everybody is rooting for him, but he's running out of time to convince his coach the bad times are gone. With only three training-camp practices remaining, I'm not sure how to characterize the kicking situation. I think something dramatic needs to happen. Maybe it will on Friday.
Have you looked at the tackle that got Jon Bostic a fine equal to one dollar out of every 20 from his Bears salary, when he wasn't penalized on the field? I can't fathom how it was illegal. The guy being tackled was clearly a runner in the open field and not a defenseless receiver. He was roundly praised by the announcers and his teammates. Any slight helmet to helmet, if there was any, was clearly incidental. Is it just illegal to make big plays on defense now? Is it illegal to be a good linebacker? Is being a star reserved for receivers and quarterbacks?
I haven't examined it and I don't intend to examine it and try to form an opinion on it because I don't want to experience the same frustration you're experiencing. I have to change my culture, too, and that means accepting the fact that the league doesn't want the game to be played dangerously. The game I knew is gone. I have to force myself to accept that, and it's a tough thing to do. Getting all bent out of shape about fines for borderline hits isn't going to help me change my culture; it'll just drive me nuts. The league wants the game played with hands and arms, not heads and shoulders. The prototypical defensive player in today's game would have enormously long and powerful arms that swallow up ball carriers and bear-hugs them to a stop. "Grab, grab, grab. Everybody's grabbing out there" would be high praise in today's game. I invite you to join me in changing our culture. It's making me a kinder, gentler person.
With all the attention on who is returning punts, what does the depth chart look like behind Cobb? Could that be the area of special teams that Johnathan Franklin excels at?
I think he's going to get a long look at kickoff returner on Friday night.
On the first two third-and-ones in the Rams game, the Packers ran what looked to me like a stretch play. The linemen were running laterally instead of pushing the Rams back. Is that a strategy we use because the line is not up to the task of road-grading?
It's a strategy the Texans used to help Arian Foster win the rushing title. It's a strategy the Broncos used to routinely produce thousand-yard rushers. It's the signature play of the zone-blocking scheme. You are what you are. The Packers sweep was the bread-and-butter play of the '60s Packers. The inside trap was the signature play of the '70s Steelers. The lead draw was that play for the '90s Cowboys. The stretch play is the play that defines the Packers running game, and they have to be able to make it work in any down and distance.
Michael from Ft. Lewis, WA
Vic, Joe Whitt said he's going to have the corners play left and right instead of shadowing receivers. What do coaches consider when making a decision either way?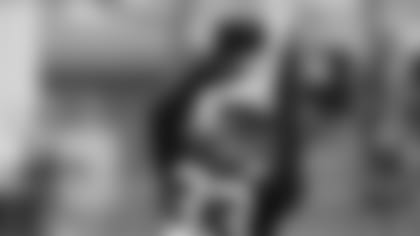 CB Micah Hyde
I don't know exactly what the Packers' thoughts are on this and they're not going to tell us because it goes to strategy. What I can tell you is that having covered Dom Capers' defenses for a lot of years, he likes to play zone because it allows him to employ his vast package of blitzes, the zone blitz being his favorite blitz. In that kind of scheme, and this is common throughout the league, the right cornerback (blindside corner) is known as the "squat corner" because he often squats at 10 yards. That's where the safety to that side of the field picks up the coverage. The squat corner is often more of a short-area coverage guy. If you use your No. 1 corner to shadow a receiver, you can end up with your squat corner on the left side of the defense, and that can be a misfit for your scheme and the utilization of your personnel in that scheme. Of course, if you have two corners of shut-down ability, none of this matters, but most teams don't have two shut-down corners. When I look at Micah Hyde, I see squat corner written all over him. I see a guy with the instincts and smarts to be a blitzer off the back side. I see a guy with the ball skills to play underneath the receiver and make interceptions. I see a tackler, and you want tacklers squatting and playing close to the line of scrimmage.
Yesterday, you mentioned that a running back cannot drop his head to protect himself, but I was under the impression he could drop his head so long as he keeps his face perpendicular to the ground. Is this not the case?
A running back doesn't have time to think about keeping his face perpendicular to the ground. He's got a 250-pound linebacker closing on him and the back's only thoughts are on self-preservation. That's what I mean when I say all of this has become too frustrating for me. Football is a game of instinct. It's a game of primal actions. You don't play it with slide rules and the calculation of angles. You play it with the fight-or-flight instincts that are necessary to cope with a blur of action that doesn't allow for measured thought. I'm all for taking head shots out of the game, and the league has done that and, in the process, has addressed player safety. Where is the limit on those actions? That's the issue, but I'm not going to get into it because I am changing my culture, and it's making me a kinder, gentler person, so I have that going for me, which is nice.
Who is this rematch with the Seahawks more personal to, the players or the fans?
Not to be a worst-case scenario kind of girl here, and I really doubt this will happen, but let's say the Seahawks come to Lambeau on Friday and thrash the Packers. Could a loss like that have any effect on the team for the beginning of the regular season? Or would it give them a sort of chip on their shoulder and motivate them to prove what they're capable of?
It would have no effect on the team. Rebecca, on Monday following the final preseason game, Coach McCarthy will flip the switch on the start of the regular season and the Packers' opener in San Francisco, and we'll quickly forget everything that happened in the preseason. It's been that way for every team I've ever covered. The only thing that resembles the football that's played in the preseason and the football that's played in the regular season is the ball. You have two more weeks to relax and enjoy summer. Two weeks from today, the nervous tension in Packers nation for the opener in San Francisco will be crippling. Don't rush it. It'll get here soon enough.
What are the pros and cons of expanding practice squads?
The pro is that you're developing a reservoir of game-ready football talent. It helps a team stay young, which the players association might see as a negative for them. The con, as I see it, is that expanding the size of practice squads would allow teams to play more manipulation games with their 53-man roster, and I don't like that at all. How about this? Expand the size of the practice squad, which would allow for the development of more young players, but freeze those extra players on the practice squad so they would be ineligible to join their team's 53-man. They can be signed to join another team's 53, but not the 53 of their team.
What is the limit to the number of players that can be put on the PUP list?
Players on the physically unable to perform list count against a team's 90-man roster at all times. The 90-man remains in effect during the regular season; at no time can a team have more than 90 players on a roster that includes its 53-man active roster, its eight-man practice squad and all players on injured reserve and PUP. So, the answer to your question is that you can have up to 90 players on PUP, but then you wouldn't have a team to play the games.
Vic, you mentioned the type of defense a coordinator employs is often based on the abilities of the defensive players being coordinated. Prior to drafting Matthews and Raji, what made coach Capers think 3-4 was the way to go in Green Bay?
The Packers defense wasn't very good in 2008. It got just about everybody fired. From where I sat, it appeared the goal in 2009 was change, not preservation. Coach Capers is a 3-4 guy, Ted Thompson got him the nose tackle (Raji) and blitzer (Matthews) that are the cornerstone positions Capers needed to address to install his 3-4, and you know the rest. The Packers then went from a No. 20 defense in 2008 to No. 2 in 2009, with the league's No. 1 run defense and No. 1 in takeaways. What's the problem?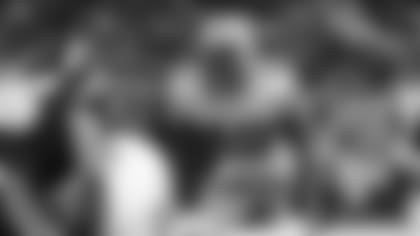 LB Robert Francois
I haven't heard much about the middle linebackers so far at camp. Any updates?
A.J. Hawk and Brad Jones are the starters and they've stayed healthy. If there's one guy who's caught my eye in camp, it's been Robert Francois. He's been a monster in half-line drills and he had a couple of tackles for loss in St. Louis. I'm beginning to think he's an under-appreciated guy.
What's your take on the timing of bye weeks?
Tell me when the team will have the most injuries and I'll tell you when it's a good time to have your bye week.
Richard from Lake Havasu City, AZ
It has been said Vince Lombardi preferred a player who gave him 100 percent of his efforts to a player who might have been more talented but did not give 100 percent. Does Mike McCarthy and his staff have similar views on this subject?
My guess is that Coach McCarthy has the same views as Coach Lombardi: Find talented players that give 100 percent. It all starts with talent. If a guy doesn't have the talent to play in this league, I don't care how hard he tries. George Halas said of Mike Ditka that he didn't try harder, he cared more. I've always loved that quote because when you care, trying comes naturally. Of course, it didn't hurt that Ditka was one of the most dominant physical specimens the game has ever known. That makes trying a lot easier, too.
Do you agree with me that you're too big and too fast theory is because the players are using PEDs?
What I've said is I support heightened attempts to detect PEDs usage, so we might know the answer to your question. Maybe we won't need all these rules to address player safety. Maybe the game isn't the problem.