With a coach who apparently has no idea of how to go for the throat, isn't it funny we have the fifth-longest streak in NFL history for preserving a fourth-quarter lead for the win at home? Just coincidence in your book?
It's not a coincidence. Mike McCarthy knows how to win and he teaches his team to do it.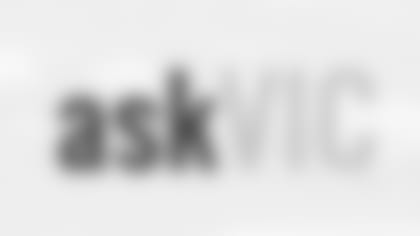 Vic, did we win well enough last night?
Do you get bonus points for winning better?
Anthony from Jamestown, ND
Vic, even though this team doesn't appear to have peaked, we have a 3-1 record with our only loss coming at the hands of the suddenly world-beating Vikings in a very close game. My question is why isn't this good enough for some?
It's because they're afraid and they want to transfer their fear to others so we might validate it and share in it.
Vic, who do you give the game ball to? I say Cobb: two clutch and gritty plays that were critical to victory. Hope you were warm and dry while dodging Matthew.
Randall Cobb was a difference-maker last night, but I think you begin your game ball discussion with the offensive line. T.J. Lang was powerful. David Bakhtiari and Bryan Bulaga responded to stern challenges.
Al from Sydney, Australia
I know the Giants were playing a lot of coverage, but how can Aaron find no open wide receiver with four seconds in the pocket? That offensive line played incredibly. You really would like to see more production with that kind of protection.
You beat rush four, drop seven with the running game and patience.
Daniel from Story City, IA
Vic, has your inbox let up on Davante and the secondary after last night? Tough game for the offense and special teams at times, but it was an enjoyable game to watch, I thought, with some great catches on both sides.
Davante Adams is on the rise. He has seized the opportunity at wide receiver. The secondary is a place of strength. Young, emerging talent bodes well for December.
Chad from Tarpon Springs, FL
What is the single greatest highlight reel of a play in sports history?
James Harrison's 102-yard touchdown return of an interception as time expired in the first half of the Super Bowl is the most amazing sports play I've ever seen. How can one man, trapped along a sideline, run through 11 men of similar size and talent, and fall across the goal line as time expires?
Brian from Albertville, AL
Are there a couple of players or coaches you've covered you thought would make good presidents?
I didn't cover him, but when you talk about coaches who are presidential, you begin with Vince Lombardi. I thought Charles Woodson was presidential during his banter with President Obama during the Packers' White House visit in 2011.
Jeff from Victorville, CA
Vic, Rodgers leads the league in amount of time in the pocket to complete a pass, yet, receivers are still struggling to get separation every game, whereas opponents' receivers are getting open in half the time. Is this an easy fix or does it look like it may be a struggle for the Packers all year?
Nothing is an easy fix. Everything is a struggle. What's good today is likely not to be as good tomorrow. Just win, baby.
What has happened to our old stalwarts like the quick slant, screen, etc.? It seemed these were productive but we haven't seen them much recently.
Slants and screens aren't signature plays against dropping linebackers. You use slants and screens against linebackers getting up the field.

Were you sacked by Hurricane Matthew or did you just feel the pressure and scramble out of the pocket?
I left my home last Tuesday. I hope to return to it sometime this week.
Timothy from Melbourne, Australia
I'm very surprised this fan base and some media outlets are still directing so much negativity towards our offense. Are you surprised the fans still act like spoiled brats even when we win, or is this just something you have come to expect now?
No, I mean yes, I mean I don't know.
Vic, the defense put on a great performance once again. The offense, on the other hand, started off well but then went completely out of sync in the second half. It's starting to become a trend.
I like defense and I like winning. Both are good trends. The Packers' arrow is pointing decidedly upward.
Great win over the Giants. Nick Perry gave Michelle Tafoya the reason the Packers did well. It's the very thing Mike McCarthy has been preaching all along: "Win our one-on-ones."
It's this season's theme, and I've been preaching it in this column for a long time.
Erick from Charlottesville, VA
Where are you in the world, Vic?
I'm in Columbia, SC, waiting to go home and find out how many boats are in my front yard.
Would you say the Packers are already playing December-style football? Could the staff have eschewed the early-season finesse of years gone by for a full season of beating opponents into submission?
Run the ball, stop the run? It was a theme in the preseason. Yes, it's December-style football, but you can't know if you're playing it until December. Enjoy the journey.
Why is the offensive staff so infatuated with the 11 personnel? The first and best drive of the game used many different looks including four and five wide receivers, and then they seemed to abandon it.
Spread 'em out is an effective strategy, but if it's your base offense, you're playing finesse football, and it doesn't complement your defense. Right now, defense is the strength of this team. Play to it.
What more can this defense do? I'm so impressed every time they are on the field.
It can be the best defense of the Mike McCarthy era.
I feel if the concussion culture is ever to change, referees will have to start flagging intentional shoulder-to-helmet hits when the player is obviously down, even if it is only a judgment call for unsportsmanlike conduct. It may be impossible to define every unsportsmanlike hit, but I would prefer to leave it to the officials to know it when they see it.
I've changed my opinion on the college targeting rule. I now favor its use in the NFL. You get what you emphasize.
Vic, it feels so weird to win on defense. Something is wrong with the offense but I can't put a finger to it. Should we, as fans, worry?
Why don't Packers fans like defense?
Vic, I love seeing our defense play well enough to win when the offense struggles. The offense will eventually click and then watch out.
You have achieved perspective.