Tadd from Salt Lake City, UT
Vic, Ian Rapoport of NFL Network is reporting Ted Thompson intends to be active in free agency this year. His report talked of Green Bay having $30 million in cap space. Do you find this as out of place as I do, not just being active in overpriced old guys but having this stuff leaked to the media. I smell an invented story. What say you?
The Packers won't spend on an overpriced old guy. That's bad value and Thompson is all about value. I have repeatedly written that if the Packers can find a player in free agency they like and with whom they can structure a sensible deal, they'll go for it. I have also written that those guys are tough to find. We'll see. The Packers certainly have the cap room to be a player in free agency.
Could you explain how draft grades are decided/calculated? I'm confused about the Michael Sam situation. He was voted the best defensive player in possibly the strongest college conference, yet, he is only predicted to go between rounds 3-5. There will be a lot of players he was voted to be better than picked before him. Am I missing something obvious here?
First of all, I wasn't hearing rounds 3-5 for Sam when I went to the Senior Bowl. I was hearing that he was a second-round prospect that could climb with a strong Senior Bowl and combine. He didn't perform well as a linebacker at the Senior Bowl, but I refuse to believe that caused his stock to fall as dramatically as it's now being reported. He's a tweener and the conversion will take time, but the same can be said about Jarvis Jones and he was a first-round pick. What you're missing is that college football isn't the NFL. Aaron Donald won the Lombardi, Nagurski, Bednarik and Outland trophies in the same year – I don't know if anyone else has ever done that – which easily made him the most dominant defensive player in college football last season, but size concerns could drop him to the second round. He doesn't fit the prototype. At 6-2, 255, Sam is too small to play end, so he has to prove he can be an every-down linebacker or he becomes a pass-rush specialist; that's one reason his stock has dropped. I don't think the other issue has helped him, either, but his public announcement had no effect on it because his preference was already known within scouting circles.
Vic, Tramon Williams played well at the end of the season but he has a cap hit of $9.5 million. If cut, we can save $7.5 million. What are the chances they cut Williams and use that money to patch other holes?
The Packers don't need more cap room; they've got plenty. The issue is how are they going to use it? That's one of the reasons I've been writing that I believe this is going to be an offseason of change. They've created that room for a reason. If they wanted to spend that money on the majority of those players headed for free agency, they would've done it already. The closer they get to free agency, the more expensive they become. Williams was the Packers' best defensive back down the stretch. From where I sat, he appeared to get all the way back to where he was in 2010. I think the Bears told us all we need to know about Williams when they decided to target Sam Shields in the final game of the regular season.
Chris from El Dorado Hills, CA
Vic, I know you don't have a crystal ball, but the Packers offensive line next year could be a real strength with their depth at tackle, thanks to Bulaga's return. What do you see the Packers offensive line being in 2014?
If you can play tackle, you can play guard, which tells me competition will be across the board. You can never have enough big guys.
Joe Greene
I'm reading a book by Dick Schaap right now in which he tells stories about his time with celebs from the sports world and other worlds. I am a little struck by the relationships journalists can have with figures the rest of us can't have. Have you ever been in awe of one of the figures you've covered?
I have not, and the reason is that spending as much time in their company as I have has allowed me to see the real-life side to them. They have wives and children and problems, just as we do. Joe Greene is the best thing that ever happened to my career as a reporter, and it happened very early in my career. If ever there was a bigger-than-life player, Joe was it, but the regular guy in him allowed me to develop a healthy perception of professional football players. Joe loved to talk about football. He allowed me to hang out in his dorm room and talk football with him as his roommate Mel Blount slept. Joe allowed it because he liked it. Why? Because Joe was one of those rare men who was not only a football player, but was also a football fan. Joe taught me how to love the game the right way. I owe him more than I can ever repay.
We like to compare past players to today's game, but let's switch things around. What players today would have excelled during the good old days of football? I think Adrian Peterson and Ndamukong Suh would've thrived with their style of play.
They would've been even better then than they are now because they would've been more appreciated. Lots of guys in today's game could've played back then and starred, and Aaron Rodgers is one of them. He has the arm strength to have played in a seven-step passing attack and still fit the ball into a tight window against bump-and-run coverage. Today's soft-armed, throw-on-rhythm passers couldn't have played back then. There was no rhythm; bump-and-run coverage wouldn't allow it. You had to wait until the receiver got the least little bit of separation and then the ball had to be there now. Rodgers has the arm to play that game. He also has the pocket mobility to sidestep the rush and the quick release necessary to flick the ball with a rusher about to hit him … and the fearlessness to make that throw.
Just because the salary cap is driven by total revenue (which keeps increasing) does not mean low-revenue teams have to spend their entire salary cap.
Over a four-year period (2013-16), teams will be required to spend to 89 percent of the salary cap. So, a cash-strapped team can save 11 percent over that four-year period. Thank you, sir, may I have another?
Vic, I'm comparing the champion Seahawks to the 1985 Bears and I see two teams with above-average QBs, WRs and a strong run game on offense with dominating defenses who have won Super Bowls over 25 years apart. Has NFL football really changed that much?
Yeah, it has. You're using an exception to support an invalid point. Yes, this is a copycat league, but I don't think you're going to see teams trying to mimic the Seattle model, and that's because they know it's highly unlikely they can find a quarterback with a $681,085 cap hit that can win it all. The Seahawks proved it can be done, but they're not going to have created a panic within the league to do it the Seahawks' way.
What's your opinion on Finley coming back? His neurosurgeon says the fusion will heal and his agent says he'll be cleared to play.
The fusion will make the injured cervical level the strongest joint in his spine. The injured level isn't the problem. The problem is that the levels directly above and below the fused level are bearing greater stresses now and that puts them at greater risk. That's the concern. I had a C4-C5 fusion 14 years ago.
Michael from Wauwatosa, WI
Vic, how many letters do you think you will get from fans wanting the Packers to go after Will Smith, Roman Harper, Jabari Greer and Jonathan Vilma? They are all over 30 and were injured last season. What do you think?
My inbox is on fire. The fans are demanding the Packers sign players other teams don't want. You can never have enough old, hurt guys.
Vic, what's your take on curling?
It's not good, but it's better than soccer.
Eric from Hudsonville, MI
Vic, about when would you say to expect the schedules to be known?
I'm going to say mid-April, but this is a different kind of year because the draft has been pushed back to May.
Vic, what is the likelihood the Packers extend the contracts of Jordy Nelson and/or Randall Cobb?
I think it's very likely. They're core players and you want to keep your core guys. That's one of the reasons you create the kind of cap room the Packers have. Capping your team requires a long-term plan. You don't sign a guy and then say, "How much room do we have now?" The Packers have a plan. The smart thing for us to do is to try to get a read on that plan.
The Packers have a lot of (important) free agents this year. Given that Ted never overpays for a player, it looks like we might lose a lot of talent (Shields, Raji, Jones and Finley). Do you think we have enough jars on the shelf to make up for that? It seems like a lot of talent lost, especially for an already struggling defense.
You've asked the definitive question. My answer is that the apparent willingness to allow so many players to escape into free agency suggests to me this will be an offseason of significant change, especially on the defensive side of the ball. Maybe the Packers are going to be a player in free agency. If that's their plan, then they've already targeted players they believe will make it into free agency and who they believe will provide upgrades without damaging the team's cap.
Vic, you've got it wrong about the media. Who's to blame, the drug dealers or the drug users? Both, although granted, there'd be no dealers if nobody used. But the dealers and media both deliberately draw in users who wouldn't otherwise participate.
Here's what I want you to do: Don't watch TV for a week. Don't listen to the radio, don't read the newspaper or this column. Don't engage anyone in conversation about anything they saw, heard or read in the media. Don't read any books or magazines. Don't read anything on the milk carton, cereal  box, signs or instruction manuals. Hey, even the "Big Book" is media. When the week is up, let me know how it's working for you.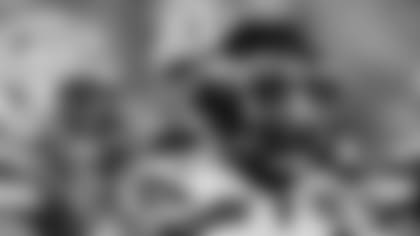 Michael Bennett
Alex from Brisbane, Queensland
This should end the discussion on home-team discounts: "There is no such thing as discount. This isn't Costco, this isn't Walmart, this is real life." – Seahawks free agent DE Michael Bennett on re-signing with the Super Bowl champs.
He was letting us know who his favorite team is, Team Bennett. As George Young once said, "It's about the money, and when they say it's not about the money, that's when it's really about the money." I'm OK with it, as long as they play for it.
Premier League soccer or Olympic ice dancing?
When we look at contracts we see dollar signs. What else is in player contracts?
The NFL standard player contract requires players to talk to the media, even during the week Al from Covina is boycotting the media.
Andrew from Jacksonville, FL
Vic, everybody is talking about Bob Costas' eyes. I'm still focused on the rug. Why does a man choose this?
Costas wears a toupee? It looked real to me when I interviewed him. Hey, what's wrong with wearing a toupee? This isn't my natural hair color, you know. I just happen to like gray.