GREEN BAY – The Packers won interim head coach Joe Philbin's debut on Sunday, knocking off the Falcons 34-20 at Lambeau Field for just their second win since the bye week.
Green Bay improved to 5-7-1 while Atlanta fell to 4-9.
For the Packers, QB Aaron Rodgers was 21-of-32 for 192 yards with two TDs for a 103.1 passer rating. WR Davante Adams (7 catches, 81 yards) and WR Randall Cobb (5-43) caught the TD tosses. RB Aaron Jones added 17 carries for 78 yards and a score, while Green Bay's defense chipped in a pick-six by CB Bashaud Breeland among two turnovers.
For the Falcons, QB Matt Ryan was 28-of-42 for 262 yards with three TDs, one INT and a 97.5 rating. WR Julio Jones had eight catches for 106 yards and two TDs, while RBs Ito Smith and Tevin Coleman combined for 105 yards on 21 rushes.
Here's a recap of all the action: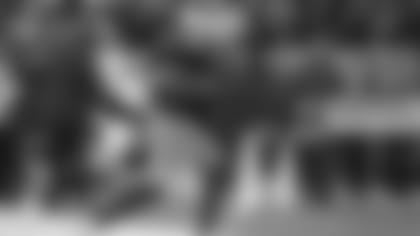 Packers, Falcons tied at 7 after one
The Falcons got the ball first and drove down the field for a touchdown, but not without some controversy. On back-to-back receptions by WR Julio Jones, covering 28 and 19 yards, Packers interim head coach Joe Philbin challenged both receptions. The Packers thought CB Jaire Alexander had dislodged the ball as Jones fell to the ground on the first one, and that Jones didn't get both feet in bounds on the second one.
But both rulings stood, taking away Philbin's challenges for the rest of the game, and four plays later Jones scored on a 16-yard reception on a crossing route, giving the Falcons the early lead.
The Packers quickly answered. QB Aaron Rodgers completed two throws to rookie WR Equanimeous St. Brown for 12 yards total to start, then hit WR Randall Cobb for 8, WR Davante Adams for 21 (on third-and-2) and rookie WR Marquez Valdes-Scantling for 14 for a first down in the red zone. Three plays later, Adams hauled in a 7-yard TD strike, and the game was tied.
Packers DL Kenny Clark exited the game on the second play of the Falcons' next drive. RB Tevin Coleman ran three straight times for 19 yards, and TE Austin Hooper caught an 11-yard pass. RB Ito Smith then ran twice for 8, and QB Matt Ryan found WR Mohamed Sanu for 8 yards to convert on third-and-2. On the next third-and-2, Ryan lost the handle on the ball as he attempted to throw, and the ball went backwards for a 16-yard loss, with Coleman recovering for the Falcons.
K Matt Bryant then came up woefully short on a 53-yard field goal attempt, the Falcons' first missed field goal of the season.
The Packers followed with a three-and-out, as a deep shot for TE Jimmy Graham on second down was broken up near the goal line. Rodgers was sacked on third down as the quarter expired.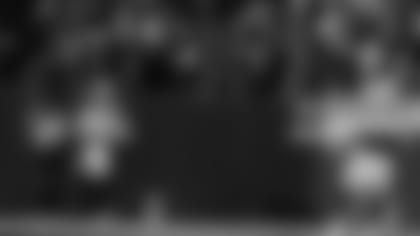 Packers take 20-7 lead into halftime
The Falcons went three-and-out to start the second quarter, as Ryan's third-down pass for rookie WR Calvin Ridley went off his hands.
An 8-yard pass to Graham and 7-yard scramble by Rodgers on third down moved the chains. A 22-yard pass to Adams got the Packers across midfield, and RB Aaron Jones converted on third-and-1 with a 2-yard run. On third-and-7 from the Atlanta 23, Rodgers was sacked by blitzing LB De'Vondre Campbell, and K Mason Crosby came on to make a 50-yard field goal and give the Packers a 10-7 lead.
Falcons WR Marvin Hall fumbled the ensuing kickoff and recovered it himself but only got to the 8-yard line. Three plays later, Packers CB Bashaud Breeland stepped in front of Hooper and picked off Ryan's pass, returning it 22 yards for the score.
It was the Packers' first pick-six since Week 5 of last season, when Damarious Randall had one at Dallas.
Smith ran three times for 26 yards to start Atlanta's next drive, but a holding penalty on G Wes Schweitzer wiped out a long pass down the sideline to Jones. Packers DL Tyler Lancaster then blew up a screen pass to Coleman, and the Falcons punted.
From their own 7 after a holding penalty on the punt return, the Packers got a 5-yard run from RB Jamaal Williams and a 15-yard personal foul on Campbell to get out to the 27. The two-minute warning came with the Packers facing third-and-6 from the 31, and Rodgers scrambled 16 yards for a first down. A defensive holding penalty was tacked on, moving the Packers across midfield.
An 8-yard pass to Adams moved the chains again, but Rodgers was sacked on first down by LB Vic Beasley with 43 seconds left in the half. Rodgers then scrambled for 21 yards, and he took a hit as he slid from Falcons CB Brian Poole that set off a mini-melee that resulted in offsetting roughing penalties on both teams.
On third-and-1 from the Atlanta 27, Rodgers was sacked for a 3-yard loss, and the Packers used their last timeout with 4 seconds left to bring on Crosby. He was good from 48 yards out, giving the Packers a 20-7 halftime lead.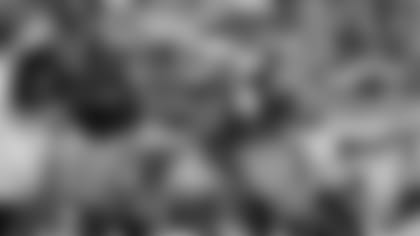 Packers lead 34-7 after three
The Packers started the second half with an 8-yard run by Jones, and 15 yards were tacked on due to a personal foul on Falcons S Demontae Kazee. A defensive holding penalty gave the Packers another first down, on the Atlanta 44, but G Justin McCray exited with an injury and was replaced by rookie Alex Light.
A pass to Jones picked up 14 yards, and McCray re-entered the game at right guard. An illegal contact penalty on the defense gave Green Bay another first down, at the Atlanta 24, and three plays later on third-and-10, Rodgers found Cobb down the left side for the score, and the Packers led, 27-7.
With that TD pass, Rodgers broke Tom Brady's record of consecutive pass attempts without an interception. The throw to Cobb was Rodgers' 359th straight without a pick.
The Falcons went three-and-out, with LB Clay Matthews sacking Ryan on third-and-2. Matthews ran a stunt on the left side with Clark, who had returned to the game from an earlier injury, and the Falcons didn't pick up Matthews as he steamrolled through the middle.
A 16-yard pass to Adams on third-and-14 and a 15-yard screen to Jones got the Packers to midfield. Jones than ripped off runs of 14 and 29 yards, the latter a touchdown to extend Green Bay's lead to 34-7.
Atlanta got one first down on a defensive penalty, but a holding call wiped out another big gain, and a deep ball for Jones was overthrown on third down.
The Packers punted, and the Falcons drove into Green Bay territory as the third quarter expired.
Packers win Philbin's debut, 34-20 over Falcons
On the first play of the fourth quarter, a third-and-1 from the Green Bay 32, Matthews stuffed Smith for a 2-yard loss, but the Falcons converted on fourth down with a short pass to Smith.
An 11-yard pass to Sanu was followed by a 12-yard pass to Jones for the touchdown, Atlanta's first points since the opening drive of the game. Bryant's PAT deflected in off the upright to make it 34-14.
An offensive pass interference penalty on Graham wiped out a third-down conversion to Adams, and the Packers punted.
The Falcons put together another strong drive, getting across midfield and then converting on third-and-6 with a 10-yard pass to Ridley. But on second-and-goal from the 8, a shotgun snap hit Sanu as he was going in motion behind the center, and Breeland recovered for the Packers with 6:44 left.
From their own 7, the Packers converted on third down with a 5-yard pass to Graham, and Jones ran twice to pick up another first down, and the Packers ran the clock down under three minutes before punting.
The Falcons drove for a touchdown, scoring on a 19-yard pass to WR Justin Hardy with 14 seconds left. Bryant's PAT was no good.
LB Antonio Morrison recovered Atlanta's onside kick.