QB Brett Favre presents his record-breaking touchdown ball to Joe Horrigan, vice president of communications and exhibits at the Pro Football Hall of Fame, on Sunday at the Metrodome in Minneapolis.


The football Brett Favre threw to Greg Jennings for his 421st and record-breaking touchdown pass last Sunday at the Metrodome in Minneapolis went on display Tuesday morning at the Pro Football Hall of Fame in Canton, Ohio.
The short version is that the ball was presented by Favre to Joe Horrigan, vice president of communications and exhibits at the Hall, on the sidelines on Sunday, went into Horrigan's bag, back to his home in Ohio, and then into a case at the Hall on Tuesday morning.
But there's a longer, much more entertaining version of the events.
"It was different," Horrigan said. "For a number of reasons."
It started with whether Horrigan was going to make it to the game on time. Scheduled to arrive at the airport in Minneapolis at 10:15 a.m. Sunday, which was cutting it close enough, Horrigan's plane circled above the city for 45 minutes due to the weather and finally landed at 11. With a pre-arranged car service waiting, Horrigan hopped in and the race was on.
"The driver just said, 'If you've got a parking pass, I'll get you there,'" Horrigan said. "All I kept telling him was, 'I hope the Packers don't win the coin toss.'"
The Packers didn't, but Horrigan did arrive on time, making his way to the sidelines around 10 minutes before the noon kickoff. Moments later, Favre's first pass of the game was a bomb to Jennings that was intercepted near the goal line (the INT was subsequently nullified by a defensive penalty), but all Horrigan kept thinking about was how close he came to missing the magic moment.
"Oh my goodness, if that had been first play of the game and they caught that for a touchdown, they would have been looking for me someplace," he said.
The record-breaker came soon enough. On the Packers' fourth play of their second possession, Favre hit Jennings on a 16-yard slant for a touchdown to break Dan Marino's all-time record for TD passes.
After Favre celebrated with his teammates and coaches, he gave his wife Deanna a hug in the first row behind the bench and then immediately sat down to get back to work, studying snapshots of various plays. That's when Favre apparently was oblivious to the congratulatory message from Marino being played on the stadium's video board, and he was then given the ball and told to give it to Horrigan.
"It was my opportunity to say thank you to him, and basically I thanked him on behalf of the Pro Football Hall of Fame and football fans everywhere for all he has done, and allowing us the opportunity to share with his fans, through the use of the ball, his accomplishments," Horrigan said. "He just smiled and said, 'Thank you.'
"During the game, he was hyper-focused on playing. That's to be expected."
Then, to Horrigan's surprise, he was asked to do a brief halftime interview with FOX sideline reporter Dawn Mitchell, and she cracked a joke about him walking through the airport with the ball without any security detail.
As it turned out, by the time Horrigan got to the airport after the game, the storms during the day had delayed dozens of flights by hours. Many people temporarily stranded at the airport had watched the game, seen the halftime interview, and recognized him when he got there.
"All of a sudden I've got all these people coming up to me saying, 'Hey is the ball in your bag? I'd like to see the ball.' It was not a well-kept secret," Horrigan said.
"It was interesting, and a lot of fun. There were a lot of Packer fans in the airport, and I was only too happy to make their already bright day a little brighter."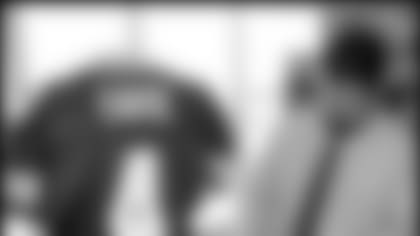 Because of the weather delays, Horrigan didn't make it back to his home in Ohio until around 1:30 a.m., and he was back at the airport less than four hours later for a 6 a.m. flight to New York for some meetings.
So the ball stayed at his house for a day, and he was finally able to bring it to the Hall of Fame Tuesday morning, where a prepared case was waiting for it.
"Fans have been coming through the front door saying, 'Where is it?'" Horrigan said. "It's been a great response because Brett is one of those few athletes who I think really has the respect of all football fans. How could you not? That reflects positively on him as he does with the sport."
The job to collect footballs for display isn't Horrigan's alone, and in fact being present to get one, as in Favre's case, is rare.
"We collect a lot of milestone memorabilia, but you rarely know it's going to happen," Horrigan said. "Over the last two seasons we have collected mementos from three 108-yard returns for touchdowns, but in no case did we know that was going to happen, so we work with the player and team to have it shipped to us.
Horrigan has been on hand for a few other milestones. He recalled trailing the Buffalo Bills during their Super Bowl years when former Packers receiver James Lofton was reaching certain marks, and he was present to collect the ball when Detroit return specialist Mel Gray set a yardage record.
"For me personally, this one rates at the top," Horrigan said. "Not only was it a significant milestone in the sense of the record that was being broken, but it was breaking a Hall of Famer's record, and it's from a guy who is the epitome of team play and personal accomplishments, which are the perfect complements to one another."
Horrigan said the Hall will continue working with the Packers for other mementos and artifacts from Favre's career for the current display. After the game, Favre joked about putting the ball up for bid on eBay, but said after a couple of years he'd probably get the ball back to keep.
There's also a chance Horrigan could be back at another Packers game this season, should Favre continue to approach Marino's all-time record for passing yardage. Favre needs 2,657 yards to get the mark, or an average of 221 yards per game over the season's final 12 contests.
"If ever you want a record to fall into somebody's hands, Brett is the kind of guy you know is going to be a class guy," Horrigan said. "He's going to represent the sport well and his team well, and hopefully the Hall of Fame represents him well."