*As part of the Green Bay Packers' celebration of the 10th anniversary season of the Super Bowl XXXI Championship, Packers.com is running a series of stories about the people responsible for bringing the Vince Lombardi trophy back home to Titletown.
Thirty-six tackles, one sack and one forced fumble.
Defensive tackle Gilbert Brown's statistics from the 1996 season won't wow anyone, but that's because his blue-collar role -- while important -- lacked glamour. The 345-pounder used his massive girth to occupy blockers and clog up the run for a defensive unit that allowed only 88.5 rushing yards per game.
"I was like the cleanup guy," Brown said. "In between the tackles, there ain't nobody better. They can try to double-team me, triple me. They can't move me."
Brown became an immovable force on a star-studded defensive line, which featured Santana Dotson, Reggie White and Sean Jones. Brown, a four-year veteran and the youngest starter on the line, relished playing alongside his mentors.
"When you have two great ends like Reggie and Sean closing down the outside and you have Santana in the middle helping me out, it's just a joy to be out there playing with those guys," Brown said.
Brown is accustomed to absorbing the knowledge of his elders to hone his craft. Since the age of nine, he worked on the pit crew of his father's drag racing team. He learned how to repair, race and maintain cars from his father, a Detroit auto shop assembly line worker. Brown plans to capitalize on that expertise in his new role as director of new business development and minority investor in the Milwaukee Mile.
"I've always been fond of racing," Brown said. "We want to bring the love of racing back to Milwaukee."
Brown, 35, pursues group sales, sponsorship and hospitality opportunities for the country's longest continuous-running racetrack, and the only track to feature NASCAR, Champ Car and Indy Racing League events. He also goes to public places, boosting interest in auto racing among the younger set while emphasizing positive messages like staying in school. The run stuffer wants to communicate that auto racing could serve as a way for students to better their lives just as football did for him.
Already actively involved in the Gilbert Brown Foundation, such civic initiatives became a natural fit for Brown. The foundation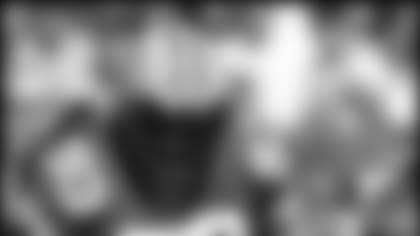 uses Brown's fame to gather money for organizations like the Make-A-Wish foundation. Brown also visits schools and hosts football camps, urging kids to respect their parents, teachers and the law.
"Our young people need the help," Brown said.
Between his community service and auto racing obligations, Brown has seemingly carved out a nice post-football career. But Brown is not ready to hang up his famously dark-visored helmet quite yet. Brown, who last played in the NFL in 2003, wants to play two or three more years. He declined to name the specific teams but said four NFL clubs contacted him for tryouts last year. Brown remains open to playing anywhere in the NFL but would prefer suiting up in Packers' green and gold.
"If they gave me a dollar, I'd go back out there and play. If they have a problem giving me a dollar, just give me an I.O.U, and I'll go out there," Brown said. "I would love to come back to Green Bay and play again."
Brown said he works out regularly and weighs between 345 and 350 pounds and could drop as low 335.
"My body feels great," he said.
Brown knows the Packers have a young and talented defensive interior with players like Kenny Peterson, Colin Cole, Cullen Jenkins and Corey Williams. But few could blame him for wanting to return to the team where he played 10 years and developed lasting memories, including 1996's Super Bowl win.
"Green Bay is my love," he said. "Green Bay is my passion. I grew up as a man there."
If he does latch on with an NFL team, Brown wants to bring his career full-circle. After being on the receiving end of veteran knowledge during that magical year in 1996, he will be the one offering tips to younger players.
"It's also a plus for a guy like myself," Brown said, "to have the opportunity to teach a young guy because Reggie and Sean did that for me."