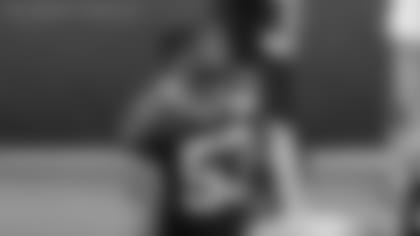 OLB Nick Perry
The regular writer of "Ask Vic," packers.com Editor Vic Ketchman, is taking some time off. Staff Writer Mike Spofford is temporarily filling in to answer your "Ask Vic" questions.
Justin from West Chase, FL
Mike, you don't seem like the khakis kind of man. Would I be safe to assume you are a jeans guy?
Khakis, jeans, corduroys, I'm not too fussy. But my shorts better have cargo pockets.
How do you compare the value of a new player vs. a year in a system? I believe it's the second-year players that make a difference in a team.
Mike McCarthy has said that many times. It's imperative for a draft-and-develop team for that to be the case, and the Packers have a long list of second-year players who could have varying degrees of impact this season – Nick Perry, Jerron McMillian, Casey Hayward, Dezman Moses, Terrell Manning, Jarrett Boykin, Greg Van Roten, Don Barclay and Mike Daniels, plus (if healthy) Jerel Worthy and Sean Richardson. Vic and I have both stated one of the biggest keys on defense this year will be Perry, whose development is tough to gauge because he only played six games as a rookie. Patrick from Sandston, VA, asked about Perry's coverage in the passing game, and I saw opposing offenses shift into specific sets to put him in coverage and attack him that way early last year. That's the toughest part about the transition to outside linebacker from his college position of defensive end, and I think Perry will be much better equipped to handle that duty in his second season. I'll also be interested to see if the Packers use Brad Jones more in coverage against tight ends so Perry won't have to drop as much.
Hey, Mike! I was really impressed with what I saw in limited action from Mike Neal and Mike Daniels last season. They looked like a disruptive pair with good quickness. They're my surprise players for next season. Who would your surprise player be and why? Thanks!
This may be way out of left field, but I'm going to say Andrew Quarless. I think he could really be a factor this year in the running and passing games at tight end. I hesitate to talk about how good a player looked in the spring, without pads, but Quarless did look good and appeared to benefit from not trying to rush back from his injury last year. Dustin from Muncie, IN, asked about "X" factors on both sides of the ball, and if an "X" factor isn't the same as a surprise player, then on offense I'll go with center Evan Dietrich-Smith. He has received praise from his quarterback for how he makes the pre-snap calls and adjustments for the line, he's a strong run blocker who will be key to the inside ground game, and he's playing for his next contract. On defense, I already talked about Perry, and previously I've discussed Morgan Burnett, who could flourish with a solid, consistent, reliable partner alongside him. I'll throw out one more "X" factor – Sam Shields. He bounced back from a so-so second season to play very well last year when healthy, and he's in the same contract situation as Dietrich-Smith.
I was wondering what the Packers' longest streak of division titles has been in the modern era? Could you tell me which team has the longest streak?
Since the advent of the Central Division in 1967 (which became the NFC North in 2002), the Packers have won the division three straight times on two different occasions (1995-97 and 2002-04). Green Bay can match that streak by winning the division again in 2013. As for the league record, I believe the longest streak of division titles is seven, held by four different teams – the Indianapolis Colts, Pittsburgh Steelers, L.A. Rams and San Francisco 49ers.
Mike, I agree with the choices about the toughest games to swallow that you chose. But are you forgetting probably the most controversial and talked-about game in which everyone agrees the Packers were robbed. Of course I'm talking about the "Fail Mary" game in Seattle last season. I still haven't gotten over that game. Never will either.
First, please get over it. I have stated many times on this site that I believe the Packers were still going to be 3-3 after six games either way. Second, just to clarify, I took the reader's question about snatching defeat from the jaws of victory to mean the loss was due to a team's own meltdown, not the result of something as random as replacement officials.
Mike, I keep hearing it referred to as the "Fail Mary." Personally, I like the "Inaccurate Reception." My question: How many names are currently on the ring of honor around Lambeau Field?
I don't think a moniker change is going to help Eric. The answer is currently 22 – the 21 individuals in the Pro Football Hall of Fame, plus Ron Wolf. New Hall of Fame inductee Dave Robinson will be the next name to go up. Richard from Farmington Hills, MI, asked about Bob Harlan, for his role in the 1990s resurrection and later the stadium renovation. I can't tell you if that'll ever happen; it's a decision way above my pay grade. The plaza in front of the Atrium with the Lambeau and Lombardi statues is named after Harlan. That's not bad.
Mark from Stewartville, MN
Mike, what did you think about Brett Favre's comments that Aaron Rodgers would shatter Favre's passing records?
Another subject many have inquired about, and I've resisted answering because I don't want to start a firestorm, but here goes: I think it was a gracious thing for Favre to say, and Rodgers already has several team records. But if we're talking about some of the career franchise marks like passing yards and touchdowns, it's not the given Favre makes it out to be. Favre was Green Bay's starting quarterback for 16 seasons to Rodgers' five so far. Rodgers may not need to play 11 more years to break those career marks, but he has to roughly triple his passing yardage, and he has to double his TD passes plus throw 100 more after that. There's simply no way to know at this point if Rodgers will play long enough to do it. Let's let him get through his second five years as a starter and see where everything stands.
Chris from Coquitlam, British Columbia
"Can't believe I overlooked that. My bad." This is the difference between you and Vic. He would just make a sarcastic remark and never admit he was wrong. Good on you. Matthews-Datone Jones-Neal-Perry is pass rush situations?
Easy on Vic, now. If you look hard enough, you might find a tinge of admission or guilt in his sarcasm (emphasis on might). That's one combination or package Dom Capers might think about on third downs, sure.
Looking at the NFL Top 100 list, I can't help but feel that our receivers got snubbed. In years past, we have had at least one, sometimes two of our receivers on the list. This year, none, despite Jones being the TD leader in the league and Cobb setting the record for all-purpose yards. What do you think?
I think everybody who wrote in about this, and there were many, need to let it go. I know it's the "dead zone" and you feel compelled to worry about something, but don't expend the energy here. Cobb's yardage set a franchise record, not a league one, and he didn't rank in the league's top 10 in either receiving yards, punt-return average or kickoff-return average. Yes, Jones led the NFL in TDs, but his 64 catches and 784 yards ranked 34th and 44th, respectively. I'm not trying to knock anybody, but the statistics don't support a Top 100 selection in a league that – with 22 starters on each of 32 teams – has a pool of roughly 700 players to choose from in compiling this list.
Scott from Norton Shores, MI
Mike, do you think the streak of regular-season games without a 100-yard rusher will come to an end this year? If yes, which back do you think is most likely to finally put an end to it? Also, McCarthy has shown in the past that he likes to go with the hot running back. Do you think we will see more of a running-back-by-committee approach this year, or will McCarthy continue to feed the ball to the guy with the hot hand? Thanks.
I think the streak, which dates back to Week 5 of 2010, has a good chance to end this year. I think the Packers need to end it so everyone quits talking about it. With the competition at running back and the professed commitment to improve the run, any back that makes the final roster will have a shot to do it. I think all the backs that make the team will get their opportunities, in the committee sort of way, but if one gets the hot hand, McCarthy will feed him plenty. He's all about rhythm on offense and if one back finds that rhythm, he'll stick with him.
Do you know how the NFL scheduling works? The Packers need to play the Broncos or Patriots within the next few years so I can see Aaron Rodgers go head-to-head with Manning and Brady. If tied at the end of the third, who'd pull off the win? That'd be such a great game!
In the scheduling formula, each year an NFC division is paired with an AFC division, with all teams in those divisions playing one another, and the pairings rotate annually through all four divisions. So, every AFC team appears on the Packers' schedule once every four years. The NFC North was matched with the AFC East in 2010, so the Patriots will be on the schedule again in 2014, with that game at Lambeau Field because the 2010 game was at New England. The AFC West was on the schedule in 2011, so the Broncos will return to Green Bay's schedule in 2015, and that game will be in Denver because the Broncos came to Lambeau last time.
Chris from Hagerstown, MD
Mike, I usually agree with Vic, but I don't agree with his views on the Super Bowl being played in New York. That's something I can't wait to see and hope they keep doing. What are your thoughts?
I don't want to see a blizzard that paralyzes the city and the event, but it would be really cool to see some snow falling during a Super Bowl. At the very least, I'm looking forward to seeing the players' breath escape through their facemasks. It's a risk, but a welcome change of pace in my book.
Leonardo from Las Vegas, NV
Mike, if memory serves right, you and Vic did a point/counterpoint column in 2011 where you discussed whether a division winner should automatically make the playoffs or if the teams with the best records should go, regardless of division standings. You argued in favor of the latter point. I'm wondering if you were playing devil's advocate or if you really feel that team records should take priority over division standings. Personally, I think it's a shame that a 10- or 11-win team would miss the playoffs because an 8-8 (or heaven forbid, a 7-9) team won a weak division. Thoughts?
I didn't argue exactly what you described (the post in question is right here, written immediately after the 2011 regular season ended). I argued that division winners deserve a playoff spot, but that the seeding should be done by record, thereby removing a division champ's guarantee of a home playoff game. I wasn't playing devil's advocate, though I don't think the current format is horribly unjust. I just wouldn't mind seeing the adjustment to the structure. I can't think of a past example off the top of my head, but what I don't like is the possibility of a 12-4 team making the playoffs as a wild card, with a win over a 10-6 division champion on its ledger, but then having to travel to the 10-6 team's stadium for a postseason meeting. It doesn't feel right.
Louis from Land O'Lakes, WI
Hey Mike, could you give us a little more info on the role of the "scout teams" and their members? Are they guys from the practice squad, or are they second- and third-string players?
A combination of all of the above, depending on the health of the roster any given day. Some players are given a different-colored fake jersey with a number on it to represent a specific star player on the other team, such as the top receiver or pass rusher, for example. When the scout team huddles up, a coach usually stands in the middle and holds up a paper or "card" with the diagram of a certain offensive play or defensive look, and the scout team's job is to execute that against the Packers' first units. It's pretty standard stuff. I suspect most scout-team operations are similar.
Dave from Dunedin, New Zealand
Vic/Mike, could you please explain the role of a slot receiver and how it is different from a wide receiver? Does he simply play it tough up the guts like a receiving tight end, but smaller/nimbler? Who of the Packers wide receivers will play this role this year?
The role isn't much different other than where he lines up, which gives him a different read on the defense. He has to pay more attention to the lanes the linebackers might be filling than an outside receiver does, and adjust routes accordingly. Generally speaking, the slot guy is also the receiver closest to the quarterback, so he's the most likely to be the "hot" receiver against the blitz. The Packers use their tight ends in the slot often, and all of their receivers can play there. Randall Cobb will probably line up there the most now that Greg Jennings is gone, but the Packers train all their receivers to play all the positions, so it could be anyone on a given play.
Hi, Mike. I had read in one of your previous ''Ask Mike's" that baseball is your first love when it comes to sports. I am a former college baseball player and was just wondering what your take is on the "mental toughness" difference between baseball and football? In my opinion, there isn't a more mentally frustrating game than baseball and maybe golf. Thanks Mike, keep up the good work.
I don't know if the mental toughness required is any greater or less, but I agree about the frustration part of baseball (golf is obvious … I played that sport competitively in high school and college, too, back in the day). In baseball, one team can hit the ball on the nose all day right at defenders, while the other team can have a bunch of bleeders and bloopers go for base hits. Worse yet, a hot smash can turn into a double play, while a Texas Leaguer with the bases loaded can drive in two runs. The team that plays the game the best, from a pure skills standpoint, doesn't always win, and even though an odd-shaped ball can bounce funny ways on a gridiron, I think that's rarely the case in football. But that's why, at the pro level, they play 10 times as many baseball games, so those quirks, in theory, eventually even out.
Mike, now that you're using all of Vic's lines, you gotta add in, "Just win, baby!"
C'mon, that was Al Davis' line long before it was Vic's. If I start using it, that would just make me a third-generation parrot, or something like that. Seinfeld would have a clever name for it.