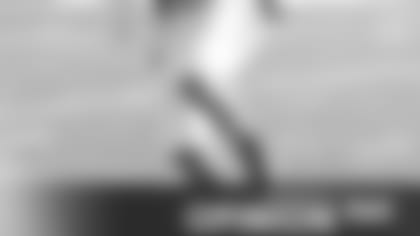 Northern Illinois S Jimmie Ward
Ryan from Platteville, WI
I love the talent on our defense, and I suspect Ted Thompson will add some more through the draft. I think this will be the year the Packers defense goes from mediocre to respectable, at the least. Your thoughts?
That's the plan, and the plan also includes a return to health of lot of players that missed much of last season due to injury. The Packers played the majority of last season without their best pass rusher and leading interceptor from the previous season. How do you overcome the cumulative effect of having lost those players?
Vic, I'm no scout or pro analyst, but I watched the highlight reel nfl.com put up of Ha Ha Clinton-Dix and it had to have been the worst highlight reel I've ever seen. I didn't see him make one play.
Clinton-Dix is a good football player. Is he a savior type of player? I don't know about that; I think that might be an unfair expectation. What we've done since last season ended is to have obsessed so intensely about Clinton-Dix and Calvin Pryor that we've lost perspective on each of those players and what's available at the safety position. Now we're doing it to Jimmie Ward. These are all good players, but can any of us say we've studied each of these players as intensely as we've obsessed about them merely because they play a position we've targeted as needing to be addressed? I haven't. I've relied on Tony Pauline to provide perspective; he studies prospects intensely. Tony grades Clinton-Dix and Pryor as bottom-of-the-first-round type of guys, and says Ward is "solid, not great, but no mental mistakes." I would want the Packers to draft any of these three guys, but what's most important is that they draft them where they fit. What I'm getting from fans is that they want the Packers to draft one of these guys at all costs. I am completely opposed to that thinking.
Vic, I was surprised last draft when the Packers did not draft a safety. Do you think Micah Hyde was drafted to play safety in his first year and then injuries to the cornerback position forced him to play cornerback?
I think he was drafted with the idea he could also play safety, which he did in college, but then Hyde played so well at cornerback in training camp and in the preseason that it made no sense to move him.
How much of an impact do you think Jarrett Boykin will have this upcoming season?
He's in position to make an impact; the rest is up to him. Consider where Boykin was at this time two years ago. He was cut as an undrafted tryout player in the Jaguars' rookie camp, and then signed for a tryout in the Packers' rookie camp, where Boykin made a big enough impact to earn a place on the Packers' 90-man roster for training camp. He's made the most of every opportunity and he'll now have a chance to become the Packers' No. 3 wide receiver. His is a great story.
Who is your favorite prospect to play OLB besides the obvious in Mack, Clowney and Barr?
I like Kyle Van Noy and Jeremiah Attaochu.
David from Risdon Park, South Australia
Vic, you said "I don't care what your need is, you don't build a winner by drafting players that are less talented than the players your competition is drafting." But isn't that exactly what we do every time we trade back in the draft?
No. We don't know what the Packers' board looks like. They could be trading back for a guy they have ranked higher than the pick from which they're trading back. It's called working the draft. You don't pick a guy higher than you have to pick him. If you believe you can move back a few spots and still get him, then do it. You add value and you save cap space. Is it possible the Packers did that with Jordy Nelson? We don't know where they had him on their board. There is no uniboard. Mel Kiper's board isn't every team's board. There are huge differences in teams' opinions of players. I sense that you want one board and for the draft to be a science. You're looking for truth but you're not going to find it because the draft is all about stealth. We don't know what the truth is because teams aren't going to tell us. It's the mystery of the draft and it's what makes it so interesting.
When I was a student taking tests, I learned to go with my first instinct. If I took too long thinking about problems, I over-analyzed, made it more complicated than it was and talked myself into wrong answers. With the draft coming late this year, is there a risk GMs and scouts will over-think their opinions and be more likely to make picks they later regret?
Yes. I think the pro days are dangerous. I think they can change opinions on players. This is going on too long. The teams that will draft the best will be the teams that maintained discipline of opinion through this delay.
Balaji from Riverbank, CA
I was reading Tom Coughlin's "Earn the Right to Win" book and he says everyone on the Giants team hated him, especially Michael Strahan. I don't know him in person and just by looking at him on sideline on TV he is not a cheery person. How come he wins two Super Bowls with that personality? He went on to say he is an improved person than he was in Jacksonville. Can you tell the difference?
No, I can't tell the difference. He's the same great coach now that he was in Jacksonville. The reason the Giants didn't like him is because they had settled into a comfortable rut and they knew Coughlin was going to drive them out of that rut with a harsh regimen. He won two Super Bowls because football isn't a cheery sport. It's an edge sport and Coughlin took a team that was sorely in need of an edge and gave it one. Frankly, I don't think his teams have been all that talented. He took a quarterback with a serious chuck-and-duck problem and made him one of the best crunch-time performers in Super Bowl history. In Jacksonville, he drove an expansion franchise to the AFC title game twice in the franchise's first five years of existence. If Coughlin isn't elected to the Hall of Fame, then some other guys have to leave it.
It appears Terrelle Pryor will be cut by the Raiders on Monday. Could he be the guy (at the right price, of course) the Packers might be looking for in a backup QB? His passing skills are limited, but his mobility could be such a change of pace from Rodgers that he could be effective in a limited role.
The Packers have a backup quarterback, Matt Flynn, but Pryor can play another role for teams willing to think imaginatively. Pryor is one of the finest athletes I have ever seen. He'll never be a ball distributor. Pryor is a big-play guy. He's someone that can be used in a slash role for which every team you face will have to spend a portion of practice preparing. His mere presence on the field introduces an element of fear and hesitation. If I was a quarterback guru, as Mike McCarthy is, Pryor is a guy with whom I'd like to spend some time.
Christopher from Los Angeles, CA
Vic, I'm all for trading down if that could get us an extra pick or two. I also would love to see us pick a superstar center at 21. I have taken a bit of good-natured flak for that opinion. Isn't center an easier position to evaluate, as far as transitioning to the NFL, than the so-called skill positions?
I've long considered center to be one of the safe positions to draft; center, guard, tight end, safety and backup quarterback. They're safe because you can usually find a good one a little lower in the order than you can find players at the premium positions.
Josh from Salt Lake City, UT
Vic, do you really think there is such a thing as a can't-miss prospect?
I learned at a very tender age that there is no such thing as a can't-miss prospect. Bob Ferguson and Scott Appleton were can't-miss prospects. They missed.
Vic, are there any potential starting rookie centers the Packers could take with one of their top four picks? How many tackles have the ability to move to center?
Weston Richburg and Marcus Martin are widely considered to be the top two centers in the draft. Most draftniks regard Richburg and Martin as second-round picks, but that doesn't mean teams rank those two players the same way. Richburg also played some left tackle at Colorado State; what's that tell you? Martin is the bigger of the two. Both prospects are accomplished at walling off in a zone-blocking scheme.
Do you think Aaron Donald will fall far enough for the Packers to get him at 21?
He's projected to be gone by then, but I'm not so sure. I still think teams will struggle with Donald's lack of size and it could make him fall. I don't believe he would be a good fit in the Packers' 3-4. That's my opinion. I believe scheme should be considered when grading a player. In my opinion, you should grade prospects according to specific criteria and that criteria is determined by what you're going to ask them to do. That's why I don't favor changing schemes every year. I think it's important to have a profile for what you want in a player and to stay within that profile. If he's a tweener type that would translate to another position, fine, but I don't think Donald's that kind of player. I think he's a penetrate-and-disrupt, three-technique tackle, and in my opinion he needs to be used that way for his talents to be fully utilized. Again, that's just my opinion.
Patrick from Milwaukee, WI
People often say teams that win the Super Bowl and have a bad season the next year were subject to other teams playing harder because it was against the Super Bowl champs. I believe it was more of a salary cap issue and win-now mindset more than anything else. Do you disagree?
In my opinion, football is played best by desperate men. It's a game of insecurity. You want your players to be hungry. The best soldier is a hungry soldier, right? You want your players to sense some job insecurity; it's what makes them hungry. Winning the Super Bowl and sometimes merely getting to the Super Bowl can have a satisfying effect that lasts into the next season. By the time desperation returns, it's too late.
Vic, is halfback really a position anymore? You said Kuhn would be a halfback back in the day but he is listed as a fullback, and I don't see teams listing halfback anymore, instead saying running back. Can you set me straight?
The halfback in split backs is a fullback in current vernacular, just as the old fullback in split backs is now the running back. Again, don't think in terms of terminology, think in terms of function, and that goes for this new "Elephant" position. What does he do?
Pedro from Recife, Brazil
Vic, if football did not exist, would you still be a sports writer? And what sport would you likely cover?
I probably wouldn't be a sports writer, and I can't imagine what else I'd be. I was lucky. It's just that simple. I came along at a time when there was opportunity for someone like me. I found out years later that Pete Rozelle gave a directive to the league's PR directors. Rozelle is to have told his PR guys that to be the most read pro sports league, football needed the most read sports writers, but they belonged to baseball. Rozelle then directed his PR guys to identify the next generation of sports writers and make them football writers. I was favored by a man who helped me in my career. We all need a little help.
Adam from Offaly, Ireland
I heard the Ravens and 49ers are going to practice and scrimmage together. What do they expect to achieve from this?
They'll practice against new competition. If a cornerback is playing against the same wide receivers every day in training camp, he begins to know them and the routes they run so well that he's covering them more with his brain than with his legs. I think it's a big advantage to be able to evaluate personnel based on game conditions, which is what a combined practice or scrimmage allows. They also double the number of players involved in a practice, which means fewer repetitions and fresher legs. I like combined practices. I think you can learn more in a combined practice than you can in a preseason game. Give me two combined practices and two preseason games and let's start the season.
The Lions are 30-to-1 to win the Super Bowl. It seems like they should be around 12-to-1. What do you think?
Yeah, 30-to-1 seems high. It's critically important that we get this right.
Who is the funniest player you have ever covered?
Dwight White. He had a wonderful sense of humor and he wasn't afraid to express it. I remember the team boarding the plane following a late-season loss in Buffalo. They were fading late in the year and Dwight said loudly, "This ship is beginning to take water. Everybody start bailing." Everyone on the plane burst into laughter. Nobody reported what he had said. Today, if media heard a player say that after a game, it would be tweeted to the masses within seconds of the remarks having been made, and the fan base would be outraged at an attempt at humor following a defeat. Social media and our ridiculous overreaction to it have robbed us of some fun.