*
*The Acme Packers pose for a team photo, 1921.

John from Weatherford, Texas
In your articles, you write about the Indian Packing Company. Yet the Pro Shop featured Acme Packing gear. How did we get from Indian to Acme?
The Indian Packing Company, a booming wartime industry, sponsored the Packers in 1919 and 1920, the first two seasons of their existence as a semipro team. On Aug. 11, 1919, when the Packers held their first meeting, Curly Lambeau was working for Indian Packing as a receiving clerk, based on his marriage license dated four days later. Indian Packing, an offspring of several companies, had filed Articles of Incorporation with the Register of Deeds in Brown County on Nov. 14, 1916, and also with the State of Wisconsin. Less than a year later, the United States entered World War I and Indian Packing entered into lucrative contracts to provide canned foods to our troops. By early 1919, Frank Peck, president of Indian Packing, told the Green Bay Rotary Club the company would pay out more than $500,000 in wages that year, or more than $7 million in today's money. In July 1919, Indian Packing filed articles of incorporation in the State of Delaware.
Meanwhile, the Packers practiced immediately west of the plant on a large vacant field that extended back from Morrow Street during their first two seasons. At the end of the 1919 season, they also had their first-ever team picture taken in front of the plant's garage, which has since been torn down.
In 1920, C.M. "Neil" Murphy, a local typewriter salesman, took over as business manager of the Packers and was listed as manager of the Football Department on an Indian Packing Corporation letterhead. The Packers also wore their first-ever logo on their jerseys that season, a "Council" emblem, which was the brand name of Indian Packing's products.
On Dec. 22, 1920, a little more than three weeks after the Packers' second season ended, the Green Bay Press-Gazette reported the Acme Packing Co. of Chicago had purchased Indian Packing. The next day, the Press-Gazette revealed that most of Indian Packing's executives and managers would be replaced. On Dec. 25, 1920, The Wall Street Journal reported Acme Packing had declared a 325% stock dividend following an increase in authorized capitalization from $700,000 to $12 million.
Final details of the consolidation of the two companies were completed in January 1921. John M. Clair, who had been secretary of Indian Packing, was named vice president of the new company. On March 1, 1921, Acme announced it was moving its main office from Chicago to Green Bay.
On Aug. 27, 1921, at a meeting of the American Professional Football Association, the minutes state, "Motion made, seconded and carried that Acme Packers of Green Bay, Wisconsin, be admitted to membership." J. Emmett Clair, John's younger brother, represented the Packers at the meeting. Less than a year later, the APFA would change its name to the NFL.
The Packers switched their practice site to the old courthouse grounds in downtown Green Bay and then to Hagemeister Park before playing four non-league games, starting on Sept. 25. On Oct. 23, 1921, the Packers played their first APFA game and beat the Minneapolis Marines, 7-6.
Eight days later, "The Dope Sheet: Official Program and Publication, Acme-Packers Football Team," ran an "Editorial Note" and the first two paragraphs read as follows.
"The Acme Packing Company does not own nor financially back the Packer team. The team is owned and managed and is financially backed by Messrs. J. Emmett and John Clair of the Acme Packing Corp.
"The Acme Packing Company equipped the team and started it out with uniforms bearing their names but the interest in the team aside from this is none other than that of a progressive Green Bay plant wishing to see a Green Bay team clean up the country."
Deeper into the story, it noted, "… the Clair brothers at the offset of the season agreed to be financially responsible and the younger Mr. Clair assumed the active management of the club…"
Before the editorial note was published on Oct. 31, 1921, Thomas Gibbs arrived in Green Bay as a representative of New York and Chicago banks that had a financial interest in Acme Packing. On Dec. 5, 1921, Acme entered into an agreement that allowed its creditors and bondholders to have a say in running the company. At that point, Acme was $3.68 million in debt, or more than $50 million in today's money.
Early in 1922, with the Packers' future hanging in the balance after using three Notre Dame players under assumed names, the Clairs were back living in Chicago and the Press-Gazette expressed concern that J. Emmett would retain title to the franchise and start his own team in Chicago. Eventually, however, he surrendered his rights and the private, short-lived Green Bay Football Club with Lambeau as president was admitted to the league for the 1922 season.
A year later, John Clair admitted during a talk to a gathering of Green Bay businessmen that no cows were ever slaughtered at either the Indian or Acme plant, and that partly explained its demise.
All that said, the NFL franchise was originally granted in the name of the Acme Packers and that was the name on at least some of the jerseys in the Packers' first league season.
I would be interested in your perspective on quarterback Lynn Dickey. I remember distinctly going to a number of games at Lambeau, and he just lit up some opponents with some truly great throws. In my opinion, he could stand toe-to-toe with Brett and ARod. Unfortunately, he was on some really bad teams and took a lot of punishment. What say you, oh wise one? Could he have hung with our greats with a better supporting cast?
Strictly, as a passer, I agree that Lynn Dickey was in the same class as Favre and Rodgers. In 1982, I wrote in a column for the Press-Gazette, "If the NFL was touch football, he'd be a superstar." Dickey had it all: Arm strength, touch, accuracy on the long ball, accuracy throwing short. He also was a good leader, football smart and tough.
His glaring shortcoming was his lack of mobility and that's why he wasn't a superstar like Favre and Rodgers. Favre might have been the best in NFL history at turning busted plays into big plays. Rodgers might be the best ever at throwing under control on the move. Plus, both had the ability to move the chains by running the ball. Take those qualities away from Favre and Rodgers, and they might not be in the conversation about greatest QBs ever.
Would Dickey have been better with a better team? He played with James Lofton, one of the greatest receivers ever. He played with some talented running backs. He played behind a solid offensive line, which was unfairly criticized at times because Dickey was so easy to sack. And, yes, the 1983 defense was dreadful. But, in most other years, Dickey played with a defense that finished around the middle pack in yardage allowed.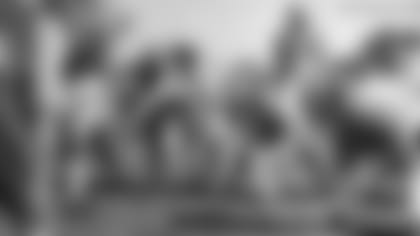 Coach Lisle Blackbourn offers instruction at practice to center Ray Paxton and QB Charlie Brackins. July 25, 1955.
Who was better/worse? Gene Ronzani or Lisle Blackbourn? Records were similar. Neither was as inept as Scooter, but neither sunk the ship like Devine. Blackbourn seems to get some credit for drafting many of the players who would shine under Lombardi, but shouldn't that credit go to Jack Vainisi?
I'd take Blackbourn. He was a lifelong football coach. He was credited with a 140-30-6 record in 22 seasons at Milwaukee Washington. At the time that was one of the best high school records in the history of the state in a Milwaukee City Conference that during those years, 1925 to 1946, produced countless big-time college football players. Blackbourn won at Marquette University! In four seasons there before taking the Packers' job, he was 18-17-4.
He had an eye for talent. Two days into training camp in 1956, Blackbourn singled out Bart Starr as a better-than-expected prospect and continued to praise him over the next two seasons. And Starr, by the way, appreciated that forever. In 1971, he sent a telegram to Blackbourn on his 50th wedding anniversary telling him, "The patience you showed a struggling youngster many years ago has never been forgotten." When Blackbourn's coaching career was over, Vince Lombardi hired him to scout for the Packers' combine.
Blackbourn gave Vainisi his due for the Packers' successful drafts in the 1950s and I certainly don't mean to minimize Vainisi's role in those drafts, but let's not rewrite history, either. When I was a young sportswriter the old scribes who had covered the Packers in the 1950s gave Blackbourn as much credit for those drafts as Vainisi. Longtime Milwaukee Journal writer Bob Wolf wrote a column in 1979 about the Packers' 1958 draft haul of Dan Currie, Jim Taylor, Ray Nitschke and Jerry Kramer, and concluded, "…the man behind it, Lisle "Liz" Blackbourn has never received enough credit."
What I believe hurt Blackbourn was that he was 54 years old when the Packers hired him and had no experience in the NFL. As a result, players from that period said he might have been a fundamentally sound coach, but he didn't know enough about the intricacies of the pro passing game or how to relate to pro players.
Plus, he probably was too strict and too candid.
During his second season, Blackbourn told the Milwaukee Sentinel's Bud Lea, one of the best reporters and beat writers ever to cover the Packers, that only eight of his 33 players could make a championship team. Blackbourn named quarterback Tobin Rote; backs Veryl Switzer and Howie Ferguson; ends Billy Howton and Gary Knafelc; linebackers Roger Zatkoff and Deral Teteak; and safety Bobby Dillon. The Packers improved to 6-6 that year and were only a game out of first place in late November, but from what players on that 1955 team have told me, some never forgave Blackbourn for divulging those thoughts.
Ronzani played eight years with the Bears and served three years as an assistant under George Halas, but his only head coaching experience was with Bears farm teams in Newark and Akron.
Based on what some of his players have told me he was kind of a jokester and cut-up, not much of a disciplinarian, not very well organized and someone who wouldn't even look his players in the eye when he was addressing them in a meeting or talking to them one-on-one.
He didn't give the players a playbook because he apparently thought it would end up in Halas' hands. In fact, Jack Cloud, a fullback who later coached 32 years at Navy, once told me, "He didn't want you to write the plays down on paper. He thought maybe you were stealing his plays." Ronzani skipped practice once during training camp in Grand Rapids, Minn., to go fishing. He'd talk to sportswriters during practice. Despite being in his 40s, he'd jump in and practice with the players, both Wally Dreyer and Leon Manley told me. During film sessions, Ronzani would just watch and offer neither praise nor criticism of his players. "He used to have foot races after practice," former defensive back Val Joe Walker told me. "Whoever won the foot race got to go in his office and drink a beer."
No matter how strange that all sounds, more players have told me they liked Ronzani than not. When the Packers lost four of their first five games in 1953 and his job was in jeopardy, they rallied to upset the Colts in Baltimore and carried Ronzani off the field on their shoulders when the game ended. Ronzani also did some innovative things, including using a spread offense in the early 1950s.
But I'll take gruff and disagreeable over eccentric and popular here.
Can you help me with some history about Lee Joannes? I am one of Lee's great, great grandsons. I'm writing the Packers and asking that something be named after him.
We are posting new bios of the Packers Hall of Famers under the History link on our website and we're starting with the contributors. So you'll find Lee's new bio there.
Also, if you're interested in receiving notifications when future bios are posted, like the Packers Hall of Fame Facebook page.
Finally, there is a conference room in the Atrium offices named after Lee.