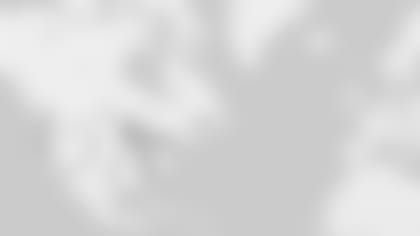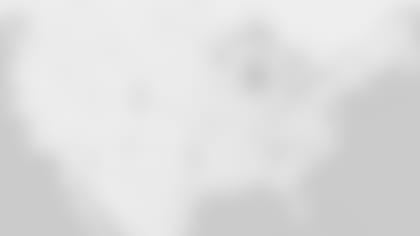 Vic, experts say the way Aaron throws in the NFL is different than when he was at Cal, in regards to the mechanics of the whole process. The way he holds the ball is much different, but what exactly about his release is different?
It's not that his release is different, it's that he has a greater variety of throws and they require different throwing motions; the ball is still coming out of the hand the same way. He's not as mechanical now as he was at Cal, especially as it pertains to holding the ball high with both hands. He had a high left arm, which is what would be taught at the grass roots level. The problem with a high left arm is that it can telegraph a quarterback's throw; defensive backs will read the arm. Aaron Rodgers is no longer at the grass roots level. He has as much natural ability to throw the ball as any quarterback I've ever seen. He can long-stroke or soft-stroke a pass, as he did on Thursday when he attempted to drop the ball into a rain bucket down the sideline to Jordy Nelson, or he can throw a quick, short-stroke pass. It always gives me a chuckle when Rodgers throws that kind of pass to James Starks; it startles him. Rodgers has a large throwing radius, and that gives him the ability to adjust to the rush and the throwing lanes it presents. I also see a Brett Favre-type of throw in Rodgers that I have to believe he acquired from his time playing with Favre. I'm talking about that flat-footed, all-arm flip for which Favre was famous. Sound mechanics are critically important to a quarterback's development, but when a quarterback is as naturally talented and fundamentally grounded as Rodgers is, you don't want to limit his creativity by making him play like a novice.
Vic, game ball for special teams? Masthay's punting was fantastic! Give him a ball, please.
You're absolutely right. I was thinking in terms of kick coverage and nobody jumped out at me, and Tim Masthay is the reason for that. His punts were so high, so long and so perfectly placed that he made it easy for his coverage guys. Masthay was masterful on Thursday night.
How unique are the Packers in their use of power and zone-blocking concepts in the run game? How much more preparation and film work is needed to prepare for two blocking schemes? Is it part of the idea of being more multiple?
It's common for teams to use multiple blocking schemes. You have to be able to use drive-blocking schemes in short yardage and goal line, for example. Eddie Lacy's big run off left tackle early in the game was a power play. He hit a pre-designated hole and it was huge. On a touchdown run in the second half, the play started left and ended with Lacy cutting back to his right. It was a cutback run in a zone scheme. The Packers got the Vikings defenders running hard laterally, which is the basic principle of the stretch play. You want to make the defenders over-run the play, which allows the back to cut back behind the pursuit. I think it's important for offensive lines to also be able to pull and trap a little. This isn't the pull and trap era, but a little bit here and there makes defensive linemen aware of the need to stay home, instead of chasing the flow. When you can do a lot of things, you make your opponents play their position, not your tendencies.
With Jamari Lattimore making big plays the last couple of weeks, would you think he's got that spot locked up when Brad Jones gets healthy?
It appears he's won the job, but nothing is ever locked up.
At one point, with Minnesota backed up near its own end zone, Phil Simms said the Vikings needed to call a "guaranteed play" to get the drive going and kick-start the offense. It seems strange to me the Vikings coaches weren't using the guaranteed-plays scheme.
He was referring to a go-to play. Every team has go-to plays. They're bread-and-butter plays a team uses when it needs to make a play, but you don't want to over-use them because you need them to be fresh for the key moments in a game. Simms was saying the Vikings had reached a key moment in the game.
David from Maineville, OH
Vic, what do you think about the challenges facing the Packers when looking at their remaining schedule?
Let's look at the next three games. The Packers will be playing in a hot, steamy climate in Miami; it'll be a big challenge. Carolina has a new-age quarterback that adds meaning to defending the perimeter. The Saints have been a tough opponent for the Packers during the Drew Brees years, and this time the game will be played in New Orleans.
Vic, in the 2000 season, the Packers went down to Miami and led 17-0 at half, only to lose 28-20. In 2003, the Packers went down to Arizona in Week 3 and melted down to a bad Cardinals team. This game in the heat concerns me coming up against the Dolphins. You've opened my eyes to what the heat can do to northern teams.
The Jags used portable awnings to help deal with the early-season heat in Jacksonville, and the players believed they were very beneficial. It's a rules violation to construct a fixed awning along the sideline, but it's not a rules violation to have an awning held over your players' heads. You do whatever you can do to beat the heat, which I believe begins with getting out of the sun as much as possible.
It sounds like for Letroy Guion the game was more than just business. How can that be? I thought they were all business men.
Rejection can be a powerful motivator.
Brandon from Fort Wayne, IN
I'm not sure if anyone mentioned this in your article, but I am very impressed by Morgan Burnett's play so far.
A lot of readers have noticed Burnett's play. This past summer, a lot of readers were asking me about the possibility of Ha Ha being teamed with Micah Hyde. Burnett got a lot of blame for the play at safety last season.
So is it safe to say Byrd was not the word this season?
Can we remember that next March?
As for time of possession, I don't care. All I want is for the Packers to lead the league in fourth-quarter rushing attempts.
That's time of possession and it'll matter in Miami.
Thaddeus from Chattanooga, TN
The Packers had five three-and-outs and went four for 11 on third down. That won't cut it against a quality opponent.
I'm not going to worry about that. You've got it covered.
Vic, I'm a bit confused by the rules. It looked to me Lacy lowered his head and led with the helmet going into the collision that resulted in the final TD of the night. If I am right, and I'm not sure I am, why can a running back do that and not get penalized?
I thought the long run early was the better example. Why wasn't it called? Because it's a bad rule and it shouldn't be called.
I worked in the newspaper industry for almost 39 years and the last pages to press were almost always sports pages, with local sports emphasized. It takes a special person to work nights, weekends and holidays, while still trying to maintain any semblance of family life at the same time.
I can remember those Friday nights in the fall; everybody batting out high school football stories and the guys in the press room walking into the sports department and trying to make us go faster. The printing press has been replaced by the Internet, but not much else has changed. If you're going to be a sports writer, you must remember that others' leisure time is your work time.