GREEN BAY – Tee Martin couldn't see the tears, but he sure felt them. The cracking voice of his son, Amari Rodgers, over the phone was all Martin needed to know something was wrong – really wrong.
It had just been confirmed the non-contact injury Rodgers suffered during a spring practice at Clemson was indeed a torn anterior cruciate ligament. Knee surgery would be required and Amari's junior season likely was over before it started. At least, that's what the headlines would read in the coming days.
Football is life to Amari. As a teenager, whenever Rodgers flew to visit his father in Los Angeles, he wasn't asking to visit Disneyland or Hollywood. He'd much rather go to the nearest park and throw the ball with his father, who was an assistant coach at USC from 2012-19.
This time, however, Martin was the one flying cross-country to be there for his son, who grew up in Knoxville, Tenn., with his twin sister, A'aydra, and their mother, LaKenya Dennard. Martin expected emotions to be high the night before surgery. Instead, he walked into something entirely different.
"When I got in town … he's looking at me and saying, 'I'm not going to miss a game,'" said Martin, now the receivers coach for the Baltimore Ravens. "I'm like, 'What?' I mean, he totally flipped a script. He mentally told himself that, 'I am not going to miss a game.'"
That was an ambitious goal under even the most accelerated of recovery timelines. Just 157 days separated the day Rodgers tore his ACL (March 25, 2019) and the Tigers' opener against Georgia Tech (Aug. 29).
But the kid wouldn't be denied. Not after getting his first taste of a national championship two months earlier. Not after freshman sensation Trevor Lawrence led the Tigers in a 44-16 rout of arch-rival Alabama on the grandest stage of college football.
As fate would have it, Clemson's capper to its perfect 15-0 season came almost 20 years to the day Martin quarterbacked Tennessee to finishing its own undefeated championship campaign with a 23-16 win over Florida State in the Fiesta Bowl on Jan. 7, 1999.
Now, Rodgers wanted more and he wasn't afraid to work for it. So, predictably, there were no days off during his five-month rehab. Once he was cleared, Rodgers was in the training room twice, sometimes three times a day, working to regain strength in his surgically reconstructed knee.
And by August, Rodgers was back on the sidelines with his teammates. While his number wasn't called against Georgia Tech in the opener (mainly for precautionary reasons), Rodgers returned to the starting lineup the following week against No. 12 Texas A&M.
Who is Amari Rodgers? He's a take-no-prisoners, 5-foot-9, 212-pound dynamo who graduated from Clemson as one of the most beloved Tigers players in the Dabo Swinney era. He's a quiet, confident force willing to go to any lengths to win.
It's that kind of determination that drove the Packers to trade up in the third round in the 2021 NFL Draft to select Rodgers. It's also an attitude his father and the coaches at Clemson feel will lead to a long and prosperous NFL career.
"He's treated himself like a pro in every sense of the word," Clemson receivers coach Tyler Grisham said of Rodgers. "He practices better than anybody we've had come through. I know he had the ACL, which was a freak thing … but he's so durable and he can go all day.
"He's like a Mack truck, man. You can't stop him."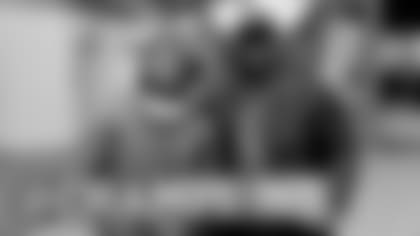 After his playing career ended in 2005, Martin began embarking on a career in coaching around the same time Rodgers was playing little-league football.
While teaching in Atlanta, Martin made a trip up to Knoxville to watch Amari play and A'aydra cheerlead. Amari shined in the game, shaking off several defenders, while dad watched on.
"He made a couple moves on the field and I said, 'That's pretty natural. That was nice. He had a good feel,'" Martin said. "As he started coming to my place and staying with us and visiting, I started getting a little bit more into football (with him) to see if he had a love for it. Every time, he wanted more. He wanted to talk more. He wanted to do more drills. He wanted to ask more questions about football."
Martin received his big break in coaching in 2010 when Joker Phillips tabbed him to be Kentucky's new receivers coach. In the process, Martin would inherit the team's biggest playmaker: All-SEC receiver Randall Cobb.
Rodgers, now in middle school, took an immediate liking to Cobb. Both were explosive offensive weapons who hailed from Tennessee and played beyond their size. Even after Cobb was drafted in the second round by the Packers in 2011, he's continued to relay advice to Rodgers over the years.
Martin and Rodgers often would watch Cobb's film from his days at Kentucky and Green Bay. Prior to the draft, Martin suggested Rodgers dive back into the tape. His son's reply? He never stopped.
"He's like a big brother to me," said Rodgers of Cobb shortly after the draft. "My whole middle school career, my whole high school career, he's always been in my corner giving me tips on the game and stuff like that."
True to form, Cobb was one of the first to reach out to Rodgers on draft night after he was selected by the Packers.
Martin coached two seasons at Kentucky before accepting a job coaching USC's receivers in 2012. A four-start recruit out of Knoxville Catholic High School, Rodgers initially was slated to play for the Trojans before eventually choosing Clemson over a bevy of offers – including one from Tennessee.
It was a serendipitous arrangement, as Clemson associate head coach Dan Brooks, who helped recruit Rodgers, was also a member of Phillip Fulmer's coaching staff throughout Martin's four years at Tennessee.
Once Rodgers stepped foot on Clemson's campus, Martin knew his place. He was the parent, not the coach. If Amari needed advice, dad was a phone call away. Beyond that, Martin and the rest of Rodgers' family unit trusted the Tigers coaches to develop the young receiver's talent.
"They're really close and they stayed in touch a lot," said Grisham, a former Clemson receiver himself who was promoted from offensive analyst to receivers coach in 2020.
"I know, too, sometimes he'd go and he'd train, whenever he had time, with his dad. I'm a collaborative guy and I like to have the guys give their input."
The Tigers turned out to be a great fit for Rodgers, who played as a true freshman in 2017. The following year, Rodgers gained 901 all-purpose yards as a slot receiver and Clemson's primary punt returner (7.7 yards per return, one touchdown).
As much as Rodgers aided the Tigers' undefeated season, his dedication to returning as soon as possible from a knee injury that should've sidelined him for all of 2019 was a boundless source of inspiration to Clemson.
He was eventually honored with the Brandon Streeter Award, presented to the Clemson student-athlete across all sports who overcomes injury to excel on the field.
"He has an endearing personality and people gravitate toward him," Grisham said. "He's such a gentle spirit. He's got a great soul to him. He's got depth to him. He's more than just a football player. He's very wise, very intelligent. He's soft-spoken but his words carry weight."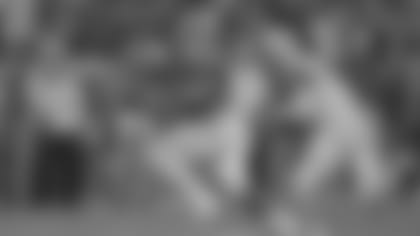 After years spent shadowing the likes of Tee Higgins, Hunter Renfrow and Justyn Ross, Rodgers was thrust into the spotlight as a senior. That role was cemented after Ross was lost for the 2020 season due to a neck injury.
Rodgers took that responsibility at the front of the Tigers' receivers room seriously. He returned to Clemson as soon as players were allowed and looked to reassert himself after a challenging 2019 campaign in which he wasn't truly himself.
"His junior year, he played but he wasn't healthy," Grisham said. "He had that ACL he came back from and it caused him to play at a level that was not 100% naturally. So, I sat him down and I showed him some plays. I wanted him to look at, 'Hey, let's look at these plays right here. Let's talk about them. Let's talk about how we can improve in this area and that area.'"
Grisham already knew Rodgers was "sneaky fast." He just needed for him to start "flying around again." Part 1 was ditching the knee brace. Part 2 was not worrying about the knee anymore.
Once that happened, the results spoke for themselves. Rodgers played both outside and in the slot as a senior, leading the Tigers with 77 catches for 1,020 yards and seven touchdowns.
Responding to recent trends, Clemson incorporated more jet-sweep motions, reversals and push passes into the offense this year. Rodgers, a former high school running back, was the perfect candidate for the job.
Once in space, Rodgers was a nightmare for Atlantic Coast Conference defenders to get their hands on. According to Pro Football Focus, Rodgers' 634 yards after catch were second in the country to only Heisman Trophy winner DeVonta Smith's 962.
"I think the preparation and opportunity met," said Martin of Rodgers' breakout season. "To show that he can play outside, inside and really be a primary receiver for that team, really showed how much they trusted his growth and his ability to be prepared to do multiple things."
The buildup to the draft was special for both father and son. After a one-year return to his alma mater, Martin was hired for his first NFL coaching position with the Ravens.
In January, Martin was able to watch his son participate in the Senior Bowl, a short distance from where he grew up in Mobile, Ala. While Rodgers spent the draft with his mother, stepfather and sister in North Carolina, Martin anxiously waited in Baltimore for the news of where his son would be drafted.
He'd been texting with his son all night. But as the third round got underway, things started to get a little quiet. That was until Ravens head coach John Harbaugh sent Martin a text that read: "Congratulations. Green Bay Packers."
Shortly thereafter, Amari sent the text confirming he'd landed in Green Bay, a location he called "a dream scenario" in an interview with former NFL receiver Brandon Marshall a few weeks prior to the draft.
"When it's your son, it goes a little deeper because I know what he's been through. I know what kind of work he's put in," Martin said. "To be drafted, to me, it's like the recognition of your effort and now you get an opportunity to be hired to do a job on a professional level. Now, you get a chance to go and prove yourself."
Both Martin and Grisham agree everything Rodgers has done in his short 21 years has built to this moment. He may not be the tallest receiver in the game but he's certainly not the smallest.
What allowed him to succeed at college football's highest level were his toughness and ability to catch the ball naturally with his hands – not his body, as many shorter receivers are wont to do.
He timed at 4.51 in the 40 at Clemson's pro day, but Grisham is adamant Rodgers is "a 4.4-guy all day." Beyond numbers, his elusiveness makes it difficult for defenders to hit him square, leading to his history of success after the catch.
Rodgers' versatility and willingness to contribute on special teams (he already has his hand raised to return punts at the next level) are two prevailing reasons Grisham feels his pupil is "going to play for a long time in the league."
"He just maintained his level of work ethic and accountability and commitment, and didn't do anything different than what he's always done, and it paid off," Grisham said.
"He fits right in there. … He's going to fit well into that culture and into that city. He probably won't wear sleeves in the snow. He's kind of one of those guys – just a tough, hard-nosed, gritty player."
Martin will get to see his son up close again next season, as the Packers are scheduled to play in Baltimore as part of their four-year rotation against the AFC North.
While Martin would've loved for Amari to land in Baltimore, the Packers were a good consolation. Green Bay was kind to Cobb, and Martin prays for similar success for his son.
"The fact Amari gets to go to the organization Randall played for, it's just really special," Martin said. "I've never had a chance to go to Green Bay to see Randall play because I was coaching, but now I get a chance to experience that atmosphere for myself with my son being there."
The last advice Martin gave his son after the draft was simple: Make sure you get your hands on the Packers' playbook as soon as he possible. Rest assured, Rodgers already has.
"I'm here to help the team win," Rodgers told packers.com this past week. "I've won at the highest level in my life at every point and I don't plan on stopping now. The Packers are the perfect situation, the perfect organization to go in and do that. I'm just ready to work."
No different than what Rodgers has done his entire life.