'Through the Lens' will appear once per week during the offseason. Packers team photographer Evan Siegle takes us inside his favorite shots from the 2016 season.
Sometimes you just get lucky. That's pretty much what happened here with this image of Randall Cobb. As the team photographer I always shoot a captains' photo before each coin toss. For this game, a Thursday night NFC North battle against the Bears, the captains' photo happened before the playing of the national anthem, which was no big deal. Knowing that, I decided to stay put at the 50-yard line instead of roaming around looking for feature photos.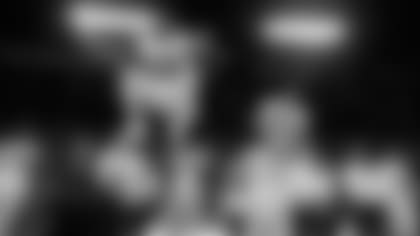 I figured I'd grab a photo of Randall Cobb and Jeff Janis as they stood during the anthem and then I'd go out to document the coin toss. Just before the anthem was over I decided to shoot a few frames from ground level with a 24mm lens. As soon as it ended Cobb leaped into the air, giving me an unexpected moment. It ended up being a nice visual and something different.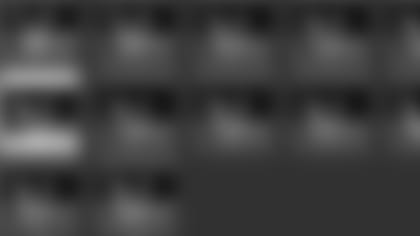 Nothing beats covering the team at legendary Lambeau Field, but I do enjoy the challenges and settings at other venues. Before each game I visualize what opportunities I might want to incorporate into my pictures. I was excited to photograph the team at AT&T Stadium because of the path the team has to walk to get to the field. I like how the stars are juxtaposed with the players and all the different reflections.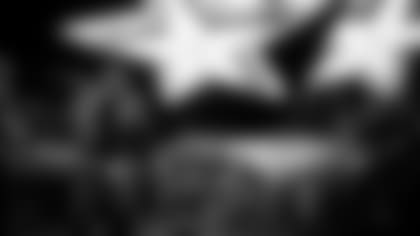 Being a good sports photographer involves preparation, timing, luck and anticipation. To me, anticipation is everything. EVERY game I hope to capture that diving catch, crushing hit or big-time play. I always try and put myself in the right positions, but I know that the field is pretty big and sometimes that action doesn't always go my way. But sometimes you come away with an image that just looks cool, like this shot of Ty Montgomery as two Detroit Lions defenders try to bring him down. I like how both players are horizontal to the ground. It ended up being a nice action image. For this shot I was using a Canon 1DX Mark II with a 400mm 2.8 lens.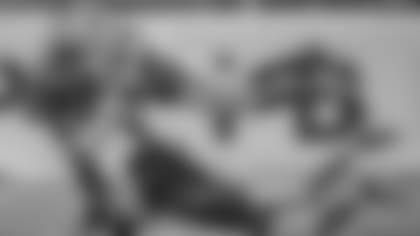 Team Photographer Evan Siegle shares some of his favorite images of the 2016 season.