'Through the Lens' will appear once per week during the offseason. Packers team photographer Evan Siegle deconstructs some of his favorite images from the 2017 season. Each week will offer a new photo gallery of some of his best photos from the past season.
---
I think we all anticipate the first game of the year… but we also look forward to, "What will Aaron Rodgers wear to this year's Welcome Back Packers luncheon?" My first year with the team, Aaron sported a stellar mustache and cowboy outfit, which I thought was tough to beat. This time Aaron Rodgers and Brett Hundley pulled off the "Men in Black" look. Call them Agent K and Agent J! I think they pulled it off beautifully. I was able to capture this behind-the-scenes image as the quarterbacks waited for the event to start. The two definitely looked the part as they stepped out from behind the curtain. This image was shot with an 50mm lens (ISO = 1000, Aperture = f2, Shutter = 1/800th)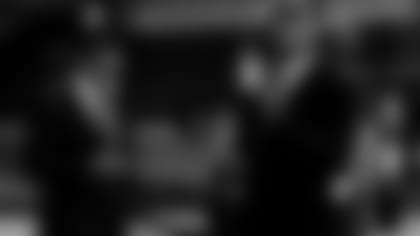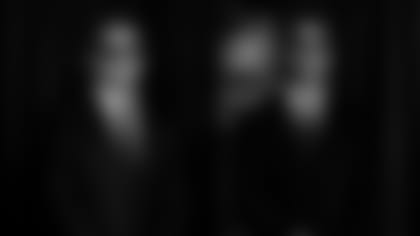 ---
I always dread the last home game of each season. There's nothing like photographing the team at historic Lambeau Field. After every game I try to photograph the players as they walk off the field. I make numerous images of players giving high-fives to fans as they reach over the wall. Sometimes a youngster will get a pair of game-worn gloves or a wristband. The interaction is priceless. After the last home game this past season I saw Packers safety Ha Ha Clinton-Dix make his way toward the fans. He jogged around the entire football field thanking them. Pretty much every fan that stood in the first row, along the yellow fence, received a handshake or high-five from No. 21. A simple thank you left so many smiles.
This image was shot with a 35mm lens (ISO = 1600, Aperture = f2, Shutter = 1/2000th)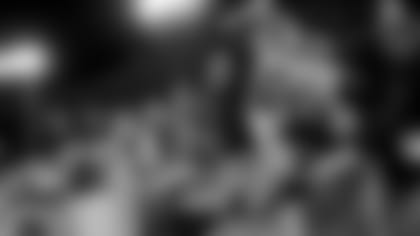 Sometimes it's the little things or the small details that make a photo so much better. This past training camp I was documenting Rodgers as he visited with a youngster after the last day of practice. Practice was over but Aaron took time to visit with a boy who was wearing one of his jerseys. They threw the ball around, talked a bit and then Aaron signed his jersey and a football. I stayed a little longer as they told stories, and then I noticed Aaron autographed the boy's jersey with the saying, "Jacob – Dream Big!" That short phrase made the photo. No faces, just the inspirational phrase and No. 12. It's all in the details. This image was shot with a 85mm lens (ISO = 100, Aperture = f2, Shutter = 1/2000th)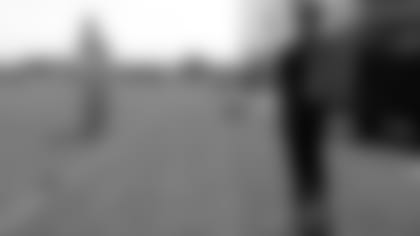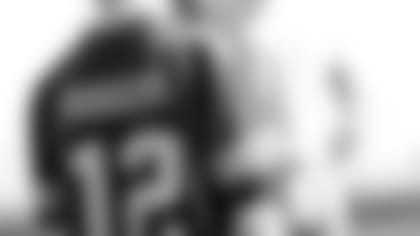 Team Photographer Evan Siegle shares some of his favorite images of the 2017 season.