'Through the Lens' will appear once per week during the offseason. Packers team photographer Evan Siegle deconstructs some of his favorite images from the 2017 season. Each week will offer a new photo gallery of some of his best photos from the past season.
I love documenting personality. This past season a few new faces were added to that mix, like rookie running back Jamaal Williams and cornerback Lenzy Pipkins with their dancing moves. Several games Pipkins danced around, or should I say leaped around, before the players united during warm-ups. The high-energy dancing made for some smiles and jump-started the team. It also made for some great images. This image was shot with a 35mm lens (ISO = 2500, Aperture = f2, Shutter = 1/4000th)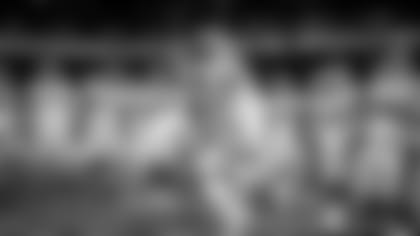 Aaron Rodgers' championship-belt celebration is always fun to document, on and off the field. On the field it's become popularized by No. 12 after scoring a touchdown…the challenge is trying to get a nice angle when he does it. It's also became very popular among the fans. During Week 10 in Chicago I found myself taking another image of the belt move, but this time Rodgers was holding the pose along with three members of the military. I'm glad I saw this moment unfold because it was pretty cool to see and document. This image was shot with an 35mm lens (ISO = 200, Aperture = f2, Shutter = 1/640th)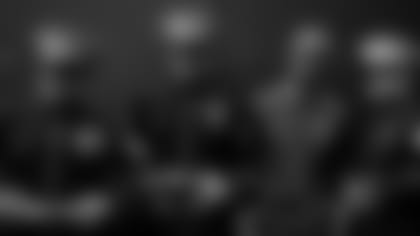 This series usually focuses on photos that I really like or want to showcase, but this image I have mixed feelings about – call it an "almost photo." The sequence, shown in the contact sheet, of Nick Perry tripping up Bears' quarterback Mitch Trubisky made for some great images, but my field positon didn't do me any justice. Covering a game can be tough because you can't always be in the perfect spot every single time. It's a gamble on where to position yourself on the field and a lot of luck plays into what goes your way. In a perfect world, I would've liked to have seen both of their faces, but I do like how the grass is kicking up and Perry is not giving up to make the sack. This image was shot with a 400mm lens (ISO = 1000, Aperture = f2.8, Shutter = 1/2500th)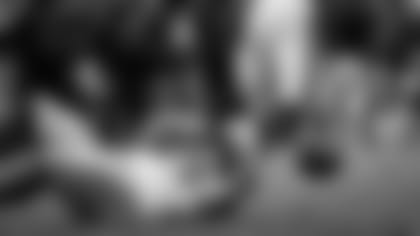 Team Photographer Evan Siegle shares some of his favorite images of the 2017 season.