"Through the Lens" will appear once per week during the offseason. Packers team photographer Evan Siegle takes us inside his favorite shots from the 2016 season.
Don't bet against the cheese!
My first official, non-preseason, football game of the season was the College Classic between the Wisconsin Badgers and the LSU Tigers. I must say it was weird photographing a sea of red, white, purple and yellow at Lambeau Field in early September. My job that day was to document the event for historical purposes, but I treated it like any other game that I'd cover.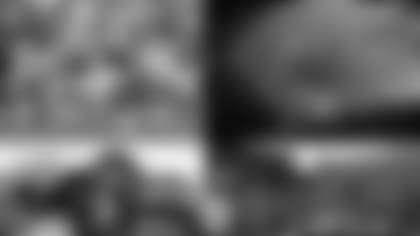 My Saturday morning started off early because I was told that Aaron Rodgers would be making a special appearance on ESPN's College GameDay. I was lucky enough to get a shooting position on the stage for Rodgers' appearance. I can still see the crowd chanting "M-V-P! M-V-P!" as Rodgers walked to the stage. The best part was when the panel picked which team would win. Rodgers was the only one to pick the Badgers to win the game. ESPN analyst Lee Corso threw on a Tigers' mascot head with a cheesehead on top as he picked against the Badgers. Rodgers gave him a thumbs down and then grabbed the cheese wedge out of his mouth. It was a funny moment amongst a college-like atmosphere. This photo was taken with a 135mm lens (ISO 400, aperture = f2.2, shutter = 1/3200th),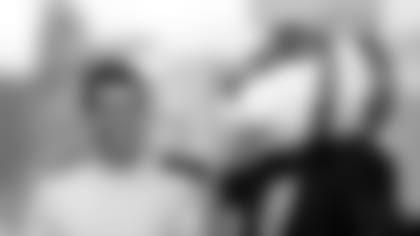 Sometimes you're only able to capture a bland/non-exciting touchdown photo, the ones that lack action or emotion. But sometimes you get something that's a little different from the rest. That's kind of what happened during the NFC Divisional playoff game in Dallas. I made a series of nice frames of Davante Adams as he tip-toed along the sidelines while trying to score a touchdown on a reception.
He ended up falling out of bounds while reaching for the pylon. I think we were both hoping for the side judge to signal for a touchdown but it never happened. It still ended up being a cool photo but it was "so close" to being an awesome photo. Check out my contact sheet of the entire sequence of the play. This image was shot with a 135mm lens (ISO 2500, aperture = f2, shutter = 1/2500th)
That six-game winning streak to end the regular season was a lot of fun to document, and to make things better, Aaron Rodgers continued his stellar play into the playoffs, too. He threw four touchdown passes in the Packers' victory over the New York Giants during the NFC Wild Card game at Lambeau Field. Knowing that game was the last time the Packers would play on the frozen tundra, I made sure to look for images of the players acknowledging the fans. But I think the best moment came as Rodgers walked off the field. The image shows Rodgers being surrounded by the media frenzy because everyone wants "the" picture of Rodgers after the game. The crowd was chanting "M-V-P! M-V-P!" Rodgers simply just raised his hands in appreciation. This image was shot with a 135mm lens (ISO 2000, aperture = f2, shutter = 1/2000th)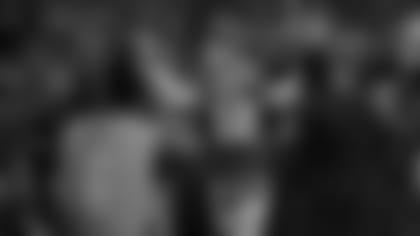 Team Photographer Evan Siegle shares some of his favorite images of the 2016 season