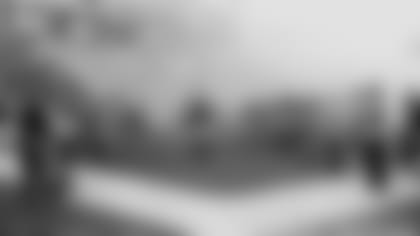 'Through the Lens' will appear once per week during the offseason. Packers team photographer Evan Siegle deconstructs some of his favorite images from the 2017 season. Each week will offer a new photo gallery of some of his best photos from the past season.
I'm a big fan of using a shallow depth-of-field in my photography. One of the main reasons why is because I love the bokeh (known as the out-of-focus parts of an image) that it creates. I deliberately shoot this technique for those creative regions. My favorite camera/lens combination is a Canon 1DX Mark II and the 85mm (1.2) lens. I use this combo a lot because it's the perfect focal length for my feature photography. This image of Morgan Burnett, during Week 13 against the Tampa Bay Buccaneers, is a perfect example to show that colorful swirly bokeh. Obviously the bokeh varies with the aperture you are using, but with my access I have the ability to get close to the players. This is a simple portrait of Burnett but I think the bokeh (from the fans in the bleachers) and shallow depth of field really makes it stand out. This image was shot with an 85mm lens (ISO = 100, Aperture = f1.2, Shutter = 1/2500th)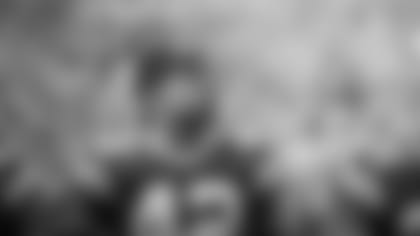 I have a routine for home games and one of those tasks is photographing the players inside the tunnel during introductions. I try and keep it simple because time goes fast, I don't want to be indecisive or getting caught juggling cameras. I usually stick with two cameras sporting a 35mm and an 85mm. Photographing the players inside the tunnel is great because you have dramatic lighting and intensity but it limits yourself to just one shooting spot and composition. Knowing that Jordy Nelson was the last player to be introduced I tried to shoot on the fly, with the hopes of having images of Nelson inside the tunnel & running onto the field. The challenge was exposure because I was leaving a dark setting and going into a brighter environment. At first, I thought my attempt was a failure but the overexposure grew on me, especially in a monochrome tone, which gives the image an old-school look.  Image was shot with a 35mm lens (ISO = 1600, Aperture = f2.8, Shutter = 1/600th)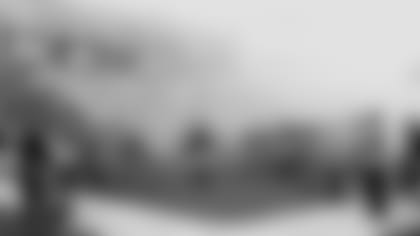 I try and carry a camera with me at all times because you never know what you might see or want to photograph. This image of Lambeau Field was shot during opening night of the 2017 NFL Draft. During some downtime I peeked out to see what the football field looked like. I really liked the glow from the suites and the nighttime sky. It was pretty dark but I knew a long exposure would be pretty cool. This photo was taken with a three-second exposure. Knowing that I couldn't hand hold a three-second exposure I placed the camera on the bleachers and used my lens shade (unattached) to hold the angle and to keep it from shaking. I think the clouds & the reflections in the metal bleachers gave the image great texture and feel. This image was shot with a 24mm lens (ISO = 400, Aperture = f2.8, Shutter = 3 sec.)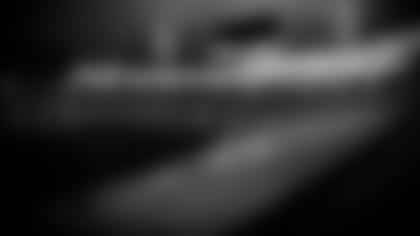 Team Photographer Evan Siegle shares some of his favorite images of the 2017 season.