I was born and raised in northern Wisconsin and now reside in western Washington, which brings me to my question. I heard on the news that only people in Washington State were able to purchase tickets for the Seahawks and 49ers game. I'm sure you've heard about this but I don't understand how they can only allow people from one state to buy the tickets. This just seems wrong to me and I don't understand how that is possible.
The tickets belong to the team and they reserve the right to sell them to whomever they choose. When Art Modell owned the Browns, I can remember that he refused to sell remaining tickets to radio stations looking to capitalize on the goodwill publicity lifting the blackout would generate.
I looked at the cap number Alex Smith had with the 49ers when he first signed through 2012; it was significant. Yet, at least three of the defensive stars the 49ers have were acquired via free agency during this time. Just saying, it can be done; not to make an effort in free agency seems like not using all tools available.
Did you look at the rest of the 49ers' cap during that period? During the consecutive 4-12, 7-9, 5-11, 7-9, 8-8, 6-10 years the 49ers were assembling the team that is now playing in the NFC title game for the third consecutive year, they had cap room. These players didn't all come at one time. Now, they're on the verge of not having cap room, and the whistle will soon begin to blow. Dashon Goldson is one of their first losses. You can't outrun the cap. It's gonna catch you. All you can do is get off the tracks.
Kevin from Louisville, KY
I just wanted to say I followed you over from Jacksonville when you made the move. I'm a Colts fan and I visit this site every weekday for my dose of "Ask Vic." I think I visit my own team's site once a month.
We all belong to the fraternity of football.
So why doesn't Ted Thompson play the free-agency game the way Bill Belichick plays it?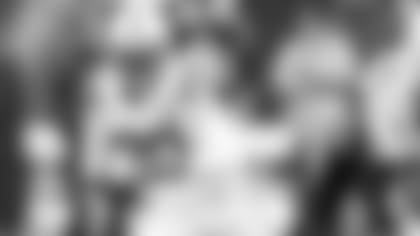 Colts DB Darius Butler
Thompson is seeking a more lasting fix. He's not a patch-and-patch-again GM. He's a draft-and-develop GM. I believe in it firmly. Belichick has had some bad drafts. He's missed on a lot of guys. He could've drafted Clay Matthews but traded the pick to the Packers and then used the pick he got from the Packers to select Darius Butler, whom the Patriots cut two years later and is now playing for the Colts. Belichick is very good at patching. Thompson's forte is for being committed and patient with his draft picks, and we saw the high side of that this past season with the emergence of James Starks. Belichick and Thompson have had one thing in common: They've spent a lot of time at the bottom of the draft order. When that happens, you better either be good at patching in street free agency, cheap free agency and trading, or remain patient and committed to the development of the players you've selected. A blend of both is best. Every team has to do some patching. Matt Flynn was a patch this past season.
Dan from Chippewa Falls, WI
A federal judge threw out the $765 million settlement between the league and former players. What do you think it will mean for the game, league players and fans moving forward after this thing is all said and done?
Dan, I'm a sportswriter. This is way over my head. The judge is ruling on what will likely be a landmark settlement, and she wants to make sure the dollar amount is adequate because it's going to set a precedent. "Threw out" isn't an accurate description of what's happened. She's denied preliminary approval so the dollar amount of the award can be evaluated. This is big stuff. Anything involving concussion injuries is sensitive subject matter in the NFL these days.
Spencer from Las Vegas, NV
I was talking defensive backs with someone the other day and I brought up the point that they all seem to be relatively smaller than wide receivers. Why is it so rare to see guys Megatron's size on the defensive side of the ball? Wouldn't it be just as beneficial to a coach to have a guy that size to combat the big receivers and even the bigger tight ends in the game today such as Rob Gronkowski and Jimmy Graham?
Big guys usually don't back pedal and flip their hips as well as smaller guys do. If Calvin Johnson was a defensive back, he'd get beat for a touchdown often. Think about that the next time you consider the value of defensive backs.
Ryan from Platteville, WI
Who's the better QB over the course of his career, Manning or Brady?
Vic, would you ever consider doing an on-site edition of "Ask Vic" or something of that nature? How about a special edition for the 2014 draft? I live in Dubuque, which is about 3½ hours from Green Bay. I've recently built a Packers bar in my basement that I think it's pretty unique and I'd love to have you over for a Vic event.
That sounds great. I really mean that. It's not going to happen, but I love the idea.
When a contract is voided because of the salary cap, what are the consequences for the player?
He would become a free agent, but you're talking about something that's never happened and isn't likely to happen. It might've come close to happening once; the 2006 Redskins. They said they got under the cap. I think they were saved by the bell, which was an 11th-hour Collective Bargaining Agreement that raised the cap and created room for a lot of teams that were having trouble getting under. The Redskins were counting on a new CBA. As it turned out, they were right, but had that not occurred, I think they had created a situation in which they couldn't get under the cap, no matter how many guys they cut. They were pushed out to the max and cutting would've just made the situation worse because it would've accelerated the money they pushed out, which would've made the dead money larger than the cap hit they were trying to reduce. I've considered the possibility that was one of the reasons the NFL approved the '06 CBA.
"Defense is the concern." You said it and we have been saying it for three years. How long should we put up with this?
What's your choice: Don't put up with it? How do you do that? Hey, this team has been in the playoffs for five consecutive years and it's won the Super Bowl in one of those years. If you don't think that's success, then I pity you when success ends.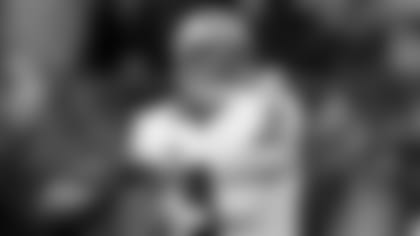 Saints QB Drew Brees
Vic, I saw an article in which Brees stated he was paid very well and would be open to renegotiating his contract to help the team. Do you see San Francisco's and Seattle's success this season being a result of having a star quarterback without having to pay star-quarterback prices?
Yes, I do, but Drew Brees isn't volunteering to take a cut in pay. You can forget about that. Brees is volunteering to re-structure his contract to create cap room in 2014. Here's how it works: The team converts his salary to signing bonus on a contract extension that allows a significant portion of the salary that's been converted to signing bonus to be divided evenly over the life of the new contract. In other words, Brees is volunteering to help the Saints by reducing his cap number to make cap room in the present by eating up room in the future. Brees' salary becomes guaranteed and he gets it all now, instead of having to wait until next season and take it then in 17 installments. Who wouldn't volunteer for that?
Vic, I understand what you and Ted Thompson say about draft and develop and the cap is either your friend or foe and Green Bay (tax and night life drawbacks). This team is not losing money each year; that is a fact. You do not get to take your surplus from one year to the next and accumulate each year. This year there will be certain players that can no doubt assist (Byrd, for example). The bargain is not there but sometimes you have to pay to patch holes. This year's class of free agents is not deep but there is no question there is some talent if you want to pay to fill a need.
You most certainly can take your unused cap room from one year to the next, without limit. You're also not acknowledging the compensatory draft picks a team receives for having a net loss in free agency, as the Packers had last spring and for which I expect the team will receive two compensatory draft picks this year, one of which should be rather attractive. If you spend in free agency, you won't get those picks and you almost certainly will overpay for what you've acquired. So, you lose the picks and you lose the real money and the monopoly money (cap room). That's a good thing? I'm sorry, I don't get it. If you can find affordable patches in free agency, go for it. Otherwise, the Packers' approach makes complete sense to me and it's built a team that's been in the playoffs for five consecutive years. I really hope it's not going to take losing for Packers fans to appreciate what they have, which is to say a front office that is protecting the future of the team. A lot of guys don't act that way. They come in and spend a lot of money to chase a championship, with the idea the mess they've created will be someone else's mess to fix because the championship they've won will get them another job for more money somewhere else. Or maybe they've spent a lot of money to avoid being fired; the Mike Wallace deal and his cap number in 2014 are unconscionable. In either case, it's for personal gain, not in the franchise's best interests. Ted Thompson loves and respects this franchise too much to act in such a manner.